Saturday Morning Snapshot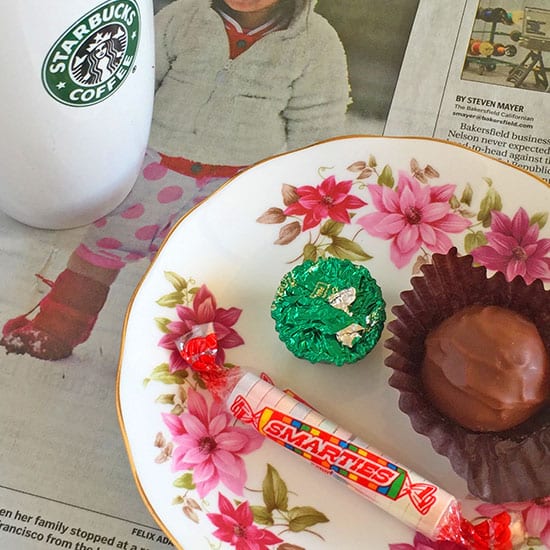 Christmas clean up and candy for breakfast.
State of the Blog
This was our last week of Christmas-related recipes. My heart is sad to say goodbye. My waistline is ready for January salads. This week's post write ups were a little silly and weird, but so much fun to do.
Recipes released this week were:
15 Tips for a Successful Day of Marathon Baking – Some helpful (and some questionably helpful) tips for those extended holiday baking marathons. 
Emergency 3-Ingredient Hot Chocolate – A quick, easy, and delicious 3-ingredient hot chocolate recipe for those times when nothing else will do.
Pop-culture Corner
It's the last Pop-culture Corner of 2015, so I'm posting links to some of my favorite pop-culture reads and listens of the year.
Linda Holmes' "Black Widow, Scarce Resources And High-Stakes Stories" was a bright spot of sense and sanity during the Avengers: Age of Ultron Black Widow backlash.
No other think piece so perfectly demonstrated why Mad Max: Fury Road felt so revolutionary as Colin Stacy's "'We Are Not Things': Women As Depicted in 'Mad Max: Fury Road' & Transformers.'"
The Toast's If X Were Your Y series is so delightful. Particular highlights for me were: Girlfriend Gwyneth Paltrow, Boyfriend Tom Hardy, and Dad Stephen Colbert.
I was a dedicated reader of Todd VanDerWerff's AV Club Community recaps, so I very much appreciated his final write up of the show's excellent sixth season over on Vox, "Community is probably over. At least it went out on an incredibly high note." All of his Hannibal stuff was also top-notch.
I listened to hundreds of podcast episodes in 2015, but the final episode of Holler Back: A Justified Podcast is the only one to make me cry in public (because we dug coal together).
Finally, I so appreciated Joanna Robinson (also of Holler Back) fighting the good fight on my favorite Game of Thrones podcast, A Cast of Kings, in the "Unbowed, Unbent, Unbroken" episode, where she called out a truly garbage storytelling decision the show made this year.
Meal Planning
The holidays have screwed my meal planning. Will update as I figure it out.
Saturday: Chicken Noodle Soup
Sunday: Chinese Takeout
Monday: Panini
Tuesday: BLT Salad
Wednesday: Chicken Wraps
Thursday: Chicken Rotini Pasta
Friday: Oven-baked Ribs