Saturday Morning Snapshot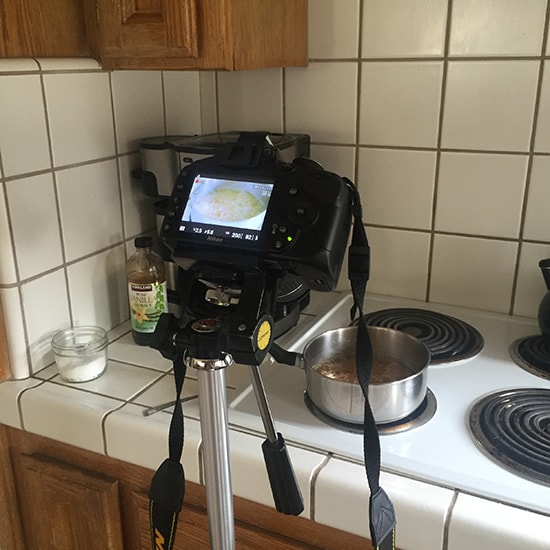 Turns out shooting video of cooking caramel is both supremely boring and kind of stressful…
State of the Blog
Last weekend I did an interview with Jay from IndustryEats, that you can check out here, on cooking and starting a blog. Even if you don't read the interview, you should take a look at the site in general. It has a ton of great recipes, cooking resources, and other interviews with some FANTASTIC bloggers!
Elsewhere on the web, my BB-8 Cupcakes were featured on Nerdist.com this week! Turns out I maybe shouldn't be running a blog on the internet where people can see things I make, because when I saw the spike in traffic on the site, I had a mini panic attack and almost crawled back into bed. But once that passed, I was obviously delighted.
On the blog, we had another week of light and healthy recipes. Next week is more Healthy January-compliant meals and sides with a sweet treat at the end of it. I'll be trying something new with that post, so keep an eye out for that disaster/resounding success/who-knows-because-I-haven't-finished-it-yet next Friday.
Recipes/posts released this week were:
Simply Delicious Asian Chicken Salad – A light and healthy Asian chicken salad. Simple, delicious, yum.
The Fastest, Easiest Way to Cut Romaine for Salads – How to cut romaine lettuce for salads the fastest and easiest way possible.
Easy Weeknight Chicken Cacciatore – Boneless, skinless chicken thighs and mushrooms simmered in a rich tomato sauce and served over a bed of egg noodles. An easy weeknight version of the classic Italian dish!
Pop-culture Corner
We lost some good ones this week. Screw you, cancer.
The Oscar nominations were announced on Thursday. Did any of your favorites make the cut? I've been such a slacker with my film watching this year that I've only seen two of the Best Picture nominees, Mad Max and The Martian. This means I can't say who should take home the award, but I'm rooting for Mad Max because how bonkers great of a win would that be?
And in case you haven't seen it, Mad Max: Fury Road is on HBO! Have you watched it yet? I was getting ready for bed on Monday when I realized it was available. Then I made the responsible, adult decision and stayed up to watch that instead of sleeping.
ICYMI, this article on "How the Internet Picks Its Boyfriends" is so on point. I'm fully on board with current internet boyfriend Oscar Isaac, but past boyfriends Tom Hardy, Idris Elba, and Ben Cumberscnizzle will always have little pieces of my heart.
And, speaking of Oscar Isaac, all due respect to the delightful #Ham4SOTU hashtag, but this is my favorite Hamilton mashup so far.
Okay, just after this one.
Meal Planning
Saturday: Spicy Sausage Pasta
Sunday: Steak
Monday: Chicken Parmesan
Tuesday: BLT Salad
Wednesday: Teriyaki Chicken
Thursday: Rosemary Chicken and Potatoes
Friday: Broccoli and Ham Chowder