Saturday Morning Snapshot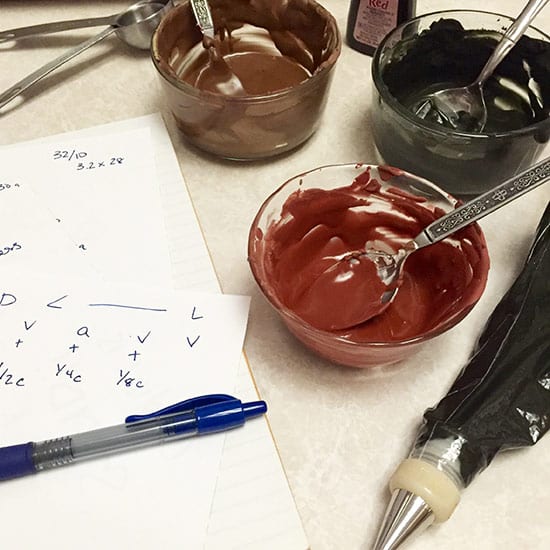 Working on what might be my favorite recipe yet…
State of the Blog
Baking Mischief was featured on IndustryEats' list of Top 50 Food Blogs! It was such an honor to be listed there among so many of my favorites!
Hey, remember that experiment I teased last week? It came to fruition: Baking Mischief is now on Youtube! Videos aren't going to be a priority for now, but I will make them every now and then for recipes I think lend themselves to to it.
This week on the blog saw the penultimate entry in our January salad series, one of my favorite healthy side dishes, and a mom-approved Starbucks copy cat. Next week, we'll have our last January salad, a pasta recipe, and the first of those Valentine's day desserts I've been testing all month. I'm particularly excited about that one!
Recipes/posts released this week were:
Light and Healthy BLT Salad – A healthy twist on on a favorite diner classic.
No-fail Butter and Garlic Green Beans – Perfectly cooked green beans tossed with butter and toasted garlic. A quick, easy, and delicious vegetable side dish.
Better Than Starbucks Caramel Macchiato – A completely homemade copycat recipe for Starbucks' caramel macchiato, but better!
Pop-culture Corner
I'm so happy The Black Tapes Podcast is back from hiatus! Are you a podcast person? This is one of the few storytelling podcasts I listen to, and it is soooo scary! I was listening to it while baking next Friday's recipe and when my doorbell rang during a particularly tense part, I jumped like a foot in the air and flung icing all over the kitchen.
Speaking of scary things, episode one of the X-Files mini series airs tonight! Are you going to be watching?
I laughed so hard all the way through this article, "An unbiased look at the Best Picture nominees of 2016." I'm not saying that's me, but that's not not me.
In other Oscar news, it's nice to see the Academy making strides towards more diversity in its ranks, even if it feels a bit too little too late.
And finally, ending on a high note, have you seen the trailer for Keanu yet? I'm so into it. I'm a huge Key and Peele fan but I knew nothing about this movie. I kept seeing it mentioned on Twitter and legitimately thought it was a Key and Peele movie starring Keanu Reeves. I'm a dummy.
Meal Planning
Saturday: Pot Pie
Sunday: Lasagna
Monday: Panini
Tuesday: Simply Delicious Asian Chicken Salad
Wednesday: Broiled Steak With Mustard Sauce
Thursday: Basil Chicken
Friday: Mom's Chicken Noodle Soup