Saturday Morning Snapshot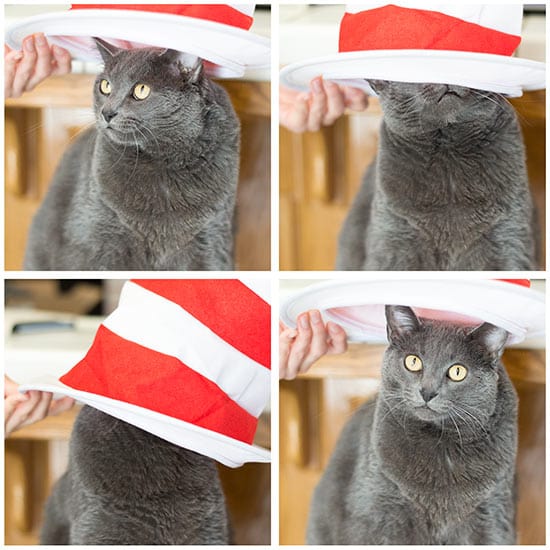 This Dr. Seuss hat was an absolute failure in the photo shoot I bought it for. It was however, perfect for cat tormenting… 
State of the Blog
The blog turned two months old this week, and I celebrated by releasing my most self-indulgent set of recipes yet. There was more Star Wars fangirling with my Poe's Jacket Cookies, I published my favorite easy soup recipe, and used Valentine's Day pet treats as a thinly-veiled excuse to post pet pictures on the blog.
And speaking of Valentine's Day, Kam from The Women Talk included my Heart Cookies with Cinnamon Icing in her round up of Adorable Valentine's Day Treats for Everyone. If you're in the market for some sweet treats, check out the list. The desserts on there are absolutely eye-popping!
Recipes released this week were:
Poe's Jacket Star Wars Cookies with Printable Stickers – Cookiefied versions of "Star Wars: The Force Awakens'" best character: Poe's Jacket.
World's Easiest Chicken Taco Soup – A healthy and delicious chicken soup for quick weeknight dinners. So good, you'd never guess it takes fewer than 10 minutes to make.
Carrot Oat Applesauce Treats for Dogs and Horses – Quick and easy four-ingredient treats for dogs and horses.
Pop-culture Corner
Have you seen this bonkers Miike Snow "Genghis Khan" music video yet? It's literally the only thing in the pop-culture world I cared about this week…
Meal Planning
Saturday: Pasta Primavera
Sunday: Chicken Pesto Sandwiches
Monday: Salsa Chicken
Tuesday: Steak Fajitas
Wednesday: Leftover Pesto Chicken Roll Ups
Thursday: Shanghai Noodles
Friday: Easy Peasant Soup