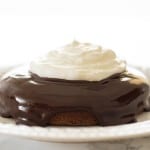 Print
Cream Cheese Whipped Cream
This small batch of light and tangy cream cheese whipped cream is quick and easy to make. Serve over fruit for a light dessert or pile high over baked goods for something truly decadent.
Chill your mixing bowl and whisk in the refrigerator for 15 minutes. Add whipping cream and beat until stiff peaks form.

In a separate bowl, combine remaining ingredients and whisk until well-combined. Fold in whipped cream, and mix gently until completely incorporated.