Basil and garlic mixed with olive oil, lemon juice, and Worcestershire sauce make the perfect steak marinade for summer (and winter) grilling.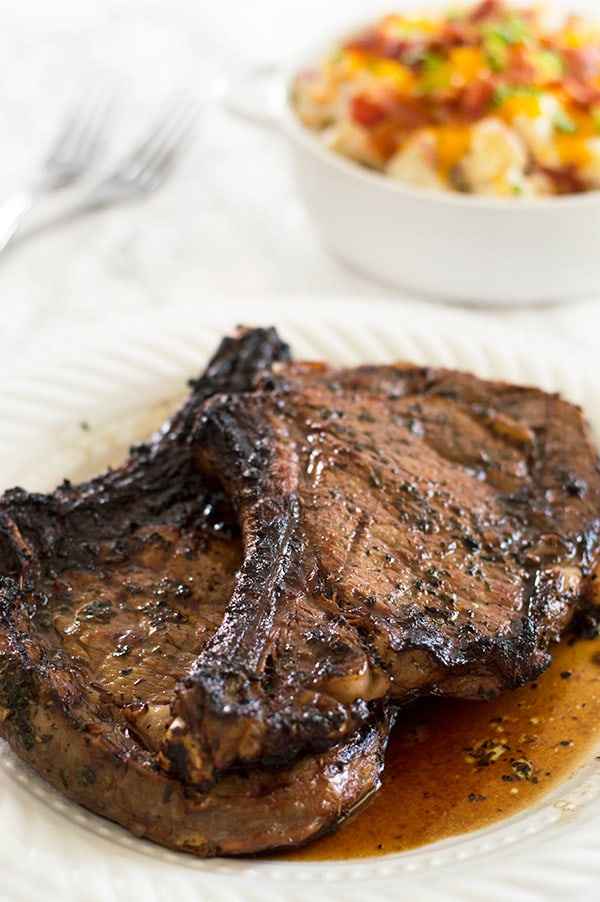 It's week three of Barbecue Month here on Baking Mischief. After Strawberry Limeades to get us started and a side dish of Loaded Baked Potato Salad With Yogurt, we have reached the main course! Obviously, it had to be steak.
What says summer barbecue like a perfectly grilled steak? Nothing. Nothing at all.
If I could eat any steak from anywhere in the world, prepared any way I wanted, I would choose today's recipe nine times out of ten (the tenth time I would eat a steak that cost as much as my car just for giggles).
It's delicious. It's life-changing. It's my favorite. Okay, basically it's just a good steak in really good marinade.
See Also: Carne Asada Marinade
Yup, that's right. Today's recipe is for grilled steaks made with my favorite marinade. Whip up this quick marinade, pour it over your favorite grilling steaks, and grill up some of the best damn steaks you've ever tasted.
The marinated steak is slightly tangy, garlicky, with the deep flavor of basil throughout. You don't need to add anything to it. No salt, no steak sauce. It's seriously a steak game-changer.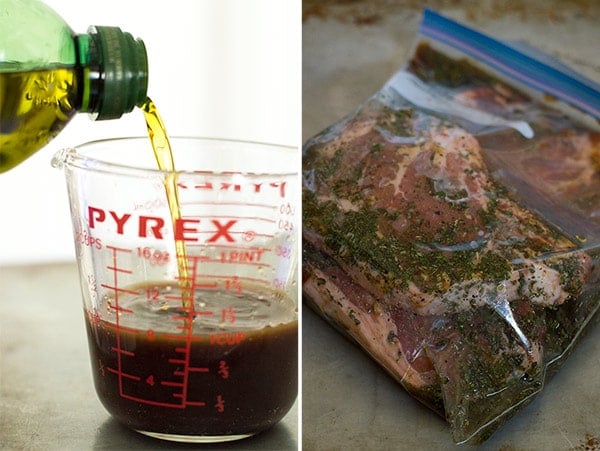 And unlike many a marinade I've made in my lifetime, this one is super quick to throw together. There isn't a mile-long list of spices here, just basil and pepper. If you have dried parsley, great, throw it in. If not, you don't have to buy any–your steaks will still taste spectacular.
Mix that with equal parts lemon juice, Worcestershire sauce, and soy sauce. Drizzle in a bit of olive oil, crush a couple cloves of garlic and done! I make mine in a big two-cup liquid measuring cup* so you don't even have to get a bowl and multiple cups dirty.
My preferred steak is a big, beautiful rib-eye, but they can be perilous to grill on a charcoal grill as the fat can drip down and cause flair ups. So use whatever steak you like best/feel most comfortable cooking! And if you don't grill, I've also used this marinade on steaks I cook in a pan and it's still delish!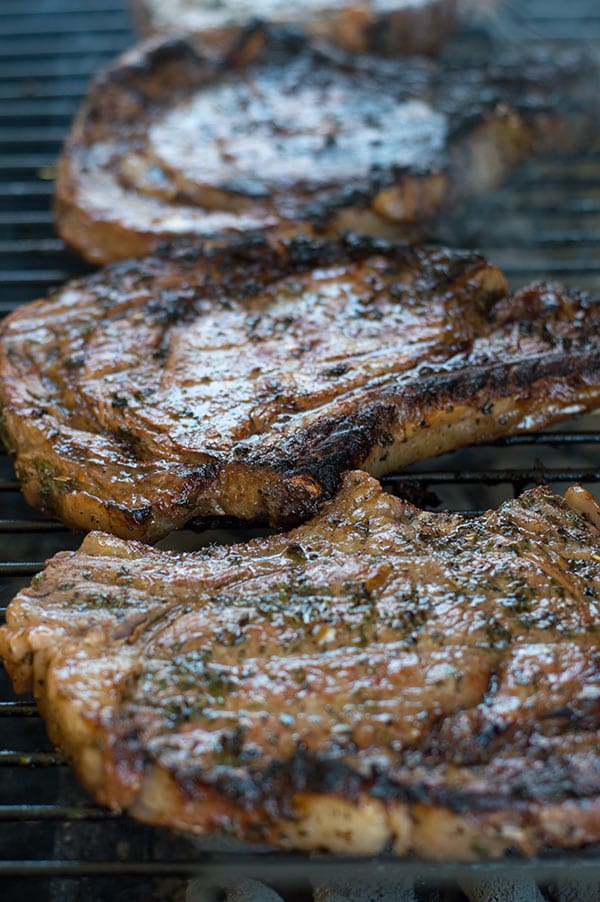 Next week we finish up our Barbecue Month Menu with dessert and it's such a good one. Stay tuned!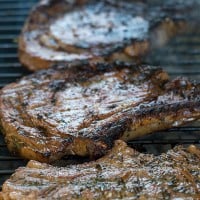 Basil and Garlic Steak Marinade
Basil and garlic mixed with olive oil, lemon juice, and Worcestershire sauce make the perfect steak marinade for summer (and winter) grilling.
Print
Servings (Hover or Click to Change Yield):
4
Ingredients
Steaks
4

of your favorite grilling steaks
Marinade
1/3

cup

soy sauce

1/3

cup

fresh lemon juice

1/3

cup

Worcestershire sauce

1/2

cup

olive oil

3

tablespoons

dried basil

3

large garlic cloves

minced or pressed

1

tablespoon

dried parsley flakes*

1

teaspoon

pepper
Instructions
Combine marinade ingredients in a liquid measuring cup and pour into a large plastic bag. Give it a little shake.

Add steaks and marinate for at least two hours, preferably overnight, up to 24 hours, flipping once halfway through so that the steak is evenly flavored.

On your grill or using a griddle, cook steaks until they reach your preferred level of doneness.

Allow steaks to rest for at least 5 minutes before serving.
Notes
*Great if you have them, not a deal breaker if you don't.
Adapted From AllRecipes
This post contains affiliate links, which means I receive small commission if you make a purchase using them. There is absolutely no additional cost to you.