This small-batch recipe makes five of the best Chocolate Banana Muffins you'll ever eat. You just need one ripe banana and one bowl, and you can be pulling these out of your oven in less than half an hour.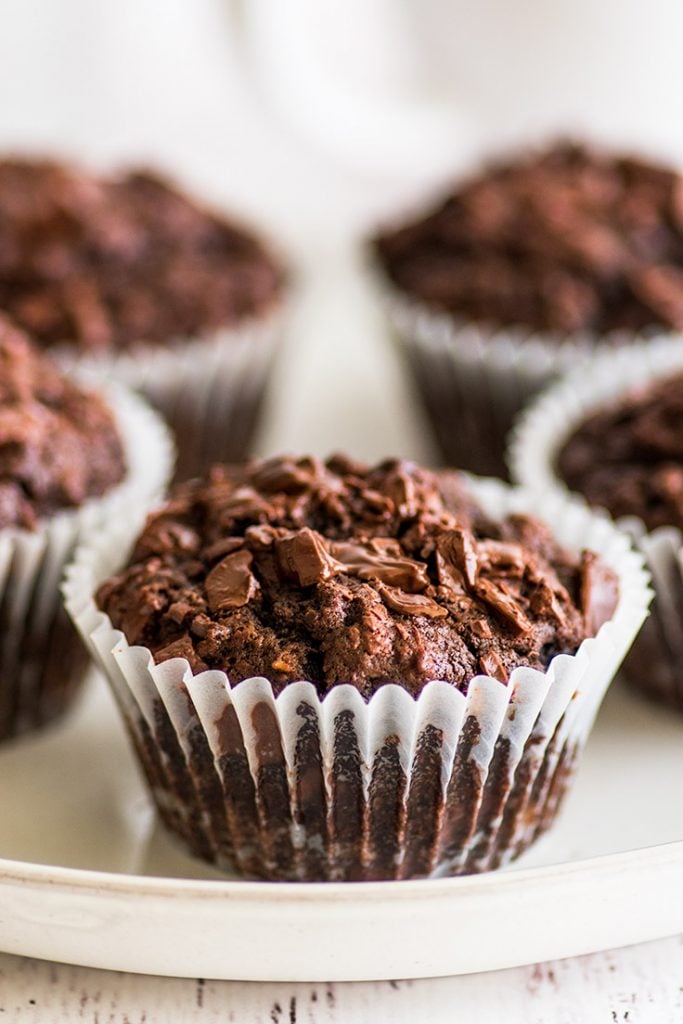 A little over a year ago, I posted these One-banana One-bowl Small-batch Banana Muffins to the blog. I sold them with the pitch: Hey, have a bowl? Have a banana? Make some Banana Muffins!
And they've been incredibly popular. Next to my Small-batch Chocolate Chip Cookies, they're one of the posts I get the most happy messages about. Clearly, you guys love banana muffins and hate doing dishes and having a lone piece of fruit rotting on your counter. (Same.)
So today, in the hope of giving you another recipe you'll write me lots of happy emails and comments about, I have another pitch for you:
Hey, have a bowl? Have a banana? AND love chocolate? Make some Chocolate Banana Muffins!
Guys.
Guuuuuuys.
These muffins. I love them so much.
I love how easy they are to make. I love the way banana and chocolate are a perfect pair. And most of all, I love their texture.
That might sound odd, but the thing about banana muffins is that because bananas are so moist, if you're not careful you can end up with muffins that are very heavy and almost gummy.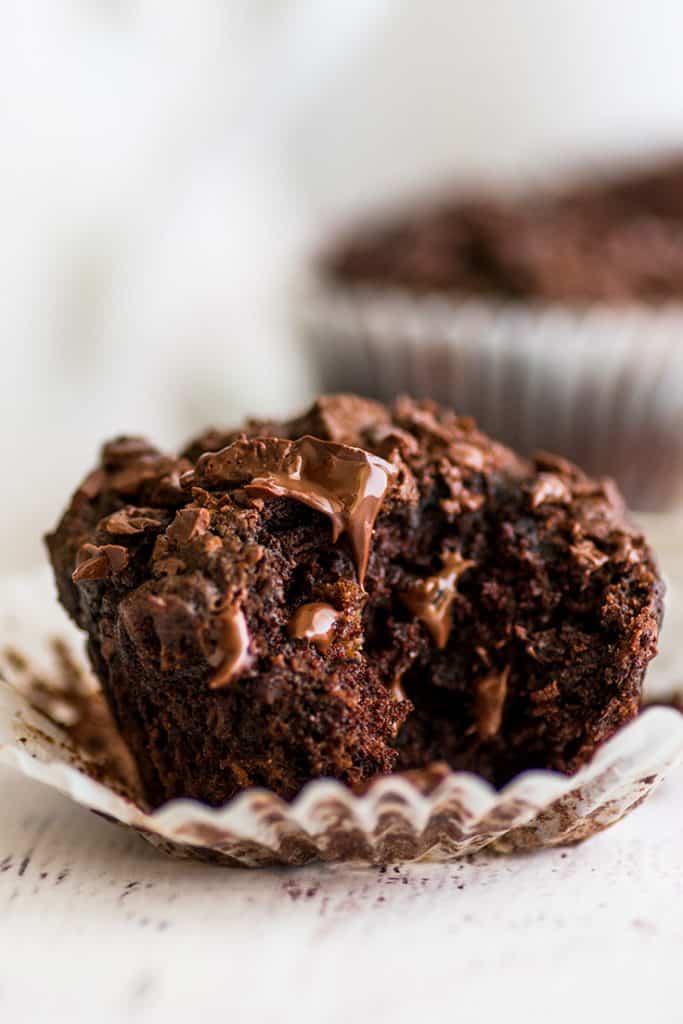 These muffins are NOT that. They are moist and decadent to be sure, but with a fantastic tender crumb that's almost like biting into a cupcake. Get one warm out of the oven, with the chocolate chunks still melty and molten, and you'll be pretty sure you've died and gone to banana muffin heaven.
I shared the first test batch with taste testers and they got a, "Wow, that's just incredible." (Mumbled out around a mouthful of muffin).
A "This is the best chocolate muffin I've ever had."
And a "Damn you, I wasn't eating sugar this week…are there any more?"
So you know it's not just me who's a fan of the things.
What I'm saying is that if you feel like your day could use some chocolate (really, what day couldn't?), and there's a shabby looking banana sitting on your counter right now or maybe in the office fruit bowl, you should probably do yourself a favor and take half an hour today to make yourself a batch.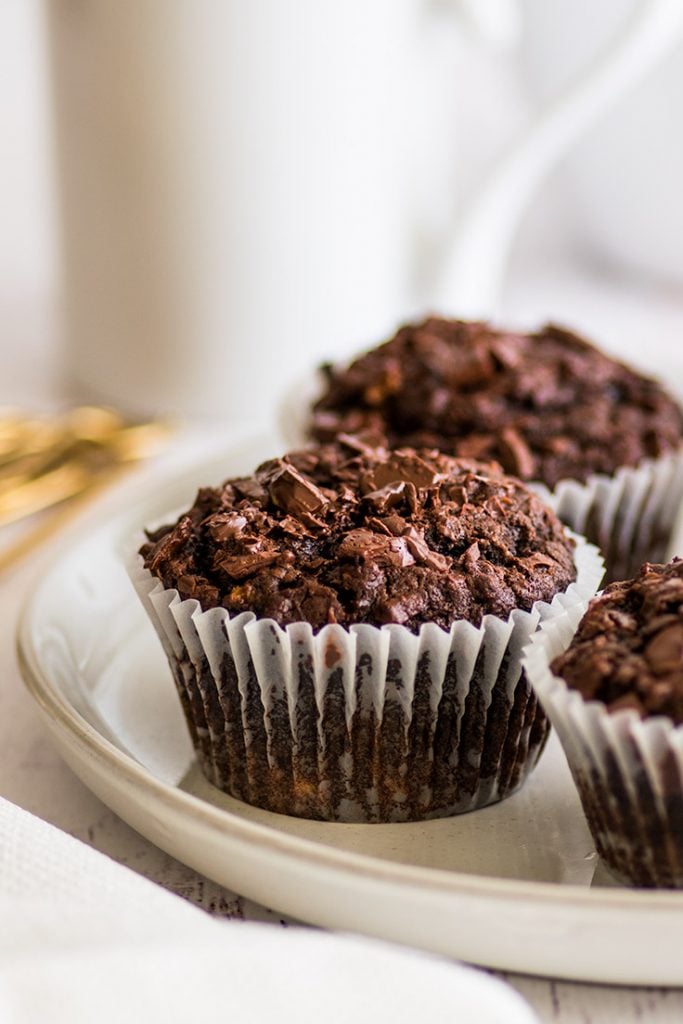 To make this little batch of five chocolate banana muffins, you'll just need one bowl (that's right, these are one-bowl muffins) and a couple minutes to chop some chocolate, mash a banana, and mix some ingredients. If it's before noon, brew yourself a pot of coffee while your muffins bake. If it's after noon, maybe opt for some tea.
And once they are done baking, eat one warm out of the oven while you decide how many of these perfect little muffins you feel like sharing and how many you're going to keep for yourself…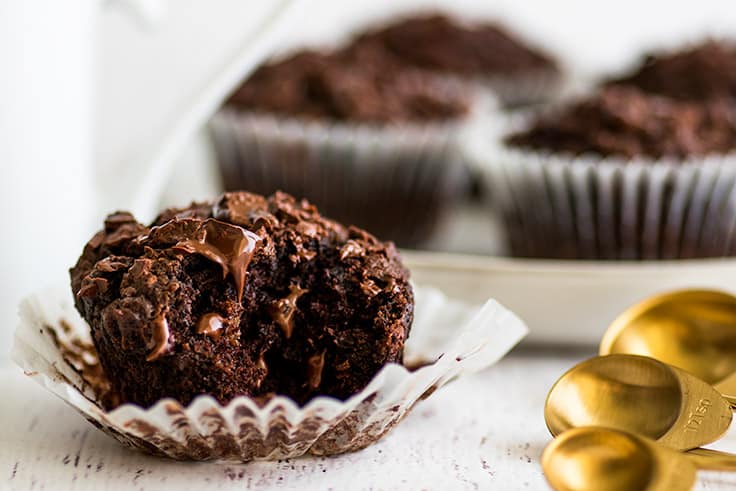 More Small-batch Muffin Recipes
This post may contain affiliate links, which means I receive a small commission if you make a purchase using them. There is absolutely no additional cost to you.
Small-batch Chocolate Banana Muffins Recipe Tips
This recipe calls for your dry ingredients to be sifted using a fine-mesh strainer. It helps to aerate the flour and gets rid of any lumps in your cocoa powder. If you don't own a fine-mesh strainer, they are cheap on Amazon and available in the baking aisle at most stores. You can also combine the dry ingredients in a small bowl and whisk them together, making sure to smash any large cocoa powder lumps. It doesn't work quite as well but will do in a pinch.
The baking temperature for these muffins starts at 425°F before being dropped to 350°F about halfway through cooking. The initial burst of higher heat helps give them bigger, fluffier muffin tops, but if you don't want to mess with your oven in the middle of cooking, you can just bake them at 350°F for about 19 minutes.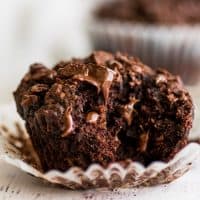 Small-batch Chocolate Banana Muffins (One-banana, One-bowl)
This small-batch recipe makes five of the best Chocolate Banana Muffins you'll ever eat. You just need one ripe banana and one bowl, and you can be pulling these out of your oven in less than half an hour.

Print
Servings (Hover or Click to Change Yield):
5
muffins
Ingredients
Special Tools
Chocolate Banana Muffins
1

medium-to-large over-ripe banana

3

tablespoons

(

1.5oz

) unsalted butter

melted

1/4

cup

(

50g

) brown sugar

1

large egg white

1/2

teaspoon

vanilla extract

1/3

cup

(

40g

) all-purpose flour

measured by weight or using the spoon and sweep method*

3

tablespoons

(

15g

) unsweetened cocoa powder

1/2

teaspoon

baking soda

1/8

teaspoon

salt

2

ounces

semi-sweet chocolate

chopped or

1/3

cup chocolate chips, plus more for topping
Instructions
Preheat your oven to 425°F and line a muffin tin with

5

liners.

Place peeled banana in a medium bowl and mash it well with a fork or potato masher. Add melted butter and whisk until well combined. Add brown sugar, egg white, and vanilla. Mix well.

Place a fine-mesh strainer over the bowl and add flour, cocoa powder, baking soda, and salt to the strainer. Sift dry ingredients into the wet and use a spoon to mix until just combined. Stir in chopped chocolate or chocolate chips. Divide batter between prepared muffin cups, filling about 3/4 of the way full.

Bake for 8 minutes at 425°F before turning the oven temperature down to 350°F. Bake for an additional 6 to 9 minutes, until a toothpick inserted into the center of the muffins comes out with just a few crumbs.

Sprinkle extra chocolate over the top if desired. Cool in the pan for at least 10 minutes, and enjoy.
Notes
*Correct flour measurement is important in this recipe. For best results, measure by weight or the Spoon and Sweep Method (stir the flour in your container to fluff it up and then spoon it into your measuring cup, sweep excess off with the flat of a knife).
Recipe Adapted From Smitten Kitchen