Carnitas Enchiladas (AKA Pulled Pork Enchiladas) are a delicious alternative way to eat enchiladas. Rich, crispy carnitas are wrapped in tortillas and covered with a tangy homemade enchilada sauce and plenty of cheese. This recipe makes ten enchiladas which can be baked all at once or frozen in batches for smaller households.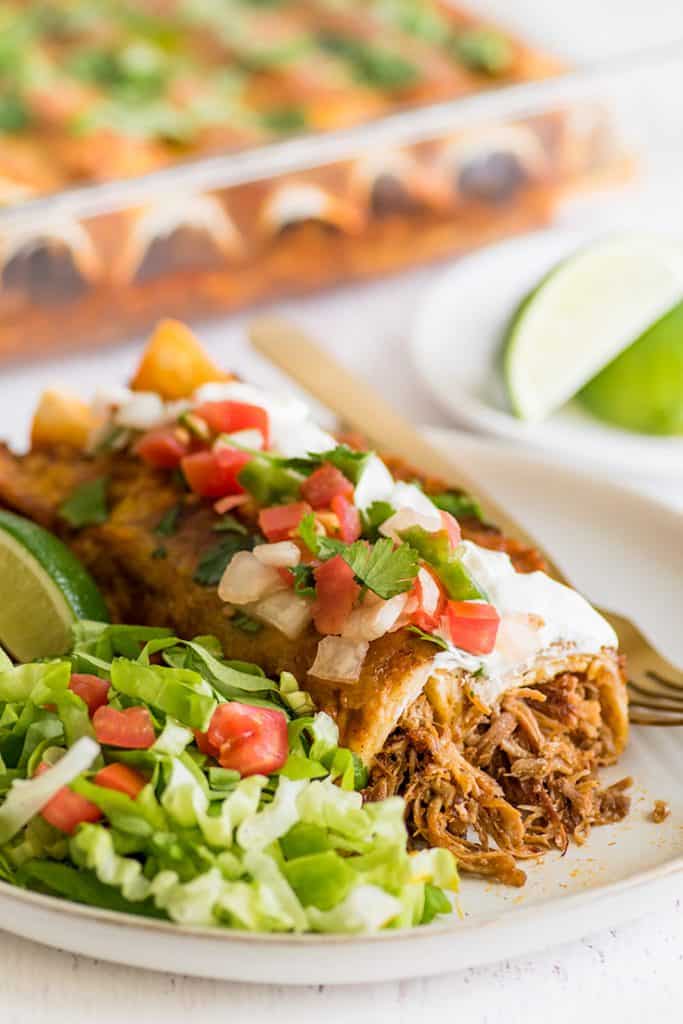 Two weeks ago, I shared the best, most crispy and amazing Homemade Carnitas Recipe along with Carnitas Tacos, made three different ways. And I hope you're not all carnitas'd out because I have one more carnitas recipe for you today: Carnitas Enchiladas.
During my carnitas recipe testing extravaganza, because of the truly astounding amount of carnitas I had around the house for a solid two months, I made these enchiladas SO often, and never ever got tired of them.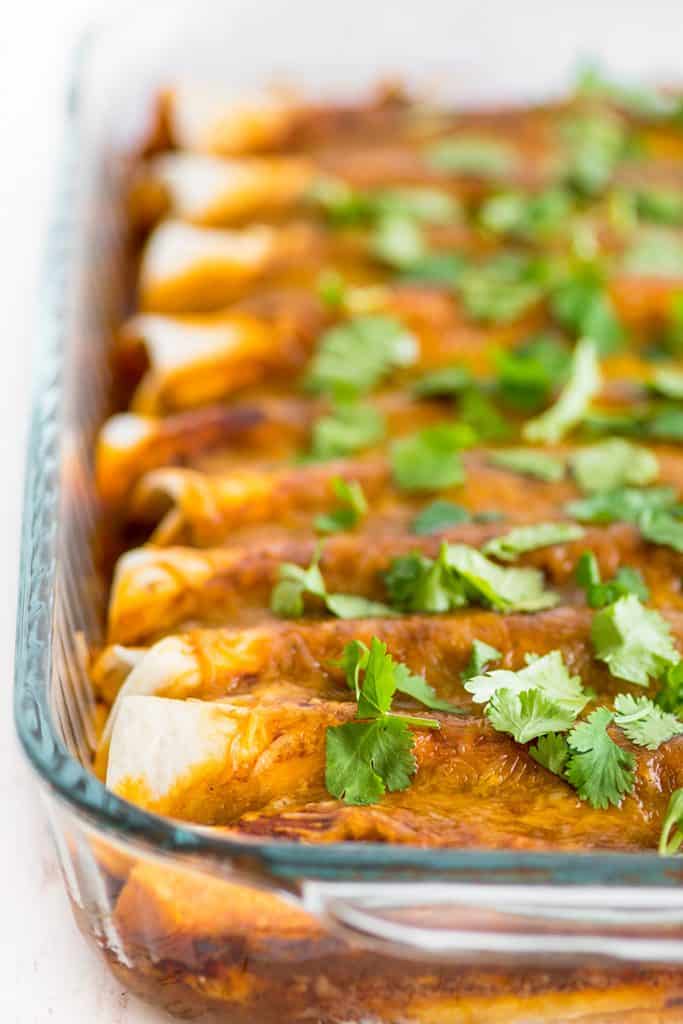 Carnitas are a fabulous filling for enchiladas because they are super rich and flavorful all on their own so they don't get overwhelmed by the other ingredients. Add all the cheese and sauce you want, and you're still going to get plenty of that great carnitas flavor when you bite into these enchiladas.
And the sauce, I LOVE this sauce. It's smooth, a little tangy, and not too bitter. It's perfect over meat and tortillas, but I always kind of want to eat it with a spoon too.
It's that good.
That being said, it's definitely not authentic enchilada sauce, so if you have a favorite sauce of your own, feel free to use that instead.
I always make these enchiladas with my homemade carnitas recipe as a way to use up leftovers, but if you don't have carnitas made already, I've embedded my carnitas recipe below the enchilada recipe. You can also click through to that post to see more step by step carnitas instructions.
OR, if you have regular pulled pork on hand, you can use that. Pulled pork and carnitas are made from the same cut of meat, and there's enough seasoning in the sauce that it doesn't matter too much how the pork was originally seasoned.
How to Make Carnitas Enchiladas (Pulled Pork Enchiladas)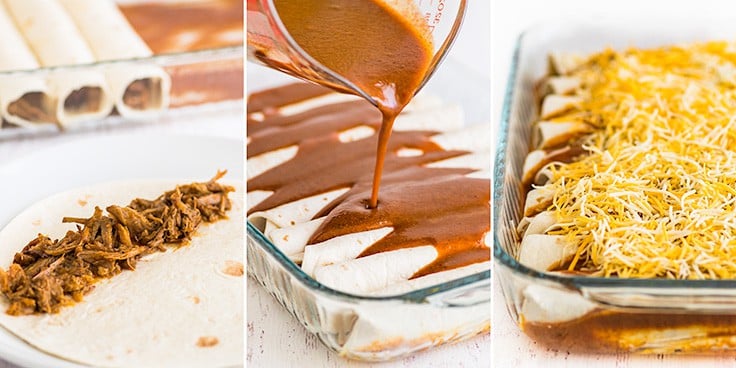 These are some of the easiest enchiladas to whip up. The sauce is made from pantry staples that simply get whisked together on the stove and simmered until thickened. And then you're ready to assemble your enchiladas.
The carnitas are mixed with a bit of sauce, wrapped in tortillas, and lined up in a casserole dish. Then you pour on the sauce, add cheese, and bake.
Thirty minutes later, you end up with enchiladas that are cheesy, rich, and perfect for piling high with sour cream and pico de gallo and serving to friends and family.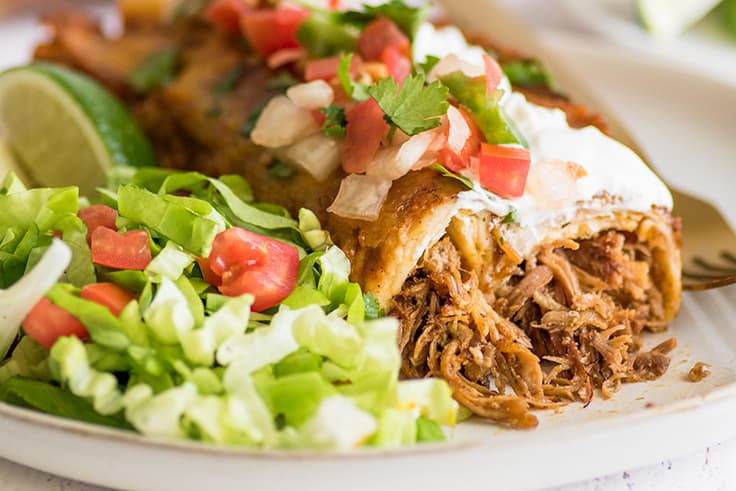 Freezing Carnitas Enchiladas
The recipe I'm sharing today makes a full-size casserole dish and will serve five people two enchiladas each. I'm sharing a full-size version for two reasons: 1, I really like to make this for other people. It's a real crowd pleaser and a low-stress dinner to make for guests. 2, it freezes very well, so if you're a small household, freeze this (unbaked) in batches and you can get two or three meals out of it.
I've included detailed freezing and reheating instructions in the recipe card, but this will make two 8×8 pans of five enchiladas or three 5×7 pans of three or four.
You Might Also Enjoy
Carnitas Enchilada Recipe Notes
If you have a favorite enchilada sauce of your own, use 3 cups of your favorite sauce.
If you like really saucy, wet enchiladas, 1 1/2 this sauce recipe.
Feel free to add more cheese, corn, black beans, etc., to the carnitas filling. Make the carnitas enchiladas of your heart.
Serve alongside quick and simple sides like Cilantro Lime Rice, Green Beans, or Steamed Broccoli.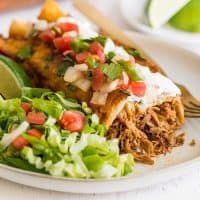 Carnitas Enchiladas (Pork Enchiladas)
Carnitas Enchiladas (AKA Pulled Pork Enchiladas) are a delicious alternative way to eat enchiladas. Rich, crispy carnitas are wrapped in tortillas and covered with a tangy homemade enchilada sauce and plenty of cheese. This recipe makes ten enchiladas which can be baked all at once or frozen in batches for smaller households.
Print
Pin
Servings (Hover or Click to Change Yield):
10
enchiladas
Ingredients
Special Equipment
9x13-inch rectangular casserole dish

or smaller dishes for freezing and half batches*
Enchilada Sauce
3

tablespoons

olive oil

3

tablespoons

all-purpose flour

2

tablespoons

chili powder

1 1/2

teaspoons

ground cumin

3/4

teaspoon

garlic powder

1/4

heaping teaspoon dried oregano

1/4

heaping teaspoon salt

3

tablespoons

tomato paste

3

cups

chicken or vegetable broth

1 1/2

teaspoons

apple cider vinegar or distilled white vinegar

Black pepper
Enchiladas
10

8-inch tortillas

flour or corn

4

cups

pulled pork carnitas

warm

1 1/2

cup

shredded Mexican cheese blend or colby-jack cheese
Instructions
Enchilada Sauce
Pre-measure all of your sauce ingredients (flour, spices, and salt will be added together so they can all go in the same small bowl) and place them next to the stove.

In a medium pot, heat oil over medium heat. Add flour, spices, and salt and whisk until a thick paste forms and begins to bubble, 30 seconds to 1 minute.

Whisk in tomato paste and stir until mostly combined. Slowly pour in broth, whisking out any lumps as they form and whisk until completely smooth. Bring to a simmer and cook, whisking often, until sauce has thickened, 6 to 9 minutes.

Remove from heat, stir in vinegar, and add salt and pepper to taste. Set aside to cool slightly.
Assemble Enchiladas
Lightly grease your baking dish and add

1/4

cup of the enchilada sauce to the bottom of your dish, spreading it so that it mostly coats the bottom in a thin layer.

Place warm carnitas in a bowl and add

3/4 cup

of sauce. Stir until well-combined. Fill each tortilla with about 1/3 cup of meat and roll tightly. Place in the baking dish, seam-side down.

Pour remaining sauce over the enchiladas and sprinkle the cheese over the top.
Bake
Bake for 25 to 30 minutes, until cheese is melted and the edges of the tortillas are just slightly crispy and browned.

Cool for 10 minutes before serving. Top with sour cream and pico de gallo if desired. Enjoy!
Notes
Freezer Instructions
To freeze, line baking dish (disposable or reusable) with parchment paper. Assemble enchiladas completely. If using a disposable baking dish, wrap tightly with foil and store in a freezer bag. 
If using a regular baking dish, place in the freezer and freeze until solid, about 4 hours. Use the parchment paper to lift enchiladas out of the pan and wrap tightly in foil (leave the parchment paper on the enchiladas). Store in a plastic freezer bag.
To reheat, preheat oven to 400°F. Remove foil. (If not using a disposable container, place frozen enchiladas, parchment paper included, into a baking dish.)
Grease a piece of foil and loosely cover the top of your enchiladas, greased side down. This will keep your cheese and tortillas from burning and won't stick as the cheese melts. 
Bake until heated through or an instant-read thermometer reads 160°F, this will take at least 30 minutes, up to over an hour for a full pan of enchiladas. When the enchiladas seem very nearly heated through, remove foil so the top of the enchiladas can brown.
Sauce Adapted From Cookie and Kate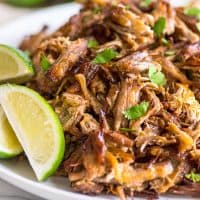 Easy Carnitas Recipe
This Easy Carnitas Recipe makes amazing carnitas: rich, tender shredded pork with crispy, crunchy edges, perfect for tacos, burritos, or just eating by the forkful. Post includes step-by-step instructions and everything you ever wanted to know about making carnitas.
Print
Pin
Servings (Hover or Click to Change Yield):
8
to 12 cups
Ingredients
Special Equipment
Carnitas
1/4

cup

vegetable oil

4-6

pound

pork shoulder roast

boneless or bone-in, trimmed of fat cap and cut into fist-sized chunks

Salt and pepper

1

large onion

diced

1

clove

garlic

crushed

3

tablespoons

lime juice

1

tablespoon

chili powder

1/2

teaspoon

dried oregano

1/2

teaspoon

ground cumin

6-8

cups

(

3-4

14.5 ounce cans) chicken broth
Instructions
Pre-measure all your ingredients, dice your onion, and prep your garlic. Once you get started cooking, things move fast.

Generously salt and pepper pork chunks on all sides.

In a large Dutch oven, heat oil over medium-high heat. Once hot, brown meat on all sides, in batches if necessary. This will take 10 to 15 minutes.

Add onion, garlic, lime juice, chili powder, oregano, cumin, and enough chicken broth so the meat is mostly covered. Bring to a boil and then reduce heat to a low simmer. Cover and cook for 2 to 2 1/2 hours, until meat is tender and can be easily pulled apart with a fork.

Preheat oven to 400°F and line a baking sheet with foil for easier cleanup. Use a large slotted spoon to transfer meat to a cutting board (reserve the broth) and use two forks to shred the meat. Transfer shredded meat to the baking sheet and spread it in an even layer over the surface. Drizzle 1/4 cup of the cooking liquid over the meat, sprinkle with salt, and bake for 10 minutes.

Drizzle a little more broth over the meat, cook 10 minutes more, and repeat for a total of 30 minutes, until edges are crispy and browned.
Notes
Approximate nutritional information is for 1/2 cup meat and assumes 25% braising liquid consumption.