This Creamy Chicken Noodle soup made from scratch (no condensed soup needed) is easy, warming, and delicious.
Hey, friends. I have another super simple, super easy, and super good soup recipe for you today, Creamy Chicken Noodle Soup. It's classic chicken noodle soup made just a little cozier by adding a generous splash of heavy cream.
And as you know, heavy cream makes *everything* taste better.
My Favorite Chicken Soup
I have a ton of soup recipes on the site (Ham and Potato Soup and my quick Tomato Soup are currently the most popular), but I'm going to be totally honest, I've been cheating on all them with this soup.
Creamy Chicken Noodle Soup has been, far and away, the soup recipe I make most during sweater weather because it's the perfect chilly evening, mid-week dinner.
It's a cinch to throw together, with a mostly hands-off cooking time. And the finished soup is the perfect combo of creamy and warming with just enough richness to feel like comfort food without being heavy.
Creamy Chicken Noodle Soup Ingredient Tips
Onions, carrots, and celery: You can't go wrong with this classic trio for chicken noodle soup, but if you want to add more veggies, go for it. Corn, peas, and even a few handfuls of spinach (stirred in at the end of the cooking time) would all be delicious additions.
Boneless skinless chicken breasts: I call for chicken breasts in the recipe, but you can use cooked thighs if you prefer or save time by grabbing a rotisserie chicken at the store and shredding it up for your soup.
Chicken broth: Store-bought chicken broth works fantastically in this recipe, but if you have homemade chicken stock or a chicken carcass and some extra time, Homemade Chicken Stock really makes this soup over-the-top amazing.
Heavy Cream: This recipe uses just enough heavy cream to give it a creamy richness without dramatically increasing the calories.
Pasta: What's the best pasta for chicken soup? The best pasta for chicken soup is whatever pasta you like to eat in your chicken soup. You can use classic egg noodles, medium shells, or even elbow macaroni or spaghetti noodles.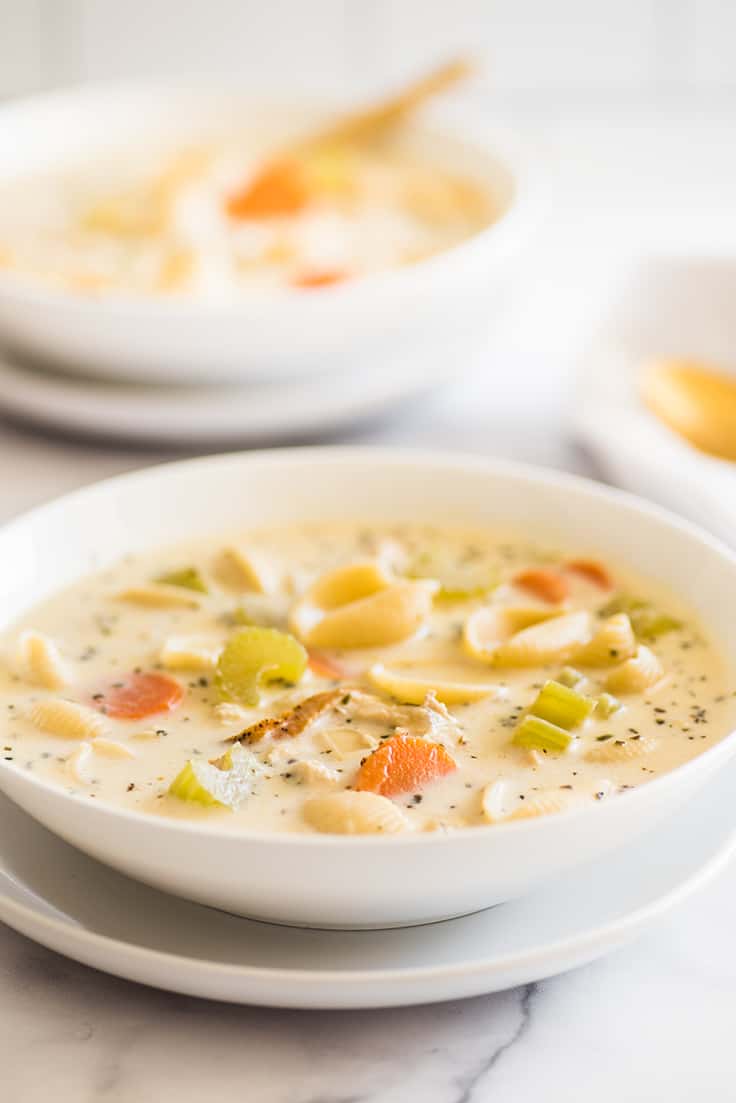 How to Make Creamy Chicken Noodle Soup
1. This recipe starts by cooking a couple of boneless, skinless chicken breasts in your soup pot with a combo of frying and poaching. (If you want to see step by step photos of the process, check out my posts How to Cook Shredded Chicken or How to Cook Chicken for Recipes.)
You'll brown both sides of salted and peppered chicken breasts to help develop their flavor and then add water to the pot and simmer until the chicken is cooked through so you wind up with very flavorful and moist chicken. Plus the bit of liquid the chicken gets cooked in is going to give the broth a great flavor boost when you add it back to the pot later.
2. Once your chicken is cooked, you'll set that and any juices aside to cool and then it's just soup business as usual. Cook some onions and garlic with a bit of butter, and add broth or homemade chicken stock if you've got it (the best!), carrots, and celery, and simmer for 20 minutes.
3. Add the pasta, any kind you like—I'm partial to shells for this soup, but egg noodles are also a good option, along with the spices and then cook until the pasta is just al dente.
4. Shred or dice the chicken and add it along with any juices and heavy cream to the pot. Simmer for 1 minute to let the flavors meld, and then dish up and enjoy!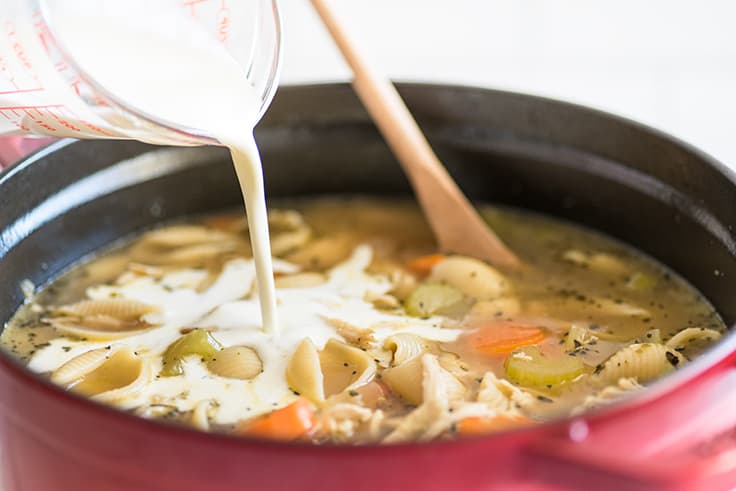 Can You Freeze Chicken Noodle Soup?
Yes! This soup freezes fantastically, and I almost always have a couple servings of it in my freezer. BUT you'll need to modify the recipe slightly.
Noodles do not freeze well in soup (they get mushy), so just omit the noodles when cooking and let the soup simmer until the veggies are just barely tender. Freeze the soup either all together or in single-serving portions. When you're ready to eat, defrost the soup in the refrigerator and then reheat in either the microwave or on the stove.
Cook noodles separately either 1 1/2 cups for a full batch or 1-ounce per serving for individual servings, and then drain and add them to the heated soup and you've got soup from the freezer without mushy noodles!
To see some of my other favorite freezer recipes, check out this (super long) post I wrote all about Freezer Meals.
Can I make this recipe ahead of time?
Absolutely. You can make the soup up to 48 hours in advance. Some people don't like the texture of noodles after they've been sitting in soup, so if that's you, you can omit the noodles when you make the soup.
Just before serving, cook the noodles separately in generously salted water, drain, and then add to the reheated soup.
What to serve with Creamy Chicken Noodle Soup?
I'll admit, I'm lazy, and when it's just me or my immediate family, I just pair this soup with a slice of store-bought French bread and call dinner done.
I feel like soups with vegetables in them are kind of a complete meal, so don't feel like you *have* to add a side dish, but if you want to, you can never go wrong with Roasted Broccoli, Roasted Zucchini or Butter and Garlic Green Beans.
If you feel like baking and have some buttermilk sitting around, Cheddar Scones are killer with this soup. And obviously, don't forget dessert. I think a small-batch of M&M Cookies pairs particularly well, but that's just me. 😉

Creamy Chicken Noodle Soup Recipe Notes
This recipe won't use up a full carton of heavy cream. If you're not sure what to do with the leftovers, check out my post of What to Do With Leftover Whipping Cream.
For small households: This soup makes excellent leftovers, so I always make a full batch, but if you'd like to make it Creamy Chicken Noodle Soup for Two, the recipe halves cleanly with no preparation changes.
For a creamier soup, feel free to add more heavy cream until the soup reaches your desired level of creaminess.
While I usually recommend prepping all your ingredients before you start cooking, you'll have some downtime once you put your chicken on to cook, so I like to use that time to do my vegetable peeling and chopping.
More Soup & Stew Recipes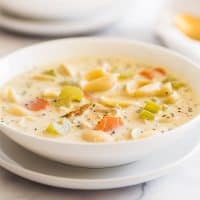 Easy Creamy Chicken Noodle Soup
Creamy Chicken Noodle soup from scratch (no condensed soup needed). Easy, warming, and delicious.
Print
Pin
Servings (Hover or Click to Change Yield):
4
to 5 servings
Ingredients
2

medium (

about 1 pound

) boneless skinless chicken breasts

Salt and pepper

Cooking spray or olive oil

Filtered water

1

tablespoon

(

14g

) butter

1/2

large onion

diced (about

3/4

cup)

2

large cloves garlic

minced or pressed

2

large carrots

peeled and sliced

2

celery ribs

sliced

8

cups

chicken broth

1 1/2

cups

(

about 4oz

) uncooked pasta

1/4

heaping teaspoon dried oregano

1/4

heaping teaspoon dried basil

1/2

cup

heavy cream

*
Instructions
Cook the Chicken
Generously salt and pepper both sides of your chicken breasts.

Heat a large pot with a lid over medium-high heat. Grease with cooking spray or a light drizzle of olive oil. Place chicken breasts in the pan and cook for 2 to 3 minutes, until well-browned. Flip chicken and repeat. Once both sides are browned, add about 1/2-inch of filtered water to the bottom of the pot (it doesn't need to be exact). Cover the pot and turn heat down to medium.

Cook for 8 to 10 minutes, until chicken is cooked through and an instant-read thermometer inserted into the center of the breasts reads 165°F (170°F if you're going to shred the chicken). Check occasionally to make sure the water hasn't all evaporated, adding more if necessary. Larger breasts will take longer to cook, so be sure to check for doneness before removing from heat.

Transfer chicken and any liquid left in the pot to a plate or bowl (the liquid has a ton of extra flavor).
Make the Soup
Return pot to the stove and melt butter over medium heat. Add onions and cook for 3 to 5 minutes, until edges begin to turn translucent. Add garlic and cook for 30 seconds, until it just begins to turn golden.

Add carrots, celery, and broth. Bring to a simmer and cook for 20 minutes.

Add noodles and spices and cook according to noodle package instructions, until noodles are just al dente.

While your noodles cook, dice or shred the chicken. Once noodles are al dente, add chicken and any juices back to the pot along with the heavy cream. Add more salt and pepper to taste.

Bring to a simmer and cook for 1 minute, until chicken is reheated.

Serve and enjoy!
Notes
Approximate nutritional information is for 5 servings.
*For a creamier soup, feel free to add more heavy cream until the soup reaches your desired level of creaminess. 
This post may contain affiliate links, which means I receive a small commission if you make a purchase using them. There is absolutely no additional cost to you.