You're going to love this pesto chicken sandwich. Sourdough, toasted in olive oil and topped with grilled chicken, pesto, Swiss cheese, and fresh tomatoes. A perfect easy and attractive dinner for guests or a cozy night in.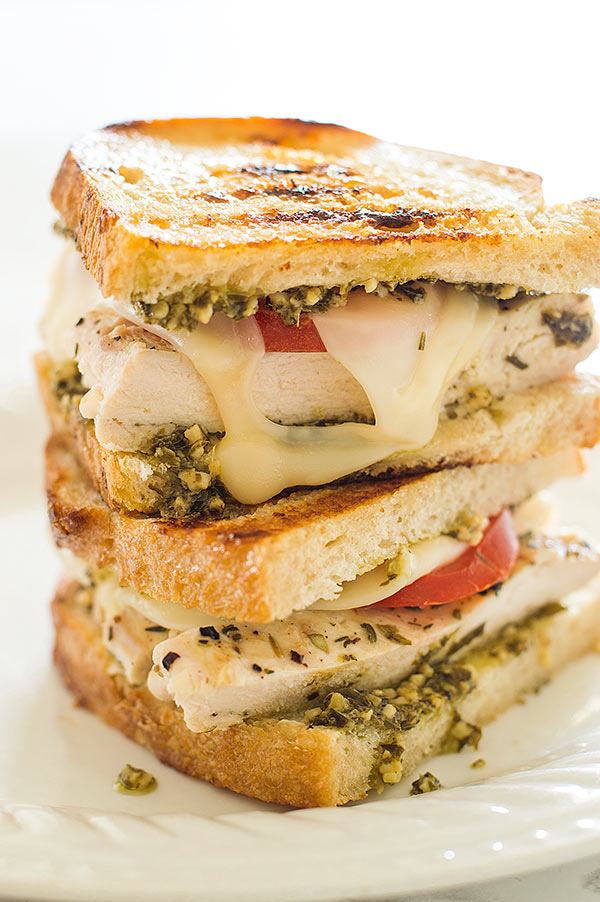 We've hit week three of our April Hot Sandwiches series, and I'm going to be honest, while I LOVE the contents of hot sandwich month (my Easy Homemade Panini, Spicy Chicken Bacon Avocado Grilled Cheese Sandwich, and Chipotle Turkey Panini are some of my favorite meals period), I am so glad that it is almost over. Sandwiches, it turns out, are surprisingly the absolute worst to photograph.
You might notice that there are only one and a half Pesto Chicken Sandwich on Sourdoughs in these photos. That's because I rage-ate the other half of one out of frustration in the middle of the photo shoot. If you're going to throw an adult temper tantrum, I highly recommend doing it with one of these in your hands. It's a delicious way to blow off a little steam. 🙂
But on to the sandwich: I'm going to keep this one short and sweet because this here's a sandwich that speaks for itself. In the hierarchy, of sandwiches, a Pesto Chicken Sandwich on Sourdough has to be near the top.
You've got bright and salty pesto slathered over toasty sourdough and piled high with perfectly grilled chicken, Swiss cheese, and tomatoes. Pretty much all the best things in life in one delicious sandwich.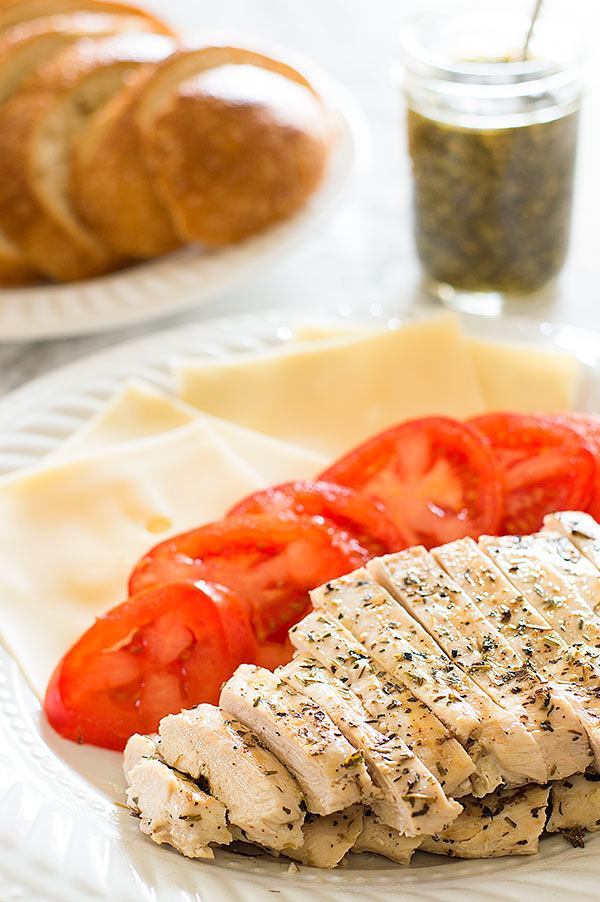 This is one of my favorite dinners for guests, because it's fantastically easy, looks beautiful, and tastes so darn good. It's also generously sized, so no one's leaving the table hungry, and it's a perfect way to use up extra leftover pesto you have sitting around your kitchen!
Feed guests good food to bursting AND use up leftovers? Who's the host with the most now?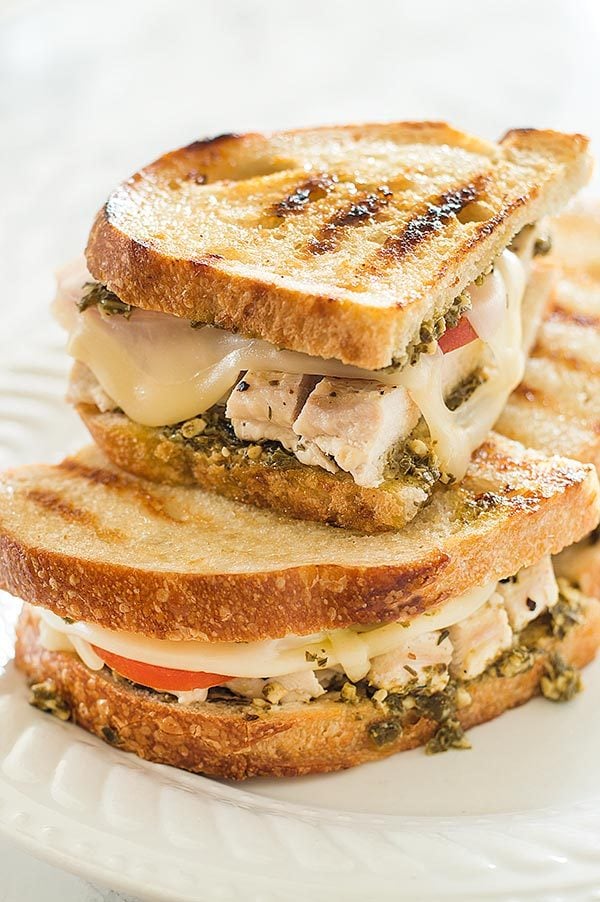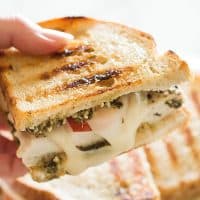 Pesto Chicken Sandwich on Sourdough
You're going to love this pesto chicken sandwich. Sourdough, toasted in olive oil and topped with grilled chicken, pesto, Swiss cheese, and fresh tomatoes. A perfect easy and attractive dinner for guests or a cozy night in.
Print
Servings (Hover or Click to Change Yield):
4
Ingredients
1

pound

(about

2

medium) boneless skinless chicken breasts

2

teaspoons

Italian seasoning

Salt and pepper

8

slices

sourdough bread

1/4

cup

pesto

divided

Mayonnaise

optional

2

medium tomatoes

sliced

4

slices

Swiss cheese

Olive oil

optional
Instructions
Place chicken breasts smooth-side up between two layers of plastic wrap or in a large disposable plastic bag and use a meat mallet or rolling pin to pound them to an even thickness. Start with the thickest part of the meat and strike it, working outward until the breast is the same thickness all over.

Sprinkle both sides of your flattened chicken breasts with Italian seasoning, salt, and pepper.

Heat an electric countertop grill or large skillet over medium heat. If using a skillet, grease cooking surface with cooking spray or a drizzle of olive oil. Cook chicken breasts for 5 to 8 minutes per side, until an instant-read thermometer inserted into the centers of the breasts reads 165°F. Transfer chicken to a cutting board and allow to rest for 5 minutes before slicing into 1/2-inch wide strips. Wipe out your pan.

Assemble sandwiches by spreading mayonnaise (if desired) and pesto over the bread. Top with chicken, tomatoes, and cheese, and brush tops and bottoms of the sandwiches lightly with olive oil or a thin layer of mayonnaise to help them brown.

Cook sandwiches over medium to medium high heat until first side is toasted and flip. The sandwiches are done when both sides are golden and the cheese is melted. If making in a skillet, you will probably only be able to fit two sandwiches at a time in the pan. Place cooked sandwiches on a plate in a warm oven while you repeat the process with the last two sandwiches to keep them warm.
Notes
Make Ahead Instructions: Chicken can be cooked up to two days in advance, but needs to be reheated before going on the sandwich because it won't heat through while toasting the bread. Everything else should be cut and assembled just before cooking.
Recipe For Two Instructions: Recipe halves cleanly.
Freezer Notes: This sandwich does not hold up well for freezing, but unused sourdough and any extra chicken can be stored in the freezer in air-tight containers for up four months.
Still have some pesto left over? Go check out the post What to Do With Leftover Pesto for some more pesto recipe ideas!
This post contains affiliate links, which means I receive a small commission if you make a purchase using one of the links. There is absolutely no additional cost to you.