Fantastic chewy, peanut-buttery peanut butter oatmeal cookies that everyone will love, plus instructions for freezing the dough for later.
If you've never had a peanut butter oatmeal cookie before, friend, you're in for a treat. They're the perfect cookie hybrid.
All the satisfying, rich peanut-buttery flavor of a good peanut butter cookie and the bendy, chewy texture and crispy edges of an oatmeal cookie.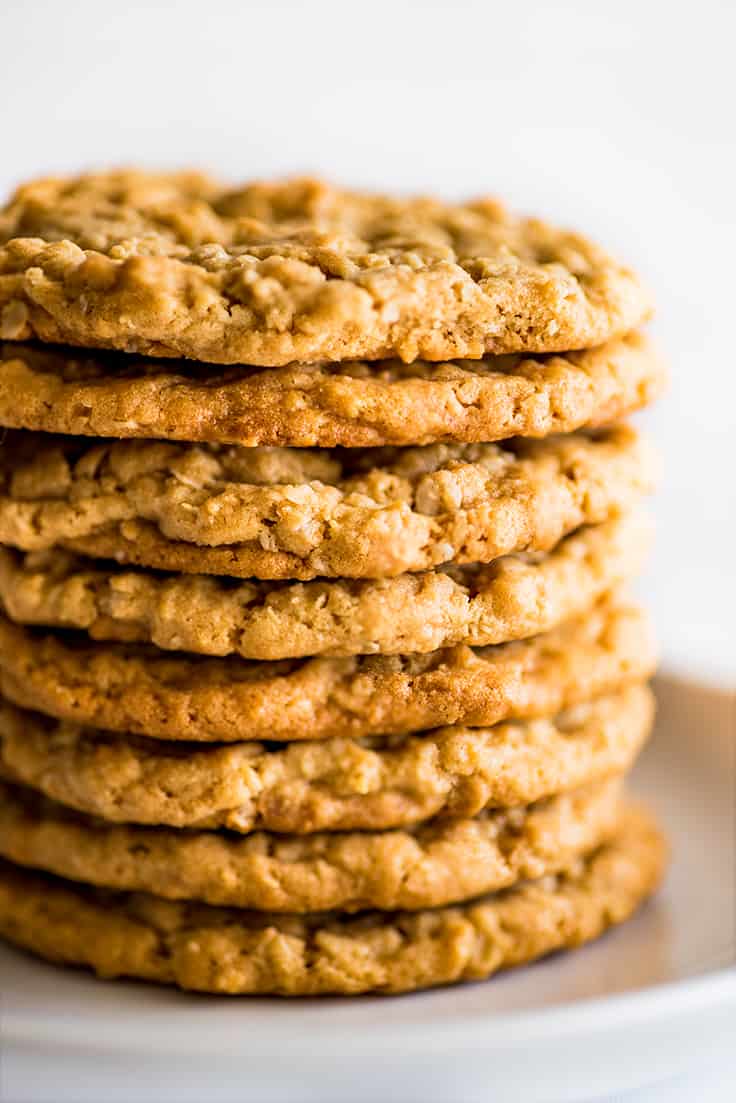 Plus (at least here in California) this isn't a cookie you see every day, so you set out plate of these, and people are always excited to get something a little different and new.
This recipe will make two-dozen large cookies (no worries small-batch friends, here's a small-batch peanut butter oatmeal cookie recipe for you).
And if you don't feel like eating all two dozen right now, there are instructions below for freezing baked cookies and dough so you can stock up your freezer for later.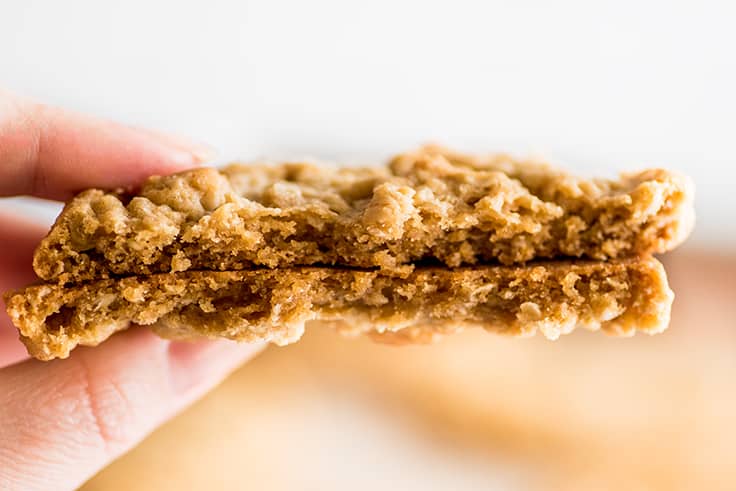 Ingredients
Softened butter: I like to use salted butter in these cookies, but you can replace it with unsalted butter if that's what you have. Just add an extra 1/8-1/4 teaspoon of salt.
Peanut butter: Go with a processed brand like Jiff or Skippy, as these give you the most consistent results for baking. You could probably get away with using natural peanut butter if you really want to, but these cookies have not been tested with it, so I can't guarantee the results.
Brown and granulated sugar: A mix of brown and granulated sugar is used to sweeten the cookies.
Large eggs: The eggs in this recipe add moisture to the dough and act as a binder for the rest of the ingredients.
Vanilla extract: Even in peanut butter cookies, a little vanilla in the dough is such an excellent flavor boost.
All-purpose flour: Make sure you're measuring your flour either by weight or using the spoon and sweep method (stir the flour in your container to fluff it up and then spoon it into your measuring cup, sweep excess off with the flat of a knife). Too much flour and your cookies might not spread correctly.
Quick-cooking oats: I prefer quick-cook oats for these cookies, but see my note below if you don't have any on hand.
Baking soda: Baking soda gives the cookies a little lift and (along with the sugar) helps them spread.
A Note on Oats
This recipe calls for quick-cook oats (AKA instant or minute oats). These are rolled oats that have been processed into smaller, thinner pieces so they cook more quickly. Using quick-cooked oats gives you a less "oaty" cookie. You'll still get plenty of texture, but your peanut butter oat cookies aren't going to taste like a granola bar.
If you normally keep old-fashioned/rolled oats on hand, not a problem. You can either embrace the extra texture and use them as-is or place 2 cups of oats into your food processor, pulse until most of the oats have been cut into smaller pieces and measure out 1 1/2 cups of the processed oats to use in the cookies.
Do not use steel-cut oats. No good can come of that.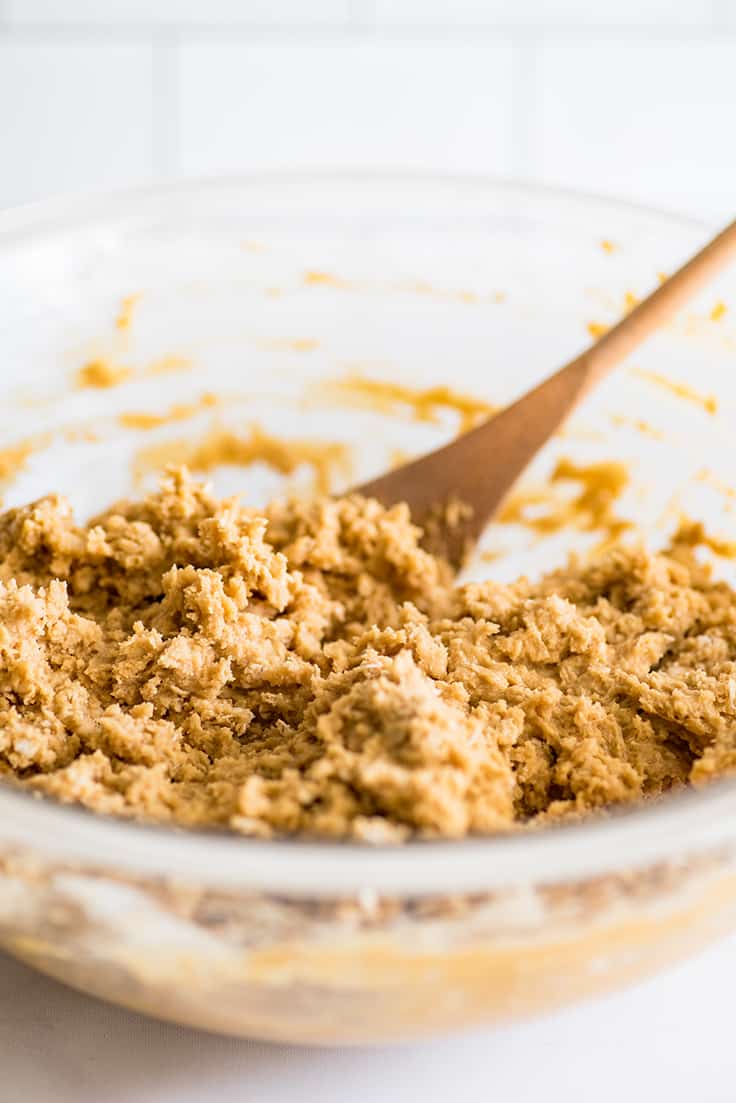 How to Make Peanut Butter Oatmeal Cookies
Set your butter out to soften about an hour before you're ready to make your cookies. When your butter is properly softened, you should be able to smoosh an indentation into it with your finger, but the butter around it should still hold its shape. To speed up butter softening, cut it into little pieces and place somewhere warm in your kitchen.
Once butter is softened, cream butter, peanut butter, and sugars together.
Beat in the eggs and vanilla.
Beat in the flour, oats, baking soda, and salt.
Scoop spoonfuls of dough onto baking sheets. Bake cookies 6 to 8 to a sheet because they SPREAD. Cool cookies on the baking sheet for 10 minutes to give them time to firm up, and then transfer them to a cooling rack and enjoy!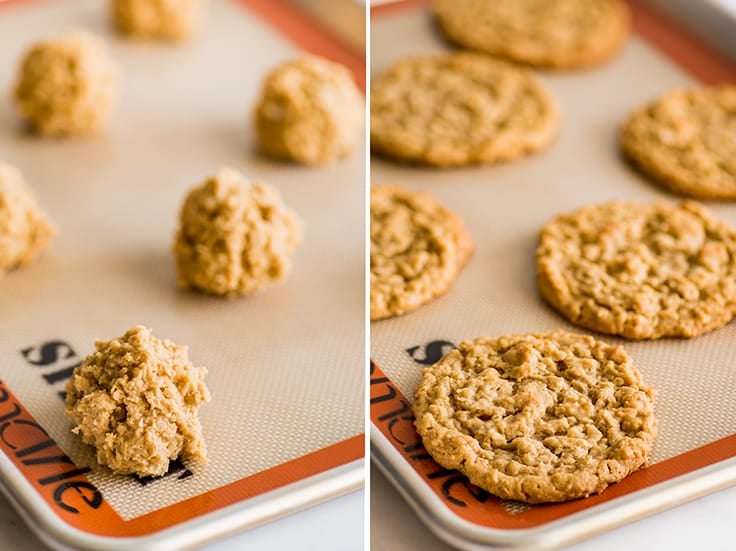 Freezing Peanut Butter Oatmeal Cookies
Freezing Baked Cookies: To freeze baked cookies, cool completely, transfer to a freezer bag, and store in the freezer for up to 2 months. When you're ready to eat one, you can defrost the cookie on the counter for 10 to 15 minutes or just eat it frozen.
Frozen cookies are surprisingly refreshing on a hot day.
Freezing Cookie Dough: To freeze the cookie dough, shape into balls and place on a plate or tray that will fit in your freezer until dough is frozen solid. Transfer frozen dough to a freezer bag and store in the freezer for up to 2 to 3 months.
Baking Frozen Dough: Frozen cookie dough can go directly from the freezer to the oven. Bake on a parchment paper or silicone baking mat-lined baking sheet at 350°F for 13 to 16 minutes, until the top of the cookie/s looks set and bottom edges are lightly browned.
FAQ
How to store cookies?
Store these cookies in an airtight container at room temperature for up to 4 or 5 days. For longer storage, freeze for up to 2 months.
Can I add chocolate chips?
Yes!!! !!!! Chocolate chip peanut butter oatmeal cookies are SO good. Add about 2 cups of chocolate chips or chunks to the cookies. I particularly love to make them with milk chocolate chips.
Update: On the advice of some readers, I've started making these with peanut butter chips, and OMG, I can't recommend it highly enough. Add 2 cups of peanut butter chips after you've stirred in the oats, and you will not regret it!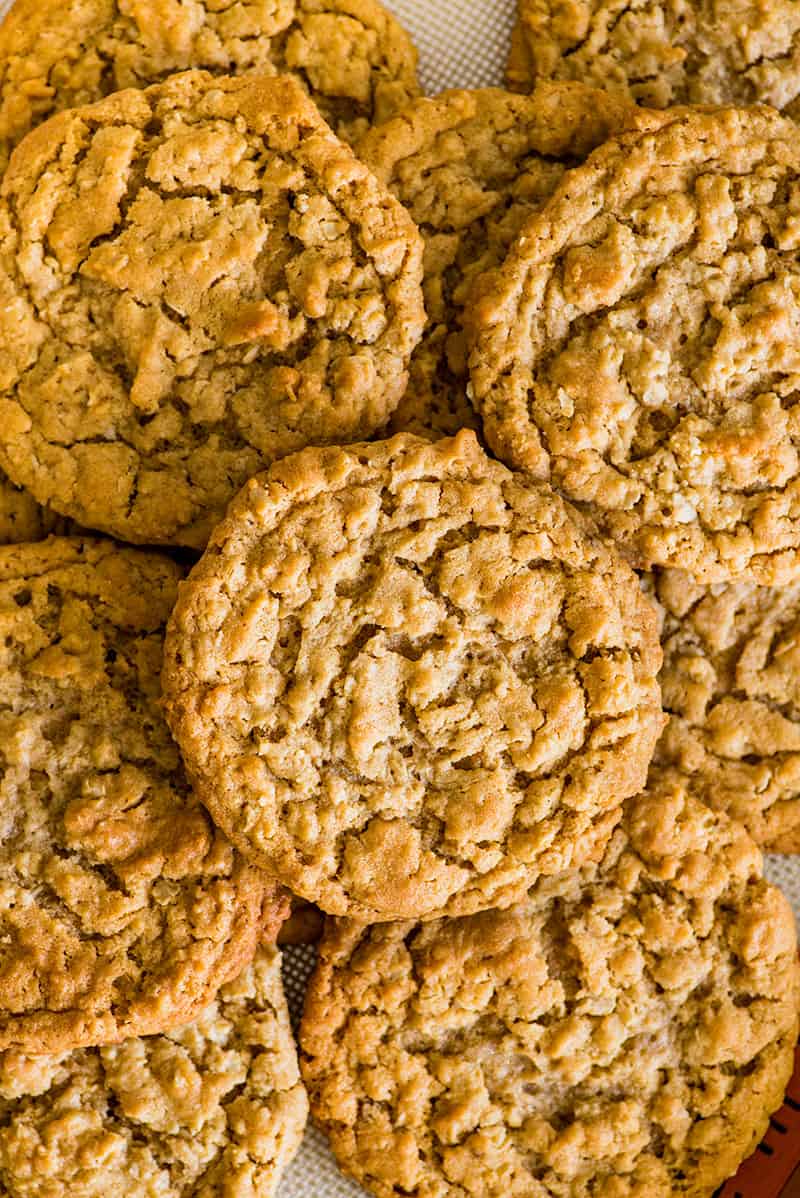 More Reader Favorite Desserts
Baking Notes
Because of the amount of dough this recipe makes, I prefer to make it in a stand mixer for convenience, but as you can see from the recipe video, you can use a hand-held electric mixer or muscle power and a whisk, and your cookies will come out fantastically well.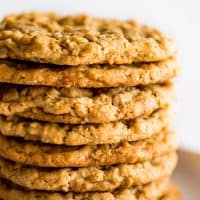 Peanut Butter Oatmeal Cookies
Fantastic chewy, peanut-buttery Peanut Butter Oatmeal Cookies that everyone will love, plus instructions for freezing the dough for later.

Print
Pin
Servings (Hover or Click to Change Yield):
24
Ingredients
1

cup

(

8oz, 2 sticks

) salted butter

softened

1

cup

(

264g

) peanut butter

creamy or chunky are fine, not natural peanut butter

1

cup

(

200g

) brown sugar

3/4

cup

(

150g

) granulated sugar

2

large eggs

1

teaspoon

vanilla extract

1 1/2

cup

(

180g

) all-purpose flour

1 1/2

cup

quick-cooking oats*

2

teaspoons

baking soda

1/2

teaspoon

salt
Instructions
Preheat your oven to 350°F. Line three baking sheets with parchment paper or silicone baking mats.

In a large bowl or the bowl of your stand mixer, combine butter, peanut butter, brown sugar, and granulated sugar. Beat until well-combined and fluffy, 30 seconds to 1 minute.

Add eggs and vanilla. Beat until completely mixed.

Add flour, oats, baking soda, and salt. Beat (if using a hand-held mixer or making by hand, use a wooden spoon to stir) until just mixed and a sticky dough forms.

Scoop golf-ball-

sized scoops of batter onto baking sheets, 8 to a sheet as far apart as possible (these cookies SPREAD).

Bake for 12 to 15 minutes, until cookies are browned around the edges and tops look mostly set. For crispier cookies, bake until cookies look completely set.

Allow cookies to cool on baking tray. Enjoy!
Notes
*If you only have old-fashioned/rolled oats, you can use them as is and your cookies will have a slightly more oat-y texture to them. OR place 2 cups of old-fashioned oats into your food processor, pulse until most of the oats have been cut into smaller pieces and measure out 1 1/2 cups of the processed oats to use in the cookies.
To add chocolate or peanut butter chips, add 2 cups of chips to the dough after the oats have been stirred in.
This post may contain affiliate links, which means I receive a small commission if you make a purchase using them. There is absolutely no additional cost to you.