My favorite popsicle tips and tricks plus some of the best popsicle recipes on the internet!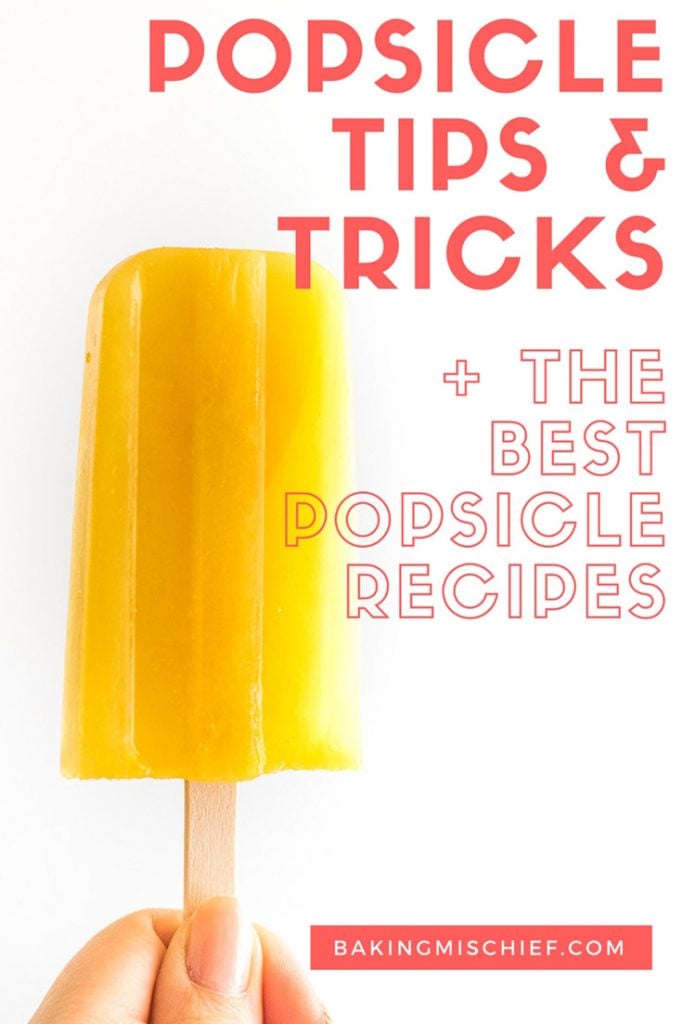 Hey folks, I've been a little obsessed with popsicle recipes this summer. On the blog these last couple of months, I've shared Cookies and Cream Popsicles, Homemade Pudding Pops, and even some Frozen Pupsicles for our four-legged friends. I don't have any more popsicle recipes to share with you this summer, but before I completely put away the popsicle mold, I wanted to share a few of my favorite tips and tricks for popsicle making.
Tip #1: Get a good popsicle maker!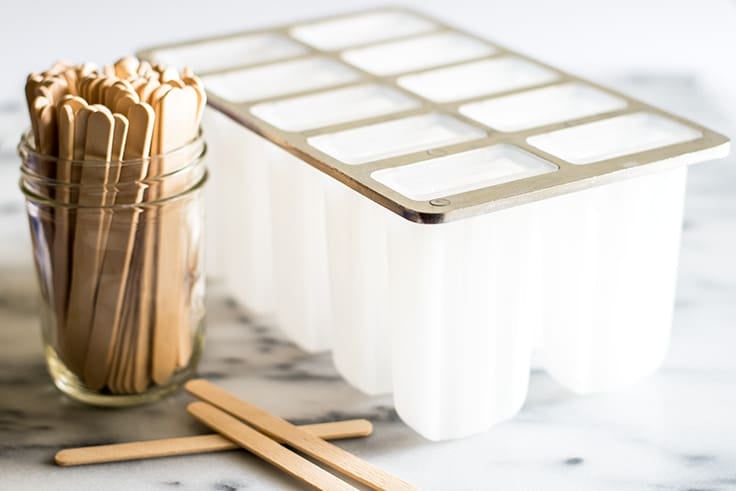 This post may contain affiliate links, which means I receive a small commission if you make a purchase using them. There is absolutely no additional cost to you.
Look, that twenty-year-old popsicle mold you stole from your parents' kitchen when you moved away to college (what, am I the only one?) works fine, BUT, popsicle making is so much easier and your popsicles look so much more professional when you have a quality mold.
This is the one I have, and I love it. It doesn't pick up odors or colors and is easy to clean. Mine gets a TON of use and it still looks brand new. There's also another highly rated mold with a metal lid that I know a lot of bloggers are a fan of, if that's more your speed.
Mini Tip: Buy some popsicle sticks to go with it. Most molds come with twenty or so, but that's like two batches of popsicles. If you have sticks, you are far more likely to actually use your popsicle mold.
Tip #2: How to keep sticks from tipping over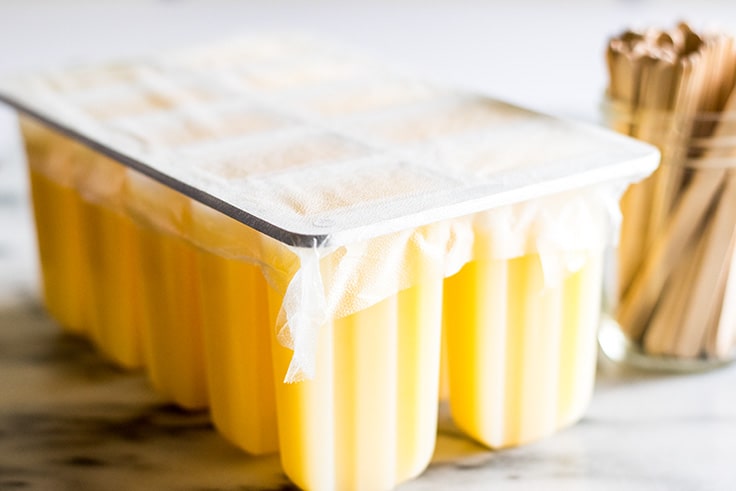 The one major complaint I see from people with the type of mold I have is that they make their popsicles, put the sticks in, the sticks tilt, freeze that way, and it is almost impossible to get the lids off. That is an EASY fix, and you have a couple of good options:
Put your popsicles in the freezer without sticks, wait 40 minutes or so, until popsicles are slushy and then insert the sticks. They'll say where you put them. Just make sure to set a timer so you don't forget because you'll be in trouble if you forget to add the sticks!
Use mini alligator clips on either side of each popsicle stick. It keeps them perfectly straight.
My favorite: Stretch a sheet of plastic wrap over the top of the popsicle mold before adding the lid. Then use a paring knife through the slits in the lid to poke a small opening where each of the sticks should go. Insert the sticks, and they will stand straight up and only go down as far into the popsicle as you want them too. I also like this trick because if your popsicles freeze over, it adds a layer between the popsicle and lid so nothing sticks and you can just peel the plastic off.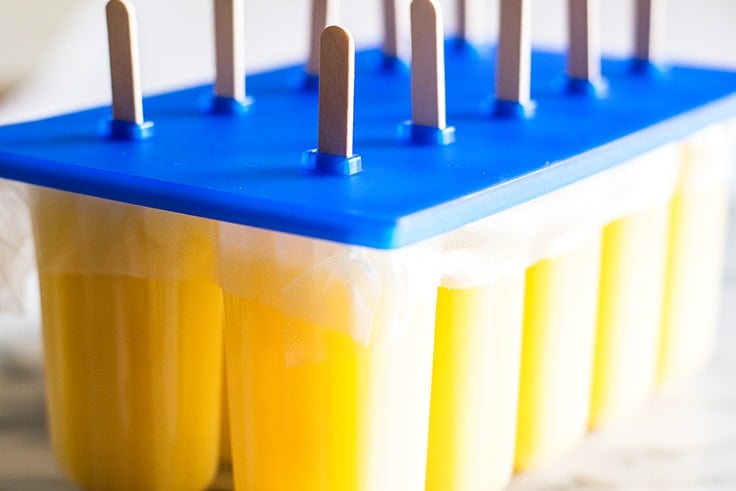 Tip #3: The best way to store popsicles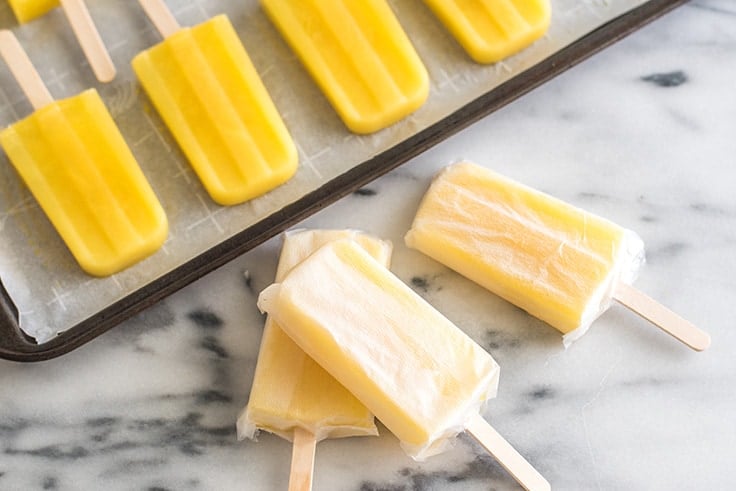 Yes, you can just leave your popsicles in the mold and take them out one by one when you are ready for them, but unless you are eating them within a day or two, they can start to pick of freezer smells and the bottoms can become freezer-burned. You'll keep your popsicles tastier longer using one of these methods.
Store in a plastic freezer bag or airtight container. This is the easiest option. Once you remove your popsicles from their mold, lay them on a parchment or wax-paper-covered baking sheet (or plate if that's what will fit in your freezer) and refreeze for 15 to 20 minutes until completely re-frozen. This will keep them from sticking together when stored. Then just place them in the air-tight container. This works best for popsicles you plan on finishing within a couple of days as the container won't keep them completely fresh for very long.
For longer storage, wrap each individually in plastic wrap before storing in an airtight bag or container. You don't have to refreeze them before wrapping since they won't be able to stick together. This will keep your popsicles fresh and fabulous for a week or two, and it makes the whole experience of eating one feel just a little more special since you get to unwrap it before eating.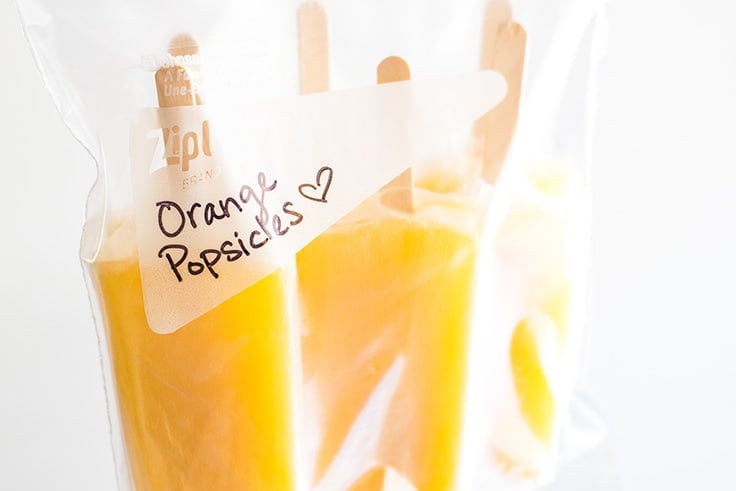 The BEST Popsicle Recipes
Finally, I asked some blogger friends to recommend their BEST popsicle recipe to me so you have bunches of recipes to try these tips out on. There's still a month of summer left, so I bet you can get through a ton of them!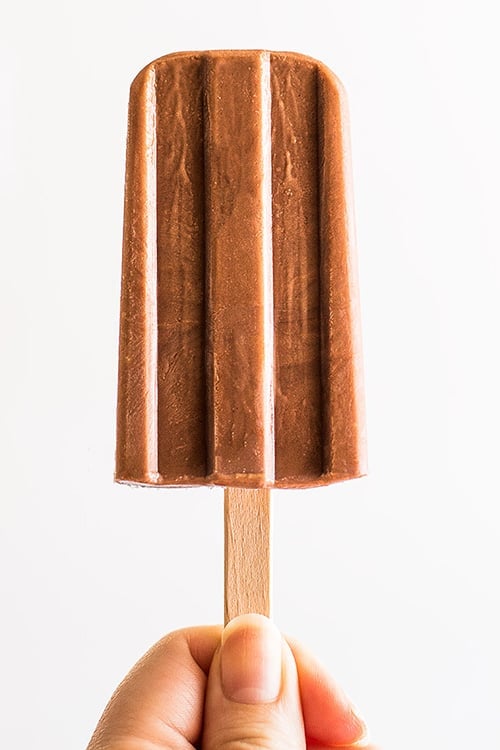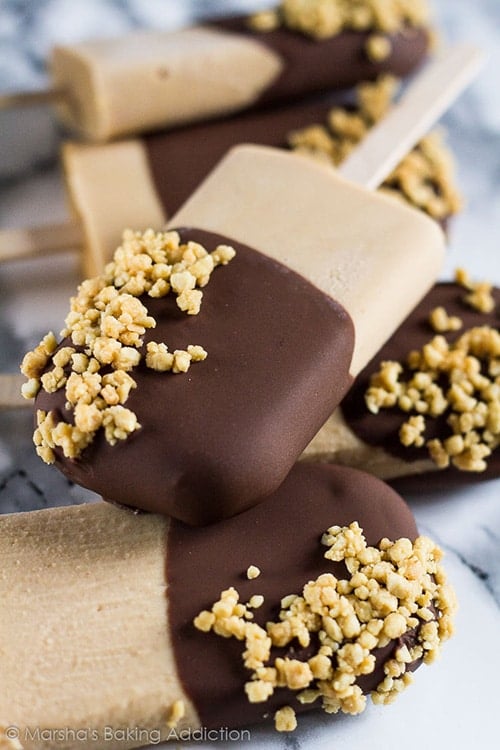 Chocolate Peanut Butter Yoghurt Popsicles from Marsha's Baking Addiction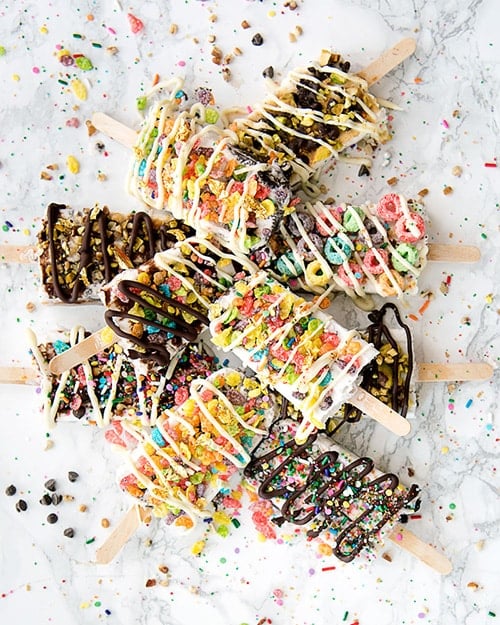 Fully Loaded Vegan Oreo Coconut Milk Popsicles from A Side of Sweet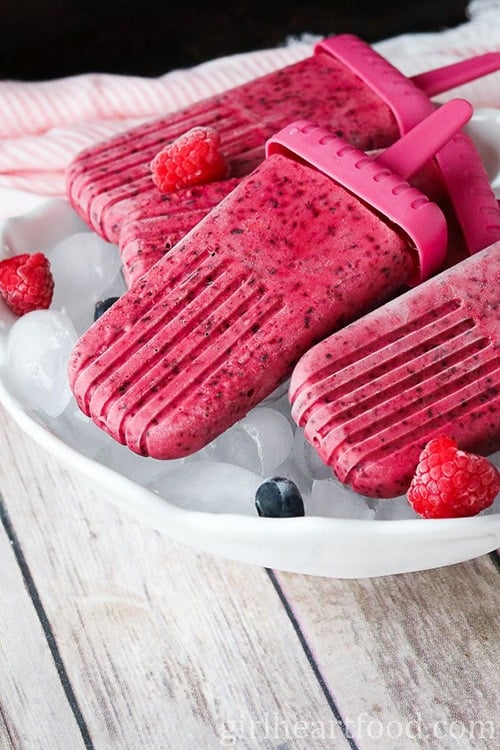 Triple Berry Ice Pops from Girl Heart Food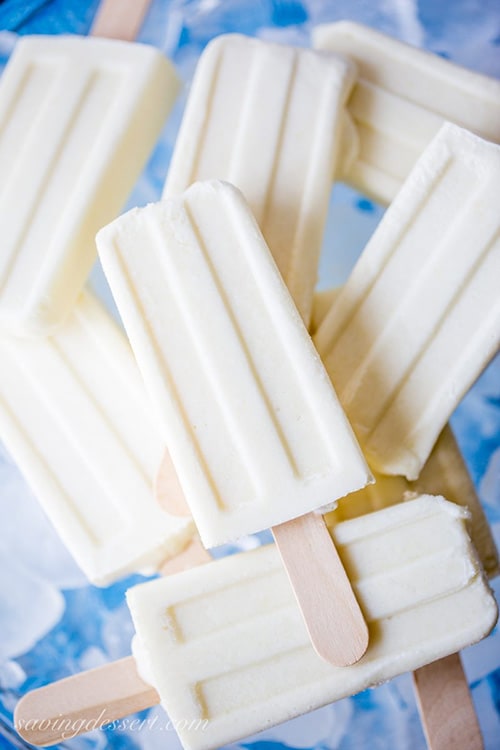 Coconut Pineapple Popsicles from Saving Room for Dessert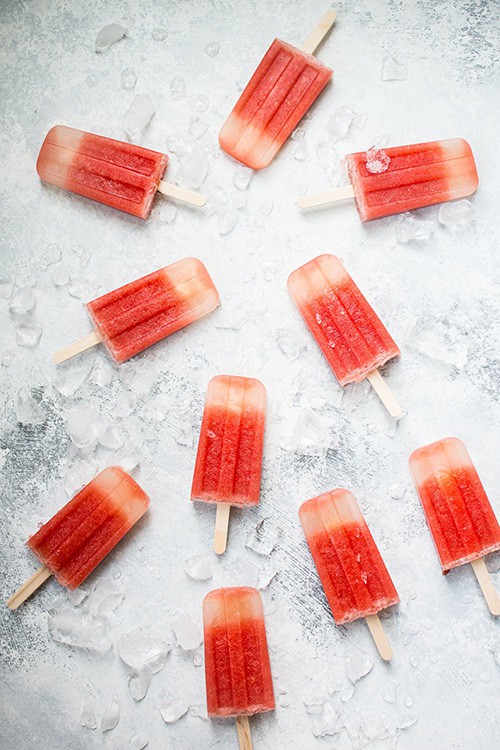 Watermelon Margarita Popsicles from Salt and Lavender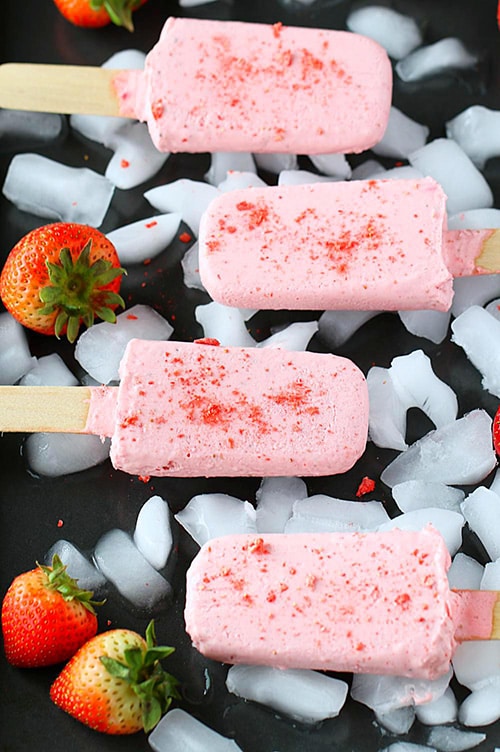 Creamy Strawberry Popsicle from Ruchi's Kitchen
Swirled Cherry Pineapple Popsicles from The Little Epicurean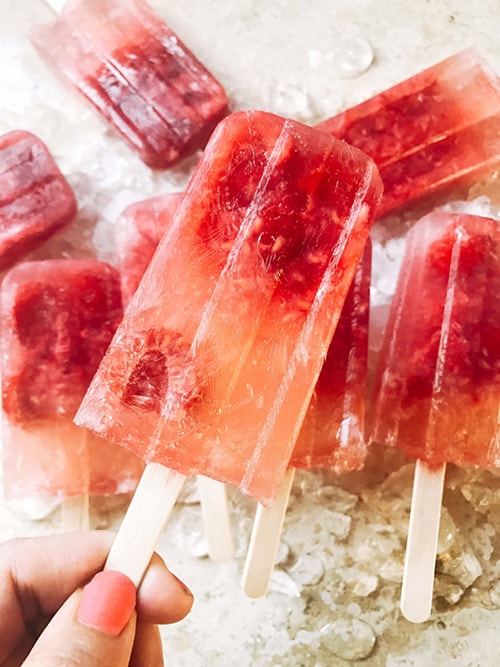 Raspberry Rose (Frose) Popsicles from Three Olives Branch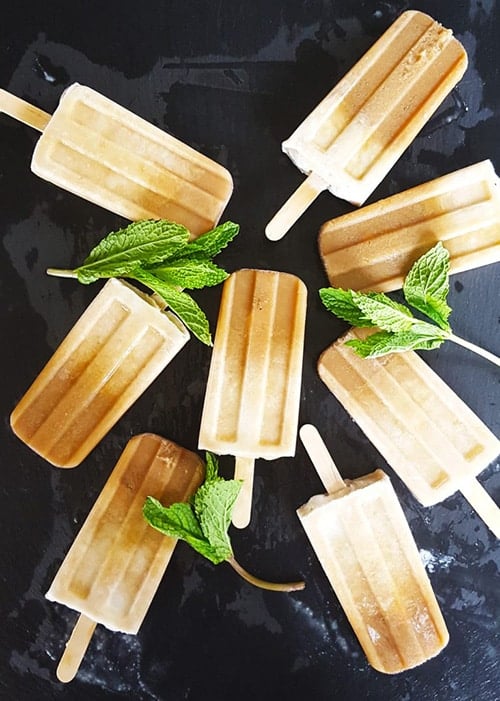 Boozy Mint Coffee Coconut Cream Popsicles from Feast in Thyme