Classic shortbread thumbprint cookies with delicious homemade butterscotch filling.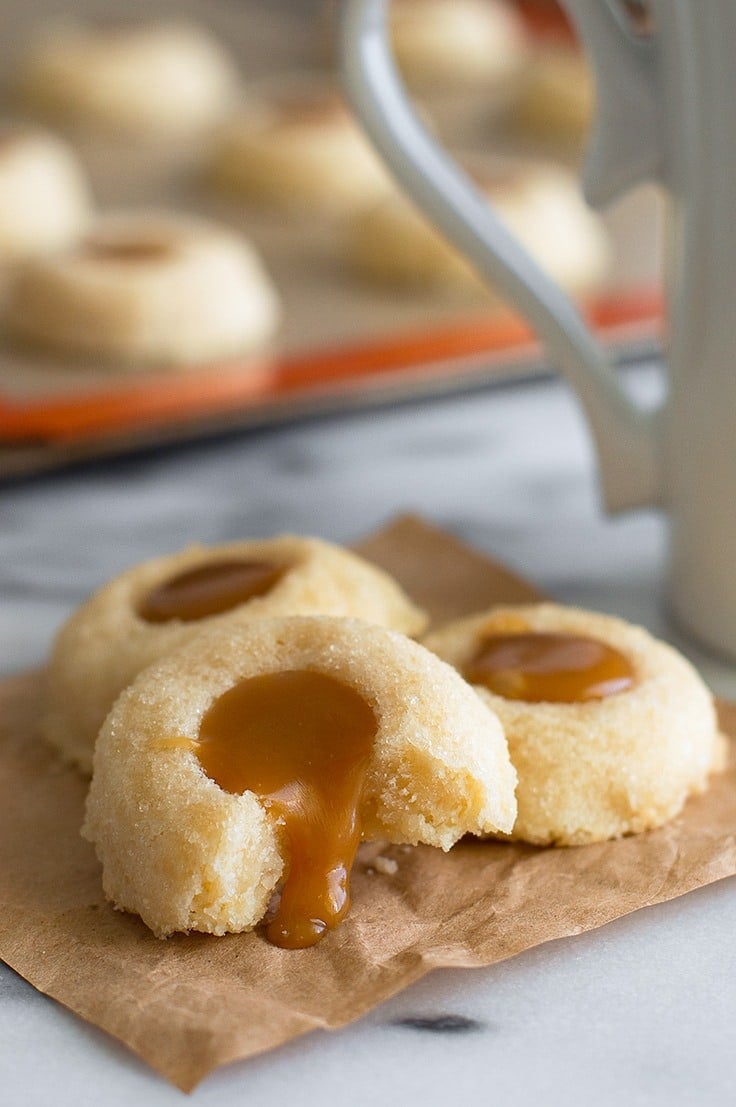 **Photos have been updated. Don't worry, you're in the right place. :)**
I'm so excited to hit publish on my very first blog post today!
I wanted the inaugural post to be something that reflected the spirit of the blog to come, one that was representative of my passion for healthy recipes, eating your veggies, and branching out of your culinary comfort zone. But honestly, it's December. It's pretty much all cookies all the time coming out of my kitchen right now (stay tuned for salad in January).
So instead, I'm starting today with a classic cookie, my current obsession, shortbread thumbprint cookies with homemade butterscotch filling.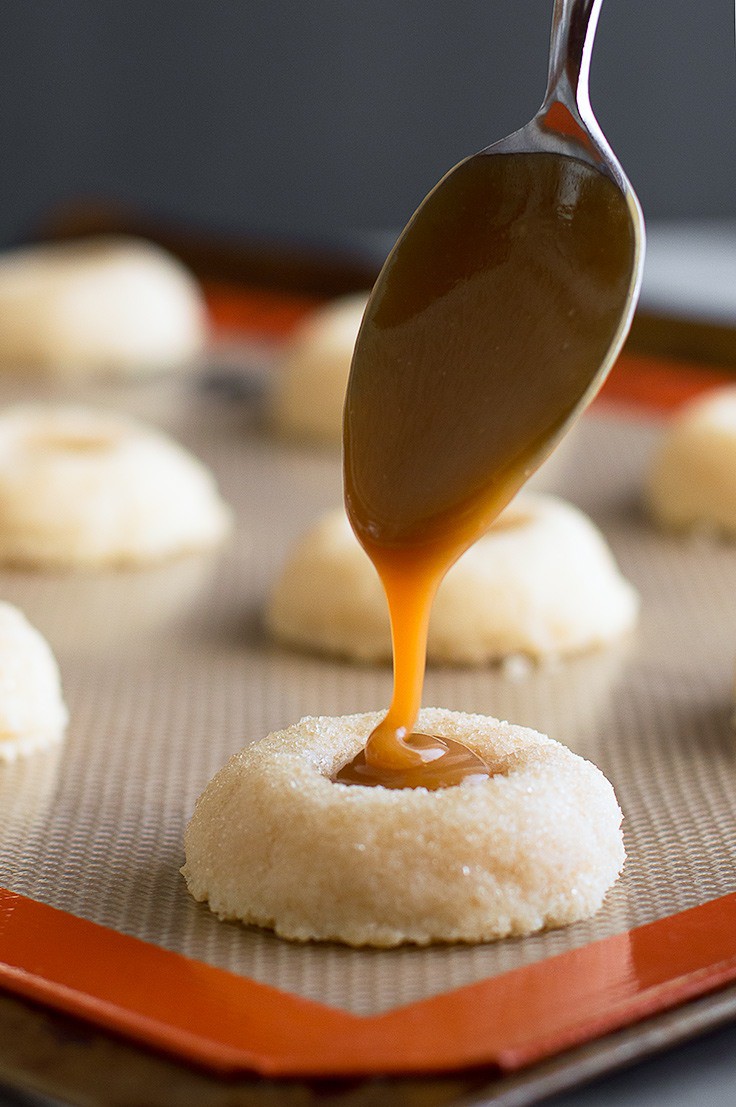 This is going to sound crazy, but I wasn't a shortbread fan for most of my life. Beyond a few tried-and-true family recipes, we weren't really bakers in my house growing up, nor were we cookie people.
I know I ate shortbread. I vaguely remember turning my nose up at those shiny blue tins of the stuff every year at Christmas, and I'd used it as a base in bars, but I didn't understand the sweet and buttery goodness that was the homemade shortbread cookie until my sister baked up a batch for me.
My immediate reaction was, This is amazing. I never want to not be eating these. And then, Hey, World, what other wonders have you been holding out on me?!!!
Since that day, I've made this recipe waaaaay too many times in way too many variations (rolled in sugar, rolled in sprinkles, icing, no icing, chocolate drizzles, etc.) and have finally settled on my perfect variation: rolled in sanding sugar* or turbinado sugar*, turned into a thumbprint cookie and filled with butterscotch.
The butterscotch is the perfect, creamy complement to the buttery cookie and the sugar gives it a crunch to keep things interesting. These cookies are so good you'll never want to let your shortbread go naked again!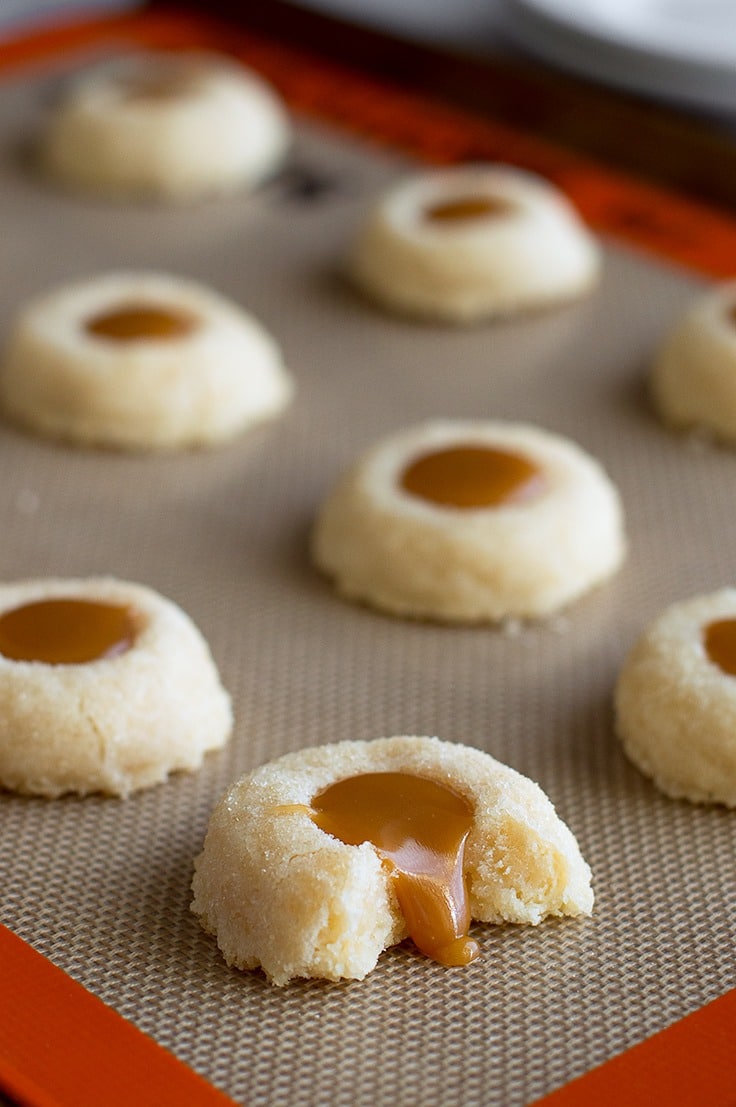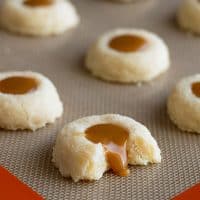 Butterscotch Shortbread Thumbprint Cookies
Classic shortbread thumbprint cookies with delicious homemade butterscotch filling.

Print
Servings (Hover or Click to Change Yield):
24
Ingredients
Cookies
1

cup

(

8

oz) unsalted butter

room temperature

1/2

cup

(

60

g) powdered sugar

sifted

2

cups

(

280

g) all-purpose flour

1/8

teaspoon

salt

1/4

cup

sanding sugar

optional
Butterscotch
2

tablespoons

(

1

oz) unsalted butter

1/4

cup

(

50

g) packed brown sugar

1/4

cup

heavy cream

1/4

teaspoon

salt

3/4

teaspoons

vanilla
Instructions
Cookies
In a large bowl, cream together the butter and sugar. Stir in flour and salt, mixing until just combined, making sure to scrape the sides and bottom of your bowl.

Cover and chill the dough in the refrigerator until it is firm enough to handle, about 15-30 minutes. You should be able to shape scoops of it into a ball without it being too sticky or cracking. If it is over-chilled and difficult to work with, leave it out on the counter for a few minutes.

Preheat the oven to 350°F and line a baking sheet with parchment paper.

Using a tablespoon, scoop dough and roll into balls (slightly under 1 ounce each). If desired, roll balls in sanding sugar until completely covered. Place dough cookie sheet, 2 inches apart.

Bake for 10 to 12 minutes. The cookies are done when their bottoms are lightly browned.

As soon as they come out of the oven, use a round teaspoon or the back of a wooden spoon to create shallow wells in the center of each cookie. Be careful not to press too hard or you can cause the cookies to crack. Set aside.
Butterscotch
Melt butter in a small, heavy-bottomed saucepan. Add brown sugar, salt, and cream. Stir to combine. Bring to a simmer and, stirring occasionally, cook on medium for 5 minutes.

Remove pot from heat and stir in the vanilla. Use a teaspoon to spoon butterscotch into the thumbprints. Allow the butterscotch to cool slightly before serving.
Notes
If you are making a double batch of cookies, you will need to let the butterscotch simmer for a little longer, about a minute or two to get a sauce that will set. The mixture should be thick, but still pourable. If you are going by temperature, about 225-230º F is the sweet spot.
These cookies will stay fresh stored in an airtight container on the counter for three days. If you have extra butterscotch filling, you can keep it in the refrigerator for up to two weeks in an airtight container. It's great warmed up and served over ice cream or you can use it to make a Caramel Macchiato!
Butterscotch Shortbread Thumbprint Cookies Nutritional Information
Adapted From: In the Kitchen with Stefano Faita
Butterscotch Filling Adapted From: Smitten Kitchen
Small-batch Instructions: This cookie recipe halves cleanly, just use a pinch of salt instead of 1/8 teaspoon. For the butterscotch, simmer for 4 minutes instead of 5 in a 1-quart pot, and use 1/2 teaspoon vanilla.
*Links marked with an asterisk are affiliate links, which means I receive small commission if you make a purchase using one of them. There is absolutely no additional cost to you.
Original iPhone Photography, Circa 2015