This homemade Chicken Peasant Soup is easy, fast, and delicious!
This post has been updated. Don't worry. You're in the right place. 😉
When I was a poor, frazzled college student living on fast food and Lean Cuisines, I had a standing Thursday-TV-and-dinner night with a couple of friends. We'd get together once a week, watch the NBC comedy block over takeout, and decompress from all the stresses of college life.
One of those cold, Pacific Northwest evenings, that week's host suggested we try our hand at cooking our dinner instead of ordering it and showed us a chicken peasant soup recipe she had printed out from the internet.
At the time, I thought that good from-scratch soup required long hours on the stove and complicated ingredient lists. This recipe only cooked for 20 minutes! It had one spice! It had to be too simple to be any good. I wasn't very enthusiastic, but we eventually agreed to try to make the soup, and if it wasn't delicious, we'd order a pizza.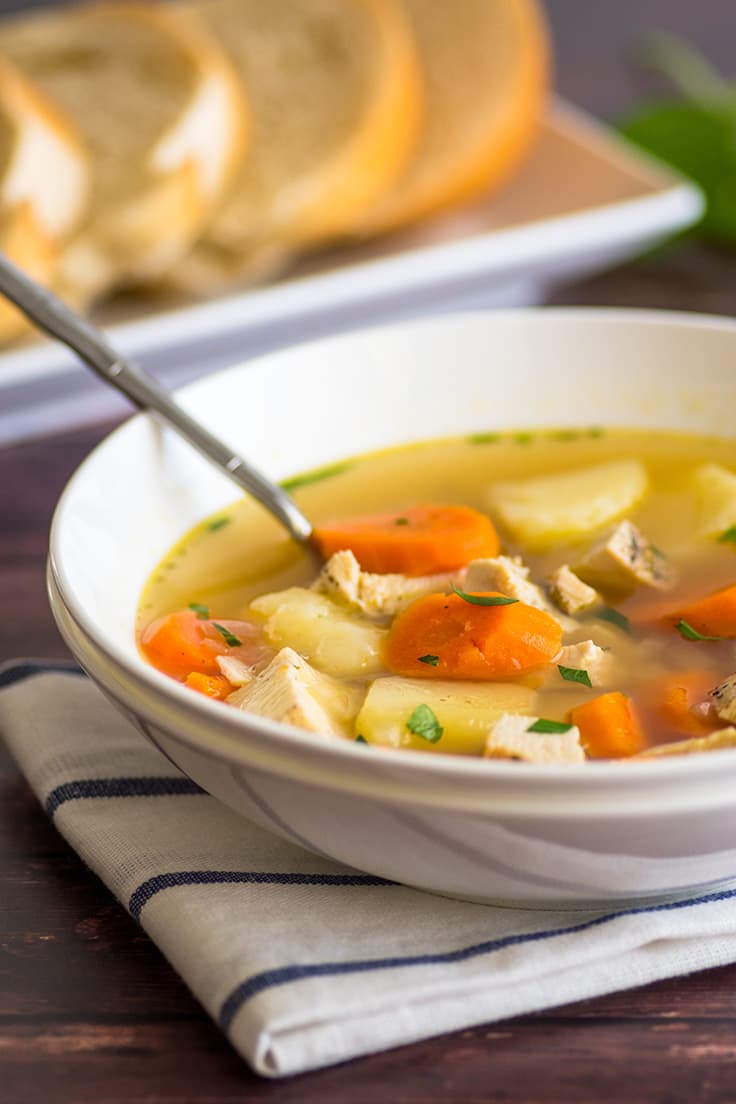 We made the soup. We did not order pizza.
The soup turned out to be light, but full of flavor, the simplicity of the ingredients letting the taste of the garlic and chicken really come through. I happily admitted my mistake whilst scarfing down a bowl of the stuff.
Years later, I've lost touch with these friends. None of those NBC shows are still on the air. But I still make our soup. Like me, the recipe has changed a bit, but not too much. I make it often during this time of year and every time I do, it reminds me of rainy evenings, a time when NBC's lineup was must-see TV, and cooking with friends.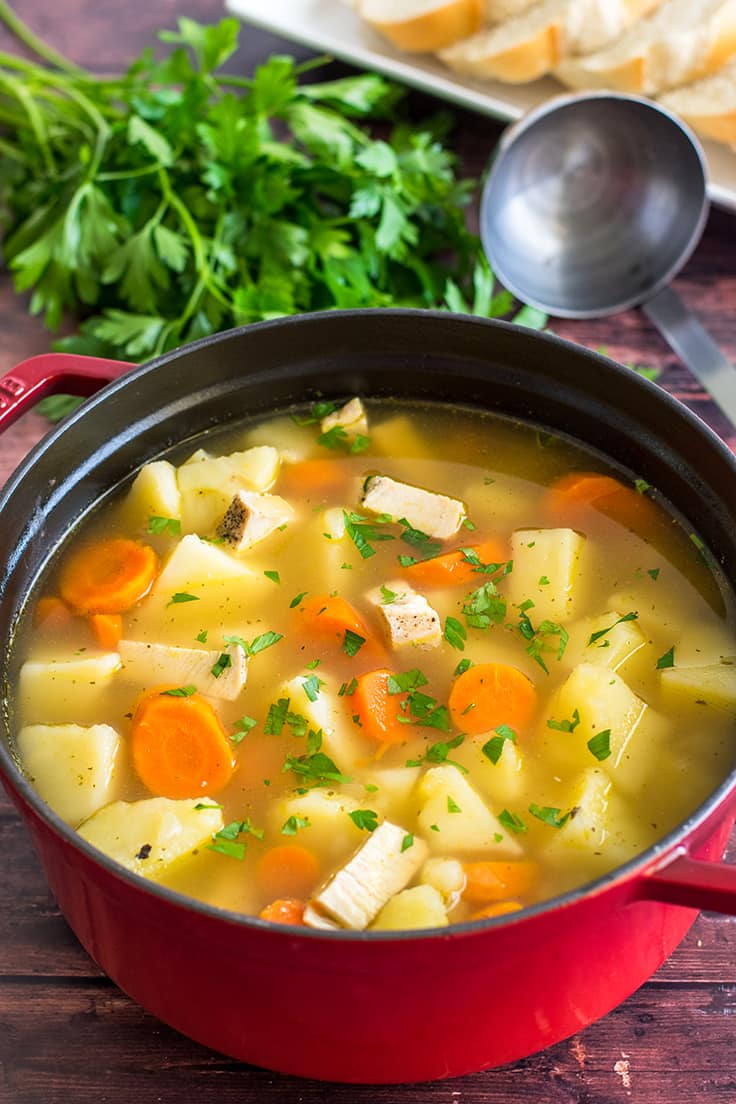 This recipe is quick, easy, and delicious. It's simple enough to whip up for lunch, but the potatoes give it bulk so it's a great, healthy option for a busy weeknight. I usually serve it with a some Cream Biscuits or my favorite Cheddar Cheese Scones.
More Easy Soup Recipes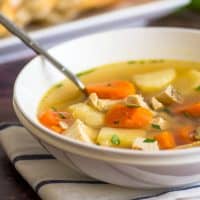 Easy Chicken Peasant Soup
This homemade Chicken Peasant Soup is easy, fast, and delicious!
Print
Pin
Servings (Hover or Click to Change Yield):
4
servings
Ingredients
1

pound

(about

2

small) boneless skinless chicken breasts

cubed

1

small onion

diced

4

medium red potatoes

cubed

4

medium carrots

peeled and sliced

2

cloves

garlic

minced

4

cups

chicken broth

1/2

teaspoon

oregano

1/4

teaspoon

thyme

1

bay leaf

optional

Salt and pepper
Instructions
Coat a large saucepan with cooking spray or a little bit of oil and heat over medium-high heat. Salt and pepper chicken and cook until well-browned.

Add the rest of your ingredients to the pot and bring to a boil.

Lower to medium heat and simmer for 20 to 25 minutes, until the vegetables are fork tender. Salt and pepper to taste. Remove the bay leaf, serve, and enjoy!
Notes
This could easily be made with rotisserie or pre-cooked, shredded chicken. In that case, I would add the meat in the last five minutes of cooking time.
Freezer Notes: If you don't mind the texture of frozen potatoes, this soup freezes well in individual servings for a ready-made meal. Just pour into freezer bags and freeze flat on a cookie tray. When soup is frozen, stack. Just be sure to defrost it in the refrigerator. The potatoes will turn to complete mush if you defrost in the microwave.
Nutritional Information
Adapted From Taste of Home
This post may contain affiliate links, which means I receive a small commission if you make a purchase using them. There is absolutely no additional cost to you.
Original Chicken Peasant Soup Photography Circa 2015