My mom's famous carrot cake recipe that makes the BEST carrot cake with creamy, decadent cream cheese frosting.
This easy carrot cake is a family favorite. It's simple to make, pretty much fool proof, and perfect for parties or potlucks. I can't wait for you to try it!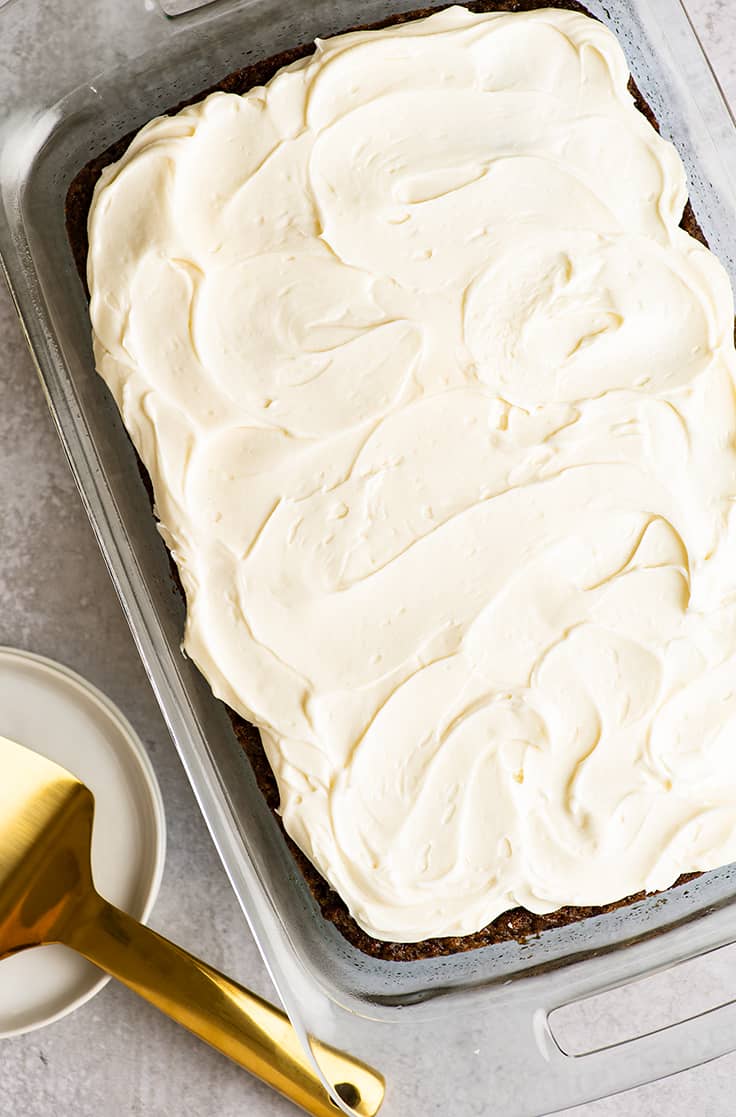 A couple of years ago, I shared this Small Carrot Cake recipe, which is a miniaturized version of my Mom's (amazing, wonderful, perfect) carrot cake.
Since that post went live, I've had SO many people email me asking for her full-size recipe. And since we're coming up on carrot cake season, today I'm sharing her version on the blog.
This recipe will make a 9×13-inch carrot cake, and it's my absolute favorite carrot cake in the entire world.
The Best Carrot Cake Recipe (Perfect for Potlucks)
This carrot cake recipe makes a wonderfully moist and soft carrot cake with just the perfect level of spice and sweetness.
Growing up, it was my Mom's go-to potluck dessert, and to this day, I maintain that it really is the perfect dessert for parties and potlucks because aside from being irresistible:
You can make it a day or two in advance, and if you bake it in a 9×13 casserole dish with a lid, it's already packaged for travel. Just pop on the lid and go.
It's pretty fool-proof and easy. You don't need a stand mixer, just a whisk, a couple of bowls, and a box grater for the carrots.
Zero decorating skills needed. Just spread on a (slightly excessive) layer of cream cheese frosting and you're good to go.
Some Carrot Questions
And before we get to the recipe, let's have a quick chat about carrots, because this is the one place I see people get hung up when making carrot cake.
Do I need to peel my carrots for carrot cake?
Yes! Peel your carrots before shredding them because the skin can have a bitter taste and unpleasant texture after baking.
How to grate carrots for carrot cake?
Use the large-size holes of a box grater to grate the peeled carrots. You can also use the shredding/grating disc attachment of your food processor if you have one.
Bonus tip: When shopping for carrots, try to get medium-to-large carrots as they are much easier and quicker to grate than small skinny ones!
How to measure carrots for carrot cake?
Measure your grated carrots by piling them loosely in your measuring cup. Do not pack them in for measuring.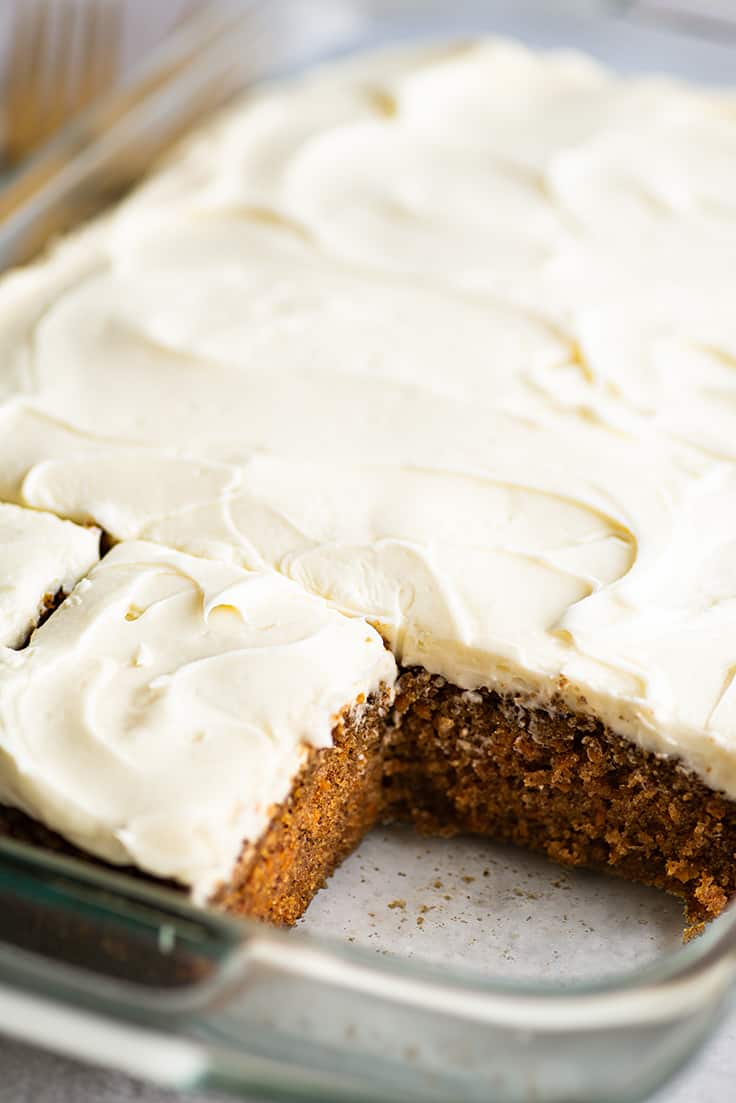 Cream Cheese Carrot Cake Frosting
Cream cheese frosting for carrot cake is a must, and this carrot cake has some really good cream cheese frosting to top it off. It's rich, tangy, and everything you could possibly want from a cream cheese frosting.
There are two secrets to getting a perfectly smooth and silky cream cheese frosting:
1. Start with truly room temperature butter and cream cheese and beat them until smooth before adding the powdered sugar. If your butter and cream cheese aren't mixing nicely, stop beating and let them sit for another 10-15 minutes before trying again.
If you add powdered sugar before the butter and cream cheese are smooth, you might end up with lumps of cream cheese in your frosting that you won't be able to get rid of.
2. Sift your powdered sugar. Lumpy powdered sugar can also lead to lumpy frosting. Though if you don't mind some powdered sugar lumps, by all means, skip sifting.
Bonus tip: This is quite a lot of powdered sugar to sift, so I like to use a fine-mesh strainer to sift the sugar over a flexible cutting board so I have more space to work with and can sift the sugar more quickly.
Storing Carrot Cake
Before frosting, this cake can be stored covered at room temperature. As soon as it is frosted, if it's not going to be eaten for a couple of hours, it should be stored covered in the refrigerator because of the cream cheese.
You can allow the cake to sit for about an hour to come to room temperature before serving or serve chilled.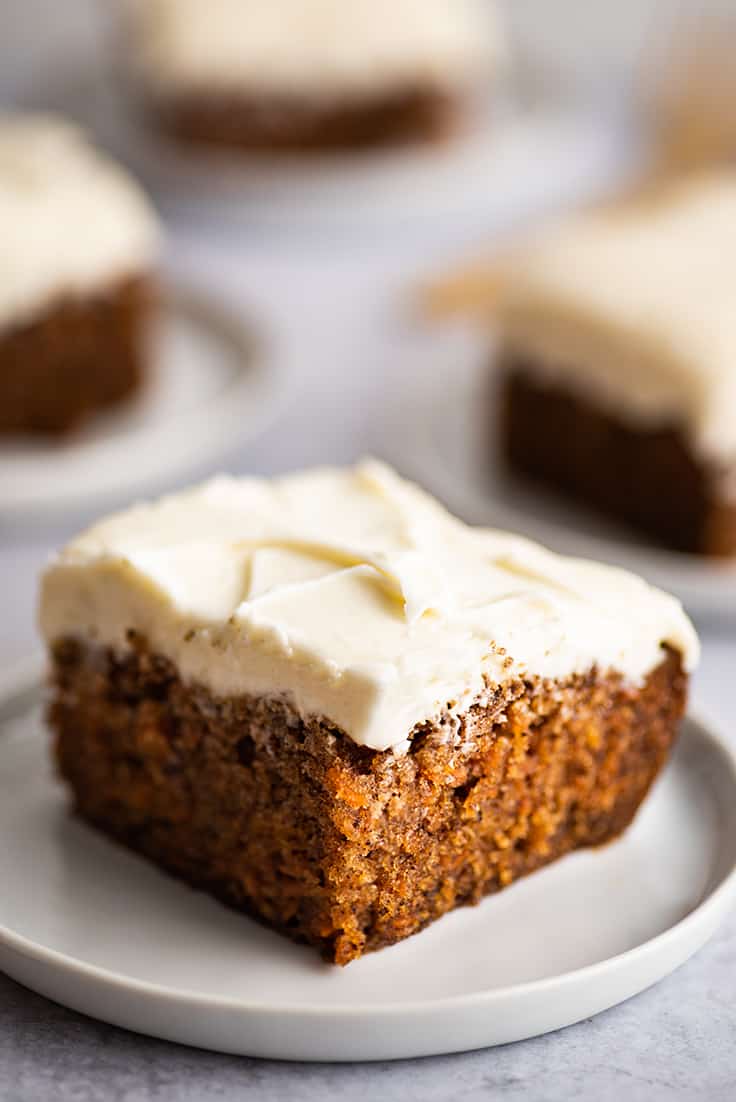 Recipe Notes
This cake contains allspice, which not all carrot cake recipes include. You can omit it if you don't have any or don't care for it. If you're not sure if you'll like the flavor in carrot cake, smell the spice before adding and skip it or cut the amount in half if it doesn't appeal to you.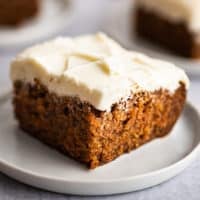 Easy Carrot Cake Recipe
My mom's famous carrot cake recipe that makes the BEST carrot cake with creamy, decadent cream cheese frosting.
Print
Pin
Servings (Hover or Click to Change Yield):
16
to 24 servings
Ingredients
Carrot Cake
2

cups

(

240g

) all-purpose flour

2

teaspoons

baking powder

2

teaspoons

cinnamon

2

teaspoons

allspice

*

1/2

teaspoon

salt

4

large eggs

2

cups

(

400g

) granulated sugar

1 1/4

cup

vegetable oil

3

cups

loosely packed peeled and grated carrots

*
Cream Cheese Frosting
8

ounces

cream cheese

softened

1/2

cup

(

4oz

) salted butter

softened

1

teaspoon

vanilla extract

3 3/4

cups

(

1

16-ounce box) powdered sugar

sifted
Instructions
Carrot Cake
Preheat your oven to 325°F and lightly grease a 9x13-inch baking dish.

In a medium bowl, whisk together flour, baking powder, cinnamon, allspice, and salt.

To a large bowl, add eggs and whisk until lightly beaten. Add sugar and vegetable oil and beat until well-mixed. Add flour mixture and use a wooden spoon to stir until just mixed.

Add carrots and stir until evenly distributed, scraping the sides and bottom of the bowl with a rubber spatula to make sure all of the batter is mixed.

Pour batter into prepared baking dish and smooth the top. Bake for about 50 minutes to 1 hour, until the center of the cake looks set and a toothpick or cake tester inserted into the center of the cake comes out clean.

Cool cake in the pan until completely cool.
Cream Cheese Frosting
In a large bowl, beat cream cheese, butter, and vanilla until well-combined and smooth. Slowly add sifted powdered sugar and beat until all the sugar is incorporated and frosting is smooth and creamy.

Spread frosting over the top of the cake. Chill before serving if desired, and enjoy!
Notes
*Allspice is optional. If you don't care for allspice in baked goods, you can halve or omit it completely. 
*To grate the carrots, use the large-hole side of your cheese grater and measure the grated carrots by piling them loosely in your measuring cup. Do not pack them in.
Store cake covered in the refrigerator.
Approximate nutritional information is for 20 slices.
This post may contain affiliate links, which means I receive a small commission if you make a purchase using them. There is absolutely no additional cost to you.