The EASIEST, best tasting lemon bars you've ever tried. Tart, sweet, and oh so pretty!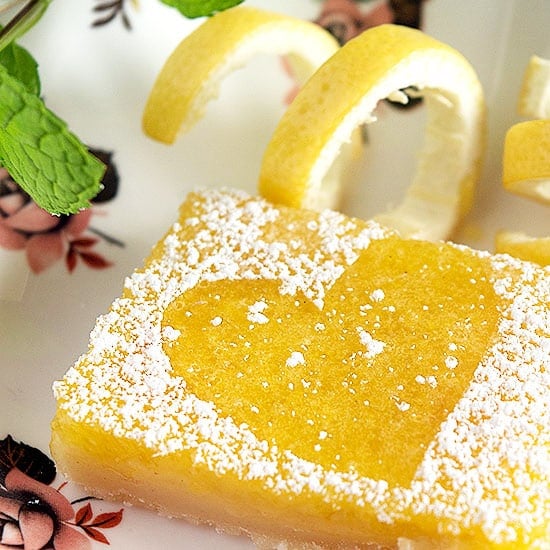 Well, we've finished our first week of January. How is 2016 working out for you? Is it everything you hoped it would be? As of the writing of this, I'm down with one of those awful hacking colds, so I'm hoping week numero uno is not representative of my next 51!
Considering that it's healthy January, I debated whether or not to post any dessert recipes this month after the glut that was December. January feels much more suited to soups and salads than cupcakes, but I figure that every month deserves a little sweetness, so you're getting lemon bars!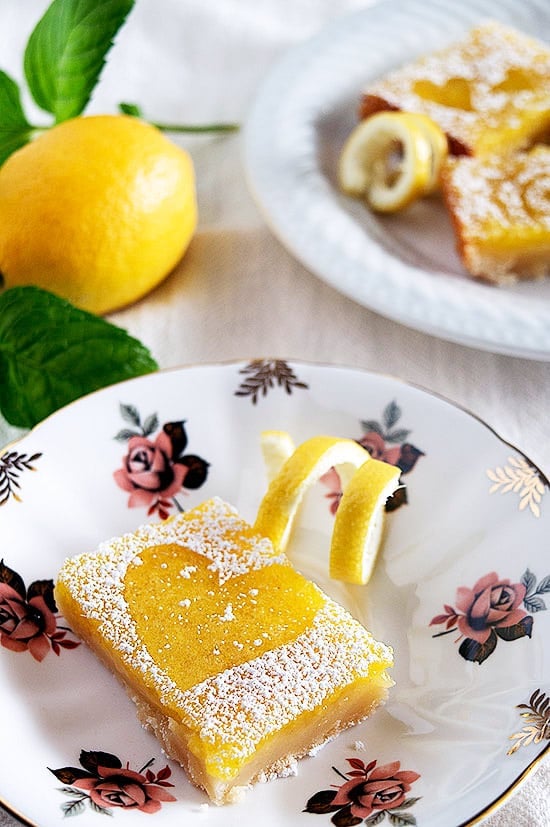 Lemon bars are actually the perfect dessert for this time of year, because they are utterly satisfying. Their flavor is so sharp and crisp and bracing, you only need one. And at fewer than 200 calories a bar, one's not hurting anyone.
This is a classic version of the recipe and it's as simple of a dessert as you can get. The shortbread base comes together in a minute in your food processor with no softening of butter or creaming the ingredients. Then the custard gets whisked together while the base bakes. Simple, yummy, done.
See Also: Frosted Brownies
Dust with a little powdered sugar, put the kettle on, and you're like 95% of the way to a perfect tea party. Just add guests and white gloves.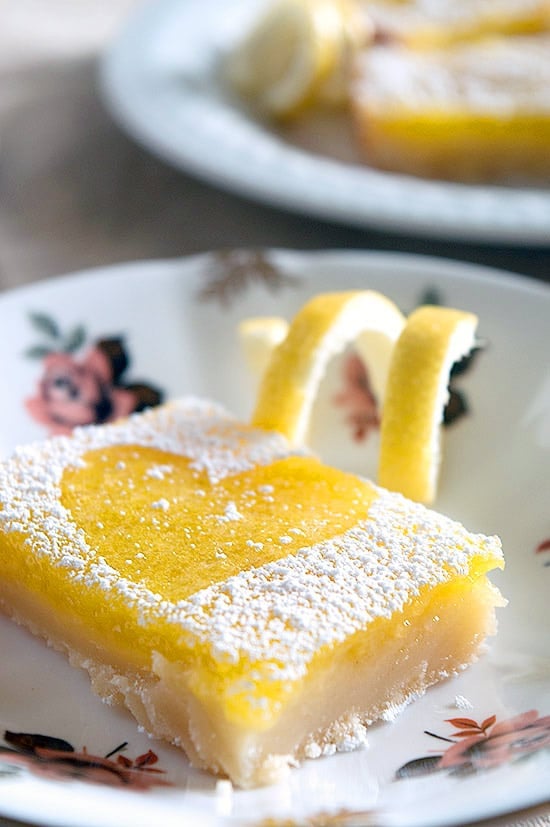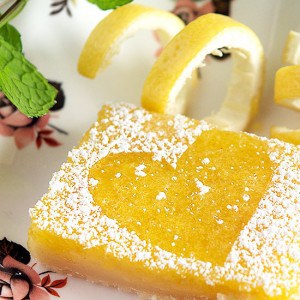 Classic Lemon Bars
The EASIEST, best tasting lemon bars you've ever tried. Tart, sweet, and oh so pretty!
Print
Servings (Hover or Click to Change Yield):
16
Ingredients
Base
1/2

cup

(

4

oz) cold butter

cut into 1-inch chunks

1

cup

(

140

g) all-purpose flour

1/4

cup

(

30

g) powdered sugar

+ optional extra for dusting
Filling
1

cup

(

200

g) granulated sugar

2

large eggs

1/4

cup

freshly-squeezed lemon juice

1-2

medium lemons

1 1/2

teaspoon

lemon zest

about

1/2

lemon
Instructions
Preheat your oven to 350°F. Spray an 8x8 baking pan very well with cooking spray.

In a food processor, mix butter, flour, and powdered sugar until your dough begins to come together. There is probably going to be a minute where it looks like the ingredients aren't going to form a dough, but just keep mixing. It will. When the dough begins to clump and can be pressed together, dump it out into your greased pan and press into an even layer, all the way to the edges.

Bake for 15-20 minutes, until the crust is lightly golden.
Custard
Make the custard while your base is baking. Whisk sugar, eggs, lemon juice, and lemon zest together until well combined. Once your crust is lightly golden, open oven and carefully pour lemon mixture into the pan, without removing it from the oven.

Bake for 20-25 minutes more, until the filling is completely set.

Allow to cool completely before dusting lightly with powdered sugar (if desired) and cutting.
Notes
To make designs on the tops of your bars, you can cut shapes from parchment paper and lay over the top of your custard before dusting with powdered sugar. Because these are so moist, they will absorb some of the sugar (mine started to look a little sparse after about an hour) so if serving to guests, dust shortly before serving or apply a heavier layer of sugar at the start.
Nutritional Information 12 bars
Nutritional Information 16 bars
Adapted From: Sweet Surrender Bakery via The Bakersfield Californian
Doubling Instructions: To double, cook in a 9 x 13-inch dish for the same amount of time.
Halving Instructions: These halve cleanly. You can make a half batch in a 6 x 6-inch pan. Bake at the lower end of the normal baking time for the shortbread base. Cook the custard for 2-3 minutes less than the full-size batch. Keep an eye on the edges, making sure they don't burn.
Freezing Instructions: These freeze exceptionally well. Stack in an air-tight container, with sheets of parchment paper layered between. The custard doesn't freeze solid, so they are edible right out of the freezer.
This post may contain affiliate links, which means I receive a small commission if you make a purchase using them. There is absolutely no additional cost to you.