A light and healthy Asian chicken salad. Simple, delicious, yum.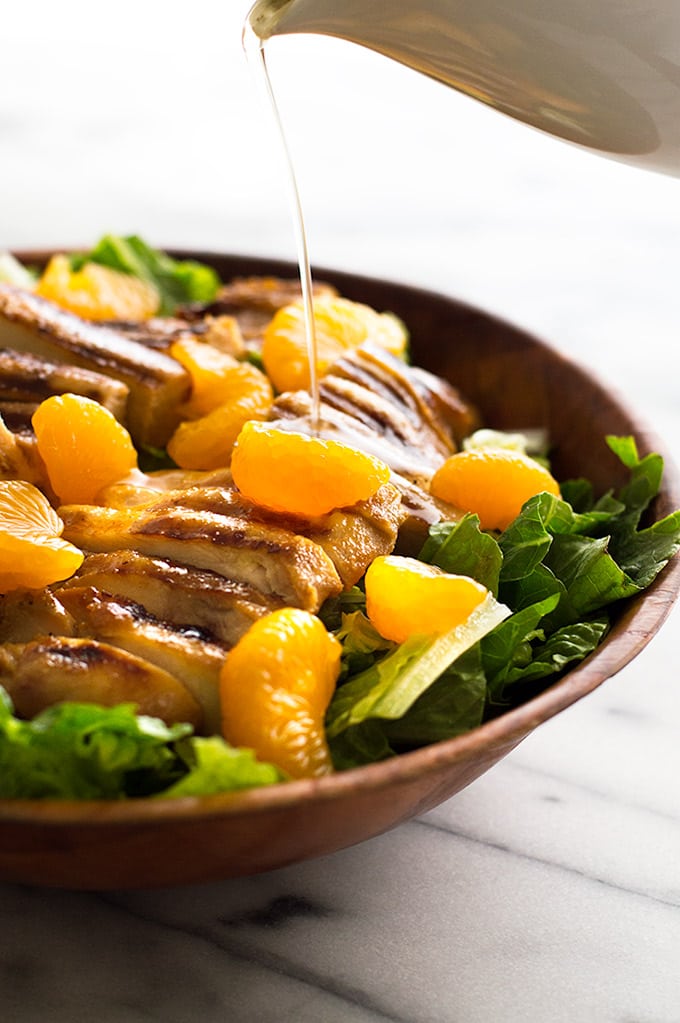 We're in week two of our January salad series, (did you try last week's Garlic Chicken Cobb Salad? It's sooooo good!) and I've got to say, I have a good one for you today. This is the salad that taught me to appreciate a little sweetness with my greens.
Most of my life, every time I saw sweet dressing on a menu, I would ask the universe, WHY WOULD YOU PUT SUGAR ON YOUR LETTUCE?? Then I made this salad and it was a light bulb moment. Oh, because it's delicious. That's why.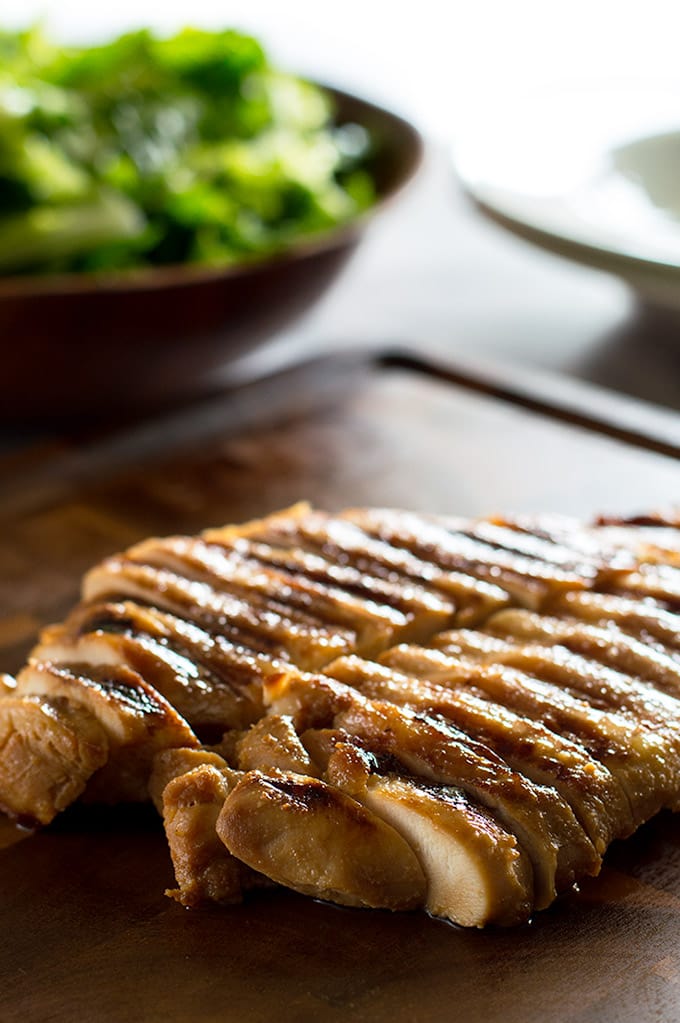 Healthy (i.e., not smothered in delicious creamy dressings) salads can start to feel a little samey after a while, especially when we're eating a lot of them. So it's great to bring in different influences to mix things up.
This one has an Asian flair to it, made with soy sauce, mandarin oranges, fried chow mein noodles, and a sweet dressing made with toasted sesame oil.
See Also: Chicken Shawarma Salad
The toasted sesame oil gives the dressing a great, deep nutty umami flavor that makes it feel so distinct from your usual simple vinaigrette. And the ginger and garlic marinated chicken paired with the crunchy chow mein noodles and the plump burst of tart sweetness from the mandarins is AMAZING. Whenever I find myself growing tired of salads, I throw this one in the rotation to get me out of my funk!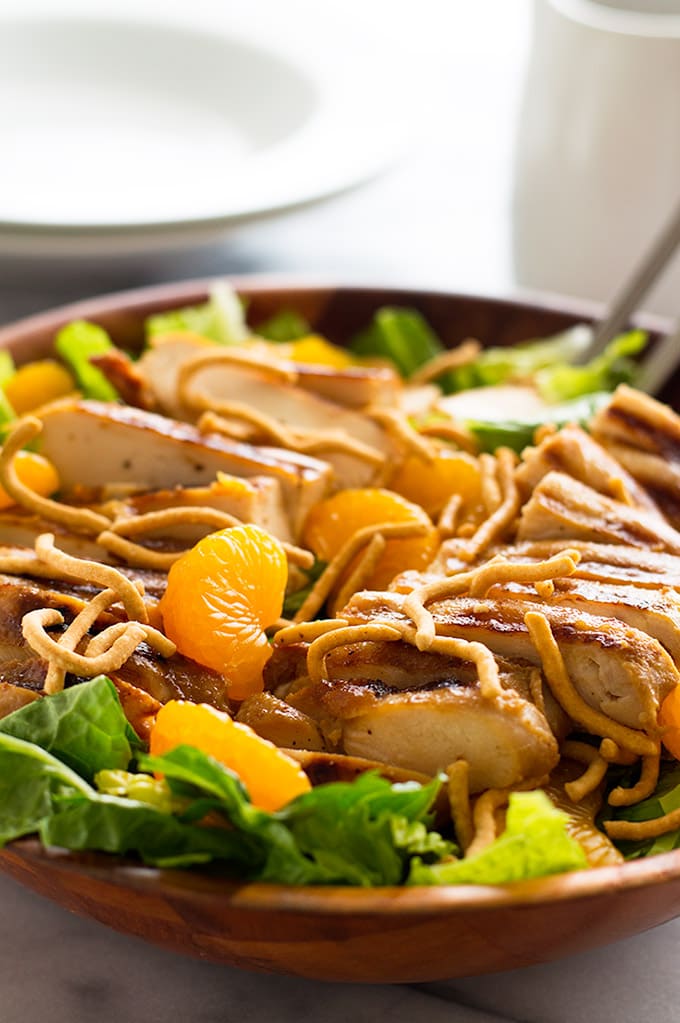 As written, this Asian Chicken Salad recipe serves 4. To change the recipe yield, hover over the number of servings in the recipe below (or click if you are on mobile) and slide the slider–see recipe notes for further instructions.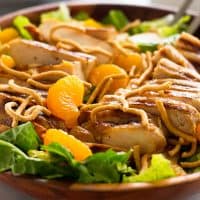 Simply Delicious Asian Chicken Salad
A light and healthy Asian chicken salad. Simple, delicious, yum.
Print
Servings (Hover or Click to Change Yield):
4
Ingredients
Marinade
3

tablespoons

soy sauce

1

tablespoon

brown sugar

1

teaspoon

toasted sesame oil*

1/2

teaspoon

ground ginger

1/2

teaspoon

garlic powder
Salad
1

pound

(about

2

small) boneless skinless chicken breasts

pounded thin

1

large head romaine

chopped

1

11-ounce can mandarin oranges

drained

1

cup

(

2

oz) fried chow mein noodles
Dressing
1/2

cup

rice vinegar*

1/4

cup

sugar

2

tablespoons

vegetable or canola oil

1/2

teaspoon

toasted sesame oil

1/2

teaspoon

salt

1/8

teaspoon

pepper
Instructions
Marinade
Combine marinade ingredients in a large ziplock bag and give it a shake. Add chicken and marinate at room temperature for 10 to 30 minutes.
Dressing
While the chicken is marinating, bring vinegar to boil in a small pot. Once the vinegar is boiling, remove from heat and add the sugar, stirring until the sugar is completely dissolved. Add the rest of the dressing ingredients and pour into a mason jar. Shake to combine. Set aside to cool.
Salad
Heat a large pan over medium-high heat and grease with cooking spray. Add chicken to the pan and cook 5-8 minutes per side, until an instant-read thermometer inserted into the center of the breasts reads 160°F. Transfer chicken to a cutting board and allow to rest for at least 5 minutes before slicing into strips.

Serve chicken over romaine, topped with mandarin oranges, chow mein noodles, and dressing. Enjoy!
Notes
*Toasted sesame oil is a popular ingredient in many Asian dishes and if you don't keep it in your cupboard, the good news is, it's cheap! Like $3-a-bottle-that-will-last-you-forever cheap. If you have regular sesame oil, you can toast the oil yourself or use it as is. It will lack the distinct flavor of the toasted variety, but is still delicious!
*You can substitute apple cider vinegar for the rice vinegar. In a pinch, you can use white vinegar, but your dressing is going to have much more of a bite to it! This dressing makes enough for six 2-tablespoon servings.
Small-yield Instructions: No cooking or preparation changes needed to cut the recipe in half. For the marinade, half of 3 tablespoons is 1 tablespoon, 1 1/2 teaspoons, and for the dressing, just use a pinch of pepper.
Make-ahead Instructions: Chicken can be prepared up to two days in advance, as can the romaine, but it will lose some of its crispness. Dressing will keep in the refrigerator for two weeks. Salad should be assembled day of and chow mein noodles added just before serving to preserve their crunchiness.
Freezer Instructions: Extra chicken can be frozen in an air-tight container for up to 4 months. Allow to defrost in the refrigerator. Fruit and vegetables with high water content like mandarins and lettuce shouldn't be frozen for salads, BUT freeze just fine for later use in smoothies.
Nutritional Information (salad only, no dressing)
Nutritional Information (dressing, per 2-tablespoon serving)
Adapted From: Iowa Girl Eats
This post may contain affiliate links, which means I receive a small commission if you make a purchase using them. There is absolutely no additional cost to you.