Class up your grilled cheese game with this super easy Pesto Grilled Cheese Sandwich!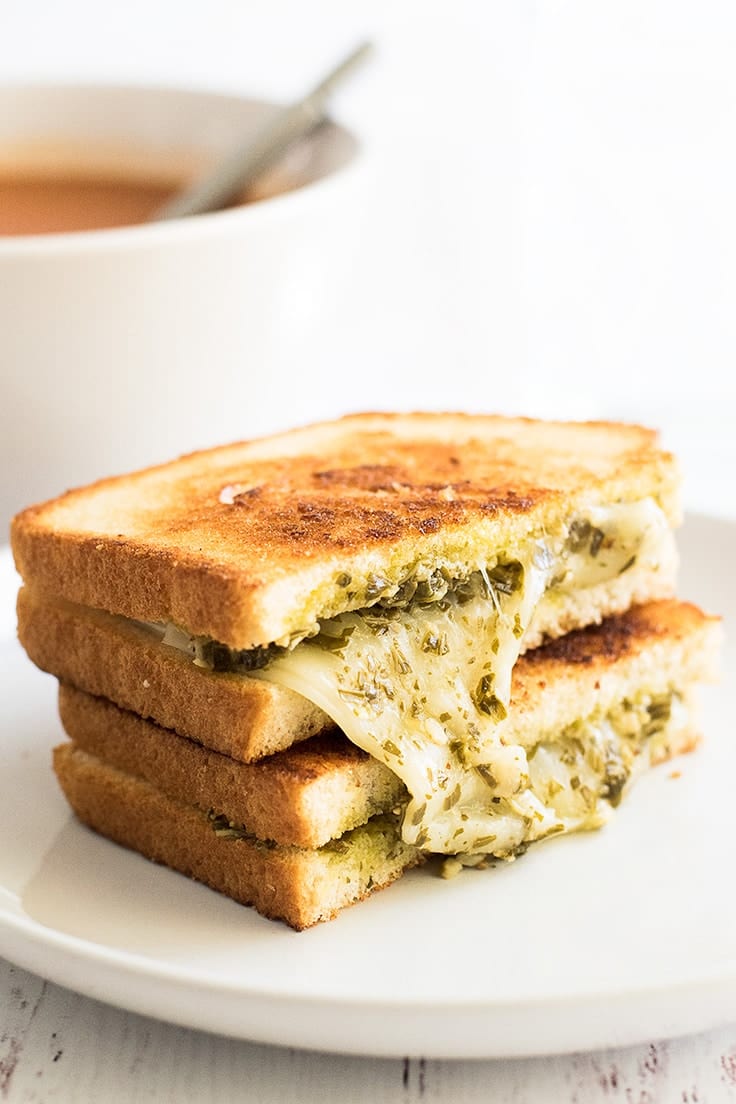 Growing tired with your regular old grilled cheeses? Have a bit of pesto left over in that jar from dinner last night? I have just the recipe for you! Pesto grilled cheese!
We all know pesto's great when added to carbs and cheese in the form of cheesy pasta (like maybe some Pesto Chicken Pasta for Two), so pairing it with carbs and cheese in the form of toasty bread and melty provolone is going to be A++.
I love these sandwiches because they are just as easy as making a classic grilled cheese, but they look and taste so much classier. So whether you're whipping one up lunch or having one for dinner with a bowl of tomato soup (soooo highly recommended–this is my current go-to tomato soup recipe) you don't feel like a five-year-old eating one. Not that there's anything wrong with eating like a five-year-old, you are talking to the person who just posted a cake for breakfast recipe (my Mini Strawberry Breakfast Cake–have you tried it yet?)…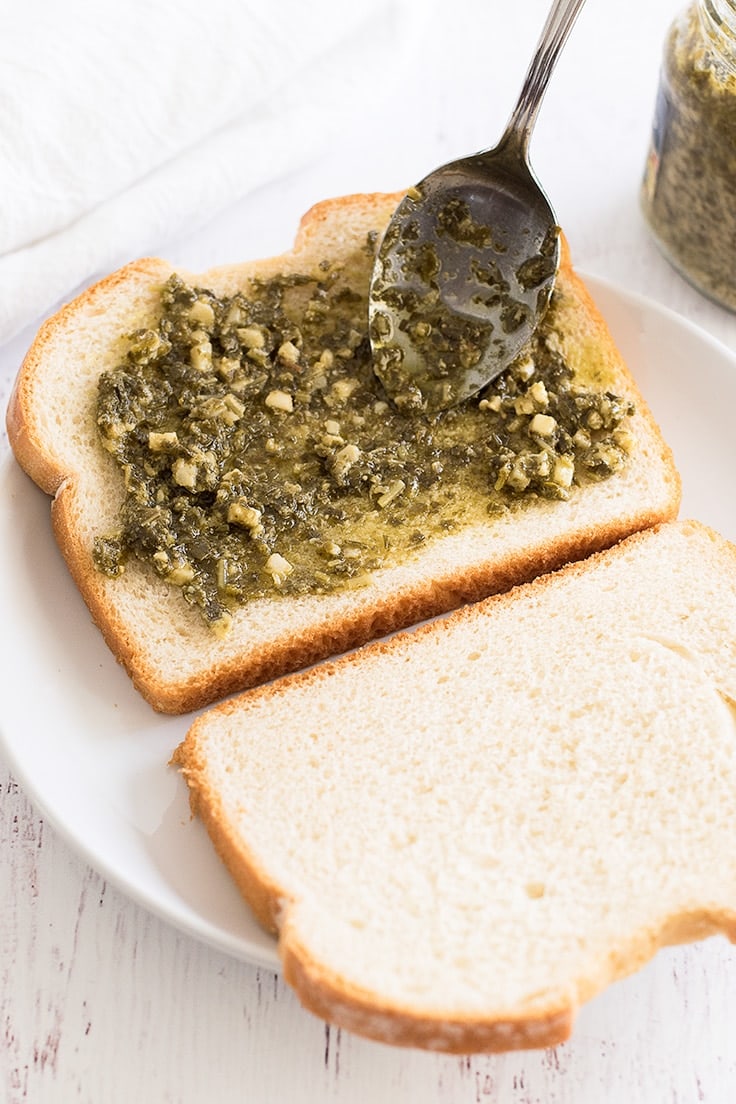 This is your standard grilled cheese making method, spread your choice of fat over your bread so it toasts up nice and crispy and golden, layer on a little (or a lot) of pesto, some cheese, maybe a tomato slice or two if you're feeling real fancy, and toast that baby up.
In about five minutes, you have a sandwich that looks and tastes like you should be eating it on the terrace of some cute little lunch cafe with a book and a glass of wine.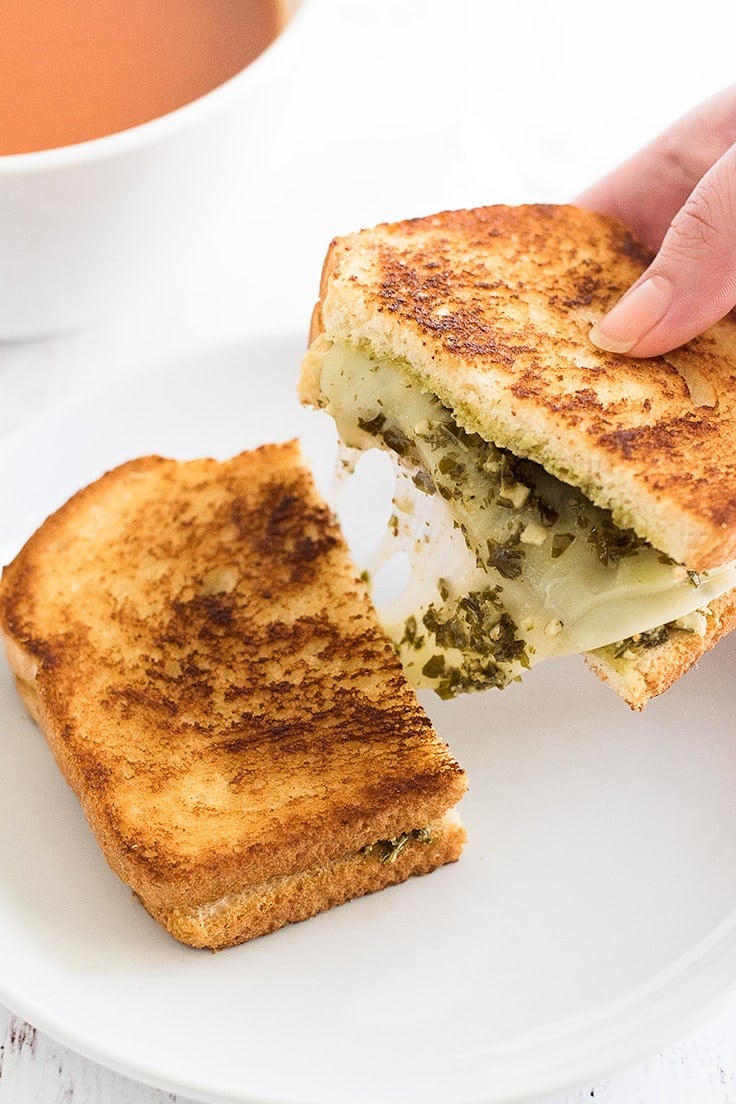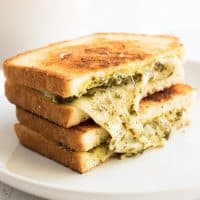 Pesto Grilled Cheese Sandwich
Class up your grilled cheese game with this super easy Pesto Grilled Cheese Sandwich!
Print
Servings (Hover or Click to Change Yield):
1
Ingredients
2

slices

white bread

1

to

2

tablespoons pesto

1

slice

provolone cheese

1

tablespoon

butter

(or mayonnaise)
Instructions
Make sandwich, spreading pesto over both pieces of bread and placing a slice of provolone cheese between.

Heat a small skillet over medium heat.

Spread butter or mayonnaise over the outside of your sandwich and cook until both sides are golden brown and cheese is melted.

Serve and enjoy!
This post contains affiliate links, which means I receive a small commission if you make a purchase using them. There is absolutely no additional cost to you.