This mini strawberry Breakfast Cake is one of my favorite breakfasts for two. It's simple, easy to throw together, and absolutely delicious!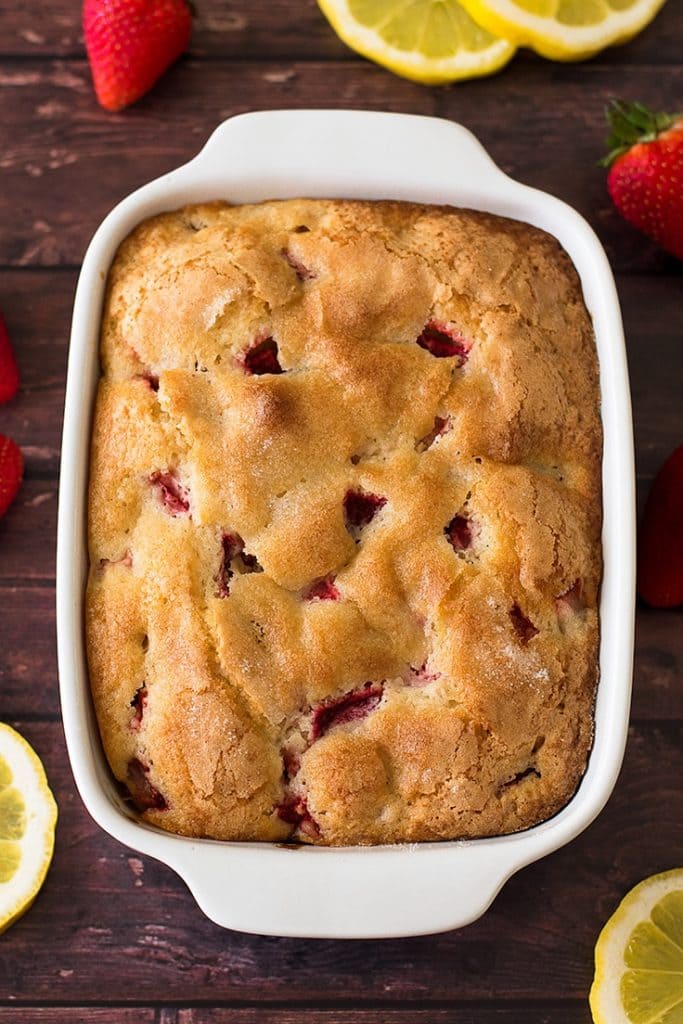 Hey folks, do you ever have one of those moments that makes you feel profoundly old?
Last Sunday, when I went to go feed my horse, I found that some kids had hopped the pasture fence and were playing in among the (not particularly kid-safe) horses.
They took off running as soon as they heard me coming, and as I'm standing there at the fence shouting things like, "Do you know how dangerous that was?" and "I'm going to come talk to your parents!" at their retreating backs, I realized that I sounded exactly like the stodgy, boring adult villain in a children's book.
And you know, that's not a great look on anyone. So in order to combat my feelings of old and un-funness, let's have some cake for breakfast.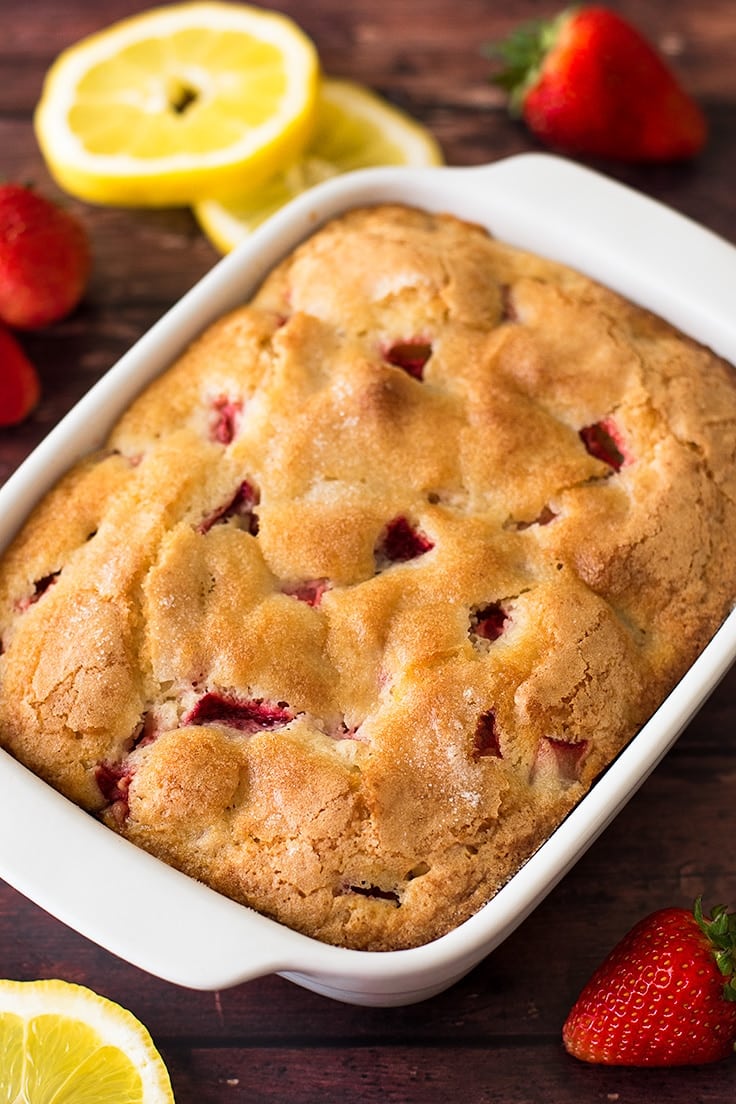 Back in December, I shared my Mini Cranberry Breakfast Cake. It is one of my favorite recipes on the site, but since it's very seasonal (can you even find fresh cranberries in May?) I can't really recommend it most of the year. So I gave the recipe an update for spring and made a Mini Strawberry Breakfast Cake.
Guys, I love this cake so much. It's everything good about the cranberry version, but with STRAWBERRIES, so dare I say, even better?
This cake is so soft and tangy from buttermilk in the batter, and it bakes up golden and beautiful and just a little crisp on top.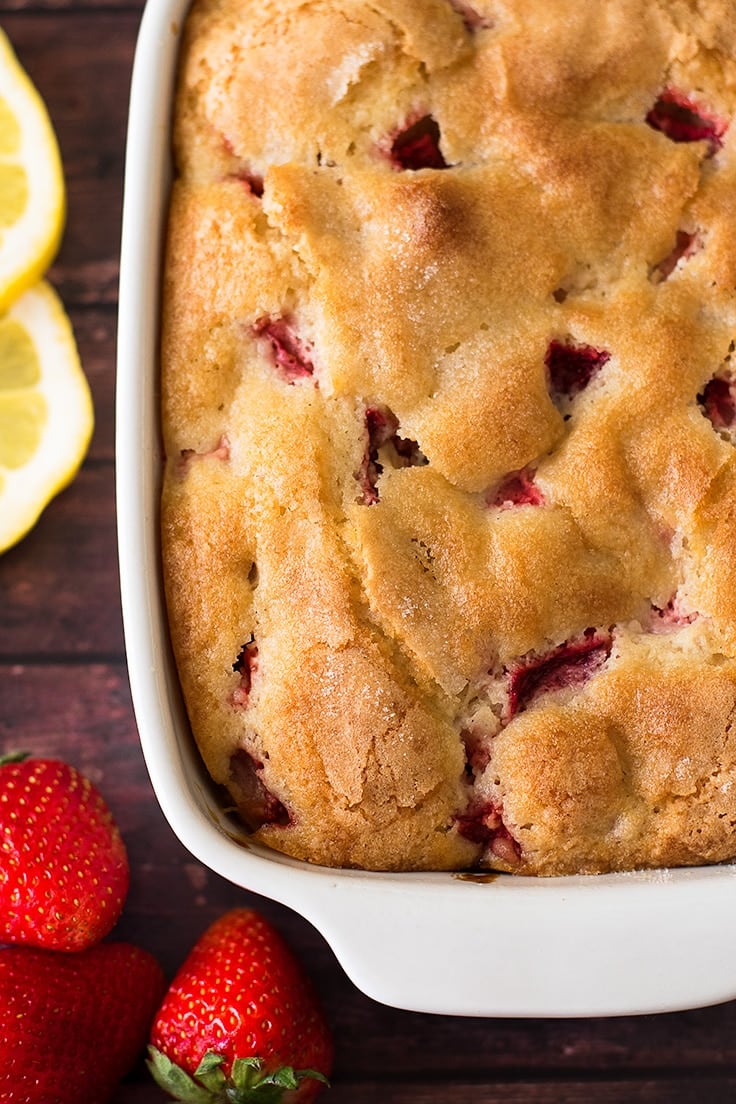 There's just a bit of lemon zest in there, which gives it a hint of lemon but mostly boosts and brightens the strawberries so you get tons of fruity flavor in every bite.
This Mini Strawberry Breakfast Cake makes four fairly generous servings, but two very hungry people could definitely polish it off together. It's one of those recipes that's the perfect combination of delicious but not too rich, so if you aren't careful you can really keep picking away at it until suddenly there is nothing left. (Which is the reason I'm sharing a MINI version so we don't all accidentally eat a 9×13-inch cake 😉 .)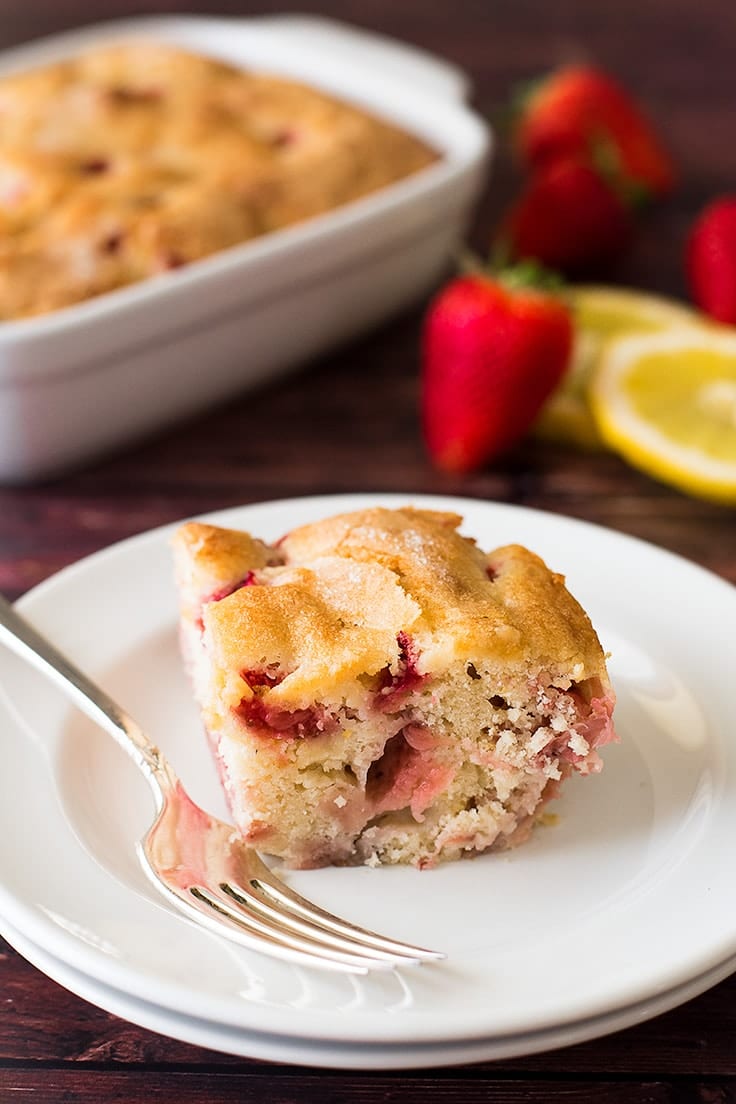 How do you feel about cake for breakfast? Are you a fan or are you too grown up for all this nonsense? Let me know in the comments. 🙂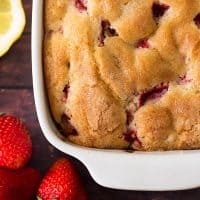 Mini Strawberry Breakfast Cake
This Mini Strawberry Breakfast Cake is one of my favorite breakfasts for two. It's simple, easy to throw together, and absolutely delicious!
Print
Servings (Hover or Click to Change Yield):
4
servings
Ingredients
Mini Strawberry Breakfast Cake
1

cup

(

120g

) all-purpose flour

1

teaspoon

baking powder

1/4

teaspoon

salt

1/4

cup

(

2oz

) unsalted butter

softened

1/2

cup

(

100g

) granulated sugar plus

1

teaspoon for topping
Zest from

1/2

lemon (about

1

teaspoon)

1

large egg

1

teaspoon

vanilla extract

1/4

cup

buttermilk

1

cup

chopped fresh strawberries
Instructions
Preheat your oven to 350°F and lightly grease a 7x5-inch baking dish.

In a medium bowl, whisk together flour, baking powder, and salt. Set aside.

In a medium bowl, combine butter and

1/2

cup of the sugar. Beat until light and fluffy, 1 to 2 minutes.

Beat in lemon zest, egg, and vanilla until well-combined. Stir half of the flour mixture into your wet ingredients. Add all of the buttermilk and stir, followed by the remaining flour mixture, stirring until just combined.

Fold in strawberries and transfer batter to your prepared baking dish, lightly smoothing out the top. Sprinkle remaining

1

teaspoon of sugar over the top.

Bake for 35 to 45 minutes, until a toothpick inserted into the center of the cake comes out with just a few dry crumbs. Cool for 5 minutes before cutting, and enjoy!
Notes
Don't be alarmed if your cake takes a little longer than 45 minutes to bake. There are a ton of factors (oven calibration, cooking dish, ingredients) that can impact bake time, so let your cake tell you when it's ready to come out and don't sweat it. 🙂
Recipe Adapted From Alexandra Cooks
This post may contain affiliate links, which means I receive a small commission if you make a purchase using them. There is absolutely no additional cost to you.