My favorite baked doughnut recipe infused with sencha green tea and topped with a fresh strawberry glaze and sprinkles.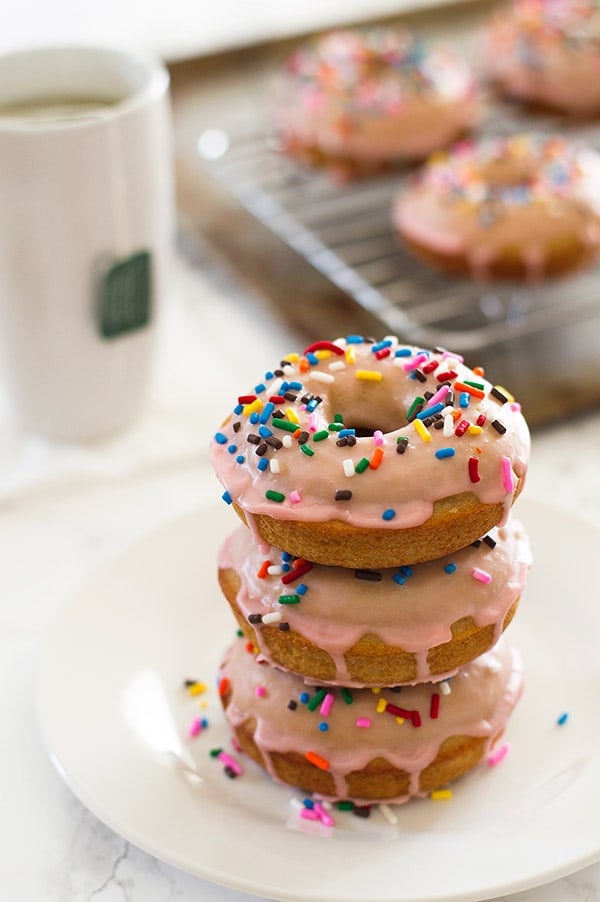 Welcome to nerd month here on the blog! For the month of May, instead of doing our usual once-a-week themed recipe series, every single recipe this month is inspired by a favorite film, book, or television show!
Basically, it's an excuse to write about and try to convince you to watch/read all of my favorites through food. And I'm so excited for it. I've already photographed a bunch of them, and I think May is going to be a lot of fun (for me at least 😉 ).
We are starting with a show that just happens to be returning to television for its fifth and final season tomorrow, Person of Interest.
Person of Interest is such an entertaining show. If you follow me on Twitter, or read my Weekend Posts, you'll know that I spend 90 percent of my waking hours trying to convince people to watch it.
It's a genuinely great procedural for people who like crime dramas, but it's also a pretty delightful romance, a fascinating critique of the modern surveillance state, and secretly, the best hard core sci-fi on television right now (no seriously, the main plot of the show deals with dueling A.I. gods!!).
Most importantly though, there is a dog named Bear. Bear speaks dutch, is scuba certified, and is basically the greatest character on this or any other show on television. And Bear likes strawberry doughnuts.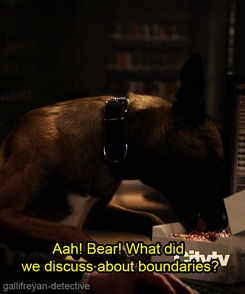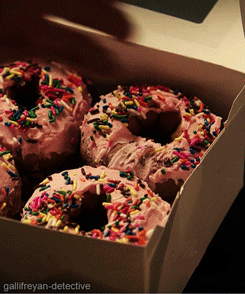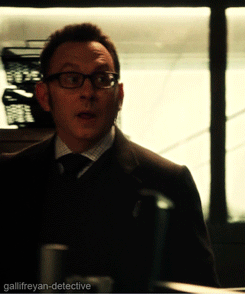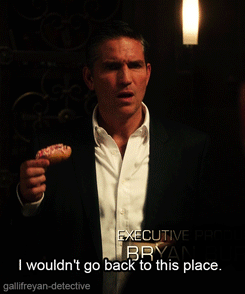 CBS via Gallifreyan-detective
His co-owner and the show's co-lead, Mr. Finch has a penchant for sencha green tea. So today, we're making, Strawberry Glazed Sencha Green Tea Doughnuts.
These are some darn good doughnuts, but before we start, I have to say: baked doughnuts are not bakery doughnuts! They are glorified muffins and I think it's a disservice to everyone involved to pretend otherwise. BUT, holy cow, these glorified muffins might actually give cake doughnuts a run for their money.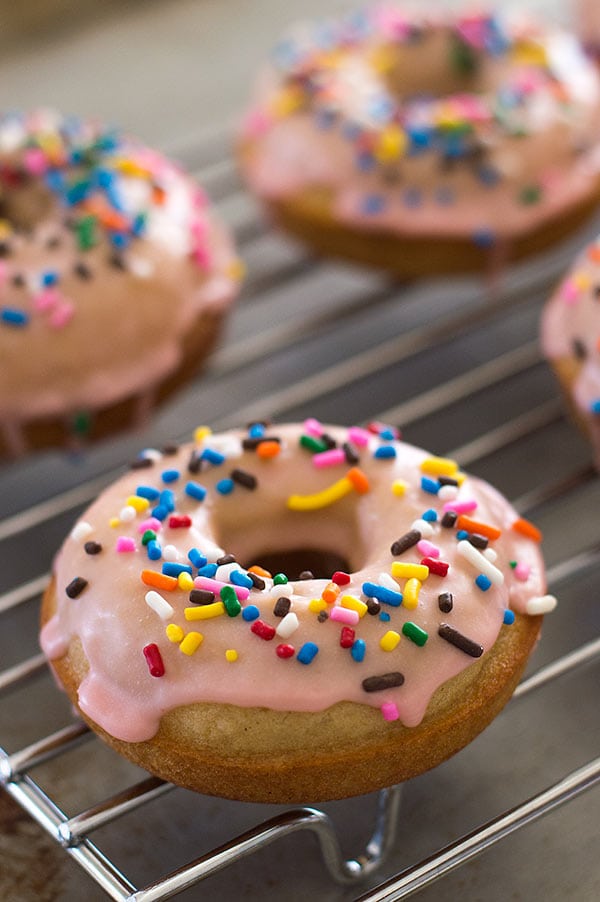 They are dense and soft, none of that light and airy nonsense. When you pick one of them up, there's some heft to it. Green-tea-infused butter in the batter gives the doughnuts a gentle, fresh taste that goes so well with the strawberry glaze.
And that glaze, it's made with three ingredients: fresh strawberries and two types of sugar, but IT SETS, as doughnut frosting is meant to set. Sticky, syrups glazes have their place, but it is not on my sencha green tea doughnuts!
Top the doughnuts off with a heavy coating of rainbow sprinkles and you have a perfect easy breakfast for your guard dog. <3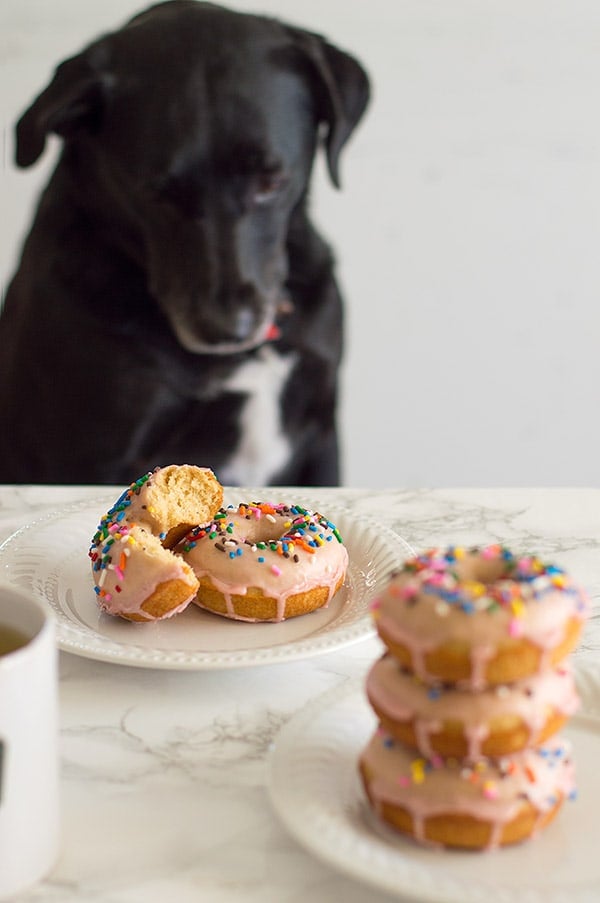 *No doughnuts were licked in the taking of this photograph.
If you don't have a doughnut pan, this is the one I own and I love it (that's an affiliate link), but you can also make them as muffins. See the notes section of the recipe for cooking times.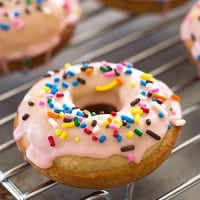 Strawberry Glazed Sencha Green Tea Doughnuts
My favorite baked doughnut recipe infused with sencha green tea and topped with a fresh strawberry glaze and sprinkles.
Print
Servings (Hover or Click to Change Yield):
6
Ingredients
Special Equipment
Glaze
1 1/2

cup

(

6-7

oz) sliced strawberries

2

tablespoons

(

25

g) granulated sugar

1

cup

(

120

g) powdered sugar

sifted
Doughnuts
3

tablespoons

(

1 1/2

oz) unsalted butter

1

teabag

sencha green tea

2

tablespoons

vegetable oil

1/4

cup

(

50

g) granulated sugar

3

tablespoons

(

38

g) brown sugar

1

large egg

1/2

teaspoon

vanilla extract

3/4

teaspoon

baking powder

1/4

teaspoon

baking soda

1/8

teaspoon

ground nutmeg

1/4

teaspoon

salt

1 1/3

cups

(

160

g) all-purpose flour

1/2

cup

milk
Instructions
Start Glaze
In a small bowl, pour granulated sugar over strawberry pieces and smash slightly with a fork. This will help draw the juice out of the strawberries to use in the glaze. Cover and set aside.
Doughnuts
Preheat your oven to 425°F and grease doughnut pan.

Melt butter in a small microwave-safe bowl. Immerse tea bag in the butter. Allow the tea to seep for about ten minutes. Squeeze as much butter out of the tea bag as possible before discarding the bag.

In a medium bowl, combine

2

tablespoons of the tea-infused butter (this should be almost all of what's left, discard the excess), vegetable oil, granulated sugar, and brown sugar. Whisk until well combined.

Whisk in egg and vanilla extract.

Add baking powder, baking soda, ground nutmeg, and salt. Whisk until smooth.

Add half of the flour, whisking until just combined. Add all of the milk. Mix, and then the rest of the flour. Whisk until just combined.

Place a large plastic bag over a cup and pour batter into the bag. Seal the bag and snip a small piece off of one of the corners. Use the bag to "pipe" batter into your doughnut pan, filling 3/4 of the way full (this should make exactly

6

standard-size donuts).

Bake for 9-11 minutes until donuts are lightly golden and the tops spring back if you press into them. Allow to cool in the pan for 5 minutes before transferring to a rack to cool completely.
Finish Glaze
Pour sifted powdered sugar into a smallish bowl (you want one that is just large enough to mix the sugar in and fit a doughnut for dipping). Give strawberries another good mash and add 2 tablespoons of the juice to your powdered sugar. If you want seedless, completely smooth icing, run juice through a fine mesh strainer. Whisk until a thick, smooth glaze forms. Dip the doughnuts, rotating them so the glaze covers the entire top half of them.

Add sprinkles to each doughnut immediately after frosting, because this glaze sets quickly and sprinkles may not stick otherwise. Allow glaze to set for 10 to 15 minutes and enjoy!
Notes
These doughnuts are best eaten on the first day. If you don't own a doughnut pan, you can make them in a muffin tin. Fill tins 2/3 of the way full (it should make about 10) and cook for 8-10 minutes.
Nutritional Information
Doughnuts Adapted From: King Arthur Flour
Strawberry Glaze Adapted From: A Happy Food Dance
If you make these, I would love to see them! Tag me @bakingmischief on Twitter or #bakingmischief on Instagram!
This post contains affiliate links, which means I receive small commission if you make a purchase using one of the links. There is absolutely no additional cost to you.