Saturday Morning Snapshot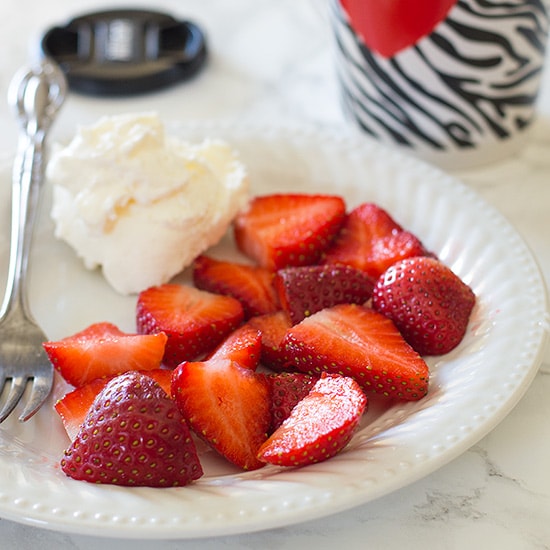 Putting the leftover cheesecake whipped cream from my "Captain America" parfaits to good use after Saturday's photo shoot…
State of the Blog
On the blog this week, we finished up the April Hot Sandwich series with my favorite panini and a roundup filled with some of the most beautiful sandwiches I've ever laid eyes upon. Friday I posted a Captain America: Civil War dessert, and I'm particularly pleased with the way that one turned out. Also, scroll down to the bottom of that post to see some more awesome Marvel desserts by some equally awesome bloggers.
I briefly broke the blog on Saturday afternoon, so if you were visiting yesterday and the site suddenly went wonky, no worries. That was just me playing around with things beyond my ken. On a very related note, I'm doing some behind-the-scenes work to improve site speed and usability, so if the site is down or looks strange in the upcoming week, I've probably broken things again. 🙂
Next week is the start of a new month which means it's time for a new blog series. I'm SO excited for this one. Recipes for the week will include a tasty breakfast with plenty of sprinkles, dinner worth fighting an alien hoard for, and some Cap-inspired cupcakes!
Recipes/posts released this week were:
Chipotle Turkey Panini – Quick weeknight panini with chipotle aioli, crunchy red onions, sliced turkey, melty cheese, and avocado.
24 Delicious Hot Sandwich Recipes – A round up of 24 delicious hot sandwiches, including beef, poultry, and vegetarian recipes!
Captain America: Civil War Cheesecake Parfaits – Captain America, Iron Man, and Winter Soldier cheesecake parfaits. Delicious tangy cheesecake whipped cream piped between layers of fresh fruit make a quick and easy Captain America dessert perfect for parties!
Pop-culture Corner
Captain America: Civil War premiered almost everywhere except America this Friday. I'm bitter. (If you've seen it, 1, I'm so jealous, and 2, no spoilers please! <3 )
Did you watch the Game of Thrones season opener? I'm happy to have the show back, but honestly, I'm even happier for the return of a million and one think pieces to browse every Monday morning and my favorite Game of Thrones podcasts.
Speaking of returns, Person of Interest comes back this week for its final season. If you start now and don't break for sleep, I *think* you can just about binge all of the first four seasons over on Netflix before the premiere on Tuesday. I mean, doesn't this trailer make you want to never watch anything else ever again!?
Also, a POI recipe will be here (very) shortly.
Meal Planning
Saturday: Homemade Panini
Sunday: Easy Creamy Chicken Pasta with Bell Peppers
Monday: Sherry Pork Chops
Tuesday: Simply Delicious Asian Chicken Salad
Wednesday: Pretzel Sausages
Thursday: Easy and Comforting Ham and Potato Soup
Friday: TBD