Tagalong Cupcakes are delicious pound cake covered in peanut butter buttercream and dipped in chocolate. A perfect cupcake version of the Girl Scouts' best cookie.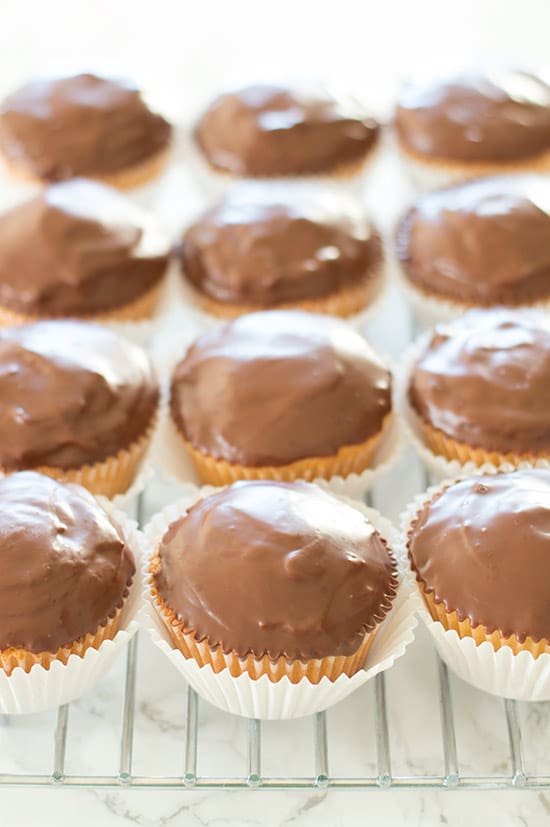 It's Girl Scout Cookie season! Were you a Girl Scout? I was a Girl Scout. This time of year always brings back fond memories of that period of my life: riding a bike without training wheels for the first time during a meeting, making SWAPS, watching troop leaders chase a flaming paper towel across a campground during a multi-troop camping trip…
I loved being a Girl Scout as a girl, so I thought it would be fun to create a series of Girl Scout-inspired cupcakes as an adult.
I had SUCH a blast coming up with these. I thought long and hard about how to interpret each aspect of the cookies. Some of them were literal, chocolate coating for chocolate coating, but for some I had to really think about what the cupcake equivalent would be.
For example, two of the cookies have a shortbread-like base and one of them is literal shortbread, so I figured buttery classic pound cake would be the best sub in for buttery classic shortbread.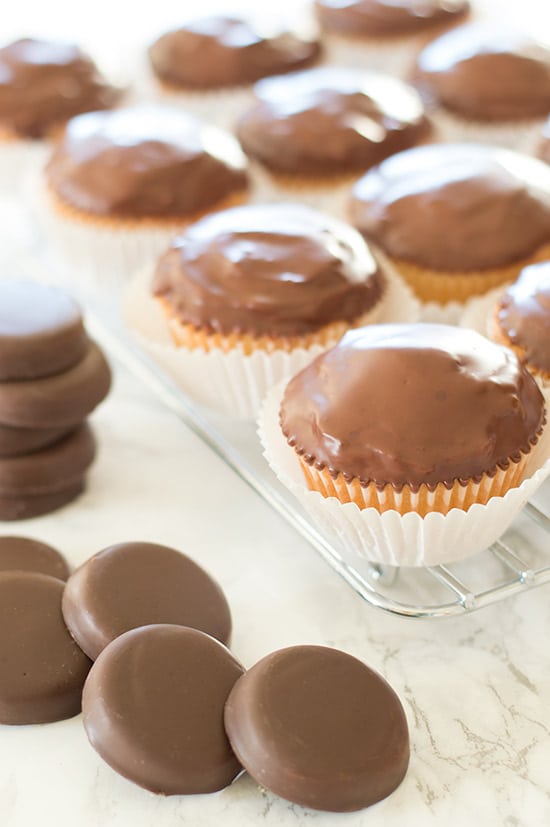 We are starting today with my favorite cookie, Tagalongs. Why these aren't everyone's favorite will forever elude me (see more of my complaining when we get to Samoas), but what evs. More Tagalongs for me!
Tagalongs are a cookie base covered in sweet peanut butter and dipped in chocolate. So my Tagalong Cupcakes are the aforementioned pound cake base, with a layer of sweet peanut butter buttercream, and then dipped in chocolate.
And surprise, Tagalong Cupcakes are amazing. They actually taste quite a bit like Tagalongs, but fluffy and soft rather than crunchy. The peanut butter pairs shockingly well with the pound cake and obviously, peanut butter and chocolate is a no-fail combo.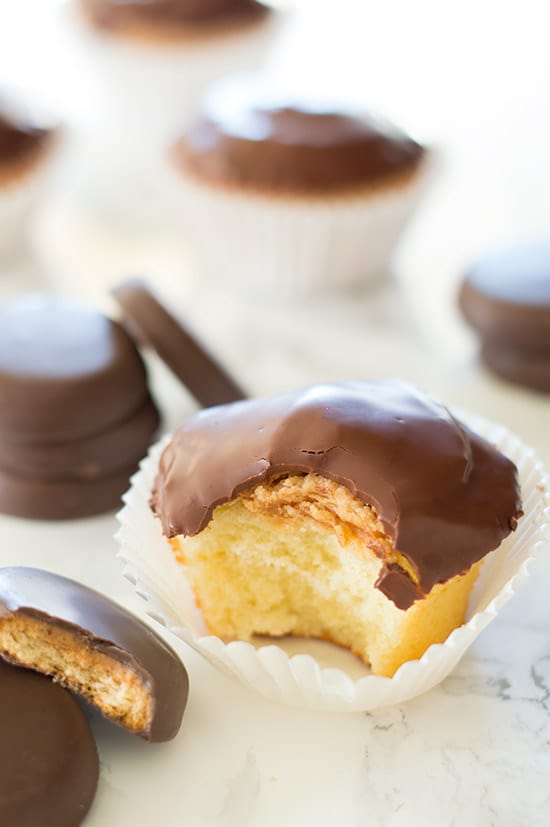 Stay tuned for the next three Fridays as we make our way through the other three most popular Girl Scout Cookies, in order from least to most popular, ending with the cookie that accounts for the largest percentage of total Girl Scout cookie sales (you can probably guess which one that is).
And if all this talk of cookies has given you a hankering for some, you can use the cookie locator to find your nearest troop selling them! Support some young ladies so they can grow up and run a food blog that… makes cupcakes based off of Girl Scout Cookies.
Time is a flat circle.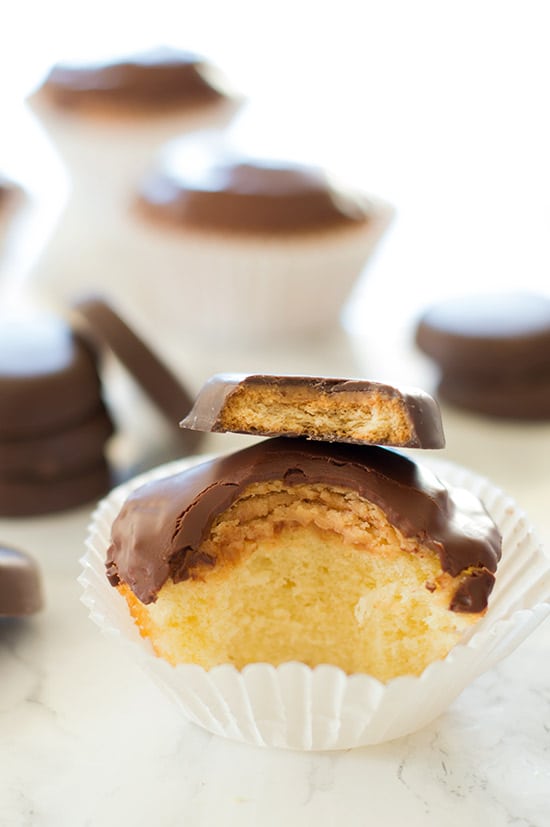 More Girl Scout Cookie Cupcakes…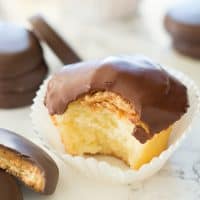 Tagalong Cupcakes
Tagalong Cupcakes are delicious pound cake covered in peanut butter buttercream and dipped in chocolate. A perfect cupcake version of the Girl Scout's best cookie.

Print
Servings (Hover or Click to Change Yield):
12
cupcakes
Ingredients
Peanut Butter Buttercream
3

tablespoons

(

42

g) unsalted butter

room temperature

1/2

cup

(

135

g) creamy peanut butter*

2/3

cup

(

80

) powdered sugar

1/2

teaspoon

vanilla extract

1-2

tablespoons

heavy cream

divided
Chocolate Coating
1

cup

(

6

oz) semi-sweet chocolate

chopped (high-quality chips or baking chocolate are fine)

1

tablespoon

and

1 1/2

teaspoons canola or vegetable oil
Instructions
Peanut Butter Buttercream
Combine butter, peanut butter, powdered sugar, vanilla, and

1

tablespoon of heavy cream in a medium bowl and whisk together. Add up to

1

more tablespoon of heavy cream if needed so you have a smooth and spreadable frosting.

Spread a fairly thick layer of frosting over the cupcakes, stopping about a quarter inch from the edges. Run your knife or spatula over it once or twice to ensure that it is as smooth as possible.
Chocolate Coating
Combine chocolate and oil in a small microwave-safe bowl just large enough for dipping. Microwave at medium power for 30 seconds and stir. Repeat until all lumps disappear. Stir vigorously until chocolate is smooth and glossy.

Dip cupcakes in the chocolate and allow excess to run off before setting aside to dry. If your cupcakes baked up below the wrapper, you can spoon the chocolate on and tilt the cupcake until the entire surface is covered. The chocolate on the cupcakes will set within about 15 minutes in the refrigerator or an hour on the counter.
Notes
*You can also use your favorite boxed mix if you'd like.
*You want to go with a peanut butter brand like Jif or Skippy here.
Cupcakes will keep in an air-tight container on the counter for about 3 days.
Small-batch Instructions: When halving, just remember that 1/2 of 1 tablespoon is equal to 1 1/2 teaspoons. No preparation changes are needed.
Nutritional Information
Peanut Butter Buttercream Adapted From: Food.com
Chocolate Coating Adapted From: Martha Stewart