Adorable light and airy Victoria Sponge Cupcakes filled with raspberry jam and topped with buttercream frosting.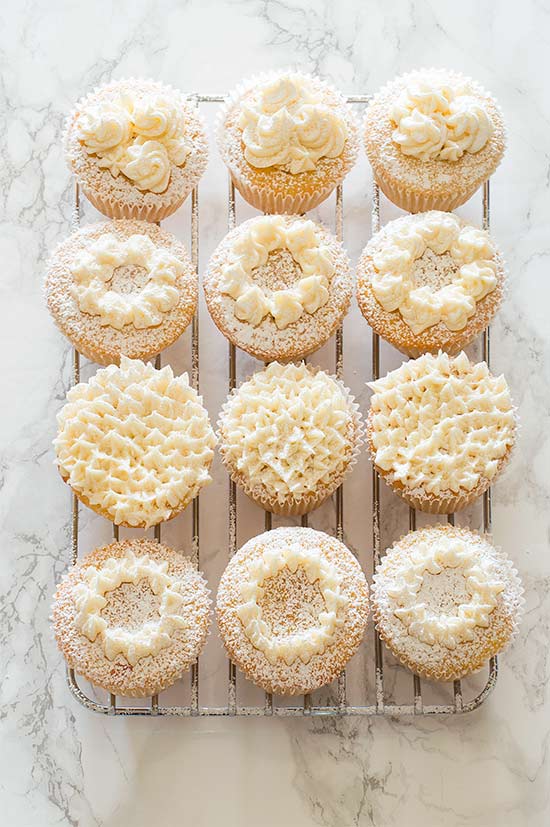 I'm so excited to share today's recipe because it was actually part of a birthday gift for my youngest sister, Tammy.
Over the summer, we did a family girls trip to the UK. We started in Edinburgh, did a side trip to Oxford, and ended the vacation with a few days in London. The whole thing was a great adventure. We took a boat out on Loch Ness, rode bicycles around Oxford, and survived the August tube strike in London.
Every night after dinner, we'd walk around whatever city we were in, find a bakery and buy something to take back to the hotel and share. This ended up with some real winners, like the chocolate-filled doughnut I had in Edinburgh, and the shockingly delicious banoffee pie we bought in Greenwich (I don't like bananas in baked goods, why do I love this????) and some not so winners. No one liked treacle tarts and we all forgot that black forest gateau contained cherries until we bit into it–ick. But Tammy's favorite dessert by far was Victoria sponge cake.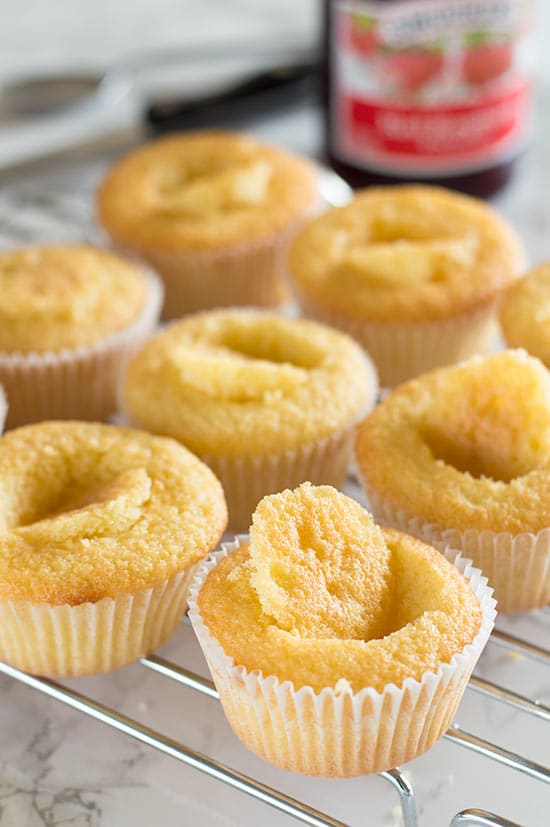 She's mentioned it dreamily a few times since we got back, so I went to look up a recipe to send to her.  But alas, since Victoria Sponge is a quintessentially British treat, all of the recipes were in British English, which my sister, who is not even a baker, does not speak.
So as a gift to her, I adapted the recipe for American cooks and sensibilities. I started with the great Mary Berry's Victoria sponge recipe, translated it from metric (though we should probably all be using metric to bake as it's so much easier), turned it into a cupcake, and added a buttercream on top. Now, any time she wants, she can make a little bit of England here in the US.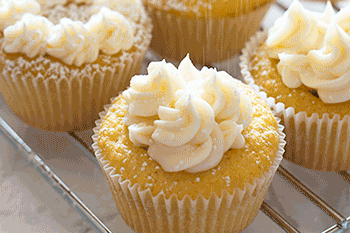 If you've never had Victoria sponge, it's so good. Light and delicious sponge with a raspberry jam filling and sprinkled with powdered sugar. I'm not usually one for jam-filled desserts, but there's something about the blend of flavors and textures here, the mild and the sweet, smooth and spongy that is really lovely. They are perfect for a light dessert, or serving to guests with tea.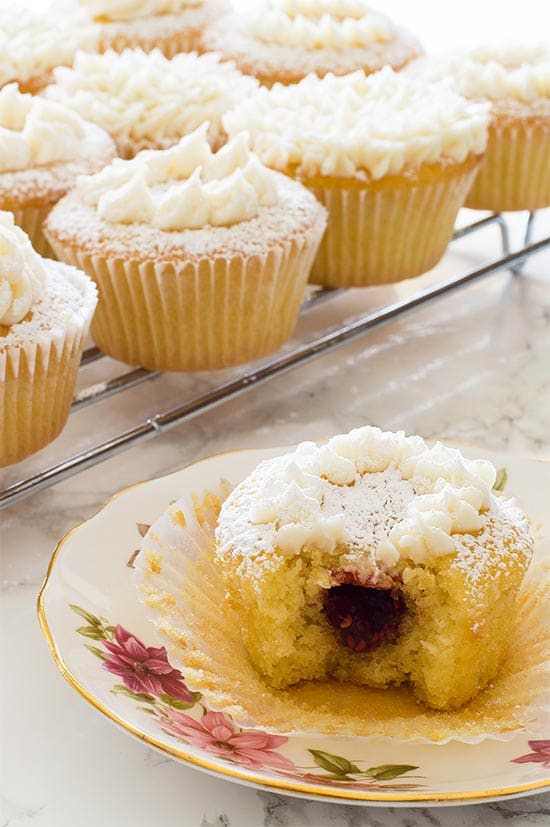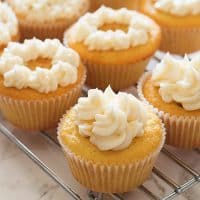 Victoria Sponge Cupcakes
Adorable light and airy sponge cupcakes filled with raspberry jam and topped with buttercream frosting.
Print
Servings (Hover or Click to Change Yield):
20
cupcakes
Ingredients
Sponge Cupcakes
1

cup

(

8

oz) unsalted butter

room temperature

1 1/2

cup

(

210

g) all-purpose flour

1 1/4

cup

(

250

g) superfine sugar*

1

tablespoon

and

1

teaspoon baking powder

1/2

teaspoon

salt

4

large eggs

room temperature
Buttercream
8

tablespoons

(

4

oz) unsalted butter

room temperature

1 1/2

cup

(

180

g) powdered sugar

sifted + extra for dusting

1

tablespoon

heavy cream

1/2

teaspoon

vanilla extract

Pinch of salt
Instructions
Sponge Cupcakes
Preheat oven to 350°F and line cupcake pans.

Place butter, sugar, flour, salt, baking powder, and eggs in your mixer and beat on low for 2 minutes until combined.

Divide into

20

cupcake cups. Your cups should be filled about halfway full, as these cupcakes grow a lot! You should not have fewer than

20

filled cups or there will be overflow!

Bake for 15-18 minutes until tops are golden.

Allow to cool completely.
Add the Jam
Using a serrated knife, cut a cone-shaped piece out of the center of each cupcake so that there is space in the center for filling (save the cone). Spoon about a teaspoon of jam into the space.

Cut the tip off the cone you cut and replace top back on the cupcake. Repeat with all of the cupcakes.
Buttercream
Whisk together butter, powdered sugar, heavy cream, vanilla extract, and salt. Spread on cupcakes or use a small closed star tip to pipe frosting.

Dust with powdered sugar.
Notes
*Superfine sugar, AKA caster sugar is NOT powdered sugar. It is sugar with finer granules than regular granulated sugar and can usually be found in your grocery store's baking aisle in a box or can be ordered from Amazon. If you don't have superfine sugar, you can easily make your own by running regular granulated sugar through your blender or food processor for about 30 seconds.
The amount of buttercream listed is just enough to decorate the cupcakes the way I did here. If you want big swirls you will have to double the recipe, though I find less buttercream is preferable as the sweetness can overpower these cupcakes.
Also, this is pure butter buttercream, which means it will melt if left too long in a hot environment!
Nutritional Information
Sponge Cake Recipe Adapted From:
Mary Berry
Small-batch Instructions: This recipe is easy to cut down. For each egg, you'll need 1/2 cup butter, 1/4 cup + 1 tablespoon sugar, 1/4 cup + 2 tablespoons flour, 1 teaspoon baking powder, and a pinch of salt. No preparation changes are needed.
If you make these, I would love to see them! Tag me @bakingmischief on Twitter or #bakingmischief on Instagram!