My grandmother's breakfast fried rice, stuffed with bacon and eggs for a quick and hearty meal.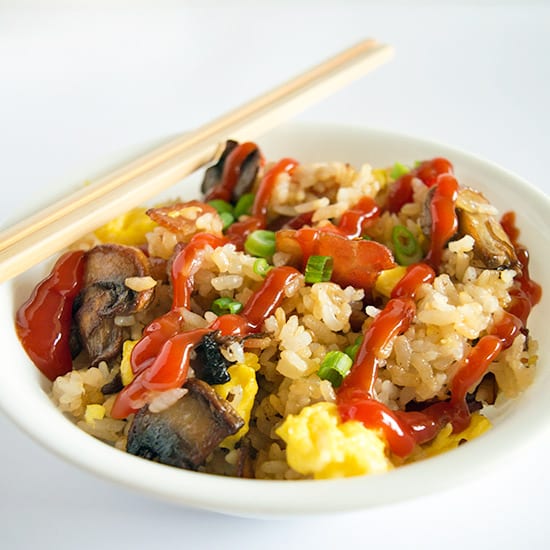 The recipe I'm posting today is one of those family-favorite, special-occasions recipes. Growing up, we always served this fried rice for birthdays and New Year's day breakfast. It's white rice, fried up in bacon drippings, with chopped bacon, mushrooms, and scrambled eggs throughout. Top it with some shoyu or, like my father, slather it in ketchup, and you are starting this year off right!
When I decided to post this recipe, I titled it "Authentic Japanese-American Breakfast Fried Rice," because I thought that it was a fun play on the fact that this is a recipe taught to my German mother (and then to me) by my Japanese father and grandparents, containing decidedly un-Japanese, very-American things like ketchup and American-style bacon. I always thought it was the perfect natural evolution of a traditional recipe to one more suited to the tastes of its current country. But when I went to my father to double check the recipe's provenance, he told me that wasn't actually the case.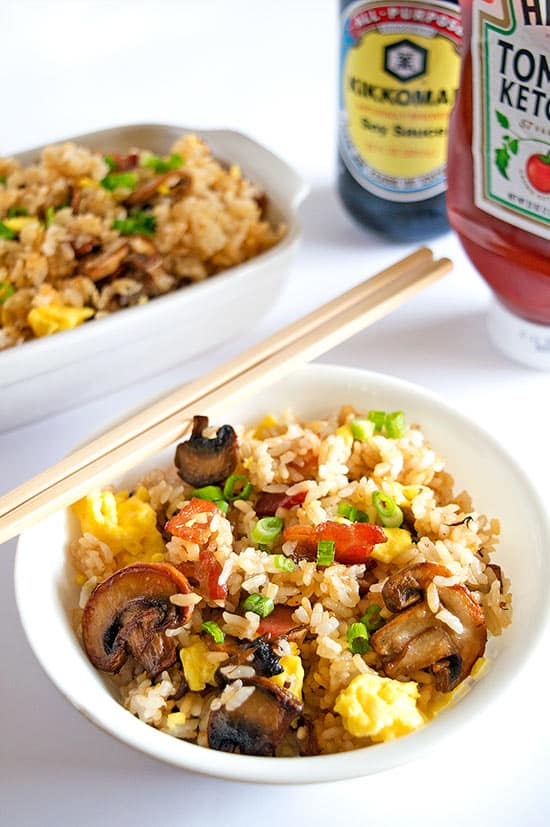 According to him, the use of non-traditional meats, and condiments like ketchup, stemmed not from a natural evolution, but from the time my grandparents spent interned at Tule Lake during WWII. These were the ingredients they were served in the camps and that's where they acquired a taste for them. Unfortunately, neither of my grandparents are still living, so I while I have so many questions, I can't ask them. But I did a little research and there's a fascinating write up and short audio story from NPR here with other first-hand accounts about the effect of the Japanese internment camps on traditional Japanese dishes.
I debated changing the recipe name since it wasn't really all that funny anymore, but recipes have histories, and changing the title felt like deleting this one's. So I'm leaving the "Authentic Japanese-American" part, because that's what it is. For better or for worse, it's Japanese food that America helped shape.
Have you ever had any unexpected discoveries when it comes to family recipes? This is a first for me!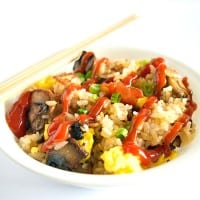 Authentic Japanese-American Fried Rice
My grandmother's breakfast fried rice, stuffed with bacon and eggs for a quick and hearty meal.
Print
Servings (Hover or Click to Change Yield):
4
Ingredients
3

eggs

beaten

8

strips of bacon

cut into 1-inch pieces

8

ounces

mushrooms

sliced

2

green onions

sliced + more for garnish

4

cups

cooked rice*

(day-old is best, but just-cooked is fine)

1

tablespoon

soy sauce
Instructions
Heat a large wok or skillet over medium heat. Spray pan with cooking spray (or coat with a little oil) and scramble eggs. Place cooked eggs on a plate and set aside.

In the same pan, over medium-high heat, fry bacon, mushrooms, and green onions until bacon is cooked through and mushrooms are caramelized.

Add the rice to the pan and stir. Continue until rice is toasted. Stir in eggs and soy sauce and cook until the eggs are hot.

Remove from heat and serve. Garnish with sliced green onions.
Notes
I prefer Calrose rice for Asian-style dishes. It's a medium-grain rice that cooks up soft and sticky, but you can use whatever rice you have on hand.
Make Ahead Information: Rice can be (and is best if) prepared the day before. Onions, mushrooms, and bacon can be cut a couple days in advance. Eggs should be cooked day of.
Small Batch Information: The best thing about fried rice is that ingredient amounts don't matter all that much. No need to cut eggs in half or worry about the exact weight of mushrooms. Use your best judgement. It's really hard to screw this one up! Just watch the amount of bacon grease in your pan. You don't want 8-slices worth of grease for a cup of rice.
Nutritional Information (4 servings)
This post may contain affiliate links, which means I receive a small commission if you make a purchase using them. There is absolutely no additional cost to you.