Charming shortbread tea bag cookies, dipped in chocolate, with printable "Sherlock" tea tags.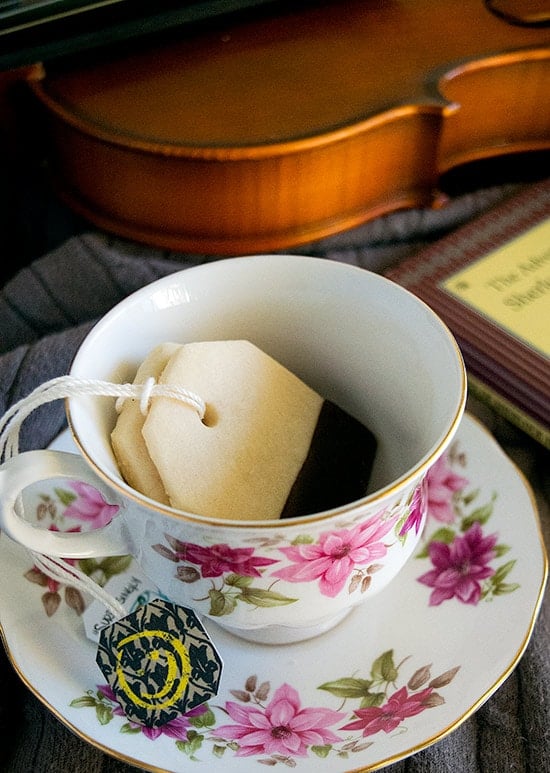 Are you ready for the Sherlock winter special? We all have the shows we love, possibly beyond reason. Sherlock is one of mine. The problem with loving this show is that it airs a three-episode season and then goes away for YEARS. The delight of loving it is that every time it comes back, it feels like an event. We aren't even getting three episodes this time around, just a single 90-minute episode, but it's Sherlock, so it's cause for celebration.
We're celebrating around here by making these Sherlock-themed tea bag cookies. The cookie base is my favorite crumbly, buttery shortbread, covered with melted chocolate and adorned with custom tea tags for a perfect Sherlock dessert. As a bonus, I have a fun extra recipe to use up the scraps so nothing goes to waste! (Scroll down to see!)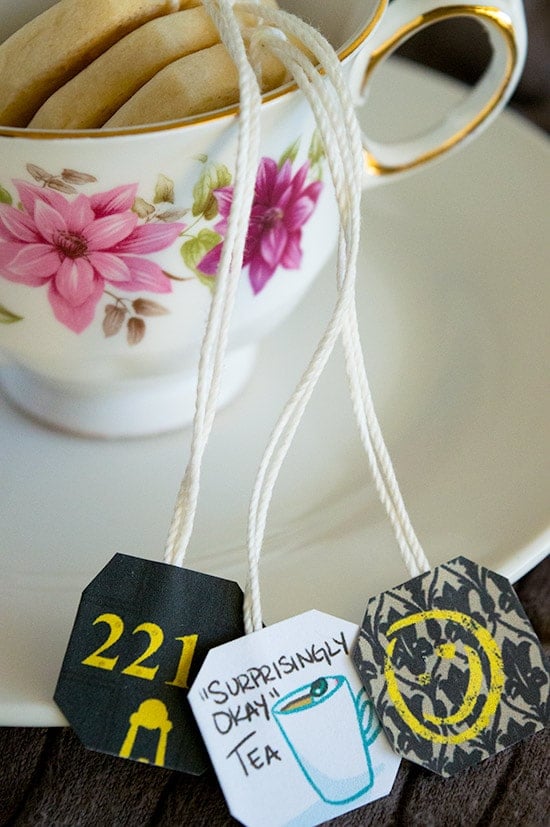 I love this show so much, I broke out my dusty old wacom tablet and created three different tea tags for you to use. Click on each tag to download a printable sheet of the design. Number four will give you a mix of the three.
British Government/Silver Fox fans, I also made a special tag just for you. <3 <3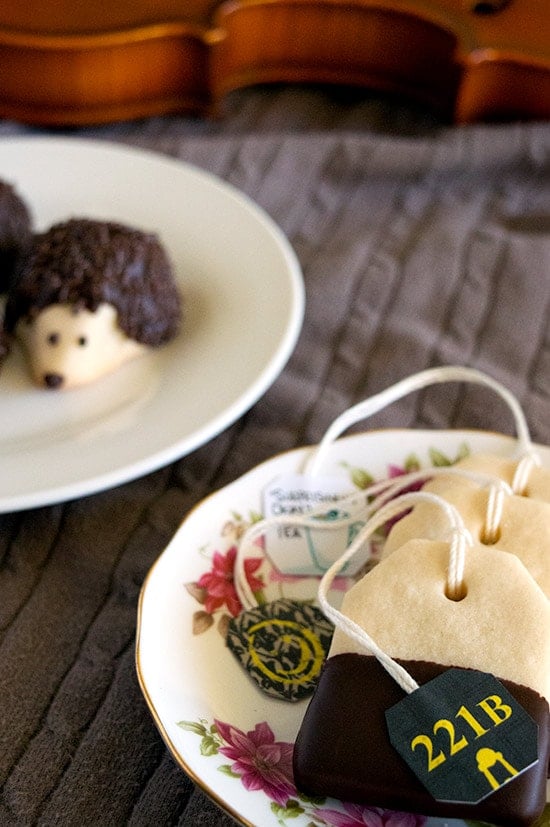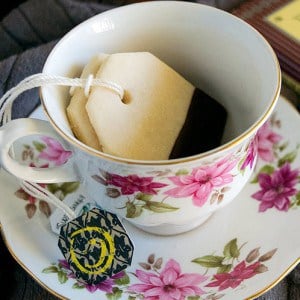 Sherlock Tea Bag Cookies with Printable Tea Tags and Bonus Recipe
Charming shortbread tea bag cookies, dipped in chocolate, with printable "Sherlock" tea tags.
Print
Servings (Hover or Click to Change Yield):
30
Ingredients
Cookies
1

cup

(

8oz

) unsalted butter

room temperature

1/2

cup

(

60g

) powdered sugar

sifted

2

cups

(

280g

) all-purposflour

1/8

teaspoon

salt

6-8

oz

sweetened baking chocolate

Chocolate sprinkles

for bonus recipe only
Tags
Thread or twine cut into 12-inch pieces

Double sided tape or glue stick

Printed tea tags

downloads available above

Printed tea bag stencil

optional
Instructions
Cookies
Cover two cookie sheets with parchment paper or silicone baking mat.

Cream the butter and sugar. Stir in flour and salt, mixing until just combined. Be sure to scrape the sides and bottom of your bowl.

Dump dough onto a sheet of plastic wrap. Wrap and smash into a 1-inch thick disk. Refrigerate for 30 minutes.

Roll dough out on a piece of floured parchment paper, to 1/4 inch thick. Make sure to flour the top of the dough before rolling it out, so your rolling pin doesn't stick.

Cut out rectangles of about 1.75 inches x 2.25 inches. A pizza cutter works great for this!

Using the stencil or eyeballing it, cut the two top corners off of each cookie, then use a straw to punch a hole in the cookie for the string.

Use a spatula to place cookies on a baking tray 1 inch apart. You can squish and re-roll the scraps to make more cookies, or you can save them and make the bonus recipe below.

Refrigerate the cut out dough for 15 minutes. This will help them keep their shape in the oven. Preheat oven to 350°F.

Bake the cookies for 7-9 minutes until lightly golden. If they have formed any air bubbles while baking, gently (and carefully) pat down while the cookies are still warm. Set aside to cool.

Once cookies have cooled, in the microwave, melt chocolate in a mug or other deep container. Start with 30 seconds, stir, and continue to microwave and stir in 15-second increments until melted.

Dust any stray crumbs from your first cookie and dip until chocolate covers about half of it. Continue with the remaining cookies. When your chocolate gets low, you can sweep the cookies back and forth in the chocolate to help scoop it up the sides of your cookies so that they look uniform. Place on parchment paper and allow to set.

Thread string and cut out tea tags. Using double-stick tape or a glue stick, fold and stick sides of paper together. Trim corners if desired. Serve and enjoy!
Notes
This dough should be very easy to work with. If at any time it becomes too soft or sticky, place it back in the fridge for a couple of minutes.
You can use 1 to 1 1/4 cups of chocolate chips instead of baking chocolate and melt in the microwave using the method above, but it's a little harder to get a thin, even layer of chocolate.
When printing the stencil and tea tags, make sure the "Fit to page" option is turned off, otherwise the sizes are going to be off.
Small Batch Information: This recipe cuts in half cleanly. Just replace the 1/8 teaspoon salt with a pinch of salt.
Nutritional Information
 (Calories are for 30 cookies made with 7 oz chocolate)
Cookies inspired by:
As Easy as Apple Pie
Shortbread adapted from: 
In the Kitchen with Stefano Faita
Bonus Recipe!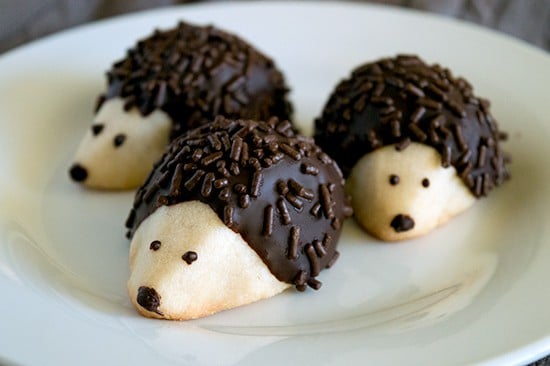 If you're a Sherlock fan, I'm sure you've seen one-thousand-and-one of these Martin Freeman hedgehog memes. With your extra dough scraps, why not make your own little hedgehog?
Squish scraps together, divide into 1-ounce pieces and roll into balls (about 1.5 inches each). Shape into teardrops and refrigerate for 30 minutes.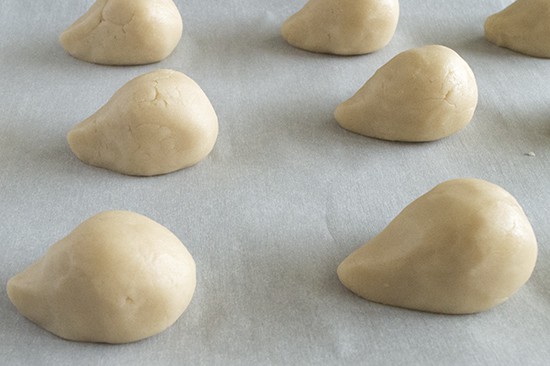 Bake 12-14 min at 350 degrees F, until the cookie is lightly golden brown. Holding the cookies upside down, dip back halves in chocolate and cover with sprinkles. Dot on eyes and nose with a toothpick. Instant John Watson.
Hedgehog Cookies inspired by: Taste of Home
Hey Sherlock, what do you think of the cookies?