This is the best banana pudding you'll ever eat. Rich and creamy pudding made with cream cheese, whipped cream, and sweetened condensed milk, layered with crumbled vanilla wafers, even more whipped cream, and sliced bananas.
I have something a little different for you today, a good old-fashioned Southern dessert, banana pudding! This is the absolute best banana pudding I've ever eaten, and I think you're going to LOVE it.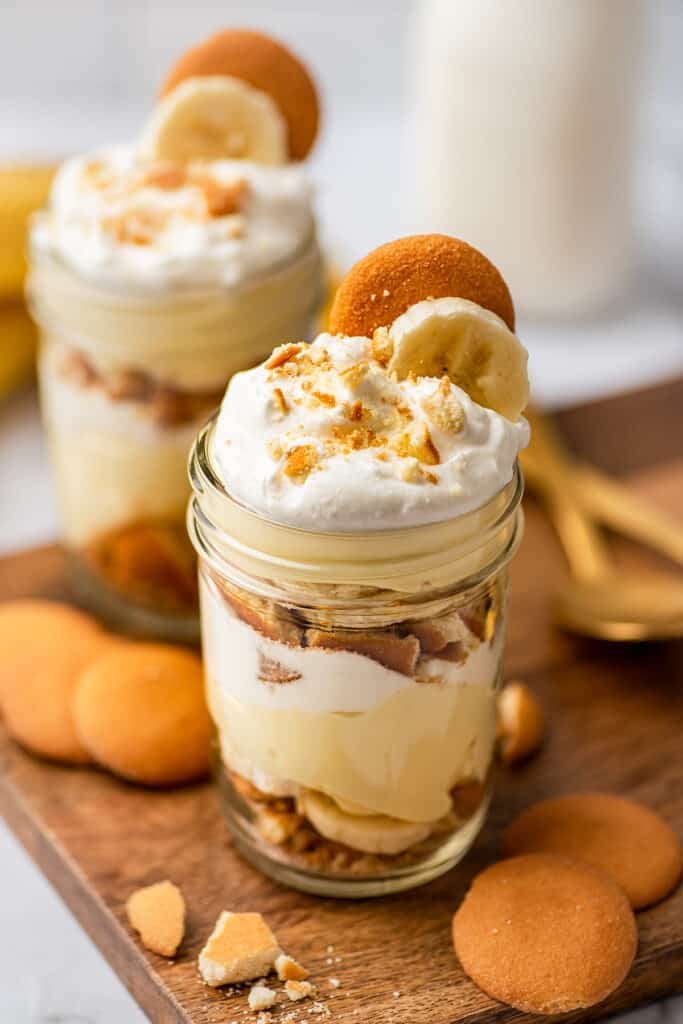 Incredibly Good Banana Pudding
This method of making banana pudding is a Southern classic, but I first stumbled upon it
Joanna Gaines' Magnolia Table cookbook.
When I saw that this was a pudding that involved both cream cheese and sweetened condensed milk, I HAD to try it, and after one bite, I knew I had to share it with you.
This pudding is decadently rich and creamy. Smooth, unapologetically sweet, and SO indulgently good. If ever there were a desert for a treat yourself day, this is it.
Is this the pudding from Magnolia Bakery?
Magnolia Bakery banana pudding (according to the recipe they've shared online) is made with whipped cream, instant pudding mix, and sweetened condensed milk. This recipe is extremely similar, but it has one notable difference.
This recipe includes a block of cream cheese. (I know, I'm excited about it too.)
So I'd argue this banana pudding is even better than the Magnolia Bakery version. The cream cheese doesn't make the pudding taste "cream cheesy;" it just adds an extra smooth texture to the pudding and a tiny bit of tang that is SO GOOD. Make it, and you'll see what I mean.
Ingredient Notes
Softened cream cheese: It is ESSENTIAL that you start with softened cream cheese. Cream cheese that's too cold will leave lumps in your pudding that you won't be able to get rid of. My go-to cream cheese brand for desserts is Philadelphia cream cheese.
Sweetened condensed milk: If you don't regularly buy sweetened condensed milk, you can usually find it in the baking aisle or near the coffee and tea aisle. It's sold in cans, and be sure to double check to make sure you've grabbed sweetened condensed milk and not evaporated milk since they're typically sold side by side.
Instant pudding mix: You'll need a 3.4-ounce box of instant vanilla pudding mix for this recipe. You should be able to find pudding mix in the baking aisle of your grocery store.
Heavy whipping cream: If you have leftover heavy cream, check out my post What to Do With Leftover Heavy Cream for ideas to use up the extras.
Bananas: Go with ripe but firm bananas for your banana pudding. Bananas that are overripe will brown too quickly and don't have the best texture for layering.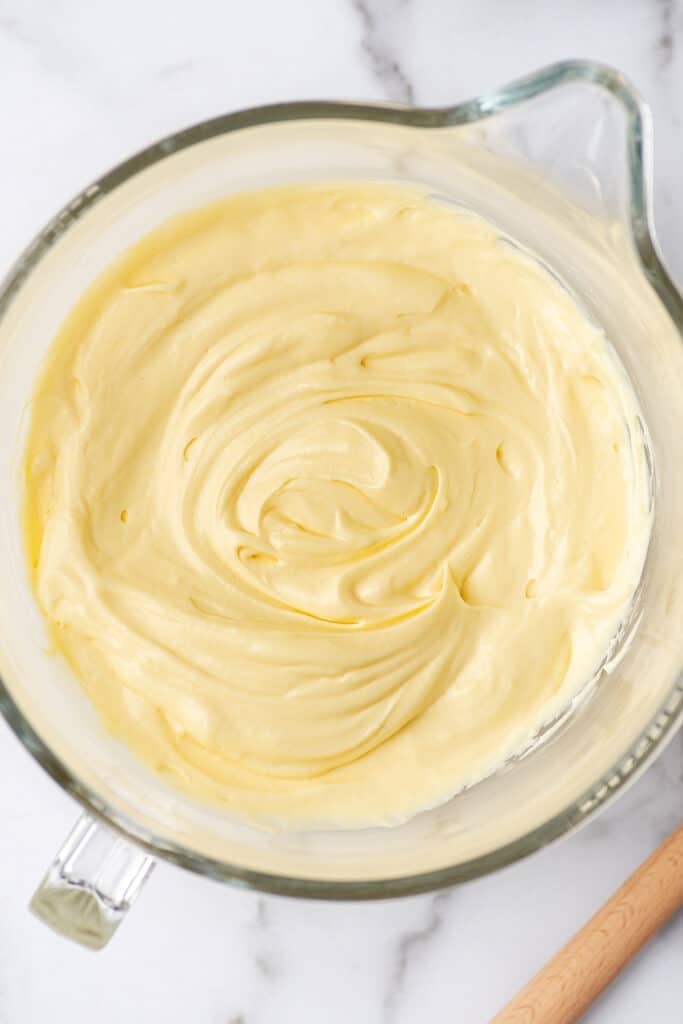 How to Make Banana Pudding
1. Make whipped cream: Whip heavy cream, sugar, and vanilla until it whips up into whipped cream. You'll use half of this to fold into the pudding (it helps lighten things up) and half of it when assembling.
2. Make the pudding base: Beat softened cream cheese until completely smooth and then add half of the condensed milk. Beat these together until you are sure no cream cheese lumps remain, scraping the bottom and sides down a couple of times as you do so to make sure all of it is fully incorporated. And then add the rest of the condensed milk and beat in the vanilla pudding mix and milk.
3. Add whipped cream: Fold in half of the whipped cream until the pudding is uniform in color. The pudding will seem thin, but it will firm up the longer it sits and as it chills.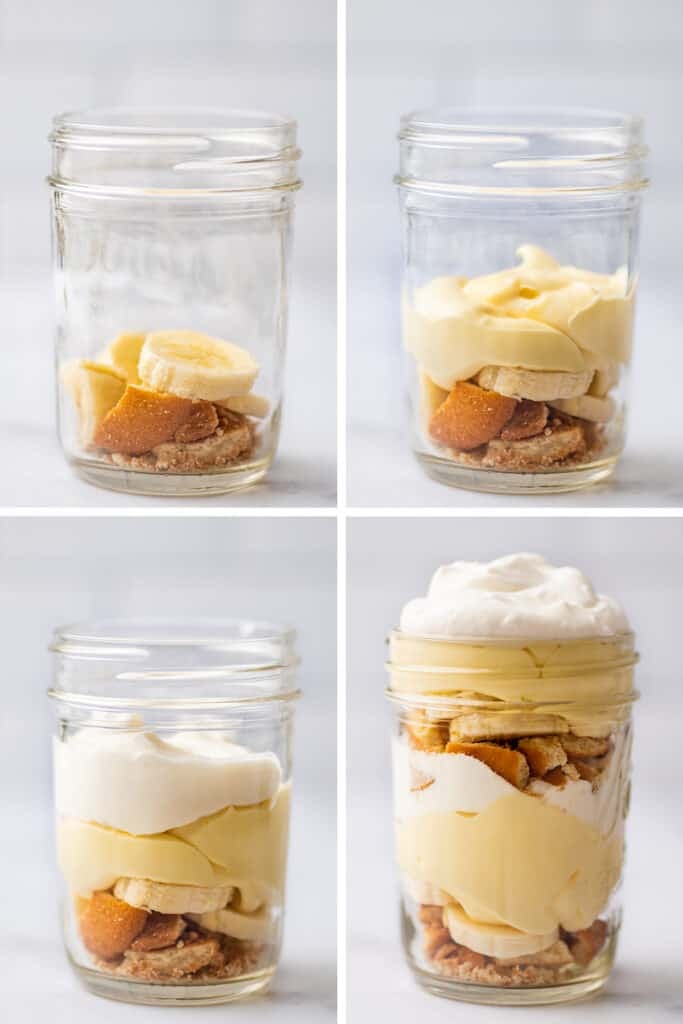 4. Assemble the pudding: Assemble the pudding either in 8-ounce glass jars or a 3-quart trifle dish. I used mason jars for the pudding in the photos.
5. Chill and enjoy: Refrigerate for 2 hours, up to 24, serve, and enjoy!
FAQ
How ripe should bananas be for banana pudding?
Bananas for banana pudding should be ripe but firm. Think the type of bananas you'd like to eat for breakfast not the type you'd use in banana bread.
Of course you can use any banana you'd like, but under-ripe bananas won't give you nearly as much flavor, and overripe bananas won't look very pretty layered in your pudding and their texture will be too mushy to stand up to the other ingredients.
How long can banana pudding last?
You should make banana pudding no more than 24 hours before you plan on serving it. Leftovers will keep in the fridge for up to 3 days, but the bananas will begin to brown and the wafers will get very soft.
If making this for your family/yourself and you know there will be leftovers, store the pudding, whipped cream, and the rest of the ingredients separately and assemble as needed in batches. The whipped cream will probably deflate a bit as it sits, but not horribly so.
I also recommend assembling the pudding on-demand if you prefer crunchy cookies in your pudding and don't want them softened from sitting layered with the moist ingredients.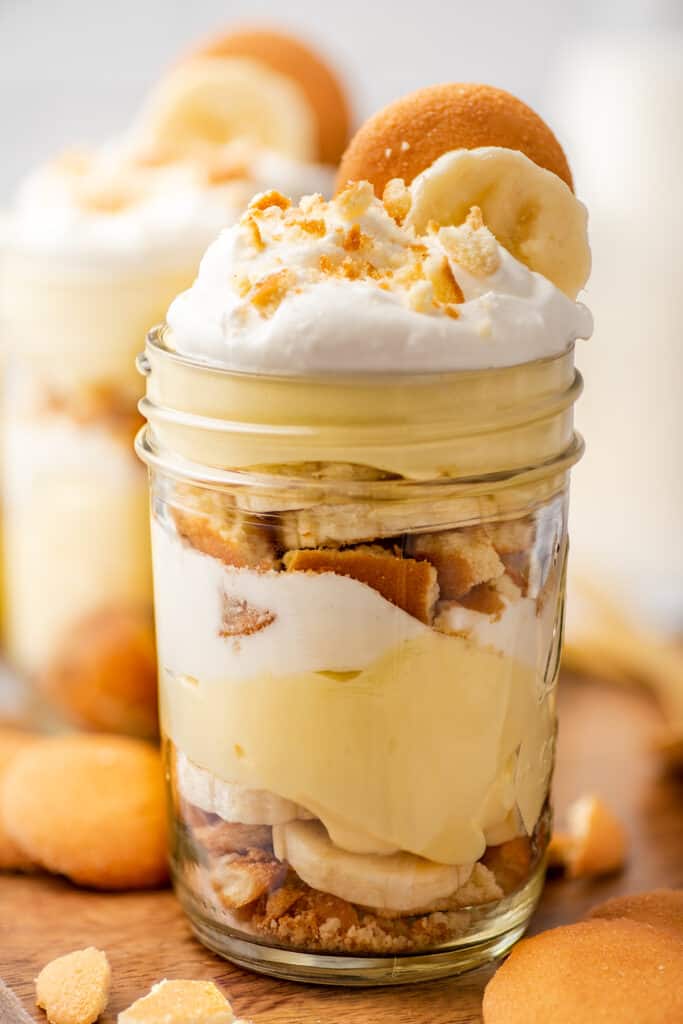 Should you refrigerate banana pudding?
Yes. Banana pudding should be stored tightly covered in the refrigerator.
Can I make a smaller batch of banana pudding?
You know I love small-batch recipes, but for this particular recipe, I recommend against trying to make it small-batch. Both the pudding mix and condensed milk come in exactly the amounts you need and you'll have to deal with dividing them if you want to make a smaller batch (though if you want to, by all means, go for it.)
Just make the full batch, and if you don't want to eat it all, make banana pudding kits and drop them off with friends or neighbors (give them a container of pudding, a container of whipped cream, a banana, a plastic baggie of vanilla wafers, and assembly instructions). I did this with the shoot leftovers, and it was a hit.
Do I have to chill the pudding? Shouldn't instant pudding be instant?
You don't *have* to chill your pudding for 2 hours before eating it. It will be soft-set within about 5 minutes of being made, (kind of like the texture of really thick whipped cream).
You can layer it into bowls and eat it right away. But for thicker pudding or if you're making it in a trifle dish and want it to hold its shape when being served, you're going to want to let it chill in the fridge first.
More Decadent Desserts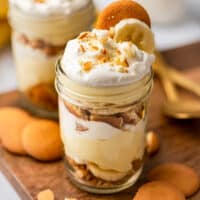 Banana Pudding
This is the best banana pudding you'll ever eat. Rich and creamy pudding made with cream cheese, whipped cream, and sweetened condensed milk, layered with crumbled vanilla wafers, even more whipped cream, and sliced bananas.
Print
Pin
Servings (Hover or Click to Change Yield):
6
to 8 servings
Ingredients
Whipped Cream
3

cups

heavy whipping cream

1/4

cup

(

50g

) granulated sugar

1 1/2

teaspoons

vanilla extract
Pudding
8

ounces

cream cheese

softened

1

14-ounce can sweetened condensed milk

1

cup

milk

preferably whole

1

3.4-ounce package instant vanilla pudding mix
For Assembly
1

11-ounce box vanilla wafers

crumbled into pieces or whole

3

ripe but firm bananas

sliced
Instructions
Whipped Cream
In a large clean bowl or the bowl of your stand mixer, combine heavy cream, sugar, and vanilla extract, and beat until the cream is light, fluffy, and holds stiff peaks (when you lift the beater straight out, the cream should stand up and form peaks that hold their shape and don't flop over at the tip). Set aside (if using your stand mixer, transfer whipped cream to a different container while you make the pudding).
Pudding
In a separate large bowl or the bowl of your stand mixer, beat softened cream cheese until completely smooth.

Add half of the sweetened condensed milk and beat until completely mixed and there are no lumps of cream cheese remaining, stopping once or twice to scrape the bottom and sides of the bowl. Beat in remaining sweetened condensed milk.

Add milk and instant pudding mix and beat on high for 2 minutes, scraping the sides and bottom once halfway through, until well-mixed.

Add half of the whipped cream (approximately, you don't need to measure it) to your pudding mixture, and fold it in until the mixture is uniform in color and no streaks remain.
Assemble
To assemble, layer wafers, banana slices, pudding, and whipped cream into individual glasses, doing two layers of each.

Chill for at least 2 hours*, up to 24, serve, and enjoy!
Notes
To assemble in a single large container, use a 3-quart trifle bowl, and layer the ingredients in the following order (or however you wish):
1/4 of the vanilla wafers in a single layer at the bottom of your bowl
1/3 of the pudding 
1/4 of the vanilla wafers
1/2 of the banana slices
1/3 of the pudding 
1/4 of the vanilla wafers
1/2 of the banana slices
1/3 of the pudding 
1/4 of the vanilla wafers
All of the whipped cream (that you didn't mix into the pudding)
*Pudding will be soft set after assembly, so you can serve it immediately, but for thicker pudding, chill for the recommended amount of time. 
Store leftovers covered in the refrigerator for up to 3 days. 
Approximate nutritional information is for 8 servings.
This post may contain affiliate links, which means I receive a small commission if you make a purchase using them. There is absolutely no additional cost to you.