What to Do With Leftover Whipping Cream: How to freeze whipping cream and whipping cream recipe ideas to use up the leftovers.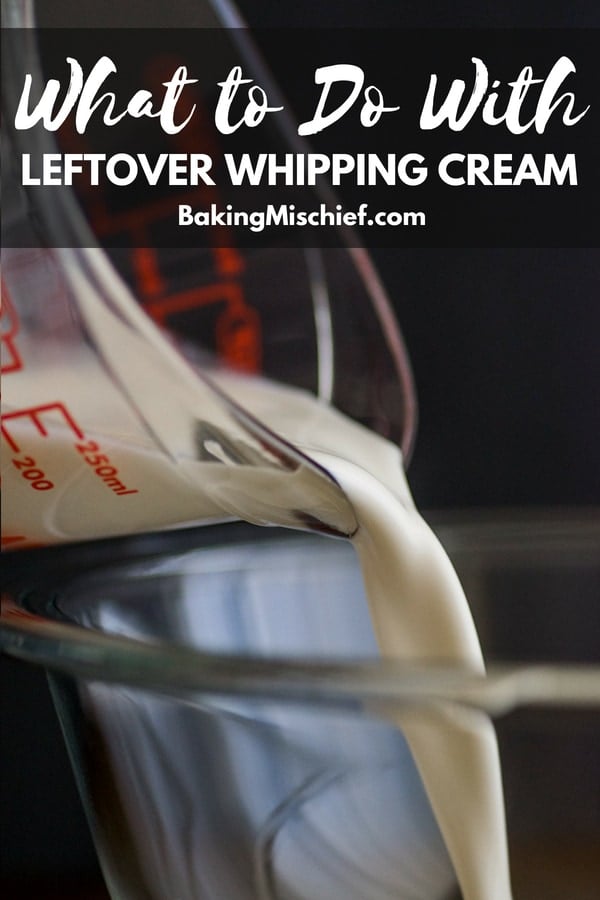 Whipping cream is one of my favorite ingredients to cook with. It's delicious, versatile, and makes *everything* taste better.
But it's also not something everyone keeps in their fridge, and a little goes a long way in recipes (and calorie-wise), so I always hesitate to create recipes for the site that use it.
I don't want to make you buy an ingredient you'll use for one meal and then have the rest of it go bad in your fridge.
So I told myself that before I created another recipe using cream, I'd put together a Waste Not post for whipping cream so you'd have a resource on what to do with the extra.
Wednesday I have a savory recipe hitting the site calling for whipping cream, so today, Waste Not: Whipping Cream Edition.
And before we go on, when I say whipping cream, I'm using this term interchangeably to refer whipping cream and heavy whipping cream/heavy cream. The only difference between the two is a small amount of milk fat.
Whipping Cream = 30–36% fat
Heavy (Whipping) Cream = 36%+ fat
They can be used pretty much interchangeably.
Side note: As a rule, Half and Half (10.5–18%) and Light Cream (20%) cannot (always) be substituted. If you're outside the US, here's a good breakdown of comparable cream labels because they vary from country to country.
Okay, now that we know what is and isn't whipping cream, here we go.
What to do With Leftover Whipping Cream
Freeze It
Like buttermilk, heavy cream freezes well. You can freeze it in the container in which it was bought (leave plenty of head space if that's a glass bottle, and double wrap it if it's plastic or cardboard to prevent it from picking up that freezer taste). Or you can transfer it to mason jars, again, leave space for expansion, or measure out usable amounts and double bag it in freezer bags.
See Also: What to Do With Leftover Buttermilk
When it comes time to use the frozen cream, leave it in the refrigerator to defrost for a day or two before you'll need it and then shake vigorously to mix any fat that has separated.
Use It to Make Half and Half
If you have favorite recipes using half and half or you prefer half and half for your morning coffee, you can also use leftover heavy cream to make your own half and half at home. Simply mix approximately 1 part cream with 2 parts milk.
For example, if you have a recipe that calls for 1 cup half and half, fill your 1 cup measuring cup about 1/3 full with cream, 2/3 full with milk. Depending on whether you're using non-fat or whole milk, go a little heavier or lighter on the cream. It doesn't need to be exact and when in doubt, go heavier on the cream because fat is delicious.
Make Good Things With It
Finally, use it in other things. My go-to quick recipes for using up a bit of cream are…
Using it instead of milk in my scrambled eggs
As coffee creamer (soooooo much better than half and half)
And making a small batch of caramel
Or try one of these other recipes:
Drinks Made With Whipping Cream
(1 tablespoon) White Chocolate Mocha
(1 tablespoon) Easy Homemade Mocha
(2 tablespoons) Milk Tea with Coffee Jelly
(2 tablespoons) Pumpkin Spice Latte Recipe Two Ways (Light and Decadent)
(1/3 cup) Rich and Thick Hot Chocolate for One
(1/2 cup) Candy-Sweet Jello Shots with Triple Sec Whipped Cream
Desserts Using Whipping Cream
(1 tablespoon) 30-Second Easy Chocolate Sauce
(3 tablespoons) No-bake Cheesecake Bites With Graham Cracker Crust
(3 tablespoons) Chocolate Souffles for Two With Creme Anglaise
(1/4 cup) Small-batch No-bake Unicorn Cheesecakes
(1/4 cup) Small-batch No-bake Oreo Cheesecake Bites
(1/4 cup) Skinny Mini Pumpkin Pie With Graham Cracker Crust
(1/4 cup) Better Than Starbucks Caramel Macchiato
(1/4 cup) Butterscotch Shortbread Thumbprint Cookies
(1/2 cup) Pink Cream Puffs
(1/2 cup) Samoa Cupcakes
(3/4 cup) Small-batch Cream Scones
(3/4 cup) Small-batch Maple Scones (Maple Butter Scones)
(1 cup) Whipped Cream 3 Ways
(2 cups) No-churn Peanut Butter Oreo Ice Cream
(2 cups) Pound Cake Cupcakes
Savory Recipes Using Whipping Cream
(2 tablespoons) My Favorite Easy Parmesan Orzo Side Dish
(2 tablespoons) Shortcut Scalloped Potatoes for One
(3 tablespoons) Easy Chicken in Cream Sauce for Two
(3 tablespoons) Easy Tomato Soup Recipe for Two
(3 tablespoons) Easy Baked Ziti Recipe (Dinner for Two)
(1/4 cup) Keto Chicken Soup for Two
(1/3 cup) Creamy Chicken and Asparagus Pasta Dinner for Two
(1/3 cup) Cheesy Potato Gratin for Two
(1/3 cup) Quick and Easy Fettuccine Alfredo for One
(1/2 cup) Copycat Carmela's Chicken
(1/2 cup) Easy Creamy Chicken Noodle Soup
(2/3 cup) Easy Fettuccine Alfredo With Broccoli
(2/3 cup) Easy Creamy Chicken Pasta With Bell Peppers
(1 cup) 15-minute Vodka Sauce
(1 cup) Penne alla Vodka With Chicken