Captain America, Iron Man, and Winter Soldier cheesecake parfaits. Delicious tangy cheesecake whipped cream piped between layers of fresh fruit make a quick and easy Captain America dessert perfect for parties!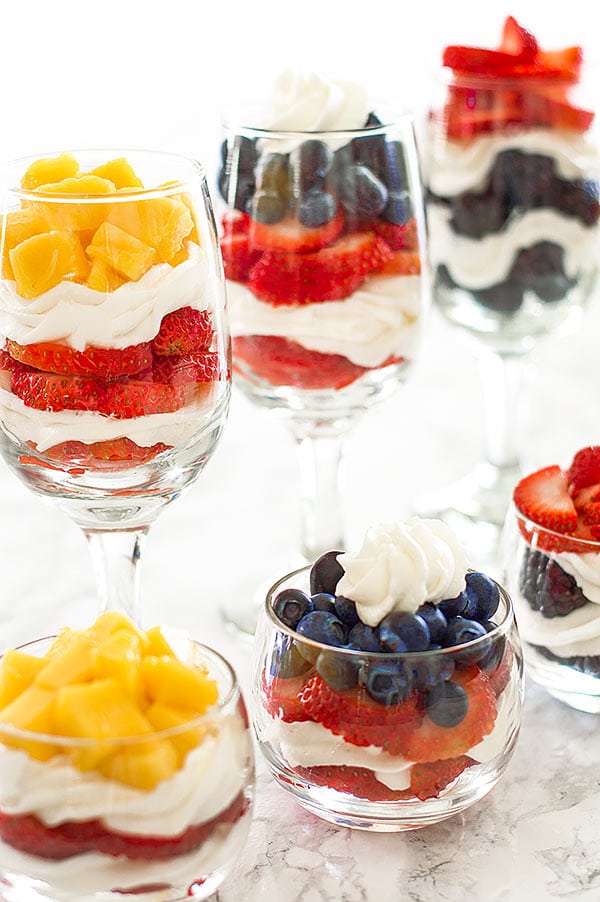 Hey all. It's been a little while since my last nerdy recipe, but they're back in a big way this week (and in the very near future, stay tuned!!) for one of my most anticipated pop-culture events of the year, Captain America: Civil War!
Are you excited for Captain America!? We're exactly one week out, and by we, I mean absolutely everyone, because there's no way Captain AMERICA would be opening around the rest of the world today before AMERICA gets it, right!? RIGHT??
(But seriously, fellow Americans, there are spoilers out there. Beware.) Moving on.
The Cap movies are my favorite of the Marvel films, because while the Thor movies have Loki and Chris Hemsworth's arms, and Tony as a character speaks deeply to the sarcastic a-hole in my heart, I genuinely enjoy and care about the relationships in the Captain America movies.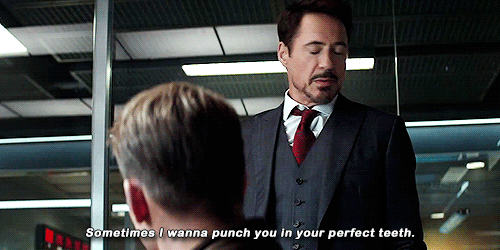 So I knew I was going to do something for the film, I just wasn't sure what.  And then I scrolled past a fourth of July themed jello parfait on Pinterest and I knew exactly what I wanted to do: Captain America, Winter Soldier, and Iron Man cheesecake parfaits!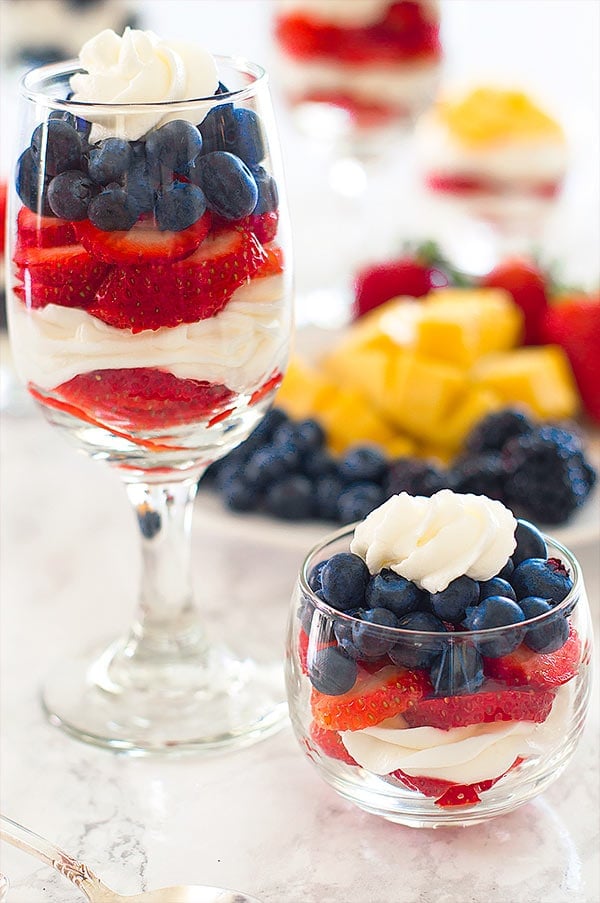 These parfaits are simple and a perfect Captain America dessert for parties. The cheesecake whipped cream is *so* good. It's tangy and tasty and light enough that you could serve these as a snack, but satisfying enough that they'd be just as great as dessert.
When it comes to assembling, you just layer the fruit and cream in whatever pattern you want and let your guests choose whether they are #TeamCap, #TeamIronMan, or #TeamWinterSoldier.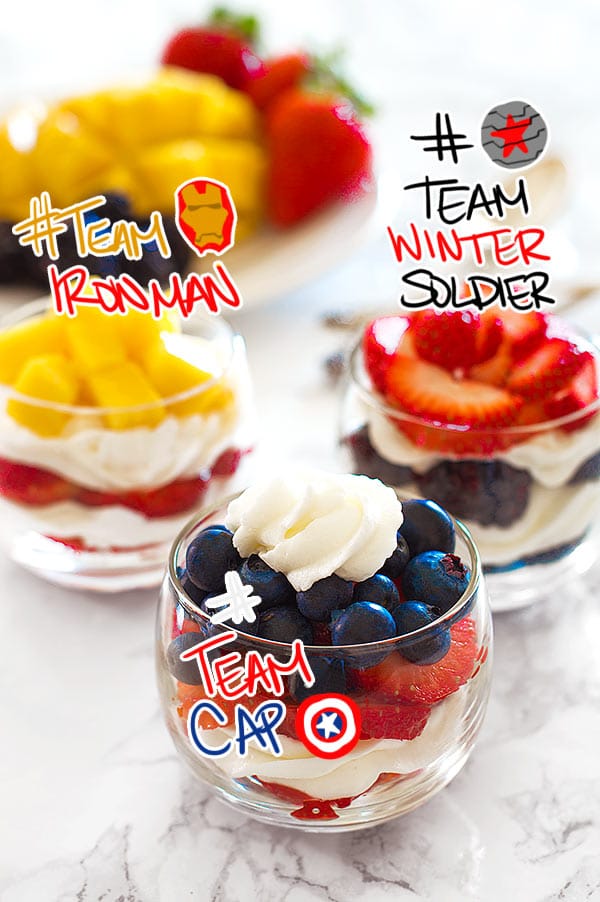 For these I did red and gold mango and strawberry for Iron Man, strawberries and blueberries in the pattern of Cap's shield for Captain America, and blackberries with strawberries for The Winter Soldier with his black uniform and red arm star.
Obviously, I'm team Cap all the way, but when it comes to these parfaits, I'm totally team Iron Man. Mango and strawberry? Oh yes. You could totally make these for the rest of the team members too.
Do one with purple grapes for Hawkeye, layer them black, red, black, for Black Widow. Do one in the colors of the Wakanda flag for Black Panther! The combinations are endless and up to you!
Looking for even more Marvel treats? Scroll past the recipe and check out some fantastic ones by my fellow nerdy bloggers!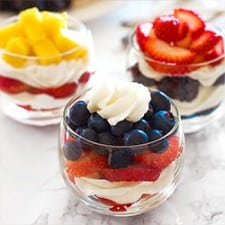 Captain America: Civil War Cheesecake Parfaits
Captain America, Iron Man, and Winter Soldier cheesecake parfaits. Delicious tangy cheesecake whipped cream piped between layers of fresh fruit make a quick and easy Captain America dessert perfect for parties!
Print
Servings (Hover or Click to Change Yield):
8
to 10 (8oz) Parfaits
Ingredients
1 1/2

cups

heavy whipping cream

1

8-ounce package of cream cheese

room temperature

1

cup

(

120

g) powdered sugar

sifted

1

teaspoon

lemon juice

1/8

teaspoon

salt

5

to

6

cups assorted fruit

chopped
Instructions
Using your stand mixer with the whisk attachment or bowl and whisk, whisk heavy whipping cream until stiff peaks form. If you are making this with a hand-held mixer or by hand, place whisk and bowl in the freezer for 15 minutes, until very cold before whipping the cream. This will help your whipped cream whip up easier. Set aside.

In a separate, large bowl, whisk together room-temperature cream cheese, powdered sugar, lemon juice, and salt until well-combined and smooth. Gently whisk in whipped cream. If not using immediately, refrigerate until assembling parfaits.

To assemble your parfaits, use a piping bag (or a plastic bag with the corner snipped ofto pipe layers of cheesecake whipped cream between layers of fruit.
Notes
Cream cheese must be room temperature before starting or you will end up with a lumpy finished product. If using the same whisk to whip cream and mix the cream cheese and sugar, you MUST whip your cream first. Any oil from the cream cheese left on the whisk can cause your whipped cream not to whip up. Leftover parfaits will keep just fine overnight, but if making for guests or a party, they should probably be made shortly before serving because the cream will deflate slightly (you can see this with the tall Iron Man parfait in the top picture).
Nutritional Information
Cheesecake Whipped Cream Adapted From: AllRecipes


Make-ahead Instructions: Cheesecake whipped cream can be made up to 24 hours in advance, but it will deflate some the longer it sits (still tastes just fine!).
And take a look at these Marvel recipes!
This post may contain affiliate links, which means I receive a small commission if you make a purchase using them. There is absolutely no additional cost to you.