These Direwolf Claws are the perfect fun and easy dessert for Game of Thrones watch parties!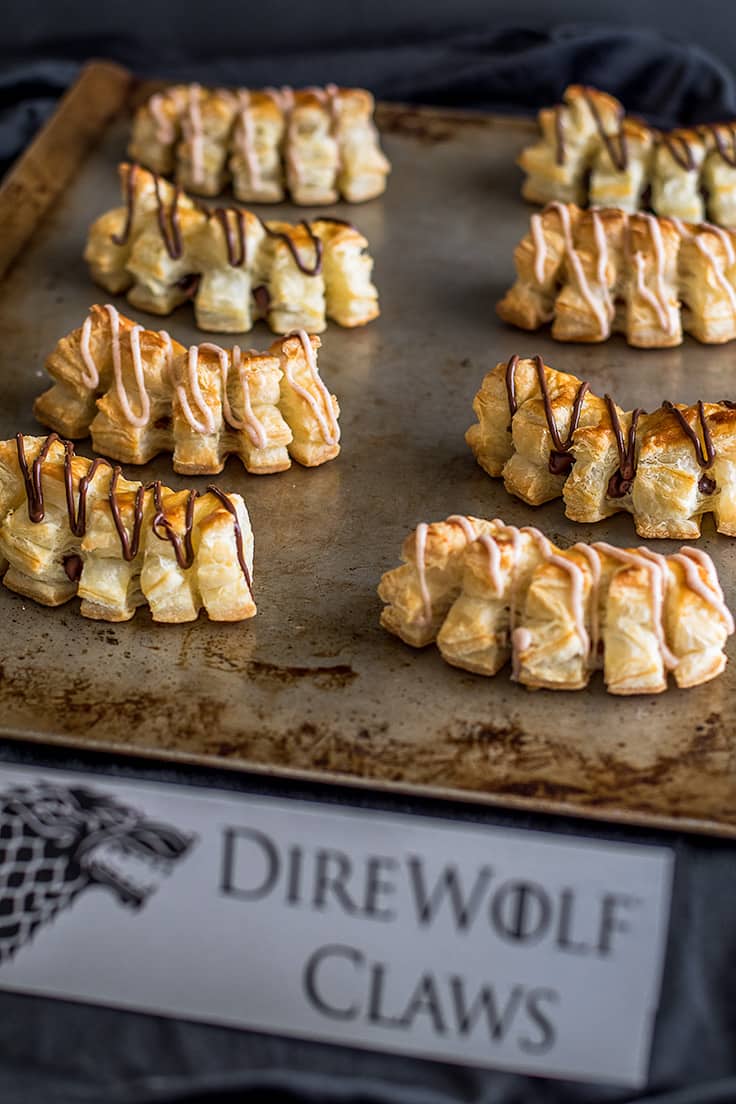 Happy Thursday! How is your week going?
I'm hosting Fandom Foodies this month (you can read more about that in this post), and our theme is Game of Thrones recipes! I already have one GOT recipe on the site, the delicious and deliciously fun Frey Pie. But as much as I love that recipe, it's a PROJECT. With the seventh season of the show premiering next month and, I'm sure, tons of viewing parties on the horizon, I wanted to make something that everyone, with every sort of schedule, could make. So we're making Direwolf Claws!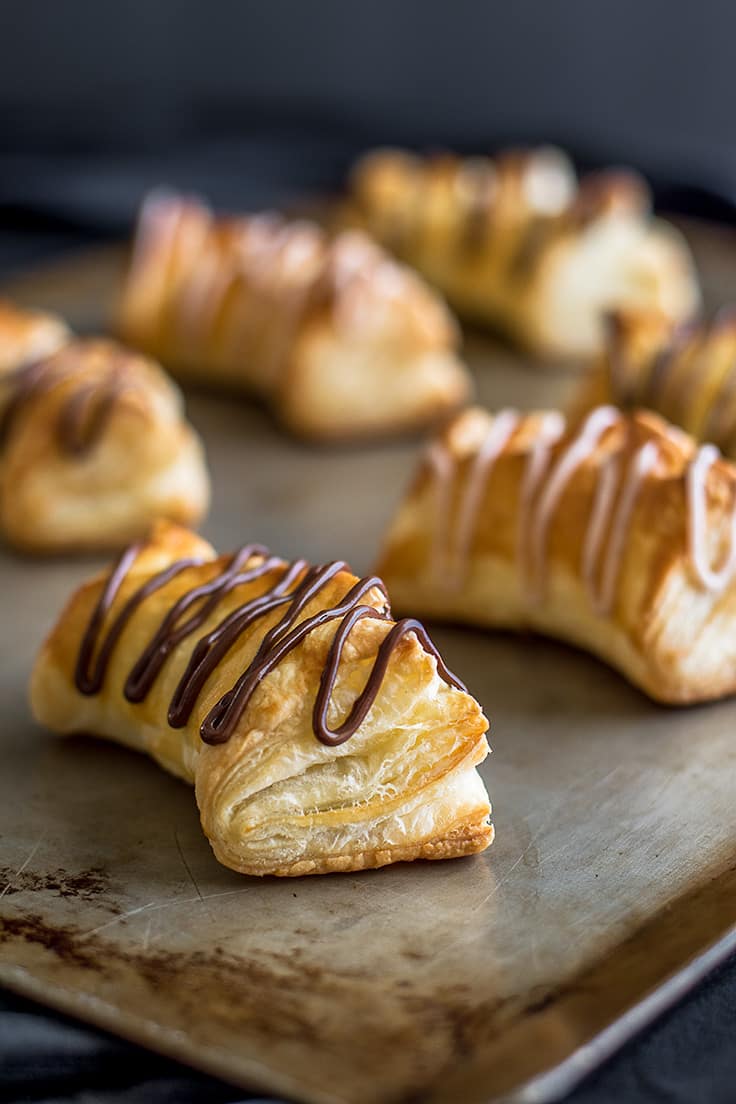 These are basically simplified Bear Claws (with a little rebrand) and they are the best. They are super cute and soooooo good. They come out of the oven all flaky pastry and gooey filling. I seriously recommend inviting a ton of friends over to eat them with you because once you take a bite, you are going to want to eat them all!!
I'm sharing two versions today, chocolate and cinnamon. The cinnamon ones taste like a Pop-Tart and a croissant had a little baby pastry, and the chocolate ones are like biting into a super flaky pain au chocolat. I'd tell you which was my favorite, but I can't because they are both equally the best. 😉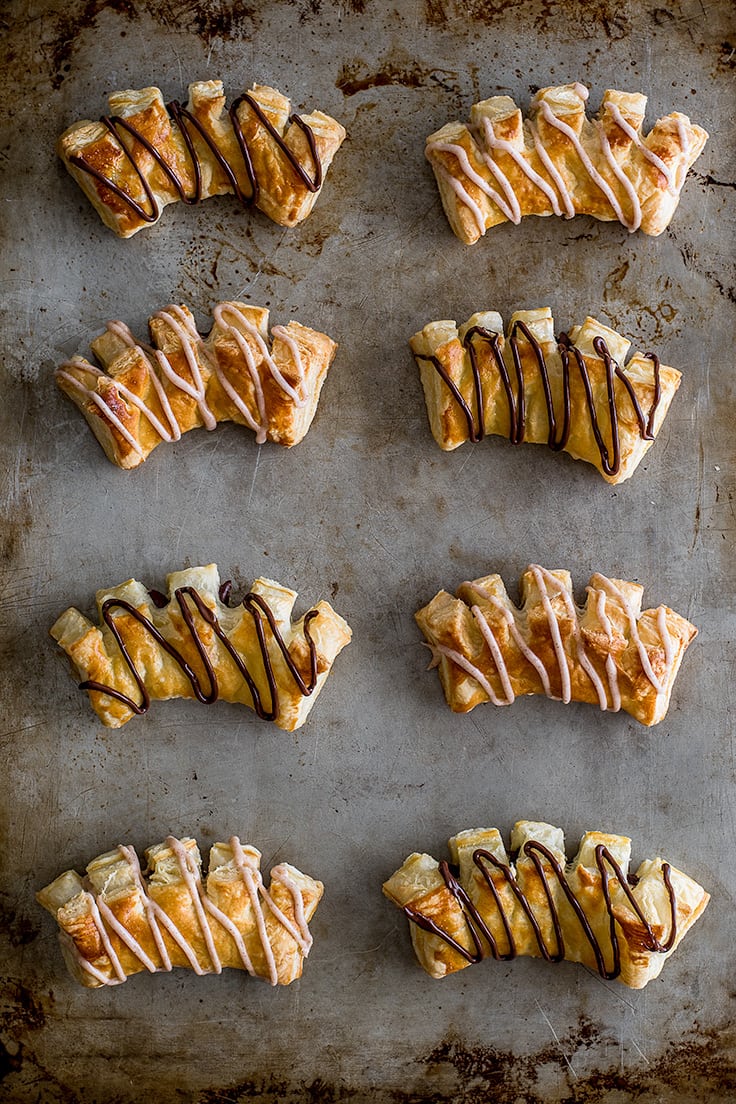 And the great thing about these treats is that they are basically the easiest thing in the world to make. Instead of a labor-intensive from-scratch dough, I used frozen puff pastry, which means all you have to do to make these Direwolf Claws is roll out some pre-made dough, cut, fill, and shape.
I added chocolate and cinnamon drizzles to mine for photographs so the flavors are easier to tell apart and because I think it looks cute, but if you don't feel like waiting to eat them to finish that step, you can totally skip it! I made my first test version sans glaze, and they got gobbled just as fast!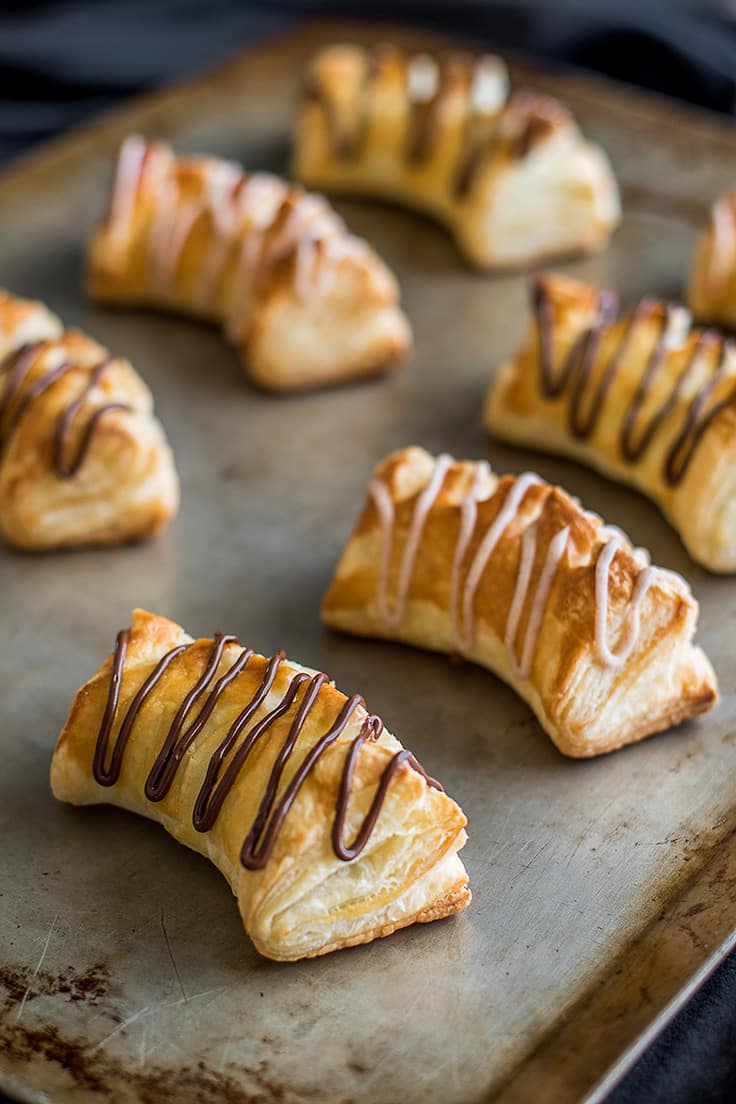 Are you hosting any Game of Thrones parties this summer? Excited for the new season? I can't believe it's almost here!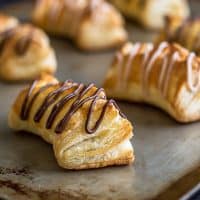 Direwolf Claws
These Direwolf Claws are the perfect fun and easy dessert for Game of Thrones watch parties!

Print
Servings (Hover or Click to Change Yield):
12
Ingredients
Pastry
1

17.3-ounce box Pepperidge Farm puff pastry sheets*

All-purpose flour

for dusting
Egg Wash
1

large egg

1

tablespoon

milk
Cinnamon Filling
1/2

cup

(

100g

) brown sugar

2

teaspoons

cinnamon

1

tablespoon

(

7g

) all-purpose flour
Chocolate Filling
1/2

cup

(

3oz

) chopped semi-sweet chocolate

high-quality chips are fine
Cinnamon Drizzle (Optional)
1/4

cup

(

30g

) powdered sugar

1/2

tablespoon

(

7g

) butter

melted

1/8

teaspoon

ground cinnamon

1/2

to

1

teaspoon milk
Chocolate Drizzle (Optional)
1/4

cup

(

1.5oz

) chopped semi-sweet chocolate

high-quality chips are fine
Instructions
Direwolf Claws
Soften your puff pastry according to package instructions. Your dough should be pliable but not sticky. If it feels sticky or too warm, return it to the fridge for 5 to 10 minutes.

Preheat your oven to 400°F and line

2

baking sheets with parchment paper or a silicon baking mat.

In a small bowl, whisk together egg and milk to make the egg wash. Set aside. If making the cinnamon version, stir together all cinnamon filling ingredients in a separate small bowl.

Lightly flour your work

space.

Pull out first sheet of dough--leave the second sheet in the refrigerator until you are ready for it.

Unfold the dough and you'll have about a 9x9-inch square.

With a lightly floured rolling pin, roll the dough out to about 9x12 inches.

Using a sharp knife or a pizza cutter and a ruler, cut dough into 6 4x4-inch squares (cut a 1-inch piece off the long side and then cut remaining dough down the center the long way and then cut those pieces into thirds).


Transfer dough squares to prepared baking sheet at least an inch apart. Brush the edges of the squares with egg wash. Add 2 teaspoons of the cinnamon mixture or chopped chocolate to half of each square, leaving a 1/2-inch border. Fold pastries over and press gently to seal the edges. Cut 4 1/2-inch slits into each pastry on the pressed side to make the individual toes and gently shape them into an arch to make them more claw-like.

Brush with egg wash and bake for 12 to 15 minutes (baking time may vary with different puff pastry brands). They are done when they are golden brown and puffed up tall.

Repeat with second sheet of dough.

Cool for 5 minutes and enjoy--these pastries are best when warm.

Optional Drizzle
Cinnamon:

Whisk together powdered sugar, melted butter, and cinnamon. Stir in 1/2 teaspoon of milk, adding more by the 1/4 teaspoon until glaze reaches a drizzling consistency. Drizzle over cinnamon pastries.


Chocolate: In a small microwave-safe bowl, microwave chocolate for 30 seconds and stir. Continue to microwave in 15-second increments and stir until chocolate is melted. Use a spoon or plastic bag with the corner snipped off to drizzle chocolate over pastries.
Notes
*This is NOT a sponsored post, but I specifically call for Pepperidge Farm puff pastry sheets in the recipe because all puff pastry brands differ in size and weight, so I can't give you exact measurements for rolling out your dough using other brands. You can absolutely use whatever puff pastry you like best. Your yield just might differ a bit.    
Pastries are best warm. Store leftovers in an air-tight container and reheat in the microwave for 10 to 20 seconds. Be careful, they reheat very quickly!
Recipe Adapted From TheKitchn
This post may contain affiliate links, which means I receive a small commission if you make a purchase using them. There is absolutely no additional cost to you.