Make your very own Game of Thrones Frey Pie, with carrots, parsnips, turnips, mushrooms, bacon, and ground PORK wrapped in a delicious buttermilk pie crust.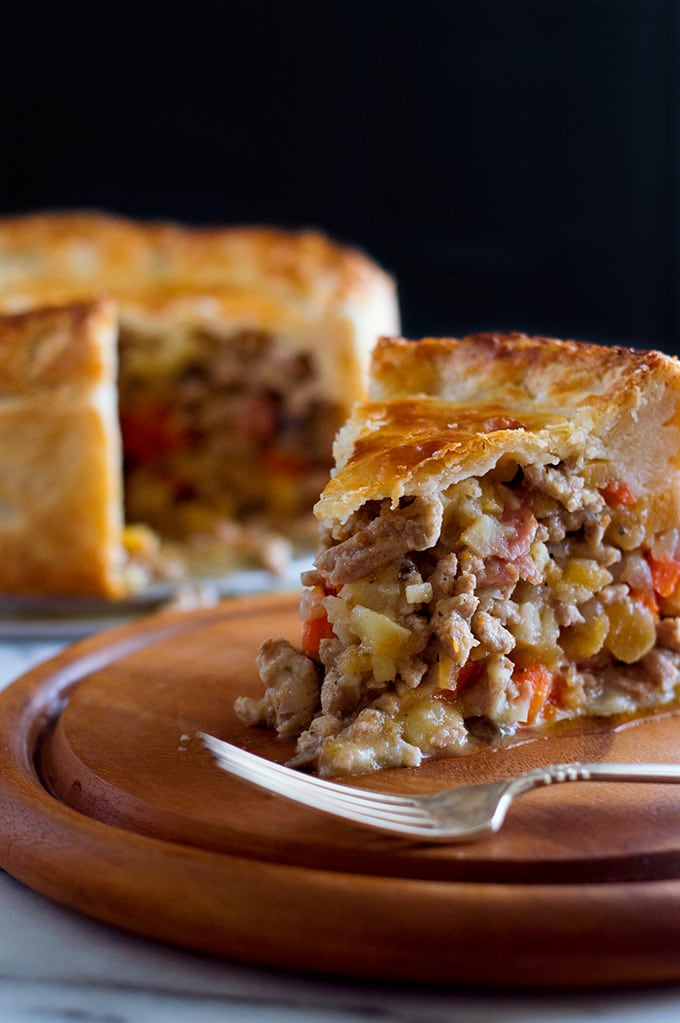 Have you been following my Creepy Recipes From Fiction series this month? So far I've posted Sanguinaccio Dolce from Hannibal, Spectre Apple Pie (Cupcakes) from Big Fish, and Crimson Peak-inspired Red Velvet Lava Cakes. For the final recipe, I figured I'd go big: Frey Pie from Game of Thrones!
Yup, *that pie*.
One of the more memorable scenes from Game of Thrones last season was when we finally saw Arya in full-blown assassin mode, getting her Stark revenge on the house that murdered her family by feeding Walder Frey a savory pie made from his own sons.
Watching that old man lift up the top of a meat pie and find a finger inside was a pretty satisfying moment.
See Also: Direwolf Claws
I really wanted to make this pie right after that episode aired, but I had just posted a Hannibal recipe for Lomo Saltado and figured that one cannibal recipe was probably enough for a young food blog.
Fast forward a few months, and I still haven't seen a Frey Pie recipe pop up, there are now two Hannibal recipes on the blog, and I've just accepted that Baking Mischief will have a higher-than-average number of cannibal recipes (¯\_(ツ)_/¯). So here we go.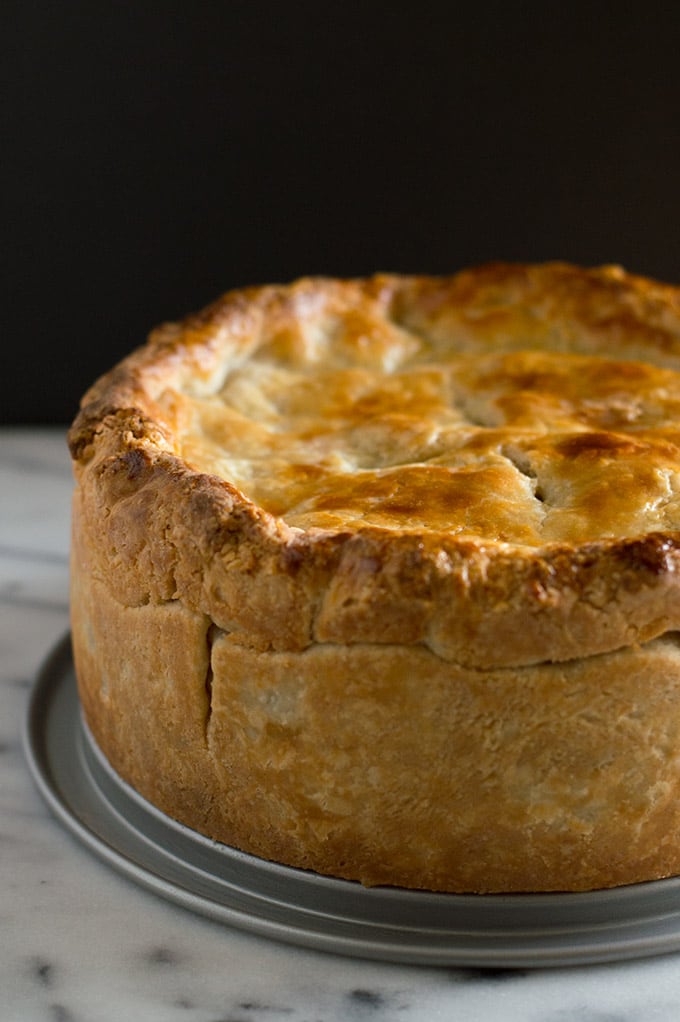 Arya's Frey Pie doesn't actually exist in the novels, so I didn't have an official description to base this recipe off of. The Arya/Frey pie story line is cribbed from another character in the books, Lord Manderly (the awesome Inn at the Crossroads has actually made his pie).
But the description of his pies,"…flaky crusts stuffed to bursting with carrots, onions, turnips, parsnips, mushrooms, and chunks of seasoned pork swimming in a savory brown gravy…" doesn't quite jibe with the pie we see in the episode, which clearly uses minced, not chunked Frey.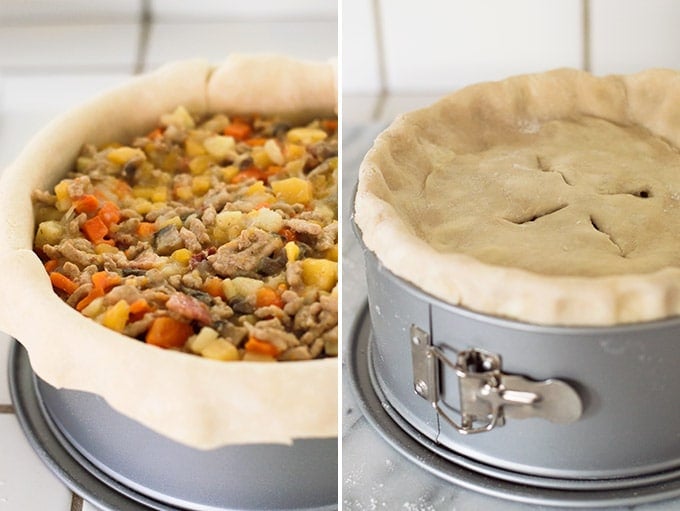 So this pie is a blend of the two, a flaky pie crust stuffed full of carrots, onions, turnips, parsnips, mushrooms, and made with ground pork. I also added bacon for flavoring since ground pork can be a bit bland. The result is a pie that looks pretty darn close to the show pie (minus a Frey finger) and one that is suuuuuuper tasty.
Seriously, this thing is so good, it might actually work its way into my regular winter rotation. We'll just not tell people where the recipe inspiration came from. Kay? 🙂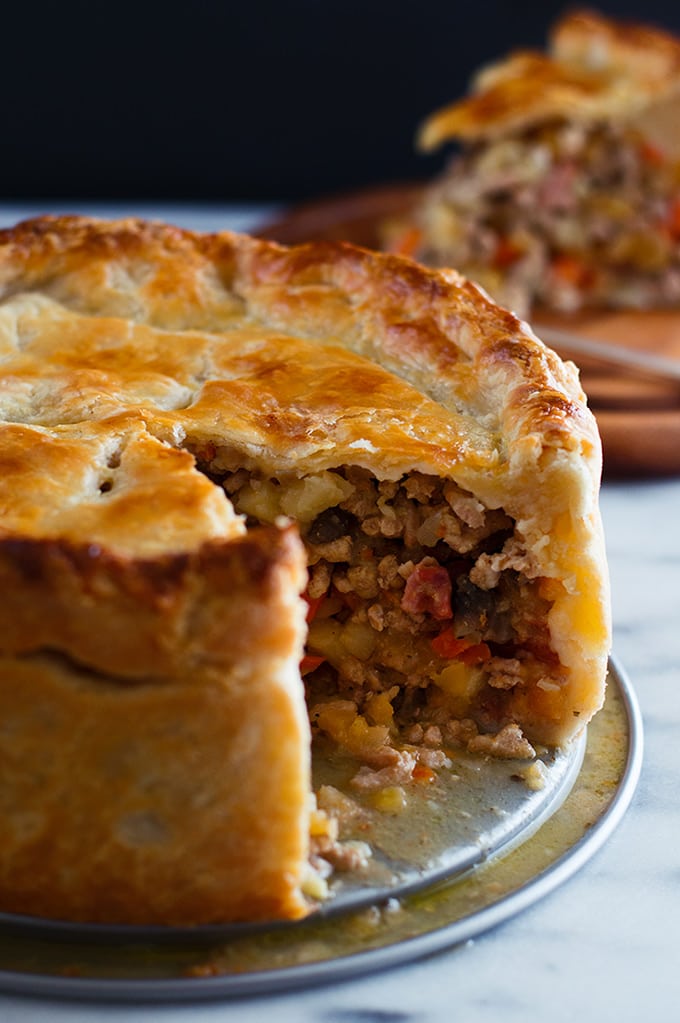 Frey Pie Recipe Notes
To get a nice tall pie like Arya makes on the show, you are going to need an 8-inch extra-tall springform pan*. If you want to use your standard 9-inch pie pan, you will only need 1 batch of My Favorite Buttermilk Pie Crust (rather than 1 1/2 batch), and you can cut the filling in half.
If you are short on time, filling and pie dough can be made a day in advance and stored covered/tightly wrapped in the refrigerator. Just make sure to let the dough sit out on the counter for 10 to 15 minutes (less on a very hot day) before rolling so your dough doesn't crack when you roll it out.
Unless you have a very large food processor (larger than 11 cups) or are making the pie crust by hand, you will have to make the top and bottom crusts separately. Don't try to fit all that dough into a small food processor. Bad things will happen…
Making this pie requires some serious chopping time for all the vegetables. Might I recommend some Fantastic Podcasts to Cook to to pass the time? (There's a pair of great Game of Thrones podcasts in there.)
Plan on serving the pie on your springform tray. This pie weighs about 6 pounds, and while quite sturdy to cut and serve with a pie server*, I do not trust the integrity of the bottom crust when warm to move as a whole (cold leftovers moved fine for storage).
Novice bakers, deep-dish pies can be a little challenging because you have to roll out and work with a huge piece of dough. I've included some extra dough tips below the recipe.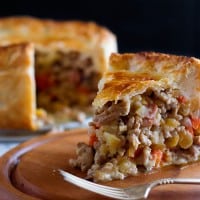 Game of Thrones Frey Pie
Make your very own Game of Thrones Frey Pie, with carrots, parsnips, turnips, mushrooms, bacon, and ground PORK wrapped in a delicious buttermilk pie crust.
Print
Pin
Servings (Hover or Click to Change Yield):
8
to 10 servings
Ingredients
Meat
8

ounces

thick-cut bacon

chopped 1-inch

2

pounds

ground pork
Vegetables (all diced 1/4 to 1/2-inch)
1

medium onion

diced

2

large carrots

diced

2

large parsnips

diced

8

ounces

mushrooms

diced

1

small turnip

diced

1

cup

water

Salt and pepper

1/2

teaspoon

crushed rosemary

1/2

teaspoon

dried oregano
Gravy
1/4

cup

(

2

oz) butter

1/4

cup

(

30

g) all-purpose flour

2

cups

chicken broth
Egg White + Wash
1

egg white

1

egg

1

tablespoon

milk
Instructions
Start Crust
Lightly grease your springform pan with butter. On a well-floured surface, roll out the full batch of pie dough out to a 17-inch round (leave the half batch in the refrigerator). Fold the edges of your dough in so you have a square smaller than your springform pan that you can pick up. Place the dough inside the pan and unfold it, gently manipulating the dough so it is evenly distributed over the pan. Trim the overhang so only 1 inch remains.

If there are any tears, patch them with the scraps, using a tiny bit of water as glue. Place the pie crust in the refrigerator.
Prepare Filling
In a large pot (with a lid), cook bacon over medium heat until cooked through but not too crispy. Use a large slotted spoon to transfer bacon to a plate, leaving the bacon drippings.

Add ground pork to the pot. Sprinkle with salt and pepper, and cook over medium until cooked through. Use your large slotted spoon to remove pork and transfer to a second plate. Add onions to the the pot and cook over medium for 4 to 5 minutes until onions are just starting to turn translucent around the edges. Add in the rest of the diced vegetables and the cooked ground pork.

Add

1

cup water and cover. Simmer covered for 10 minutes. Uncover, stir, and continue to simmer uncovered until water is evaporated and vegetables are just fork tender.
Make the Gravy
While your meat and vegetables simmer, in a medium saucepan, melt butter over medium heat. Whisk in flour and cook until lightly browned, about 1 minute. Whisk in broth, beating out any lumps that form. Continue to cook, whisking constantly until mixture thickens and begins to bubble, 4 to 6 minutes. Remove from heat and set aside.

Once your meat and vegetables are done, stir in the gravy. Add rosemary, oregano, and salt and pepper to taste. Your mixture should be fairly salty. Don't be afraid to add more!

Cool for at least 30 minutes, stirring occasionally to speed up the cooling process. Once mixture is mostly cooled, stir in bacon.
Assemble
Make sure your pie dish will fit in your oven, if not, move the top rack down. Preheat your oven to 400°F and place a rimmed baking sheet on the top rack to catch drips in case your pan leaks and to help cook your bottom crust (if using a glass or ceramic pie pan, skip this step as a hot baking sheet can cause them to shatter).

In a small bowl, whisk the egg white until frothy and brush over the inside bottom of your chilled, prepared pie crust. Pour meat mixture over the top, mounding it the highest in the center, and roll out your half batch of dough for the top. Place dough over the top of your pie and trim the overhang so that it is even with the bottom crust. Roll the dough under and either flute or crimp the edges to seal. Just make sure all of the crust is inside of the springform pan so it doesn't break when you release the pan.

Whisk together egg and milk and brush over the top of the pie.

Cut a few slashes in the top of the pie for steam to escape.

Place your pie on the preheated tray in the oven and bake for 55 to 65 minutes, until the crust is cooked through and filling bubbly. Check on the pie at around 40 minutes and cover loosely with foil if browning too quickly.

Allow pie to cool in the pan (do not open up the springform pan) for at least 15 minutes before releasing and cutting.

Enjoy!
Recipe Adapted From Michael Symon (original recipe post on the internet no longer exists)
Some more dough tips…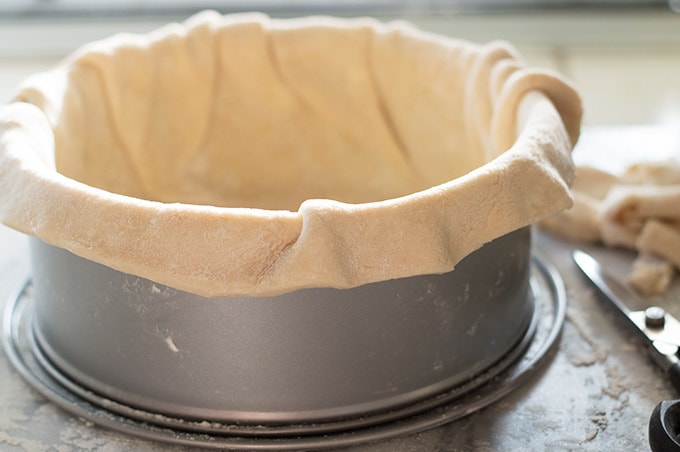 Don't be afraid to use plenty of flour (over and under your dough and on the rolling pin) while rolling to make sure your dough does not stick. Just dust it off the excess with a pastry brush before draping over your pan.
When rolling your dough, place your rolling pin in the center of the dough, roll up, place your pin back in the middle and roll down. Pick up your dough, give it a quarter turn, and repeat. If at any time your dough begins to stick, add more flour. After your dough is basically circle-shaped, you don't have to pick it up and rotate it constantly, but you want to make sure that you can always pick up your dough and that it has not started to stick to your rolling surface.
Don't rush, but you want to work fairly quickly because dough will become more difficult to work with as the butter melts.
And if your dough tears, don't sweat it!! You can patch your dough using scraps and a tiny bit of water as "glue."
*Links marked with an asterisk are affiliate
lin
ks,
which means I receive small commission if you make a purchase using them. There is absolutely no additional cost to you.