Simple but impressive homemade margherita pizza with dough and sauce from scratch!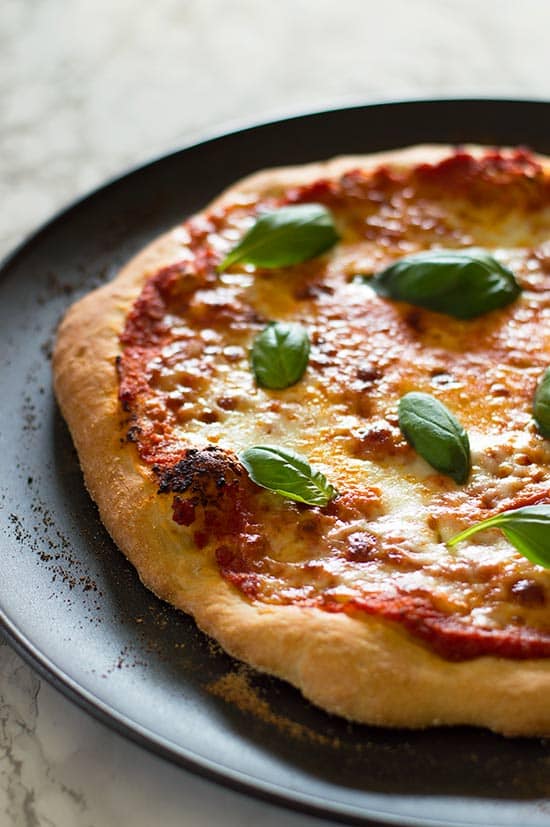 Welcome to another week and another Monday. How was everyone's weekend? I had the most lazy, self-indulgent couple of days and did nothing but lie on the couch, and do a massive Netflix binge of Daredevil and Happy Valley. It was delightful. Almost as delightful as today's recipe. Segue!
Today's Meatless Monday recipe (number 3 for this month after my Slow Cooker Baked Potatoes With Broccoli and Cheese Sauce and Mexican Vegan Vegetable Stew) is one of my absolute favorites, Homemade Margherita Pizza.
Let's be real, is there anything more insufferable and twee than people who brag about making their own pizza from scratch? And double real, don't we all secretly wish we were one of them, casually dropping into morning work conversations how delicious our perfectly simmered sauce and hand-made dough was the night before?
No? What are you doing here? You have hipsters to mock elsewhere on the internet.
Yes? You're in luck, because I'm about to help you be one of those people.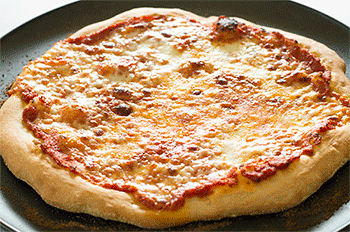 Homemade margherita pizza is a different breed from your pizza parlor pizza. It's not too greasy or overloaded with so much cheese you could drown in it. It's fresh tasting, sharp and a little sweet and tart from the long-simmered tomatoes. The dough is thin with a soft center and crisp edges, without being too crunchy.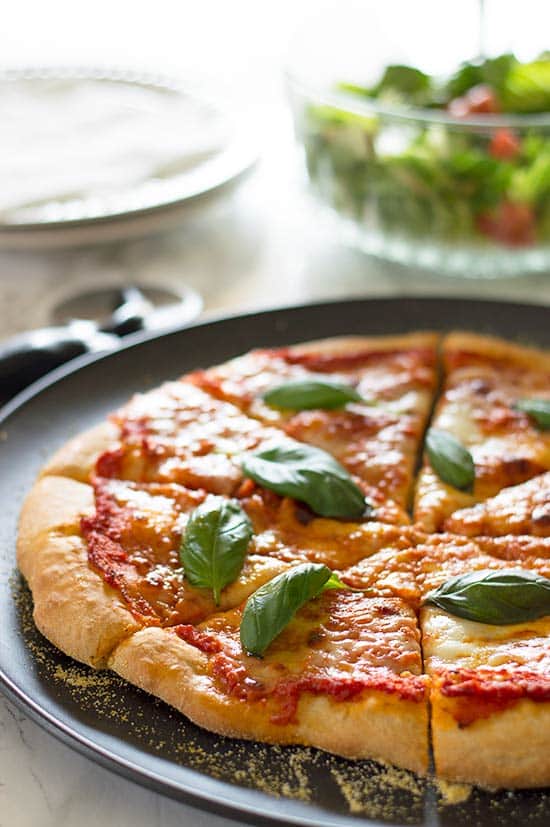 It's a pizza you don't have to take a nap after eating, and of course, will feel great about yourself after making. If you want to add the word "artisan" when describing your pizza on social media, no one is going to stop you. They're going to be too busy being impressed by your culinary feat (which BTdubs, is super easy–shhhhh don't tell any one).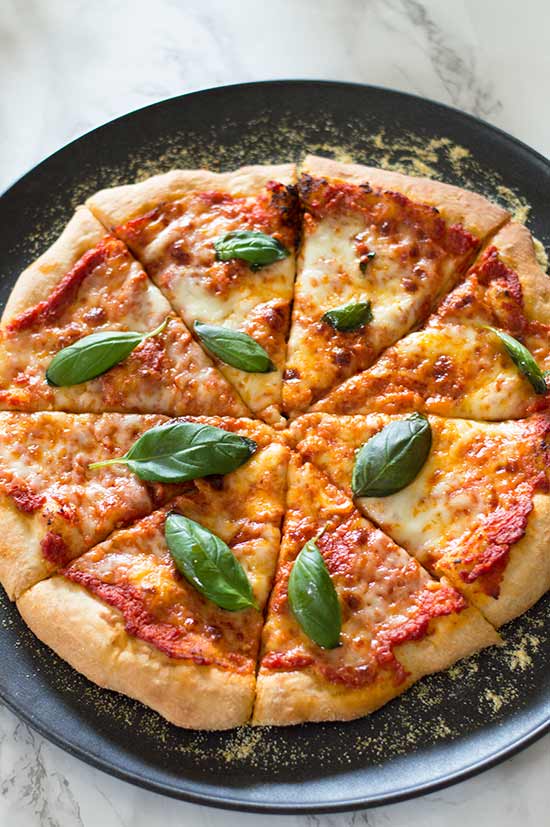 I've included instructions for using a stand mixer or by hand. Both methods are easy, and I find this dough to be very forgiving!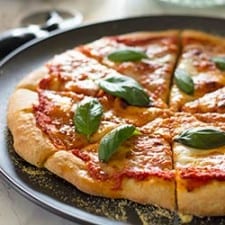 Homemade Pizza Margherita
Simple but impressive homemade margherita pizza with dough and sauce from scratch!
Print
Ingredients
Dough
2 1/4

teaspoon

active dry yeast

one 1/4oz package

2

cups

1 tablespoon (

248

g) all-purpose flour

divided, plus more for dusting

3/4

cup

warm water

105-110°F, divided

1

teaspoon

salt

1 1/2

teaspoon

olive oil
Sauce
1

15-oounce can whole tomatoes

2

tablespoons

olive oil

2

large garlic cloves

pressed or minced

4

large fresh basil leaves

julienned, plus optional more for topping

1/4

teaspoon

sugar
Assemble
2

tablespoons

cornmeal

6-8

ounces

mozzarella

sliced thin

1

large tomato

optional, sliced thin
Instructions
Dough
In a large bowl or the bowl of your stand mixer, combine 1 tablespoon of the flour, yeast, and 1/4 cup of the warm water. Stir until mostly combined (it's fine if there are a few lumps). Allow to sit for 5-10 minutes until top looks foamy and bubbles form on the surface. If the top does not become foamy, your yeast may be bad or your water may have been too hot and killed it. Give it another try with a fresh packet.

Add 1 1/2 cup of the flour, remaining 1/2 cup of warm water (you may have to reheat it if it has cooled), salt, and olive oil and stir together.

If using a stand mixer: use the dough attachment on low and mix in 1/4-1/2 cup of flour until the dough pulls away from the side of the bowl. Knead for 6-8 minutes on low until dough is smooth and elastic. When it's done, flour your hands and work surface and turn dough out. Knead 5-10 times until it is no longer sticky, adding more flour as necessary. Skip to step 5.

If kneading by hand: fill a 1/2-cup measuring cup full of flour. Using some of that flour, add to your dough, stirring in a little at a time, until dough pulls away from the sides of your bowl. Use more of the flour to flour your hands and work surface very well. Turn dough out onto the surface and knead for about 8 minutes, adding flour from your cup any time the dough becomes sticky. The dough is ready when it is smooth, elastic and passes the windowpane test (dough is elastic enough that you can stretch it without tearing and when held up to the light, you can see light through it).

Pat dough with flour, place in a large bowl, cover with a clean towel, and place in a warm place. Allow to rise for 60 to 90 minutes, until doubled in size.
Sauce
While the dough is rising, you are going to make the sauce. Using a blender or food processor pulse the tomatoes until mostly pureed with some pieces of tomato still intact--think salsa. (In a pinch, you could just really go to town with a pair of scissors in the can.)

Heat oil in a large pot (the pot is going to seem much too big, but this sauce likes to splatter and the larger pot will cut down on cooking time). Add garlic and cook until browned and fragrant. Add pureed tomatoes, sugar, and basil. Stir and bring to a simmer.

Simmer uncovered for 20-30 minutes (your cooking time can very greatly depending on the size of your pan and type of tomatoestirring occasionally until sauce has reduced down to about 3/4 cup.
Assemble
Preheat oven to 500°F.

Cover pizza tray or cookie sheet with corn meal (the corn meal will keep your pizza from sticking). Turn your bowl of dough upside down over the tray and allow dough to drop out. If your dough is sticky, you can flour your hands. Gently stretch and manipulate dough to form a circle (or rectangle if making on a baking sheet). Spread sauce over your dough, leaving about an inch and a half of crust. Add mozzarella and top with optional tomato slices and more basil if desired*.

Bake 12-16 minutes, until crust is golden and cheese is browned and bubbly.

Allow to cool for at least 5 minutes before cutting and serving.
Notes
*Basil can be put on before or after baking. I usually put it on before so it cooks down, but fresh is delicious too, and it sure does look pretty. If doubling and cooking two pizzas at the same time, depending on your oven, you will probably have to swap pizza places in the oven halfway through. Watch the bottom pizza carefully to make sure the bottom is not burning!
Nutritional Information
Recipe Adapted From: Epicurious & Williams-Sonoma
Small-yield Instructions: Because of the way these ingredients are sold 1/4 oz yeast packet, 15 oz tomatoes, etc., it's easier just to make the full recipe and freeze half of the sauce and dough for later use. See below for dough-freezing instructions. 
Make-ahead Instructions: You can allow the dough to rise over 24 hours in the fridge. Finish kneading, dust with flour and place in a large bowl. Cover tightly with plastic wrap before placing in the refrigerator. Sauce can be made up to 5 days in advance.
Freezer Instructions: Cooked pizza freezes surprisingly well. Allow slices to cool completely and then freeze in a plastic bag. To reheat, place pizza into the oven at 400°F and cook until warmed through, about 6-10 minutes. To freeze the pizza dough, allow dough to complete its rise and then spray with cooking spray or rub with olive oil before wrapping in plastic wrap and putting in a plastic freezer bag. Allow to defrost for at least 12 hours in the refrigerator before using. Dough will keep for up to 3 months.
This post may contain affiliate links, which means I receive a small commission if you make a purchase using them. There is absolutely no additional cost to you.