Saturday Morning Snapshot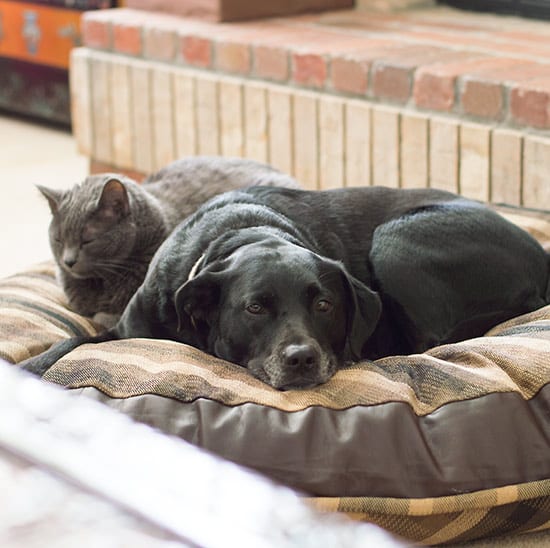 It was a lazy morning for everyone here at casa mia…
State of the Blog
Am I crazy, or did this week go by insanely fast? It seems like I just hit publish on last week's Weekend Post…
This was a fun week on the blog. I got to share a recipe that was one of my most made meals in college, some cornbread made exactly how I like it, and a cupcake recipe I love to look at, but would never, ever eat (if you haven't, read that post to find out why).
Next week, there will be another Meatless Monday Meal, a super fun and colorful roundup, and the last cupcake in my Girl Scout Cookie Cupcakes series.
Recipes/posts released this week were:
Mexican Vegan Veggie Stew – Potatoes, corn, carrots, and celery simmered in a slightly spicy, tangy tomato base. A flavor-packed, low-calorie dinner that just happens to be vegan.
Sweet Buttermilk Cornbread Muffins With Honey Butter – Moist and sweet cornbread muffins topped with homemade honey butter make a tasty and easy side dish!
Samoa Cupcakes – Toasted coconut, quick homemade caramel, and chocolate coating over a pound cake cupcake is sure to please lovers of the Girl Scout's most divisive cookie.
Pop-culture Corner
I'm finally making my way through more of this year's Oscar noms. I started with Room, and I thought I was emotionally prepared. I. Was. Wrong.
It's Daredevil season 2 weekend on Netflix! Are you watching?
Also on Netflix this week is the second season of Happy Valley. If you like heart-rending British crime dramas, you're going to love crying over this one (It's so good!!!).
And finally, CBS announced an air date for the fifth and final season of Person of Interest. Episodes will air twice weekly, Mondays and Tuesdays, starting May 3, giving the entire world just under a month and a half to catch up with the show, which is available in its entirety on Netflix. In related news, a Person of Interest related recipe is being tested in my kitchen this weekend…
Meal Planning
Saturday: Bacon and Feta Stuffed Chicken Breasts with Orzo
Sunday: Tacos
Monday: Quick Rosemary Pork Chops with Broccoli
Tuesday: Takeout
Wednesday: BLT Salad
Thursday: Sharp Cheddar Broccoli and Ham Chowder
Friday: TBD