Slow cooker baked potatoes piled high with broccoli and a glorious cheddar cheese sauce. Perfect for Meatless Mondays!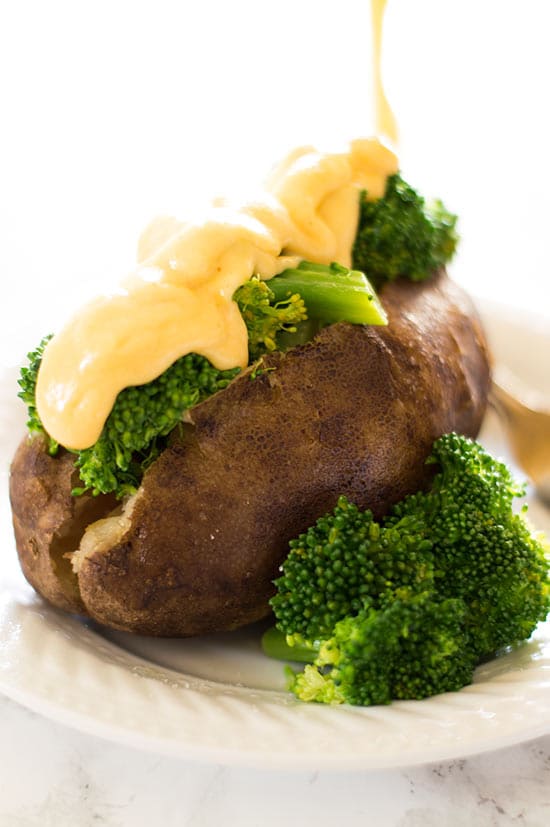 Welcome to our March blog series. After January salads and February soups, we're tackling something I'm a little less comfortable with, Meatless Monday meals.
I love the idea of Meatless Monday. I think it can be hugely impactful on your health, your wallet, and the environment. But in practice, I'm pretty terrible at it.
The recipes you'll see featured here this month are most of the vegetarian recipes (that aren't some form of mac and cheese) that I would consider tried and true in my recipe file.
This is good for you, because it means they are all 100 percent meat-eater approved and delicious, but says something sad about me considering I was vegan for nearly a year in college (I lived on oreos and vegan hot dogs).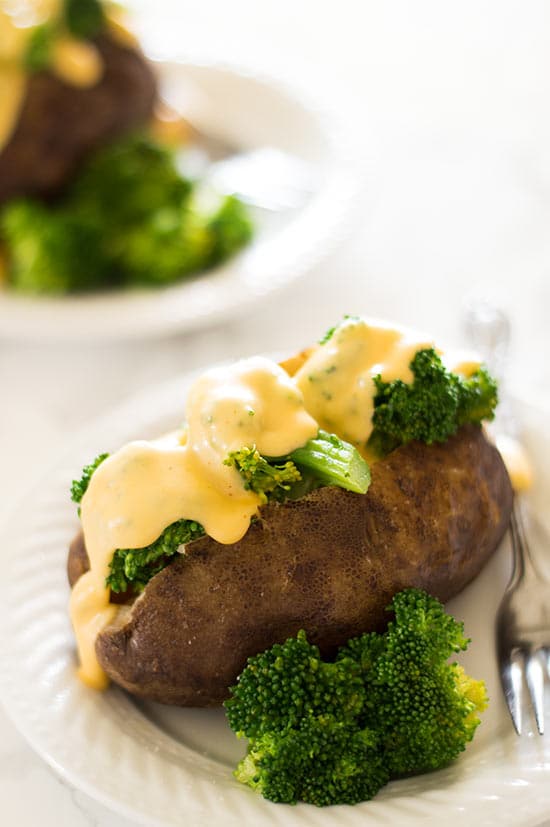 Our first recipe is a comfort classic with a convenience twist, Slow Cooker Baked Potatoes With Broccoli and Cheese Sauce. Baked potatoes are a great base for Meatless Mondays, because who doesn't like potatoes? Unfortunately, their long cooking time can make them impractical for busy weeknights.
Guess what? Problem solved.
Did you know you can cook potatoes in a slow cooker!? Turns out, toss those things in the slow cooker in the morning, set to low, and by the time you are home in the evening, they are perfectly cooked and ready to eat.
That means that for this recipe, all you have to do before eating is boil some broccoli and make the quick and easy cheese sauce, and you have your Meatless Monday meal on the table in like 20 minutes.
And oh, that cheese sauce, once you taste it, you'll be seeing it in your dreams. It's creamy, tangy and loaded with sharp cheddar and cayenne.
Pile your potato high with broccoli and then smother that thing in this glorious cheese sauce and you'll completely forget that this Monday meal is meatless!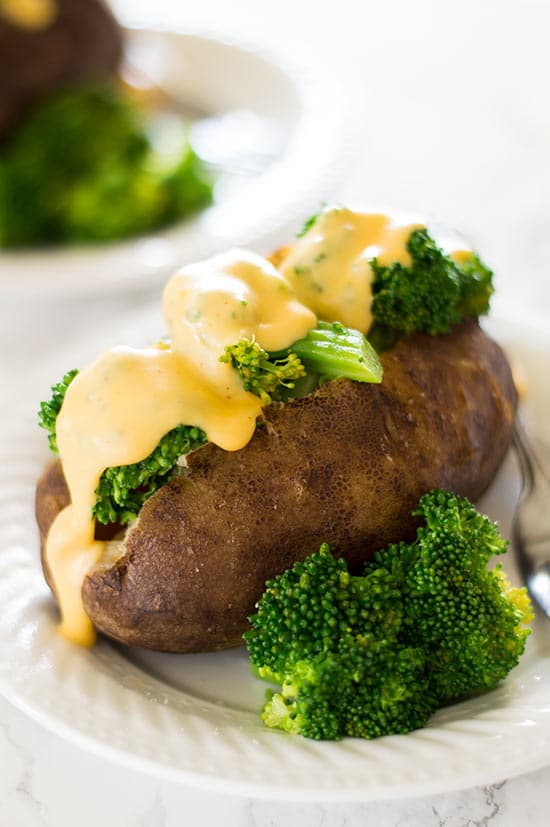 More Easy Weeknight Meals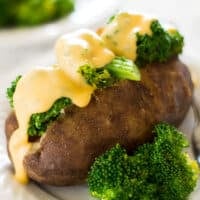 Slow Cooker Baked Potatoes With Broccoli and Cheese Sauce
Slow cooker baked potatoes piled high with broccoli and a glorious cheddar cheese sauce. Perfect for Meatless Mondays!
Print
Pin
Servings (Hover or Click to Change Yield):
4
Ingredients
Special Tools or Equipment
Baked Potatoes
4

medium baking potatoes

scrubbed and dried

Cooking spray or olive oil

Salt
Topping
1 1/2

pounds

broccoli florets

cut into bite-sized pieces
Cheese Sauce
2

tablespoons

butter

2

tablespoons

all-purpose flour

1 1/2

cups

milk

1 1/2

cup

(

6

oz) sharp cheddar cheese

shredded

1/4

teaspoon

cayenne

Salt and pepper
Instructions
Baked Potatoes
Poke potatoes 5-6 times each with a fork.

Lay a sheet of foil down on the counter. Place a potato in the center and spray with cooking spray or drizzle in olive oil, turning to coat. Sprinkle with salt and close foil. Repeat with other potatoes. Place all potatoes in the slow cooker and cook on low for 8-10 hours. They will be done in 8, but should be fine if cooked for up to 10 hours.
Broccoli
Bring a medium pot of lightly salted water to a boil. Add broccoli and cook until tender 3-5 minutes. Drain and cover to keep warm. Set aside.
Cheese Sauce
In a medium pot, melt butter over medium heat. Whisk in flour and cook until flour is lightly golden, stirring constantly, about 1 minute.

Slowly add in milk, whisking continuously so no lumps form. Continue to whisk and cook over medium heat until mixture is thick and bubbly, 4-5 minutes. Remove from heat and stir in cheese, cayenne, salt and pepper.

Slice open the tops of the potatoes and pile with broccoli. Top with cheese sauce.
Notes
If you have an older slow cooker (10+ years), your potatoes may take longer than 8 hours. I did a test batch of these in ancient cooker and they required 9 hours of cooking time.
Nutritional Information
Recipe Adapted From: ToriAvey.com
Make-ahead Instructions: Sauce should be prepared just before serving, but cheese can be shredded, broccoli cut, and potatoes cooked up to two days in advance.
Recipe For Two Instructions: Recipe halves cleanly. 1/2 of 1 tablespoon is 1 1/2 teaspoons.
Freezer Notes: I don't recommend this dish for freezing. Potatoes and cheesy sauces don't hold up fantastically in the freezer.
This post may contain affiliate links, which means I receive a small commission if you make a purchase using them. There is absolutely no additional cost to you.