A simple and easy method for making homemade Nutella chips for baking.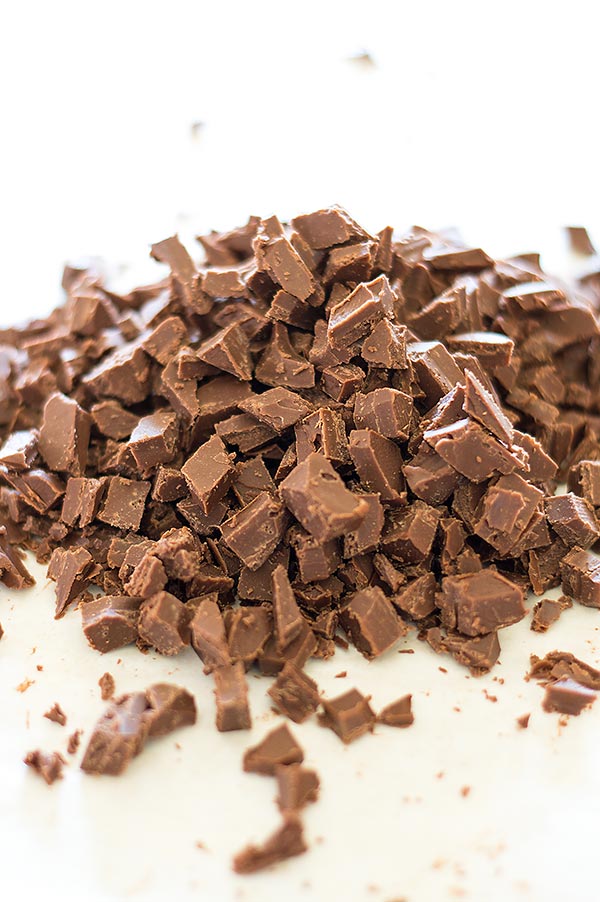 Are you a Nutella fan? I feel like I was completely late to this whole Nutella thing. It wasn't a staple in my house growing up. I don't think I ever even heard the word "Nutella" until a couple of years ago after the rise of Pinterest when suddenly Nutella desserts were taking over the internet.
It was even longer before I actually got around to trying the stuff, but once I tasted it, I was like, Okay. I get it.
There are lots of ways to get Nutella into desserts: stuff it, swirl it, frost it. But my favorite method is Nutella Chips! It's the least messy of the methods I've tried, and you can use it almost anywhere you use chocolate chips (see recipe notes), so the options are endless. Plus, it's just a pretty neat little trick that people always get a kick out of.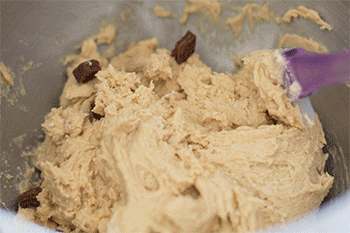 The method is super easy and requires less effort than running to the store and grabbing a bag of regular old chocolate chips. You get some butter. You get some Nutella. Then you mix em, freeze em, and chop em. And voila, Nutella chips.
I have a recipe using these Nutella chips coming up on Friday, but in the mean time, I'd love to hear from you. How would you use Nutella chips in your baking?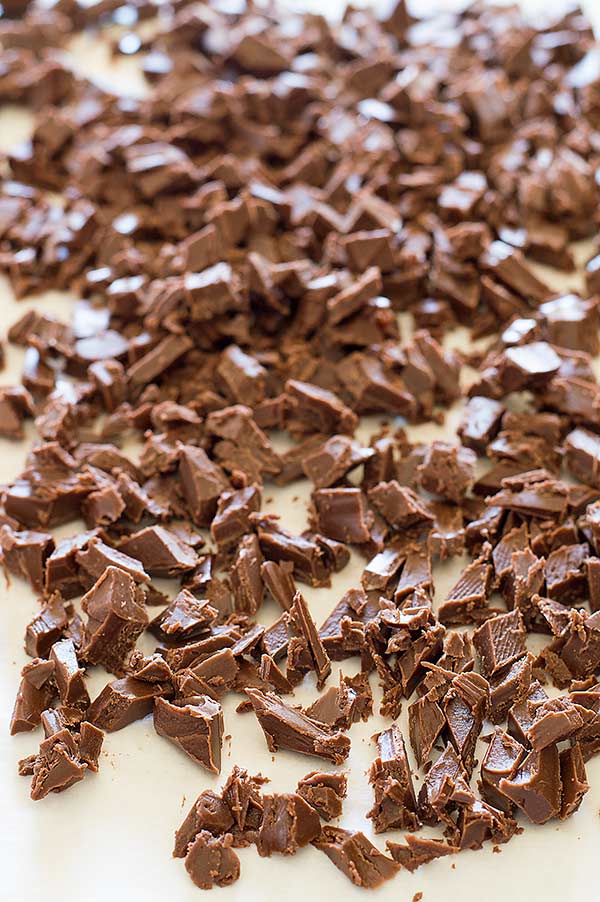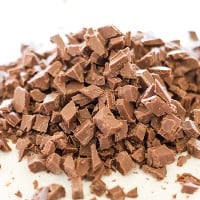 Homemade Nutella Chips for Baking
A simple and easy method for making homemade Nutella chips for baking.
Print
Ingredients
9

ounces

(just under

1

cup) Nutella

6

tablespoons

(

3

ounces) salted butter
Instructions
Place a sheet of parchment paper over a flat tray that will fit in your freezer.

In a medium microwave-safe bowl, melt butter in the microwave. Add Nutella and stir until butter is completely incorporated.

Using a baking spatula, spread mixture over about a 5 by 10-inch rectangle on the tray, so it is approximately 1/4-inch thick all over.

Place in the freezer for at least an hour.

Once frozen, transfer the block, still on the parchment paper, to a cutting board. Use a large chef's knife to chop the block into small chunks. You want to do this process fairly quickly as the mixture will melt easily in a warm kitchen and from the heat of your hands. If your kitchen is warm, and your chips have begun to stick to each other, slide the paper back onto your tray and pop everything into the freezer for 15 minute or so to firm back up. Once solid, gently break up any stuck-together pieces and continue.

Lift the parchment paper and pour chips into an air-tight container and immediately place back in the freezer. Keep in the freezer until just before adding to your dessert. Use within two weeks.
Notes
This recipe makes a little over 2 cups, 12 ounces of Nutella chips which is equal to a standard-size bag of chocolate chips. When handling the chips, keep them as cold as possible. They are like butter, completely solid when cold, but quick to become soft and melty at room temperature. These chips release a bit of oil when baked, so they are best used in hearty drop cookies not prone to spreading (they are not going to work with already flat cookies) and other non-finicky baked goods or frozen desserts. I've used them in cookies, muffins, and baked donuts without trouble. I haven't tried them in cupcakes or cakes yet (I'll report back when I do), so take care with more delicate desserts!
Recipe Adapted From: Group Recipes
Used to Make This Recipe

This post contains affiliate links, which means I receive small commission if you make a purchase using this link. There is absolutely no additional cost to you.