Delicious cookies with chunks of salty, crunchy pretzel and homemade Nutella chips in every bite.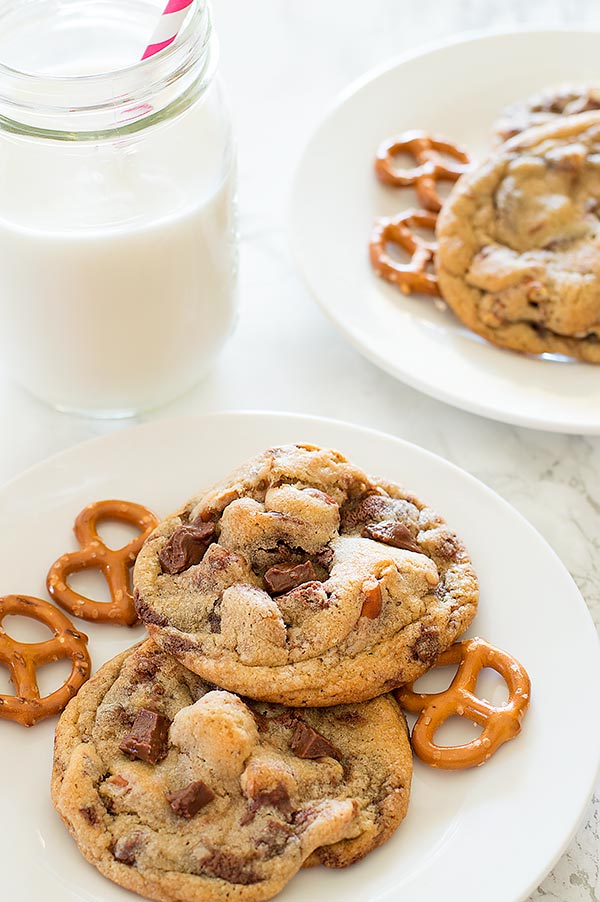 On Wednesday, I shared a recipe for Nutella baking chips. Today, we're going to put those chips to use with Salted Pretzel and Nutella Chip Cookies!
If you read my Weekend Posts, you've actually already seen a peek of these cookies. My BFF since childhood came into town a few weeks ago and I put this recipe together for her on the fly since, as we've established, baking for people I care about is one of my favorite things in the world, and I'd noticed that she'd had these cookies from the fantastic Averie Cooks pinned forever.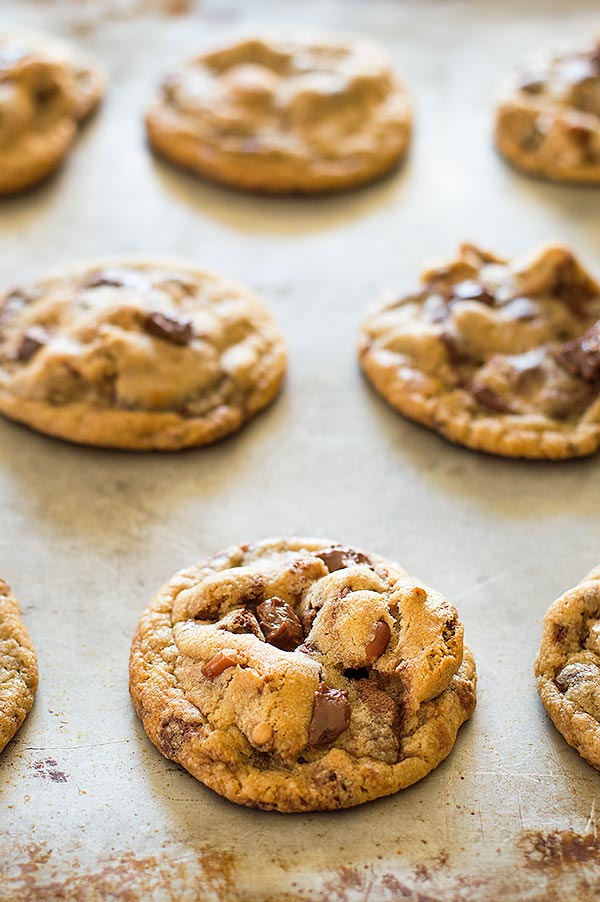 Of course, they didn't all make it out of my kitchen. I may have eaten one or two or three, because it turns out, pretzels and Nutella are kind of amazing.
I'd heard tales of the mythical combo, but I'm not much of a snacker, so I'd never actually tried it out myself. Put them in a cookie though, and oh man, that's my jam.
Salty and crunchy with the rich taste of hazelnut and chocolate in every bite. Yes please.
These cookies are so much fun because at first glance, they look like standard chocolate chip cookies. Then you get closer and start to see the pretzel chunks in there, and it's not until you take a bite that you realize hey, that's Nutella! Cookie surprises are the best surprises. 😉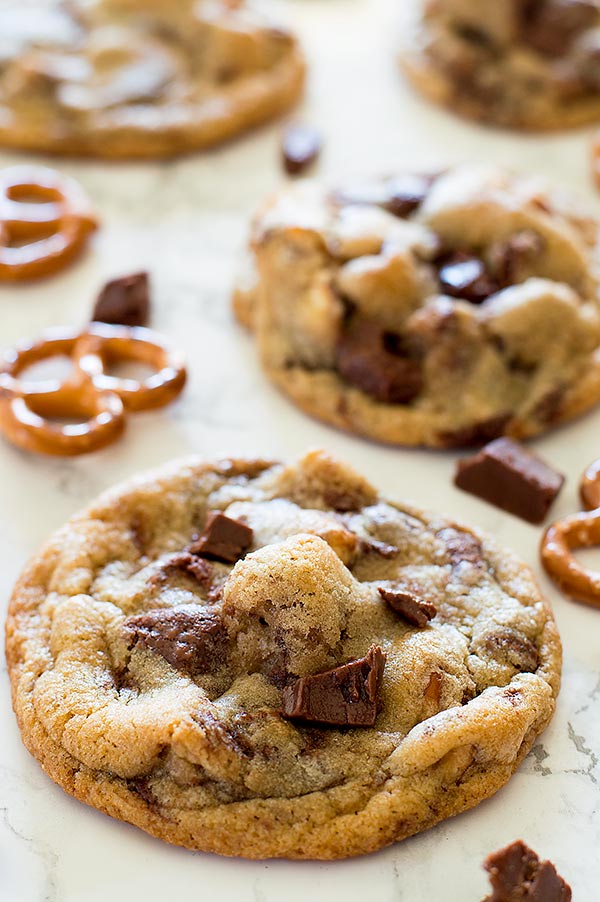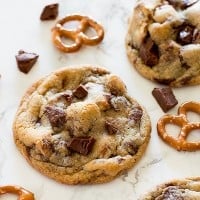 Salted Pretzel and Nutella Chip Cookies
Delicious cookies with chunks of salty, crunchy pretzel and homemade Nutella chips in every bite.
Print
Servings (Hover or Click to Change Yield):
24
Ingredients
1

cup

(

8

oz) unsalted butter

room temperature

1

cup

(

200

g) brown sugar

1/2

cup

(

100

g) granulated sugar

2

large eggs

2

teaspoons

vanilla extract

2 3/4

cups

(

330

g) all-purpose flour

2

teaspoons

cornstarch

1

teaspoon

baking soda

1/2

teaspoon

salt

1 1/2

cup

mini pretzels

broken into pieces

2

cups

Nutella chips

keep in freezer until just before using
Instructions
Dough
Using your stand mixer with the paddle attachment or a hand-held electric mixer, beat the softened butter and sugars together on medium-high speed until light and fluffy, about 2 to 3 minutes.

Scrape down sides and bottom of the bowl and add eggs and vanilla. Beat on low until well-combined, about 1 minute.

Add flour, cornstarch, baking soda, and salt. Mix on low until just combined, scraping sides and bottom as needed.

With the mixer on low, mix in pretzels and Nutella chunks.
Chill, Scoop, and Chill Some More
Place dough in the freezer for 15 minutes to firm up.

Once dough is firm enough to handle, scoop dough into 2-ounce spoonfuls and roll into balls (about 2 inches). Place all of the balls on a parchment paper-covered tray (they can be touching). Cover with plastic and refrigerate for at least 3 hours, up to overnight.
Bake
Preheat oven to 350°Cover

3

cookie sheets with parchment paper or a silicone baking mat. Bake cookies 8 to a sheet for 10 to 12 minutes until edges are set and the top of the cookies are golden.

Allow cookies to cool on the tray.
Notes
Cookies will stay fresh in an air-tight container for 4 to 5 days.
Small-batch Instructions: Half of 2 3/4 cups flour is 1 1/4 cup and 2 tablespoons. No preparation or cooking changes are needed.
Nutritional Information
Recipe Adapted From: Averie Cooks
Used to Make This Recipe

This post may contain affiliate links, which means I receive a small commission if you make a purchase using them. There is absolutely no additional cost to you.