A grown up grilled cheese sandwich loaded with bacon, avocado, chicken, and pepper jack cheese.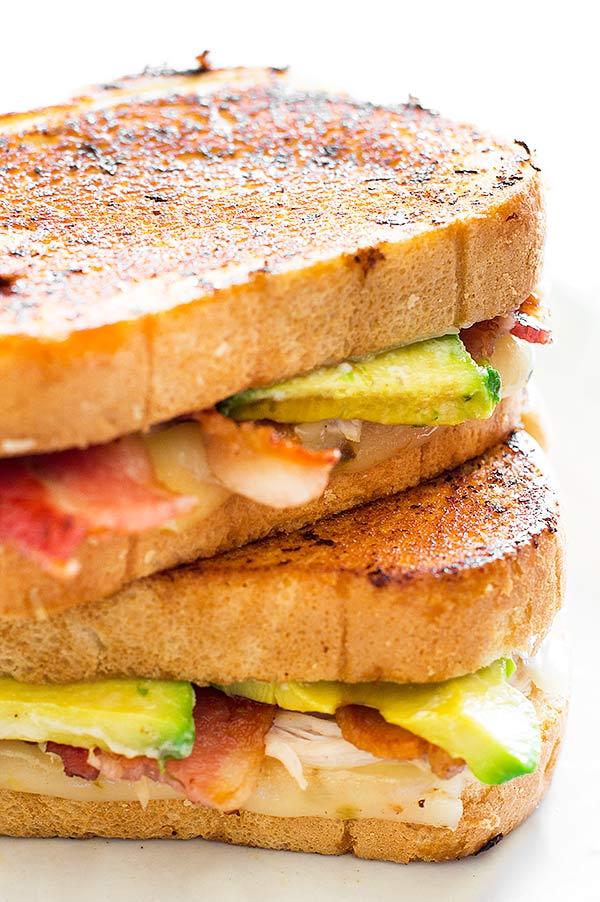 True story: I didn't learn how to make a proper classic grilled cheese sandwich until I was in my late teens. You need white bread and sliced american cheese to make perfect diner-style grilled cheeses and I was raised in a whole wheat and block cheddar household.
The day I finally got my hands on some individually wrapped, processed as heck cheese slices and melted them over the whitest of white bread, stands out as the first great grilled cheese milestone in my life.
The day I put together today's recipe is the second.
There comes a time in all of our lives when we must put our childhood grilled cheese sandwiches behind us and graduate to something a little more interesting, grown up, and exciting, something like Spicy Bacon Avocado Chicken Grilled Cheese Sandwiches.
I've been making these sandwiches since college, and if I remember correctly, the thought process that went into making them was something like, let's take everything I like and put it on one sandwich. And not to toot my own horn or anything, but that makes for a really good sandwich.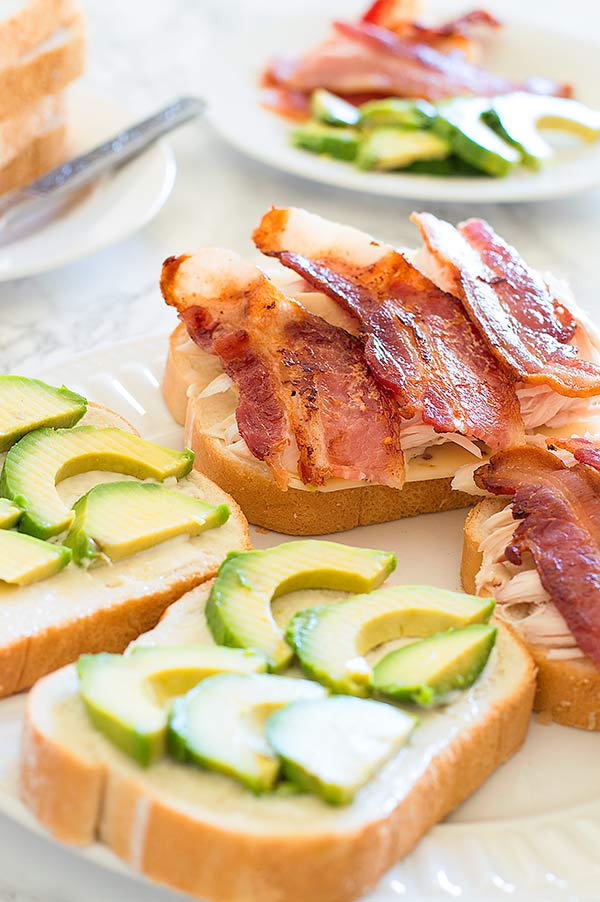 You start with a couple pieces of hearty bread. Texas toast is fantastic for this, but any good-quality white bread will do. Then you pile it with slices of avocado, chicken, tomatoes, a little mayo, a thick slice of pepper jack cheese, and bacon.
And speaking of bacon, the best way to make this sandwich is to cook the bacon on your griddle (I use this Cuisinart Griddler Deluxe *affiliate link* and I LOVE it) and then grill your sandwiches right there in the leftover bacon grease. It's blow-your-mind delicious AND great adulting because you're basically recycling that bacon grease and recycling is something everyone should do. 😉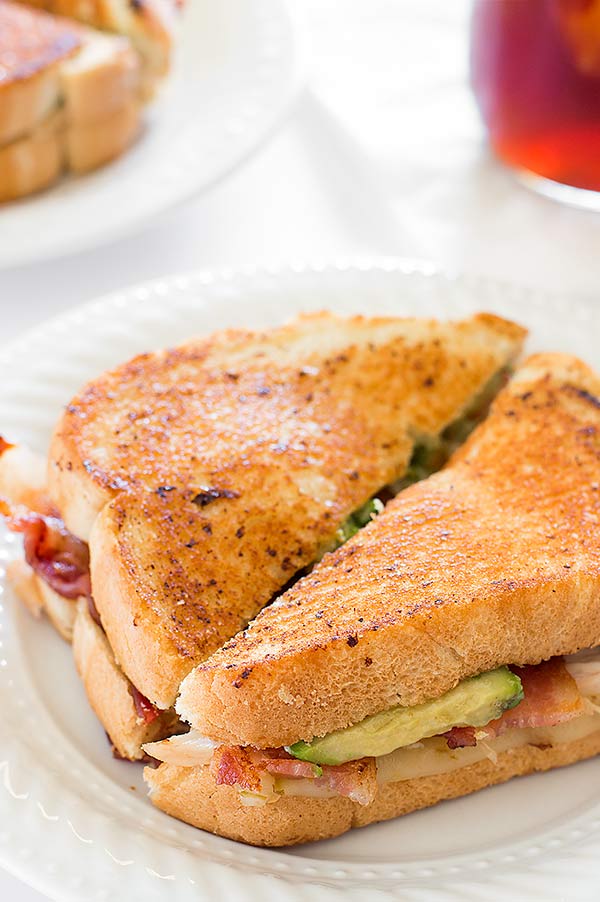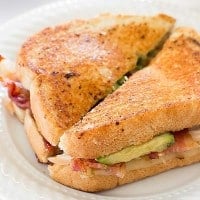 Spicy Chicken Bacon Avocado Grilled Cheese Sandwich
A grown up grilled cheese sandwich loaded with bacon, avocado, chicken, and pepper jack cheese.
Print
Servings (Hover or Click to Change Yield):
4
Ingredients
8

slices

bacon

8

slices

good-quality white bread

1/4

cup

mayonnaise

12

ounces

cooked chicken

shredded and warm*

1

avocado

sliced, room temperature and sliced

4

slices

pepper jack cheese

1

large tomato

optional, sliced
Instructions
On a griddle or in a large skillet*, cook bacon until done and set aside.

Spread mayonnaise over the bread and assemble sandwiches with bacon, chicken, avocado slices, optional tomato and pepperjack cheese.

If you are going to cook the sandwiches in the bacon drippings, scrape or pour off all but about a tablespoon of grease, heat over medium heat and place sandwiches into the pan.

If you don't want to use the bacon drippings, wipe out grease and spread a very light coating of mayonnaise on both sides of the sandwiches before placing into the hot pan.

Cook, flipping once, until both sides are browned and cheese is melted.

Serve and enjoy.
Notes
*I like to use the white meat of a rotisserie chicken for this, but you can use any type of cooked chicken you like. Sliced deli meat is also a good option!
*If using a skillet to make the sandwiches, you will probably have to cook them in two batches. Heat your oven to 150°F and place the first batch of cooked sandwiches inside to keep warm while you finish the second batch.
Used to Make This Recipe
Make-ahead Instructions: Chicken and bacon can be cooked up to two days in advance. If you want to use the bacon drippings for cooking, grease can be stored in an air-tight jar. Reheat chicken before placing it on the sandwich, because cold chicken will not heat all the way through during grilling before the bread burns. The avocado should be cut just before cooking to keep it from browning.
Recipe For Two Instructions: Half of 1/4 cup mayonnaise is 2 tablespoons. No other cooking changes are needed. The best way to store the leftover avocado half is to leave the pit in and wrap it tightly in cling wrap. Place that in a plastic bag with the air squeezed out and store in the refrigerator. This will help slow the browning and keep the avocado edible for another 24 to 48 hours.

This post contains affiliate links, which means I receive small commission if you make a purchase using one of the links. There is absolutely no additional cost to you.