Homemade peanut butter cups are super easy to throw together and perfect for days when you're craving something sweet but have an empty baking cupboard. These can be made with just three ingredients and 15 minutes.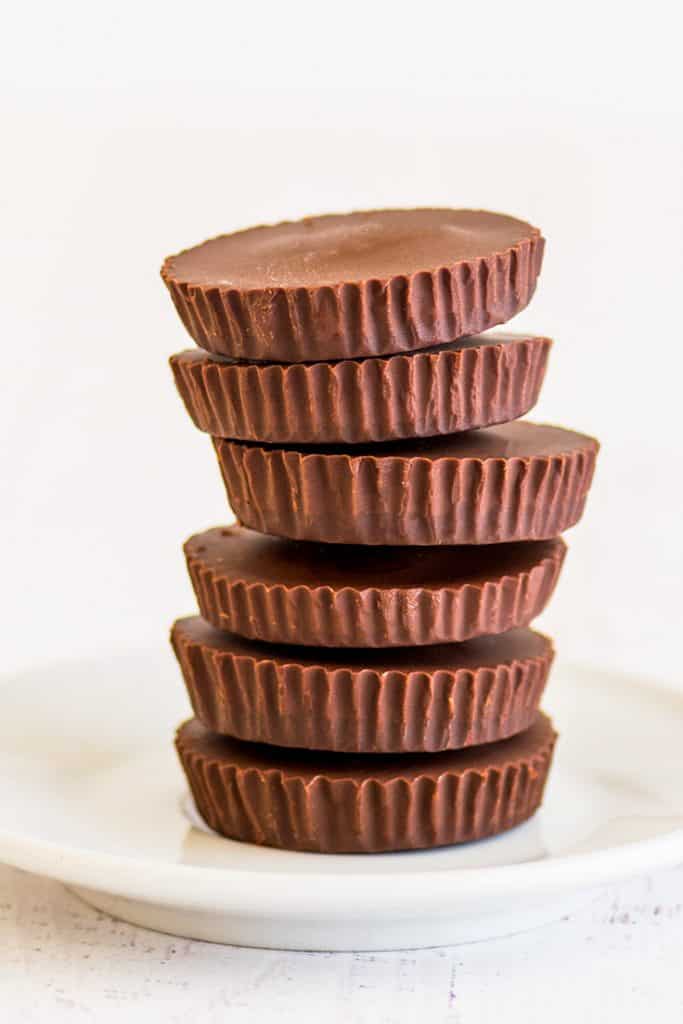 Hey, you ever have one of those lazy afternoons where you're CRAVING sugar but there's nothing sweet in your entire house/apartment/illegally zoned yurt except a half-full bag of chocolate chips, and you're not quite that desperate—yet?
The next time that happens, I have a solution for you. Make a batch of these four-ingredient peanut butter cups. They use ingredients you probably have in your cupboard, don't require you to turn on the oven or stove, and are way, way more fun/more delicious/less sad to eat than a handful of chocolate chips.
What You Need For Homemade Peanut Butter Cups
This post may contain affiliate links, which means I receive a small commission if you make a purchase using them. There is absolutely no additional cost to you.
These homemade peanut butter cups need just four ingredients: chocolate, coconut oil, peanut butter, and powdered sugar, and two of those ingredients are negotiable.
The coconut oil can be omitted, but it makes for smoother melted chocolate which is easier to work with (so if you have it, use it). And if you don't have powdered sugar in your cupboard, brown or regular granulated can be substituted. Your peanut butter layer will just be a little grainy.
You will also need some freezer space (for chilling between layers), a muffin tin (I like using my 6-cup muffin tin because it requires less freezer space, but full-size works just fine), and paper liners. (Don't try to make these without liners. They would be a pain to get out of the pan.)
How to Make Homemade Peanut Butter Cups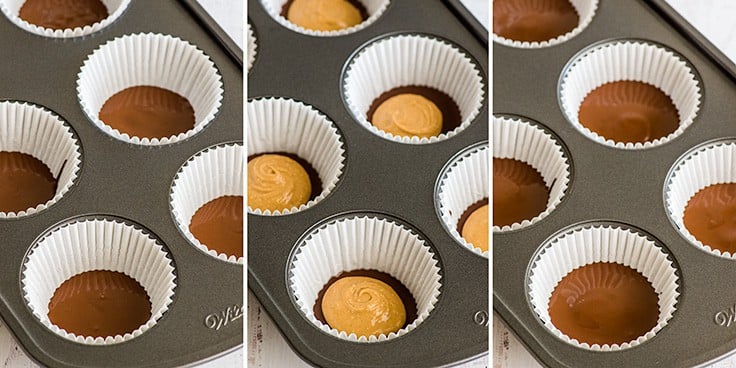 To make the peanut butter cups, you just layer melted chocolate and coconut oil, melted peanut butter plus powdered sugar, and more melted chocolate, chilling in between each layer for a couple of minutes. The whole process will take about 15 minutes to assemble the candies and another 10 minutes or so for them to chill enough to eat.
I like to use the downtime between layers to scrub counters, put away dishes, or rearrange my junk drawer, so at the end of the chilling time, I have delicious candy AND a super clean kitchen.
This recipe will make six regular-size peanut butter cups or twelve minis. Once they have solidified, I transfer them (with wrappers still on) to an airtight freezer bag or container and store in the refrigerator or freezer.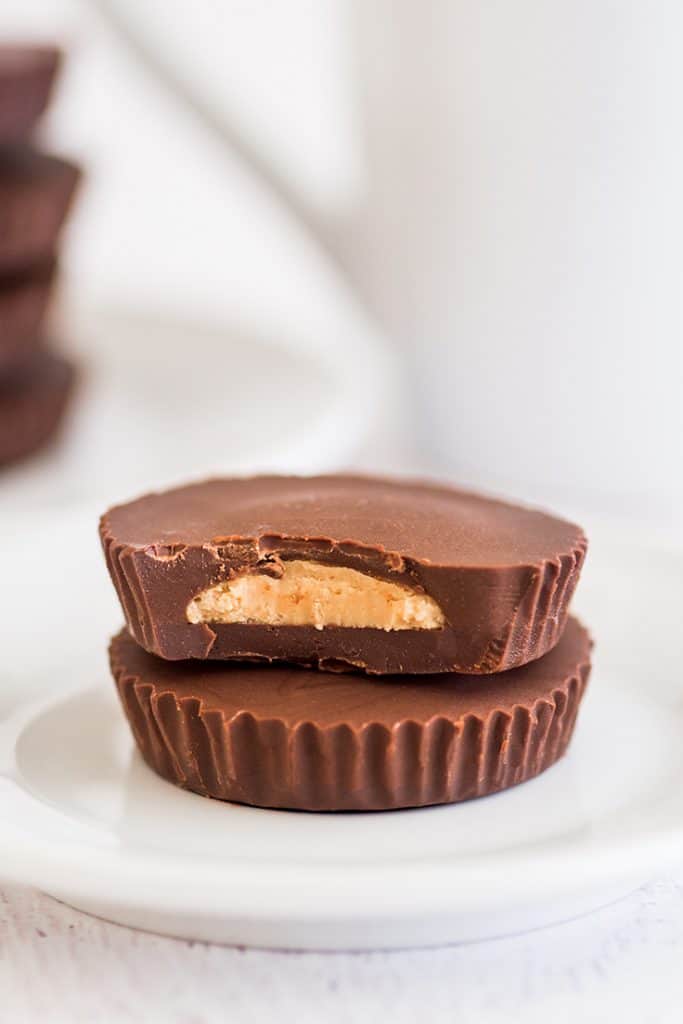 Homemade Peanut Butter Cup Substitutions
You can customize these in a ton of ways, but here are a couple of recommendations to get you started:
White chocolate peanut butter cups – You can use good-quality white chocolate to make peanut butter cups, but heads up: white chocolate is a little more finicky to melt in the microwave, so watch it closely and make sure not to overheat it.
Nutella – Nutella can be substituted for peanut butter and does not need any additional sugar. Just melt for 15 seconds in the microwave until easily spreadable.
Sprinkles – Nonpareils sprinkled over the top chocolate layer before it sets make cuter cups and add a nice crunch.
Recipe Notes
This recipe calls for refined coconut oil. You can use unrefined, but it will make your chocolate taste slightly of coconut.
If it's cool in your kitchen and your coconut oil is in its solid state, don't worry too much about getting *exactly* one/one-and-a-quarter teaspoons of oil. A little more or less won't negatively affect your chocolate.
My favorite way of measuring peanut butter and other sticky substances is to measure it by weight using a kitchen scale so you're not continuously trying to scrape it out of measuring spoons.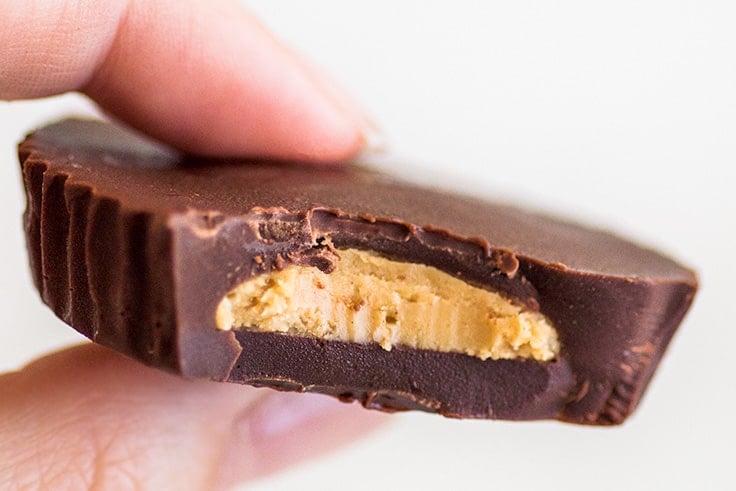 Looking for more easy desserts? Try my Small-batch Chocolate Chip Cookies, Peanut Butter Bars, and 30-Second Easy Chocolate Sauce.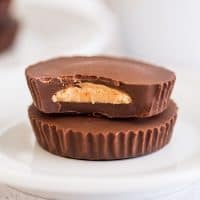 The Easiest Homemade Peanut Butter Cups (Small-batch)
Homemade peanut butter cups are super easy to throw together and perfect for days when you're craving something sweet but have an empty baking cupboard. These can be made with just three ingredients and 15 minutes.
Print
Pin
Servings (Hover or Click to Change Yield):
6
peanut butter cups
Ingredients
Special Equipment
Homemade Peanut Butter Cups
2/3

heaping cup (

4.5oz

) chocolate chips

divided

2 1/4

teaspoons refined coconut oil

divided (optional)

3

tablespoons

(

48g

) peanut butter

(not natural peanut butter)

1

tablespoon

(

8g

) powdered sugar

sifted
Instructions
Clear space in your freezer for a muffin tin. Line tin with

6

liners (

12

if making minis).

Place 3 small microwave-safe bowls on the counter. To the first, add

1/3

cup chocolate chips and

1

teaspoon coconut oil. To the second, add

1/3

heaping cup of chocolate chips and

1 1/4

teaspoon coconut oil. To the third,

3

tablespoons of peanut butter.

Melt the chocolate in the first bowl by microwaving for 30 seconds. Stir and microwave for an additional 15 seconds if necessary, until you are able to stir the chocolate smooth. Add 1 heaping teaspoon of chocolate to each prepared muffin cup, smoothing the chocolate out into an even layer so it covers the entire bottom. If there is any chocolate left in the bowl, divide it evenly(ish) between the cups. Place in the freezer for 5 minutes or until chocolate is hardened.

Place the bowl with peanut butter in the microwave and heat for 20 seconds. Stir and heat for an additional 10 seconds if the peanut butter is not smooth and pourable. Stir in powdered sugar and drop a teaspoon of peanut butter onto the center of each muffin cup. The peanut butter should spread to almost the edges but not touch. If there is any leftover peanut butter, divide it between the cups. Freeze for 5 minutes.

Repeat step 3 with remaining bowl of chocolate. Freeze for at least 10 minutes. Enjoy!
Notes
If making mini peanut butter cups, use 1/2 heaping teaspoon chocolate and 1/2 teaspoon peanut butter mixture for each layer.
Store peanut butter cups in their wrappers in an airtight container in the refrigerator or freezer.