Chicken, mushrooms, and delicious caramelized onions cooked up in a wine and cream sauce and served over rigatoni. A lightened up version of the Macaroni Grill favorite.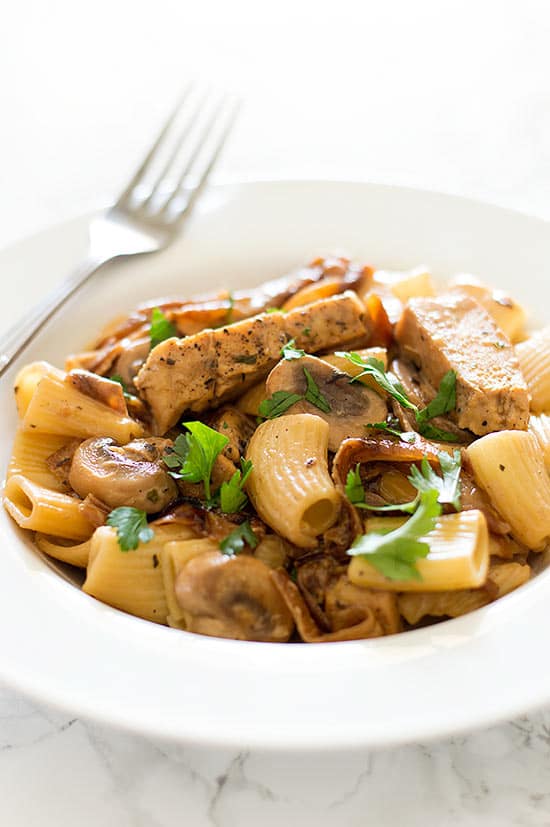 My mom's birthday is in March and for about three years in a row, my family would do one of two things. We would go out to dinner at Macaroni Grill, where she would order Carmela's Chicken, or we would all get together and I'd make a copy cat version of Carmela's Chicken for her.
The recipe I have for it is a great copycat recipe. It tastes exactly like the very tasty restaurant version.
And would I make it exactly one time a year.
Why would I make this delicious, fantastic recipe only once a year? Because that thing had 20 ounces of heavy cream in it. TWENTY OUNCES!! In fat and calories, that's a lot.
For a birthday dinner, fine, but it's not really the sort of thing I could justify making the rest of the year.
So for today, I've lightened up the recipe a bit, and the end result is surprisingly low-calorie (under 500) for a creamy pasta dish. Plus, I think I like this version even better.
Do you like caramelized onions? If you do, you're going to love this dish. It's creamy, just a bit cheesy, wonderfully smokey and slightly sweet from the onions. It definitely feels like grown up pasta!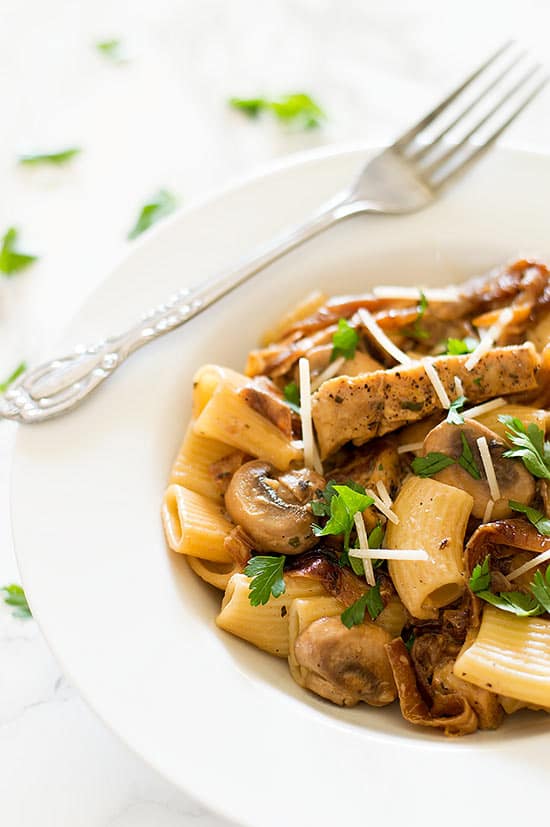 The caramelized onions are the most important part of this dish. They must be caramelized, not browned, not softened, not mostly cooked through.
They must be dark, ugly, and perfect. Otherwise your final product is going to be missing the rich sweet base note that ties the whole thing together.
The caramelizing process is a little time consuming, but it's not hard. If you've never caramelized onions before, don't worry, Simply Recipes has a great step-by-step tutorial on the simple process.
Have a quick read through it before starting here, so you know what each step should look like. Believe me, once you taste the finished product, you will be a convert forever.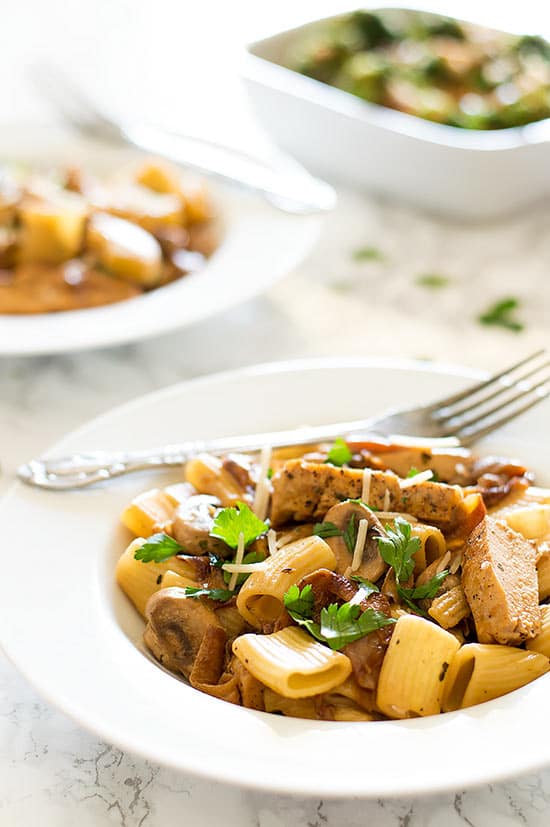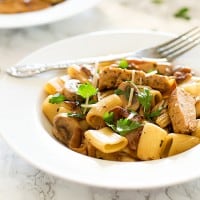 Lightened Up Copycat Carmela's Chicken
Chicken, mushrooms, and delicious caramelized onions cooked up in a wine and cream sauce and served over rigatoni. A lightened up version of the Macaroni Grill favorite.
Print
Servings (Hover or Click to Change Yield):
6
Ingredients
Caramelized Onions
2

large onions

sliced into 3/4-inch half moons

1

tablespoon

unsalted butter

1

teaspoon

olive oil

1

teaspoon

sugar
Chicken
1

pound

(about

2

small) boneless skinless chicken breasts

pounded thin

Salt and pepper
Pasta and Sauce
12

ounces

rigatoni pasta

1

tablespoon

butter

8

ounces

mushrooms

1

teaspoon

basil

1/2

teaspoon

salt

1/2

teaspoon

pepper

1/3

cup

sherry or Marsala*

plus more for deglazing

1 1/2

cups

half and half*

1/4

cup

shredded Parmesan cheese

plus more for topping

Parsley

optional, roughly chopped for garnish
Instructions
Caramelize Onions
In a large, heavy-bottom pan, heat butter and oil. Add onions, stirring to coat in the oil and spread evenly over the pan. Cook, stirring every few minutes for 10 minutes.

Sprinkle sugar over the top.

Continue to cook, stirring and scraping every few minutes for 20 to 40 minutes, until onions are a deep amber color. Set aside.
Cook Your Chicken and Pasta
In a medium pot, lightly salt and start your water for noodles. When water begins to boil, add pasta. Cook according to directions on the box, drain and set aside.

Heat a large skillet over medium-high heat. Season chicken with salt and pepper. Spray pan with cooking spray and add chicken. Cook through, 5-8 minutes per side, until an instant-read thermometer reads at least 160°F.

Transfer chicken to a cutting board. Deglaze the pan with a little of your wine and and pour back over the chicken. Tent with foil to keep warm and set aside.
Make the Sauce
In the same pan, melt butter and add mushrooms. Cook mushrooms until they are just shy of your preferred level of doneness. (For me, about 5 minutes.)

Add basil, caramelized onions, salt and pepper and cook for one minute.

Add the wine and cook for another minute.

Add the half and half and bring to a boil over medium-high heat. Simmer for 2-3 minutes until slightly reduced and thickened.

While sauce is simmering, cut your chicken into strips or cubes, whatever you prefer.

Add Parmesan cheese and chicken to the sauce and stir. Stir in noodles and heat until warmed through.

Garnish with parsley, serve, and enjoy.
Notes
*Marsala is what the restaurant version uses, but I like sherry equally well and is what I'm more likely to have on hand.
*You can substitute 1 cup milk and 1/2 cup heavy cream for half and half.
Nutritional Information
Carmela's Chicken Adapted From: Food.com
Caramelized Onions Instructions Adapted From: Simply Recipes
Make-ahead Instructions: This dish is a great make-ahead dinner. The onions and chicken can be made up to two days in advance, so all you have to do day of is cook the pasta, saute the mushrooms and make the sauce. The only cooking change you need to make is to add the chicken when you add in the half and half, to ensure that it gets heated through.
Low-yield Instructions: For the butter, half of 1 tablespoon is equal to 1 1/2 teaspoon. 1/3 cup wine halves at 2 tablespoons, 2 teaspoons and half of 1/4 cup of Parmesan is 2 tablespoons. The time it takes to caramelize the onion will be slightly reduced. No other cooking changes are needed.
Freezer Notes: I don't recommend this dish for freezing as the sauce and the noodles don't hold up well.
This post may contain affiliate links, which means I receive a small commission if you make a purchase using them. There is absolutely no additional cost to you.