These do-si-do cupcakes are intensely peanut buttery and topped with peanut butter buttercream.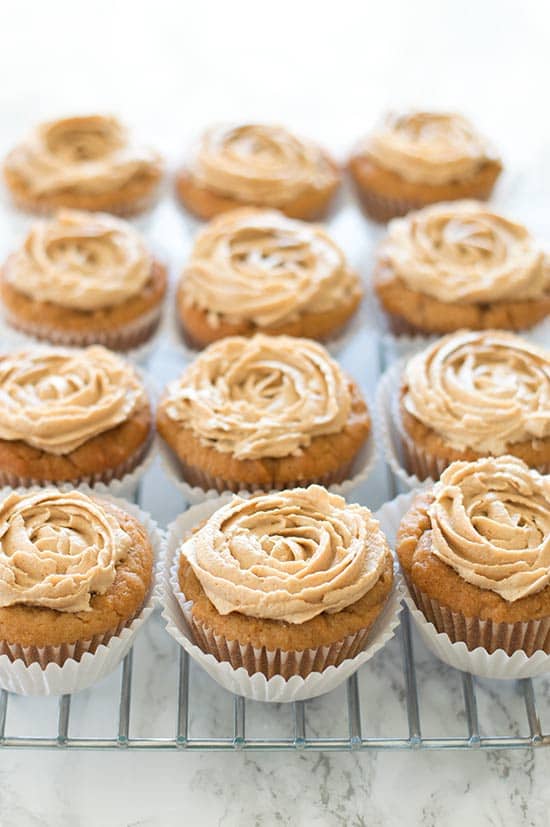 How is everyone doing this fine Friday morning? Have any fun weekend plans? I have a ton of recipe testing to do so I will be up to my eyeballs in sugar. If you never hear from me again, it's because I've slipped into a sugar coma and drifted away happily…
And speaking of sugar, today, we are moving on to Girl Scout cupcake recipe number 2. (To see the first cupcake in this series, check out my Tagalong Cupcakes post.) Today's cupcake is inspired by my second-favorite Girl Scout cookies, Do-si-dos.
Do-si-dos are a great cookie because they're all about the peanut butter, thin oatmeal cookies sandwiching a thick layer of sweet and creamy PB goodness, and what self-respecting peanut butter lover is going to turn that down?
My Do-si-do cupcakes are the least literal adaptation of the bunch. For one, I had a hard time adapting the oatmeal cookie into cupcake form, so since we're all there for the peanut butter anyway, I went with a peanut butter base.
And visually, I thought about making cupcake sandwiches, but didn't want the cupcake to have to be unwrapped to make the sandwich, and filling the center of the cupcakes with peanut butter was just unappealing looking, so I went with a straight up cupcake and rose-frosted top. I mean, it might as well be pretty, right?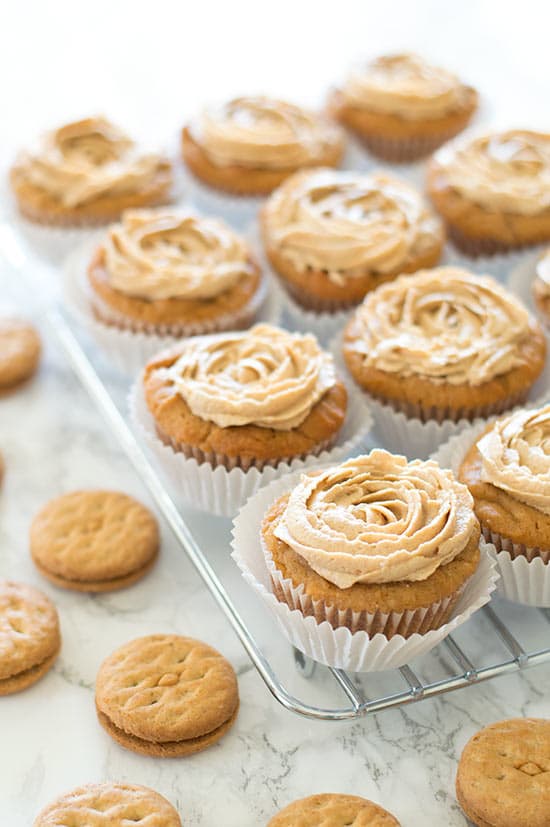 Here's the deal with these Do-si-do Cupcakes: just like with the cookies, peanut butter lovers only, need apply. Seriously, these things are so intensely peanutbuttery (that's a word, right?) that if you don't count peanut butter among the five essential food groups, just back away slowly.
Okay, now that it's peanut butter lovers only here, guys, these are the best cupcakes ever!! They are soft and so dense. They're almost like a the best homemade peanut butter cookie you ever ate, in cupcake form.
For the frosting, I adapted the peanut butter buttercream from the Tagalong cupcakes to make it a better fit. It's whipped, making it a little lighter, because again, the cupcakes are so rich. I also substituted half brown sugar in the frosting to give it a slightly grittier mouth feel to replicate the crumbly texture of the cookies.
I dropped these off at my dad's comic book shop to get rid of them (so I wouldn't eat EVERY SINGLE ONE) and when he tasted one, he told me that I'd better hide because once the Girl Scouts knew I had their secret frosting recipe they were going to come after me. It's such a dad thing to say, but also a pretty great endorsement of the cupcakes.
Stay tuned next week for the cupcake based off the second-best selling Girl Scout cookie, the one I've oft referred to as a crime against nature…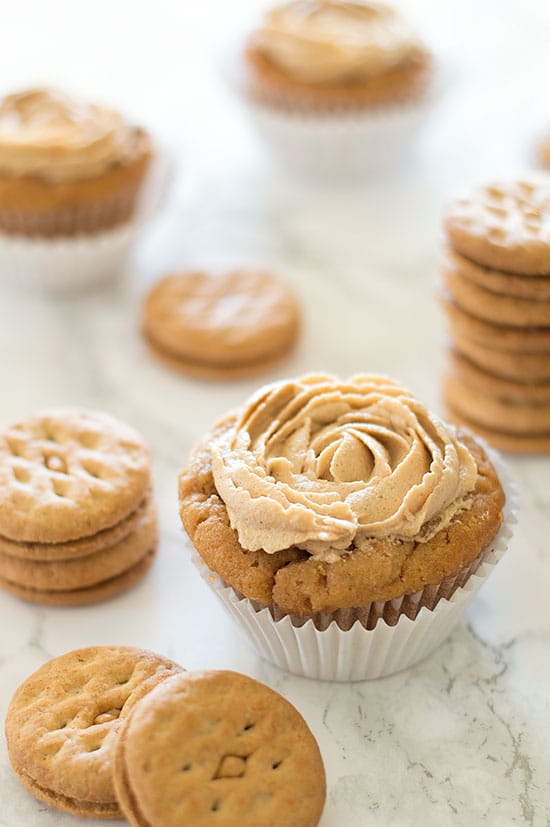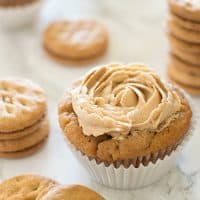 Do-si-do Cupcakes
These do-si-do cupcakes are intensely peanut buttery and topped with peanut butter buttercream.
Print
Servings (Hover or Click to Change Yield):
12
Ingredients
Cupcakes
1

cup

(

140

g) all-purpose flour

1 1/2

teaspoon

baking powder

1/4

teaspoon

salt

6

tablespoons

(

3oz

) unsalted butter

room temperature

3/4

cup

(

190

g) smooth peanut butter

1

cup

(

200

g) packed brown sugar

1

large egg

room temperature

1

teaspoon

vanilla

1/2

cup

buttermilk
Whipped Peanut Butter Buttercream
3

tablespoons

(

1.5oz

) butter

room temperature

1/2

cup

creamy peanut butter

1/3

cup

(

66g

) packed brown sugar*

1/3

cup

(

40g

) powdered sugar

1/2

tsp

vanilla extract

3

tablespoons

heavy cream
Instructions
Cupcakes
Pre-heat your oven to 350°F and line cupcake pan with liners.

Sift flour, baking powder, and salt together over a medium bowl. Set aside.

In a stand mixer, with the paddle attachment, cream butter, peanut butter, and brown sugar until mixture is visibly lightened in color, 2-3 minutes.

Scrape down sides and bottom and add the egg and vanilla. Mix until well combined.

With the mixer on low, add 1/3 of the flour mixture, followed by half the buttermilk. Repeat, and finish with the final 1/3 of the flour. (Flour, buttermilk, flour, buttermilk, flour). Mix until all ingredients are incorporated and the batter looks smooth.

Scrape down the sides and bottom one final time to make sure everything is mixed.

Fill cupcake tins about 4/5 of the way full. This should make exactly

12

cupcakes.

Bake for 17-20 minutes, or until cupcake tops are firm to the touch (cupcake tops will appear craggy and almost cookie-like). Cool cupcakes in their pan for at least 10 minutes before transferring.
Peanut Butter Buttercream
In the bowl of your stand mixer, combine butter, peanut butter, brown sugar, powdered sugar, vanilla, and heavy cream. Beat at medium-high speed for 5-8 minutes until very light and fluffy.

Frost cooled cupcakes. I used a large open star tip and piped on roses, starting my circle from the center of the cupcake.
Notes
*If you don't like the gritty texture of the brown sugar in the frosting, you can substitute another 1/3 cup of powdered sugar instead.
Nutritional Information
Cupcakes Adapted From: Daisy's World
Peanut Butter Buttercream Adapted From: Food.com
Small-batch Instructions: If halving, you can use a single egg yolk if you don't want to deal with halving an egg. Half of 3/4 cup is 1/4 cup and 2 tablespoons. For the frosting, just remember that 1/2 of 1 tablespoon is equal to 1 1/2 teaspoons. No preparation changes are needed.
This post may contain affiliate links, which means I receive a small commission if you make a purchase using them. There is absolutely no additional cost to you.