This rich and decadent mini chocolate sheet cake starts with a light and fluffy chocolate cake base and then gets smothered in a dreamy chocolate icing.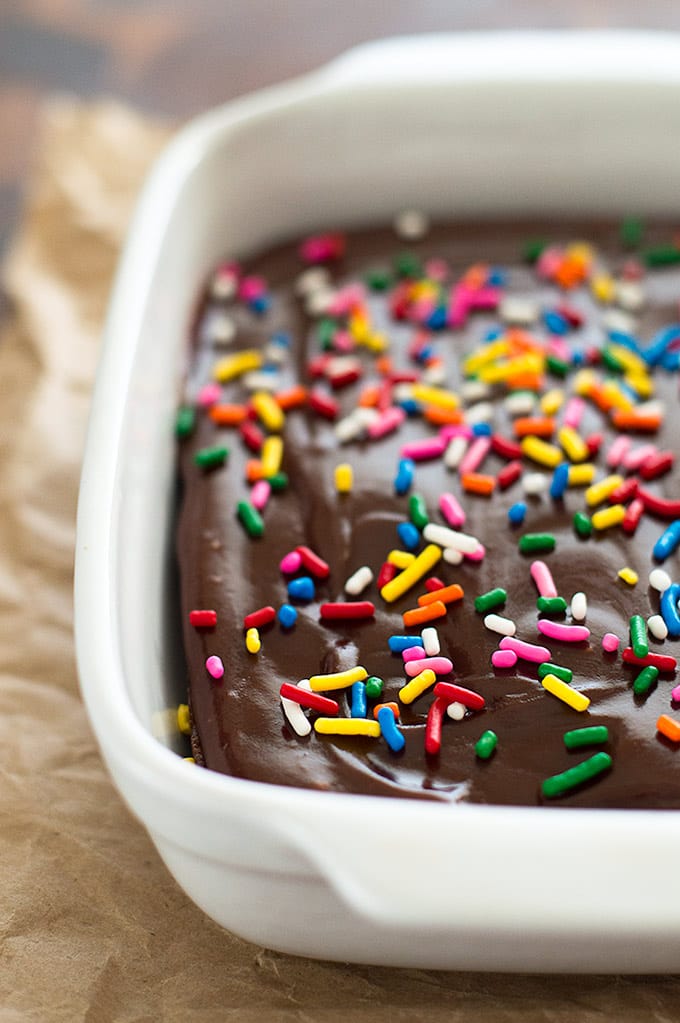 Hey, guys, this will be the last recipe of 2016. I'll be posting a round up of my favorite Baking Mischief recipes of the year on Friday, but if you don't drop by again before New Year's, happy New Year!! I hope your New Year's Eve is joyful and safe and New Year's Day fresh and energizing.
Today's recipe is another of my favorites from Baking for Two, and in the book it's titled "Death by Chocolate Sheet Cake" (a name I deemed no longer charming in late 2016). It's been penciled in on my editorial calendar as "FU 2016 Cake" since sometime around the beginning of November, and I figured it would at least be a delicious way to end a bummer of a year.
Cake is simple. Cake is good. It's something that's meant to be shared, and I really hope you'll share this one.
I hope you share this Mini Chocolate Sheet Cake with a couple of your closest friends over a few glasses of wine, while you say farewell to 2016 and strategically plan how you are going to conquer 2017.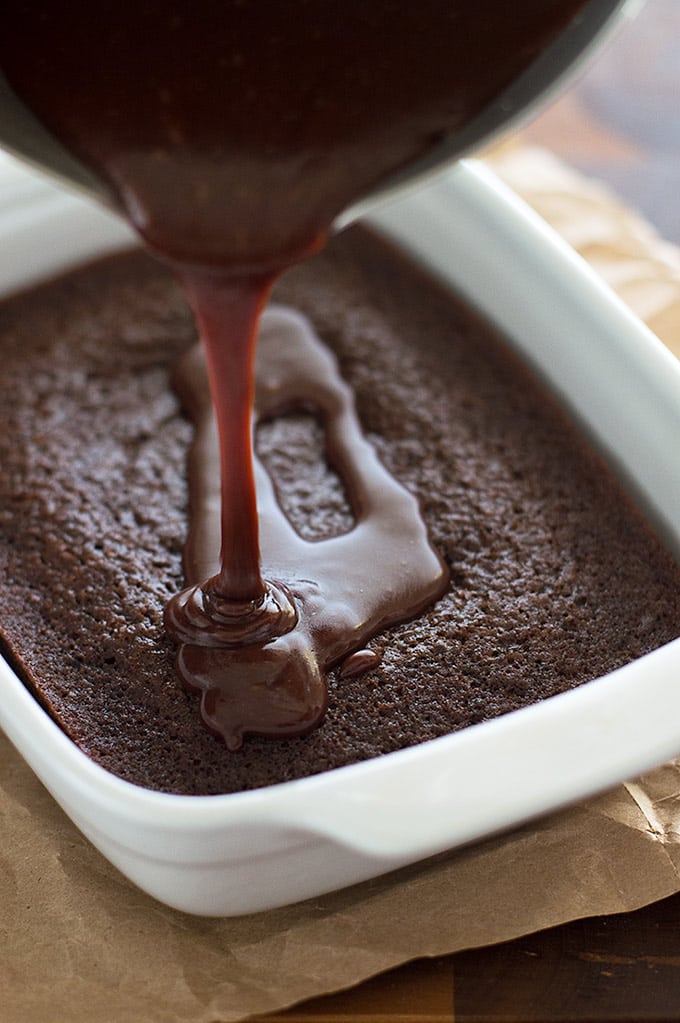 Year-end gloominess aside, this is a pretty superb little chocolate dessert. The cake is light, almost delicate, and comes together quick and easy. But the real show stopper is the chocolate icing over the top. It is completely decadent and delicious.
I'm a big fan of frosting cakes with pourable icing because there's no skill or stress to it. You just mix the icing up on the stove and the pour it over your cake–the cake doesn't even have to be completely cooled. The top of the icing sets after a few minutes, but the rest stays gooey and fudgy and so good. It doesn't look like much when you are pouring it on, but trust me, it's a substantial layer and so rich you'll definitely need a glass of milk to go along with it.
This Mini Chocolate Sheet Cake recipe will make four big cake slices or six smaller ones. I baked it in a ceramic baking dish for these photos, but if you plan on transporting your cake, I totally recommend making it in a 7×5-inch Pyrex container so you can just pop a lid on and go.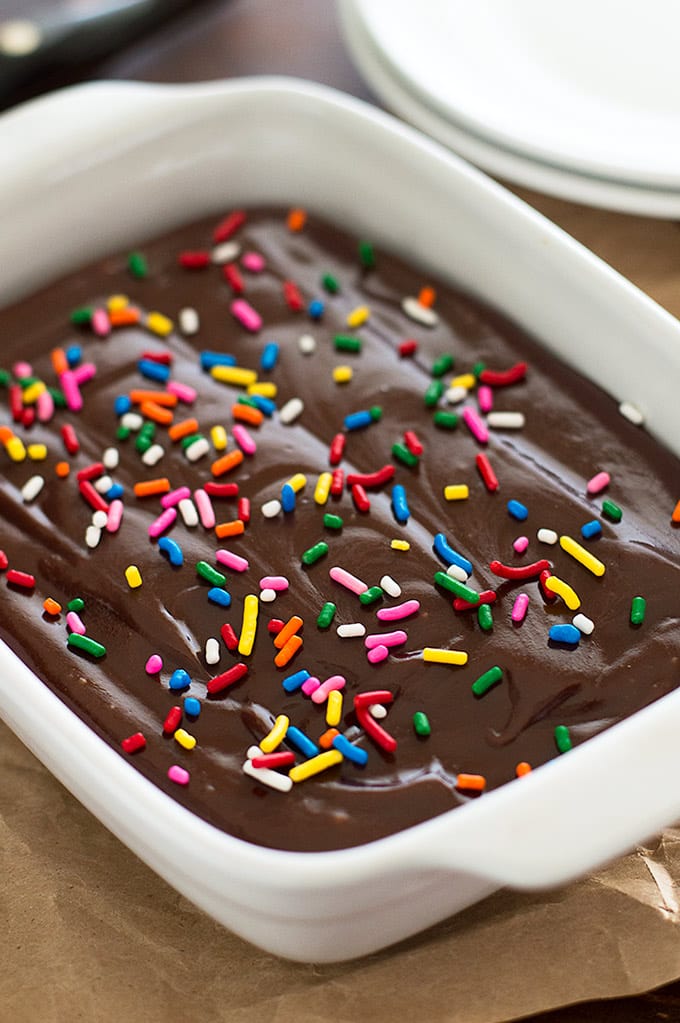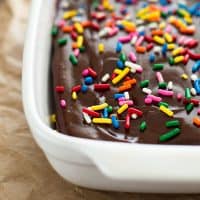 Easy Mini Chocolate Sheet Cake
This rich and decadent mini chocolate sheet cake starts with a light and fluffy chocolate cake base and then gets smothered in a dreamy chocolate icing.
Print
Servings (Hover or Click to Change Yield):
6
Ingredients
Special Equipment
Chocolate Cake
1/4

cup

(

30

g) all-purpose flour

1

tablespoon

(

5

g) natural cocoa powder

sifted if lumpy

1/2

teaspoon

baking powder

1/4

teaspoon

salt

4

tablespoons

(

2

oz) unsalted butter

room temperature

1/4

cup

(

50

g) granulated sugar

1

large egg white

1/4

teaspoon

vanilla

2

tablespoons

milk

2

tablespoons

hot coffee or water
Chocolate Icing
2

tablespoons

(

1

oz) unsalted butter

1

tablespoon

milk

1

teaspoon

light corn syrup

1/2

teaspoon

vanilla extract

2

heaping tablespoons finely chopped semisweet chocolate

(high-quality chips are fine)

1/2

cup

(

60

g) powdered sugar

sifted

Sprinkles

optional
Instructions
Chocolate Cake
Preheat your oven to 350°F and grease a 7x5-inch baking dish.

In a small bowl, whisk together flour, cocoa powder, baking powder, and salt.

In a medium bowl, cream butter and sugar until light and fluffy. Whisk in egg white and vanilla until well-combined.

One at a time, stir in half of the flour mixture, all of the milk, and the remaining flour mixture, mixing until just-combined after each. Stir in hot coffee (or hot water) and mix until combined. Mixture will be thin.

Pour into prepared baking dish. Bake for 14 to 18 minutes, or until a toothpick inserted into the center of the cake comes out clean. Cool for at least five minutes before starting the glaze.
Chocolate Icing
In a 1-quart saucepan, combine butter, milk, corn syrup and vanilla. Heat over medium heat, whisking until butter is melted and ingredients are mixed. Add chocolate and whisk until chocolate is melted and incorporated. Turn heat down to low and add sifted powdered sugar. Whisk until sugar melts into the chocolate mixture. Remove from heat and pour immediately over the slightly cooled cake. Add sprinkles if desired.

Allow glaze 5 to 10 minutes to set before serving the cake in the baking container. Slice and enjoy with a strong cup of coffee.
Notes
Make sure to wait until the cake is done baking before starting the glaze. While it doesn't completely harden, the glaze does set as it cools and will not be pourable after sitting for more than a couple of minutes.
This post may contain affiliate links, which means I receive a small commission if you make a purchase using them. There is absolutely no additional cost to you.