This Mini Coffee Cake is light and fluffy with an insane buttery, crunchy, crumbly streusel layer over the top. It serves four, but you might not want to share…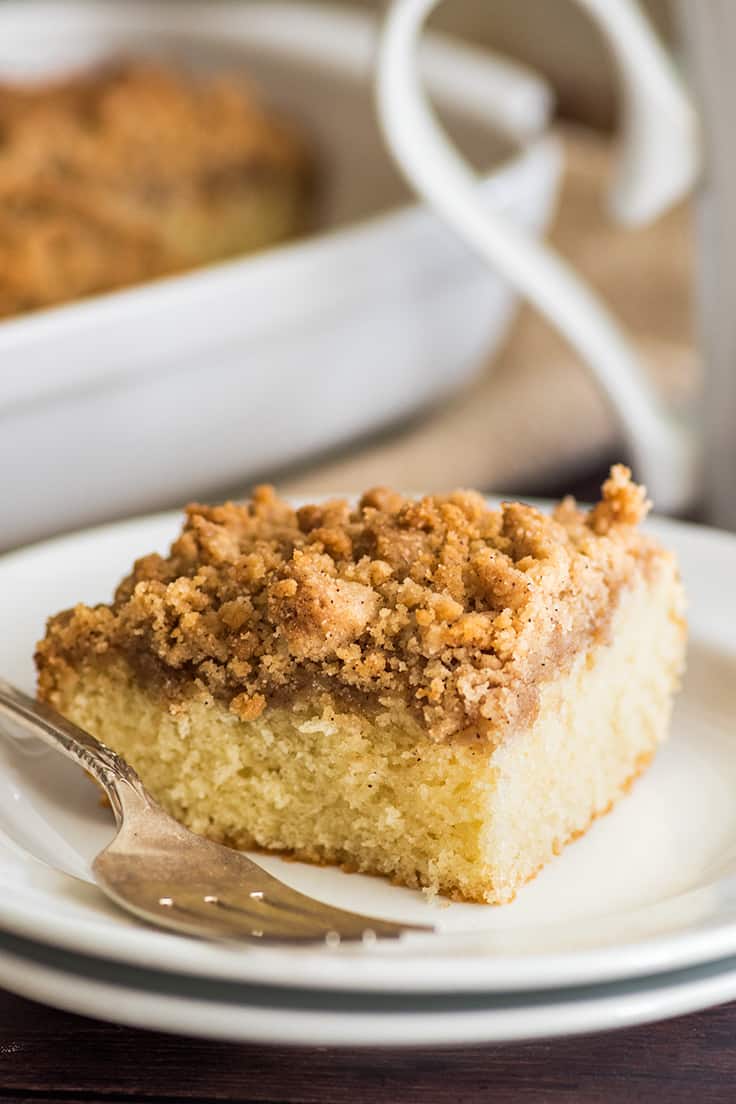 Hey, friend. I hope you're having a productive Tuesday morning, plowing through work, getting all that year-end stuff wrapped up and off your mind because, in less than a week, it's Christmas! (CHRISTMAS!!)
And on Christmas, do you know what are you going to eat for breakfast? Do you need some ideas? Because I have some for you. (If you're having a zillion people over, these are not the ideas for you. I'm sure you and your house guests will come up with something delicious. Pin this recipe and come back to it when they've all gone home. 😉 ) If you're having an intimate Christmas, read on.
Christmas at my house traditionally involves cinnamon rolls, and these Small-batch Cinnamon Rolls are AMAZING and perfect when there are just a few of you. For pairs, Crêpes for Two and Pancakes for Two are always a good option. A small-batch of muffins makes any breakfast sweeter, and last year, this Mini Cranberry Breakfast Cake was a hit.
And this year, I added something new to my breakfast arsenal.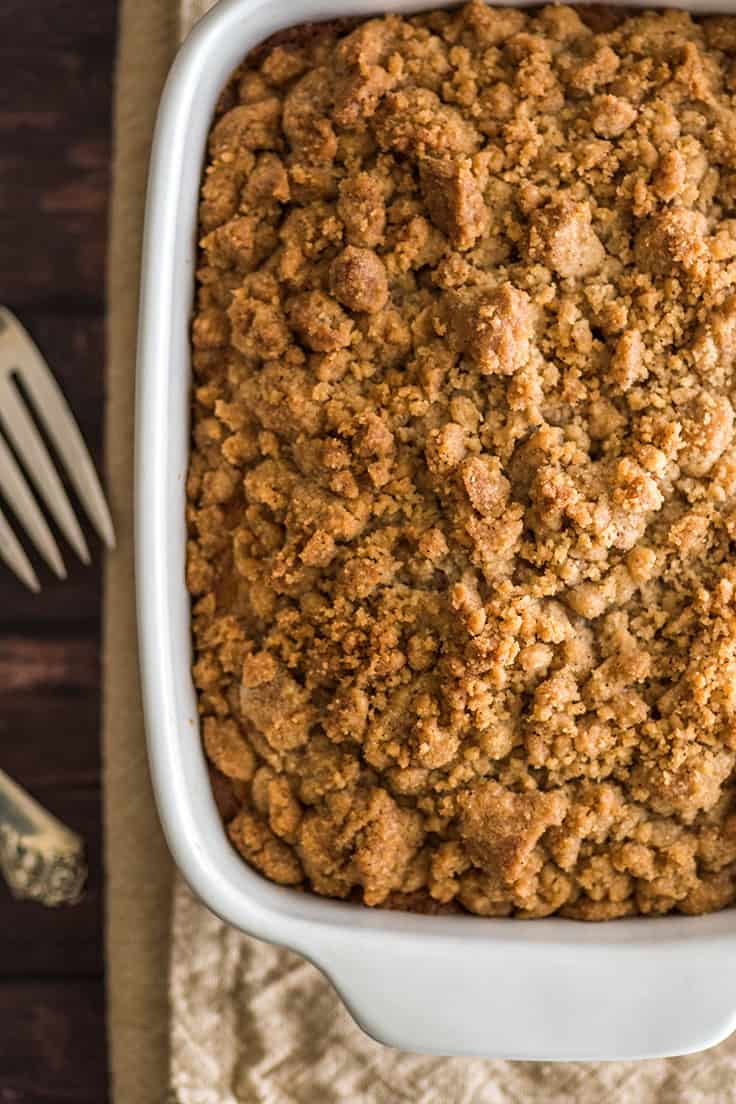 Say hello to the world's perfect (mini) coffee cake.
And by perfect, I mean perfect. It's light, fluffy, cinnamon spicy, and has the ideal ratio of cake to crumbles.
There was a moment as I was testing this cake for the first time, dropping handfuls of sugar and butter crumbles over the cake batter, that I was like, okay, this is an excessive amount of streusel, even for me. I'm going to have to cut this down.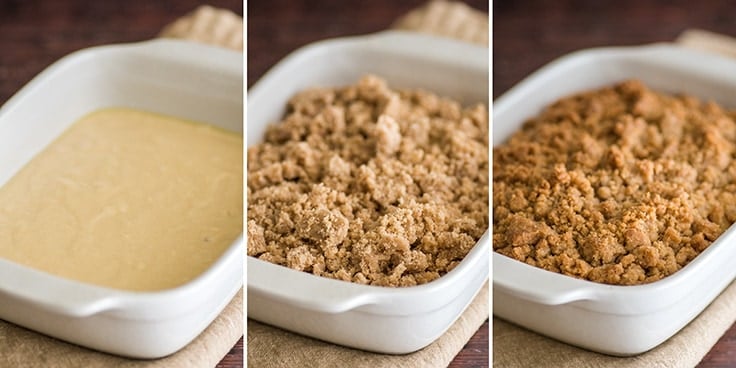 But nope. Once everything bakes up, it turns out excessive is just right when it comes to coffee cake. The crumb layer is thick and decadent, making up about a third of the cake's height, but paired with the light, not-too-sweet vanilla cake underneath, it's perfect.
With every bite, you get just the right amount of moist, fluffy cake and buttery, crumbly, crunchy streusel.
On Christmas morning (and every other morning of the year) this little cake is stellar enough that you can serve it on its own, with just a good cup of coffee alongside. Or make it a part of a breakfast spread.
The cake needs at least 15 minutes to cool, and that's plenty of time to fry up some bacon, scramble some eggs, cut up a little fruit, and maybe make a mimosa or two. The cake will serve four, especially when served with a full breakfast, so invite a couple friends over, make merry, and enjoy!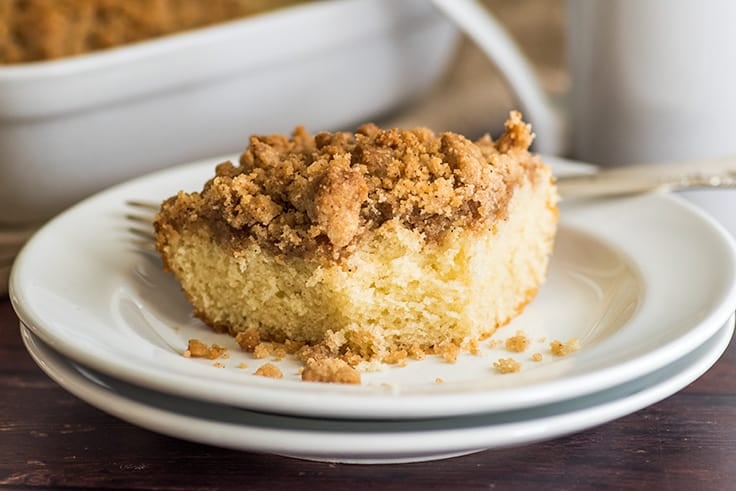 More Small Cake Recipes
Mini Coffee Cake Recipe Tips
If you are making this in a cold kitchen during the winter, your room-temperature butter might be a little too cold to cream easily. You can microwave the softened butter for just a couple seconds, long enough to further soften, but not melt it.
When testing the cake for doneness, make sure the streusel is not scraping off wet batter from your toothpick or cake tester, making the cake look done while still under-baked. Use the cake tester to clear a very small hole in the topping so you can accurately test your cake.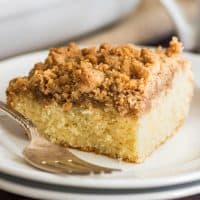 Mini Coffee Cake
This Mini Coffee Cake is light and fluffy with an insane buttery, crunchy, crumbly streusel layer over the top. It serves four, but you might not want to share…
Print
Pin
Servings (Hover or Click to Change Yield):
4
servings
Ingredients
Streusel
3

tablespoons

(36g)

brown sugar

3

tablespoons

(36g)

granulated sugar

1/2

teaspoon

cinnamon

1/8

teaspoon

nutmeg

optional

1/8

teaspoon

salt

4

tablespoons

(2oz)

unsalted butter

melted

1/2

cup

+

1

tablespoon

(68g)

all-purpose flour

measured by weight or using the spoon and sweep method*
Cake
1/2

cup

+

2

tablespoons

(75g)

all-purpose flour

measured by weight or using the spoon and sweep method

1/2

teaspoon

+

1/8

teaspoon baking powder

1/8

teaspoon

salt

2

tablespoons

(1oz)

unsalted butter

softened

1/4

cup

(50g)

granulated sugar

1

large egg

room temperature

1/2

teaspoon

vanilla extract

2

tablespoons

sour cream

2

tablespoons

milk
Instructions
Preheat your oven to 350°F and lightly grease a 7x5-inch baking dish.

In a small bowl, whisk together brown and granulated sugars, cinnamon, nutmeg, and salt. Drizzle in melted butter and mix until well combined. Use a spoon to stir in the flour, a little at a time, until flour is completely incorporated. Place in the refrigerator.

In a small bowl, whisk together flour, baking powder, and salt. Set aside.

In a medium bowl, combine butter and granulated sugar. Cream them together until light and fluffy, about 1 minute. Add egg and vanilla and beat until well-combined. Add sour cream and mix well. Add half of the flour mixture and stir until just mixed. Add

1

tablespoon of milk and stir until just mixed. Repeat with the remaining flour mixture and milk.

Pour batter into your prepared dish and drop crumb mixture over the top in pea-size pieces. It will seem like a lot, but don't worry! It's just the right amount.

Bake for 28 to 34 minutes, until a toothpick inserted into the center of the cake comes out with just a few crumbs. Differences in ovens, baking dishes, and environments may affect baking time, so don't be worried if your cake takes slightly longer to bake. Cool for at least 15 minutes before cutting, and enjoy!
Notes
*Correct flour measurement is important in this recipe. For best results, measure by weight or the Spoon and Sweep Method (stir the flour in your container to fluff it up and then spoon it into your measuring cup, sweep excess off with the flat of a knife).
This cake is best on the first day, but will keep for up to 48 hours. Store covered, at room temperature. 
Adapted From Cooking Classy
This post contains affiliate links, which means I receive a small commission if you make a purchase using them. There is absolutely no additional cost to you.