This small batch of Maple Scones is perfect for a last-minute brunch. The cream scones are quick and easy to make, and you'll want to eat this maple glaze with a spoon!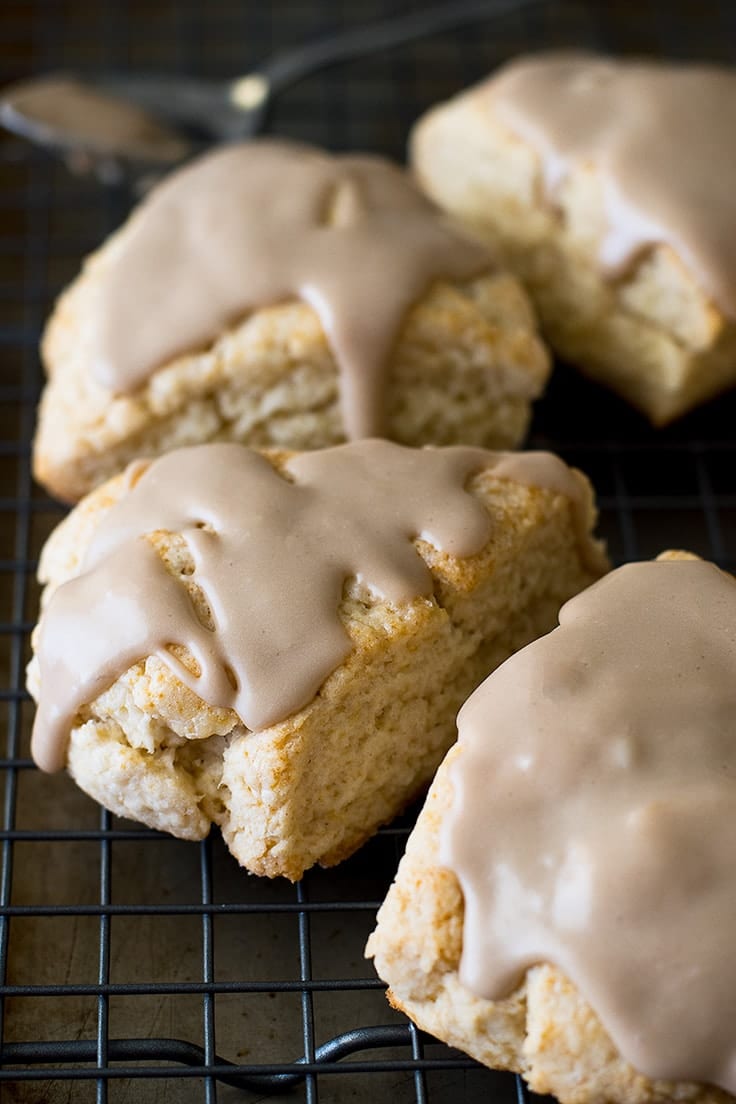 It's week two of Nerd Month, year 2 (What's Nerd Month? Read more about it in my Potato Gratin for Two post) and today's recipe is inspired by one of my favorite new comedies from 2016, The Good Place!
Have you watched The Good Place? If you haven't, you absolutely should. It's sweet, incredibly funny, and very, very clever. If there's been a bit of a hole in your heart since Parks and Rec left the air, this might be just the show you're looking for.
If you don't know the premise of the show, it's that Eleanore, a pretty terrible person in life, accidentally ends of in "the good place" when she dies. It's clear to her right from the beginning that she doesn't belong there and that her presence seems to be destabilizing heaven, so the show is mostly a series of wacky, heavenly hi-jinks and misadventures as Eleanore and the lovable weirdos she meets along the way try to keep her from being found out while the afterlife is going crazy around them. And it's a damn delight.
In the third episode, after the latest Eleanore-induced disaster, Eleanore and her bff/mortal enemy, the disgustingly perfect Tahani, go around their bit of heaven to deliver maple butter scones to all of their neighbors, and as soon as I heard the words "maple" "butter" and "scones," I was intrigued.
I mean, how good do maple butter scones sound!?
Now, I'm not sure what combination of maple butter and/or maple and butter went into Tahani's scones because when I went to go look up a maple butter scone recipe, I found none (seriously, go google them. I'll wait.).
And then I realized that it made perfect sense, because of course Tahani's go-to scone recipe would be one-of-a-kind. Of course.
And of course I then wanted to make her scones, so I did.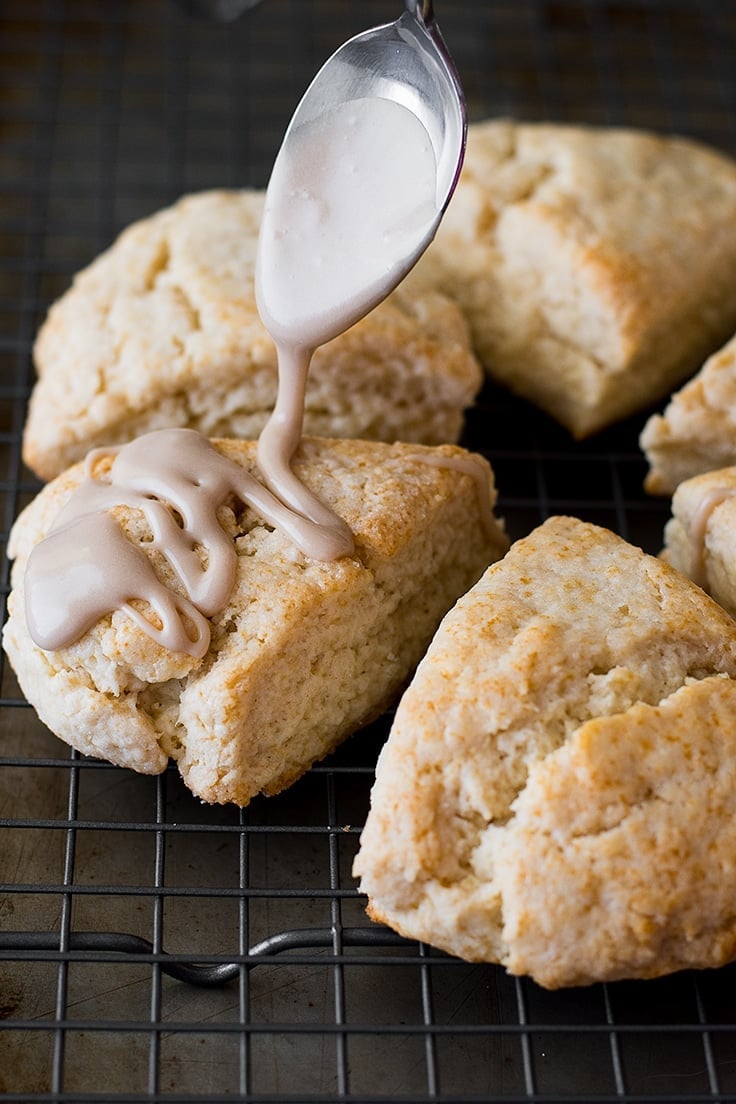 My take on Tahani's maple butter scones is a simple cream scone finished off with a fabulous maple (and) butter glaze.
The end result?
They are heavenly.
(Okay, no more heaven puns. I promise.)
Cream scones are a bit different from classic scones like my Bacon Scones. They use cream in the dough rather than cold butter (some recipes use both) and the result is a scone that is on the moist side rather than crumbly with a slightly crispy exterior.
They are also insanely easy to make. You just throw all the dry ingredients into a bowl, stir in the wet, and the next thing you know, you have a batch of scones ready to go into the oven.
I cut my scones into wedges because I think they are cuter that way, but you can make them into rounds like Tahani if that's more your style. Then once your scones come out of the oven and cool a bit, you drizzle on a simple and sweet maple butter glaze.
This small-batch scone recipe will make six regular-size scones or about four large round ones (extend the baking time just a bit if you're going that route). You can eat them all yourself or follow Tahani's lead, put on a flowing skirt and giant hat, and take a couple to share with some friends and neighbors. 😉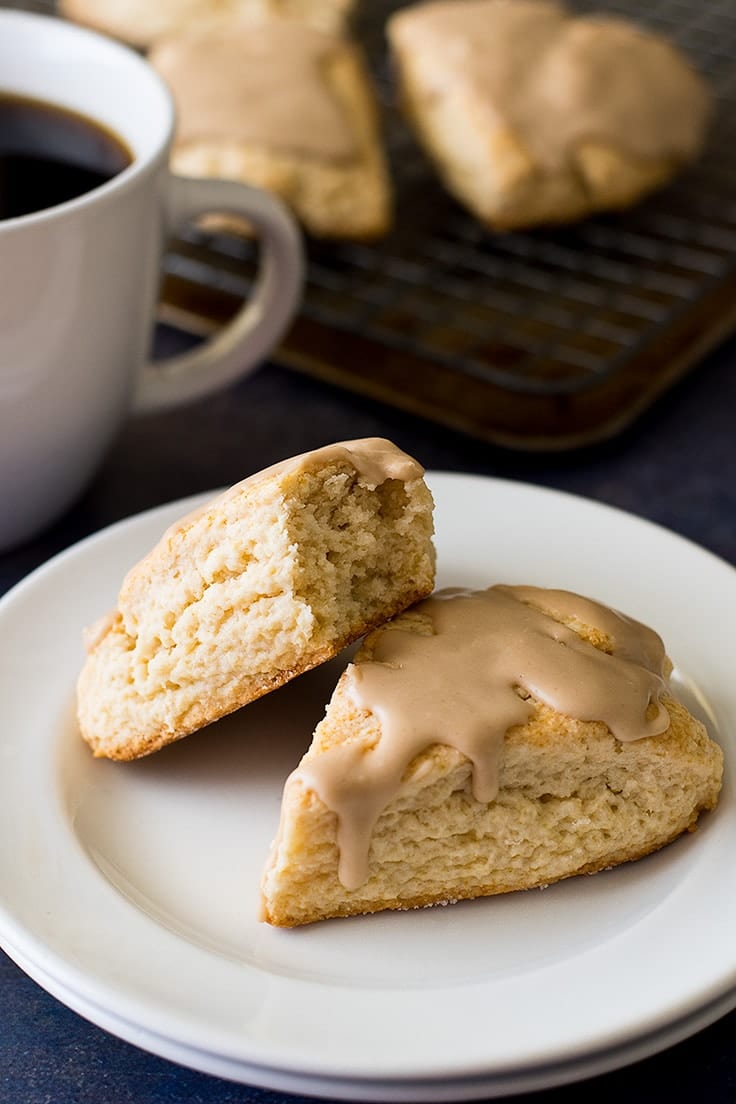 More Easy Breakfast Recipes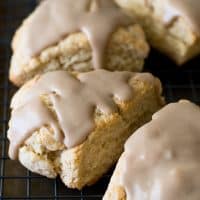 Small-batch Maple Scones
This small batch of Maple Scones is perfect for a last-minute brunch. The cream scones are quick and easy to make, and you'll want to eat this maple glaze with a spoon!

Print
Pin
Servings (Hover or Click to Change Yield):
6
Ingredients
Cream Scones
1 1/2

cup

(180g)

all-purpose flour

measured by weight or using the spoon and sweep method*

1 1/2

teaspoon

baking powder

1/2

teaspoon

salt

3

tablespoons

(

37g

) granulated sugar

3/4

cup

heavy cream

, plus more for brushing on scones*

1/2

teaspoon

vanilla extract
Maple Glaze
1

cup

(120g)

powdered sugar, sifted

1

tablespoon

(14g)

butter, melted

1

to

3

tablespoons milk

1/4

teaspoon

maple extract

Pinch of salt
Instructions
Preheat your oven to 425°F and line a baking sheet with parchment paper or silicone baking mat. In a large bowl, whisk together flour, baking powder, salt, and sugar.

In a liquid measuring cup or bowl, stir together heavy cream and vanilla.

Drizzle cream mixture over your dry ingredients and stir, using just enough cream so that a dry dough forms with no loose flour at the bottom of your bowl*. Use clean hands to finish mixing and shape dough into a ball. Turn out onto a lightly floured surface. Press dough out to a disk about 5 1/2-inches across or 3/4-inch thick.

Use a dough scraper or knife to cut circle into 6 triangles. Transfer scones to your prepared baking sheet, arranging the wedges in a circle about 1-inch apart. Brush the scones with a little cream to help them brown.

Bake for 14 to 16 minutes, until scones are baked through and lightly golden brown.

In a small bowl, whisk together powdered sugar, melted butter,

1

tablespoon of the milk, maple extract, and salt. Add milk by the 1/4 teaspoon until glaze reaches a drizzling consistency and drizzle over scones. Allow glaze to set for 5 minutes and enjoy!
Notes
*Correct flour measurement is very important in this recipe. For best results, measure by weight or the Spoon and Sweep Method (stir the flour in your container to fluff it up and then spoon it into your measuring cup, swipe excess off with the flat of a knife).
*If you don't have heavy cream, you can substitute by using half butter and half milk. In a small pot, combine 6 tablespoons butter and 6 tablespoons (1/4 cup + 2 tablespoons) milk. Heat just until butter is melted and use in place of cream. If using salted butter, cut salt in the recipe to 1/4 teaspoon.
*If dough still seems too dry to come together, you can add just a bit more cream, but don't go overboard. Your dough should not be sticky!
Recipe Adapted From King Arthur Flour
This post may contain affiliate links, which means I receive a small commission if you make a purchase using them. There is absolutely no additional cost to you.