These 12 NaNoWriMo snacks will help keep you fueled and energized all the way to 50k.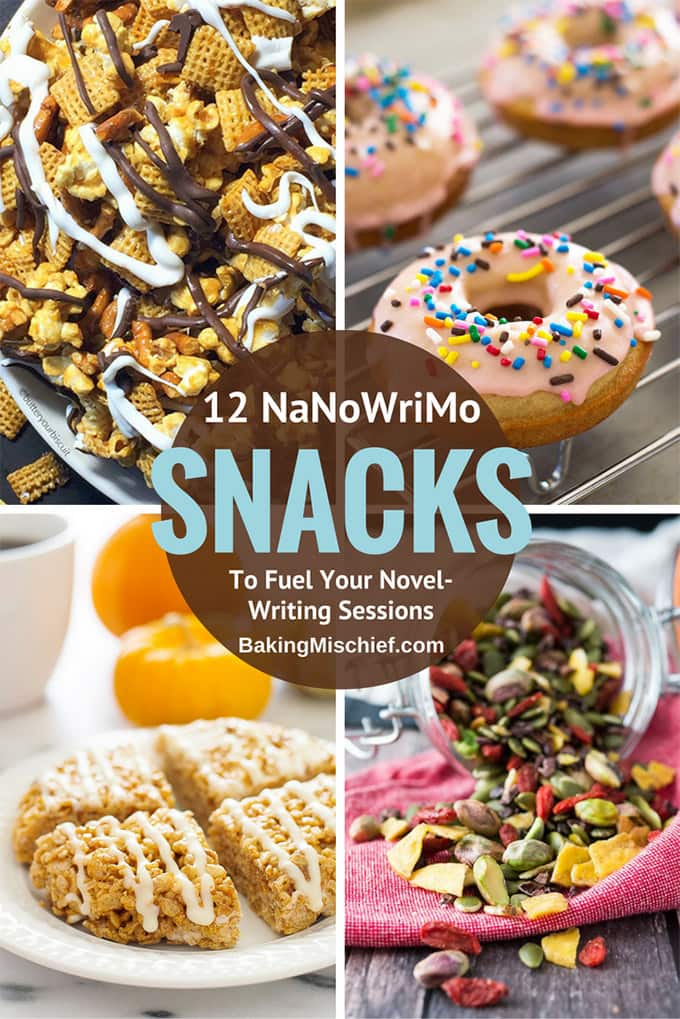 Today is a very important day. One, it's the day after Halloween, which means we are one holiday closer to my favorite holiday, Christmas, and two, it's the first day of National Novel Writing Month!!
Are you participating? If you are, tell me about your story in the comments. I want to know everything. 🙂
For those who haven't heard of it before, National Novel Writing Month, or as the cool kids call it, NaNoWriMo, is a 30-day novel-writing sprint, where people all across the world come together and spend November writing their own 50,000-word novel. It sounds completely crazy, (and it is!) but it's also a super fun and supportive way to write a first draft. (If this sounds like your sort of thing, you can still sign up to participate!!)
I've participated in NaNoWriMo on and off since I was a kid, but last year was the first year I hit my 50k (that's right, Baking for Two wasn't the only book I wrote last year </shameless self promotion> 😉 ).
I'm participating again this year, and to celebrate the start, I've put together a little round up of NaNoWriMo snacks to keep us fueled and energized all the way to 50,000.
There are treats for solo snacking/writing, and since regional writing meetups are one of the awesome parts of NaNoWriMo, there are also treats to serve a crowd. My requirements were: not too messy, portable, easy to make, and delicious (obvs).
If you're anything like me, I think you'll enjoy expanding the traditional NaNoWriMo diet of:
Leftover Halloween Candy
Crippling self-doubt 😉
Good luck everyone. I hope to see you all at the end of 50k!
Solo Snacking
Sweets to Share
Savory and Salty
What are your favorite snacks to eat while writing? Tell me in the comments!
11/22 Update: Just gonna leave this here… 😉

This post may contain affiliate links, which means I receive a small commission if you make a purchase using them. There is absolutely no additional cost to you.