Pink Cream Puffs filled with a rich vanilla pastry cream. So cute and delicious you'll want to keep them all to yourself.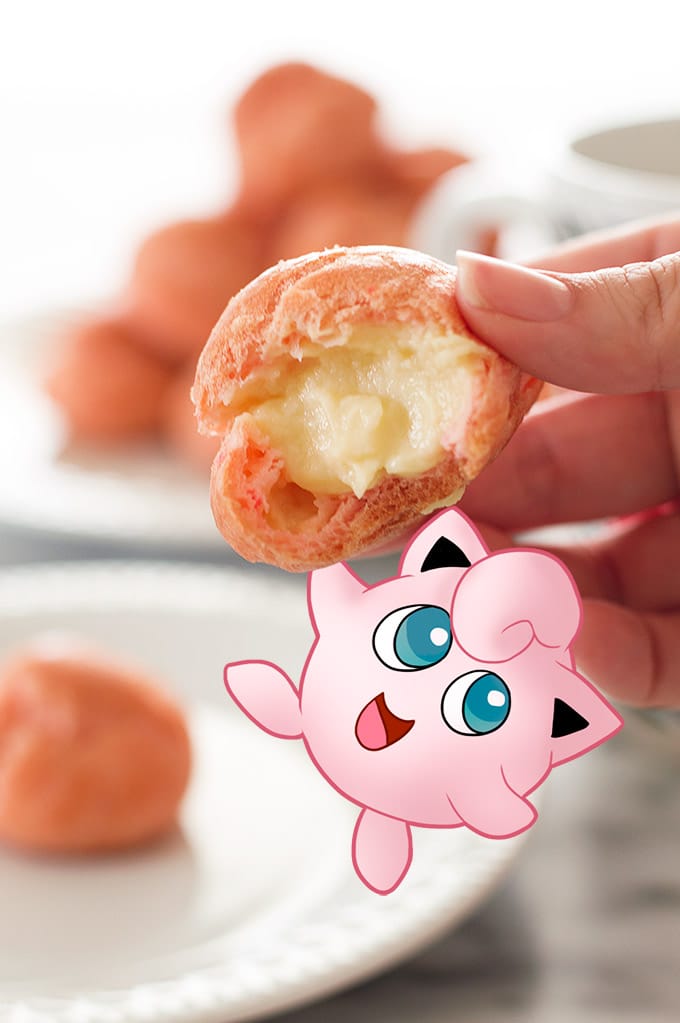 I have another fun and nerdy recipe for you today, Jigglypuff Pink Cream Puffs! A bunch of fellow bloggers are putting together a month of Pokemon-inspired recipes, and I definitely didn't want to miss out on all the geeky fun.
The recipe linkup is being hosted by The Gluttonous Geek. There are some really great ones in there, and you should absolutely head on over to check them all out.
Have you been playing Pokemon Go? I have not let myself start because I was pretty obsessed with the Game Boy version as a kid, and it's a slippery slope when it comes to me and Pokemon games, but it is sooooo tempting.
Anyways, given my childhood obsession, when #PokeNOM month was announced, I knew I wanted to participate and Jigglypuffs and pink cream puffs immediately popped into my head.
I mean Jigglypuff is basically a sentient pink cream puff right? Put them next to each other and there's no telling which is which. 😉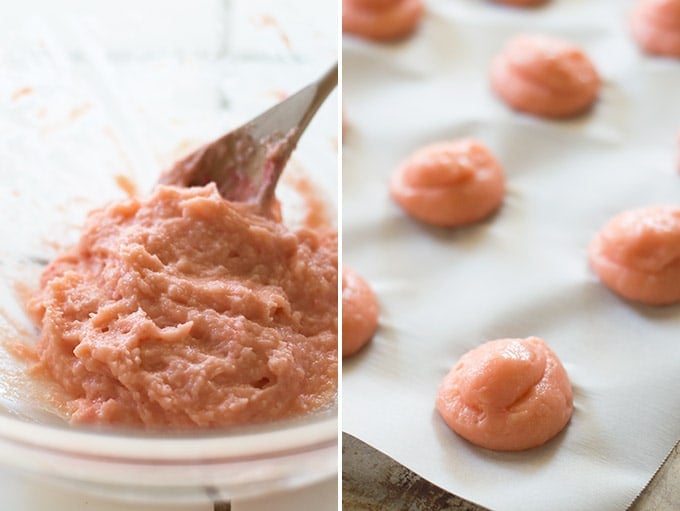 Have you ever made cream puffs from scratch? It's easier than you might think, and SO satisfying. Your eggy, wet pâte à choux dough goes into the oven and these perfect fluffy puff balls come out half an hour later. I think it might be magic.
The pastries bake up hollow, leaving plenty of space for fillings. Some people like a simple whipped cream filling in their cream puffs, but not today. Not in these cream puffs. We are making a fantastically rich, gloriously creamy pastry cream for our pink cream puffs, so when you bite into them, you are met with a perfect, sinful center.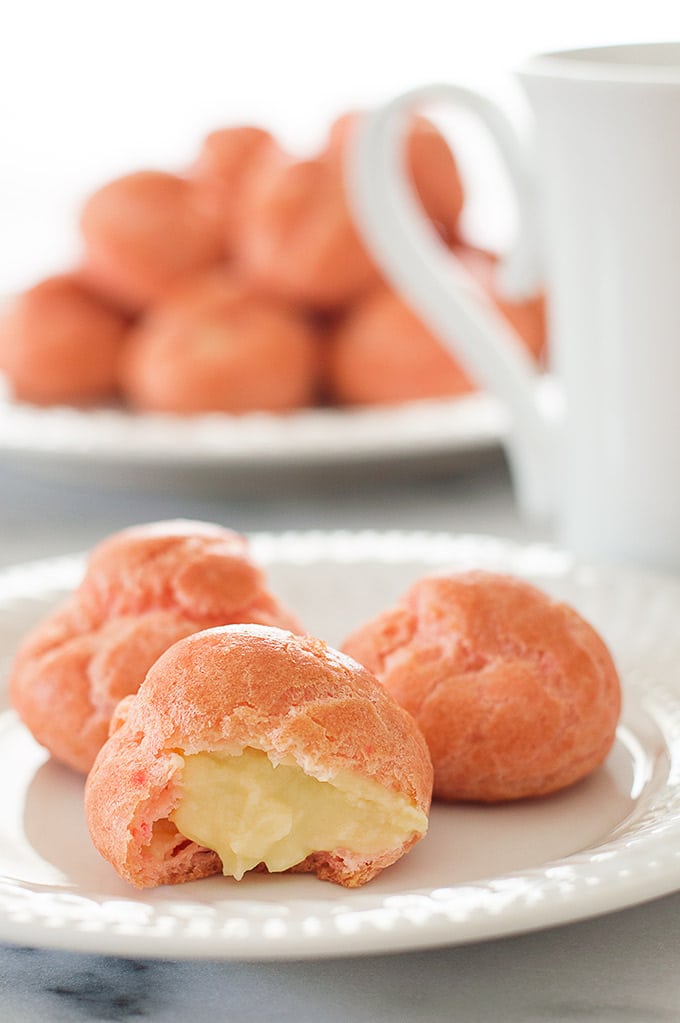 And guess what, if you keep cream in your fridge for coffee, you probably have all of the ingredients to make these. The great thing about these pink cream puffs is that they are made with simple kitchen staples. These fancy pastries do not require fancy ingredients!
They do however require a couple of notes:
This pâte à choux recipe is simple and easy, but it's not necessarily forgiving. Make sure to follow the instructions as written and measure your flour correctly, preferably with a scale. If you don't have a scale, use the spoon and sweep method. (Use a scoop to drop flour into your measuring cup and then the flat side of a butter knife to sweep off the excess. This way your flour won't become compressed and you won't end up with too much.)
You will also need a couple tools. Both the pâte à choux and pastry cream need to be piped. The former works best using a 5/8-inch plain tip*, but you get away with using a large plastic bag with the corner snipped off. For the pastry cream, you *need* a piping bag with about a 1/8-inch plain tip*. Filling the cream puffs requires you to make a small hole in the bottom and pipe cream in. Without a sturdy tip, filling them is going to be difficult.
The final thing you need is a fine mesh strainer. While making the custard for the pastry cream, sometimes bits of egg get overcooked and running the cream through the strainer will make sure that you don't get solid eggy bits in your pastry cream. They are super cheap on Amazon*, but you can also find them in the baking aisle in most grocery stores.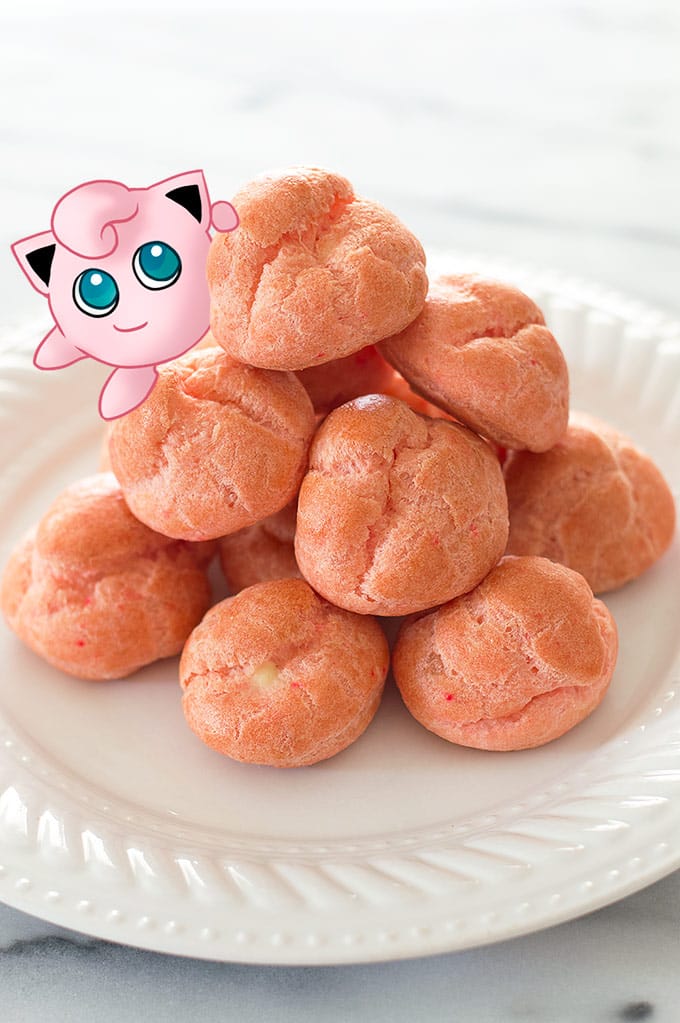 More Easy Desserts
You can find all of my nerdy recipes by clicking here.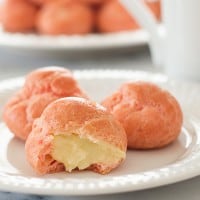 Jigglypuff Pink Cream Puffs
Pink Cream Puffs filled with a rich vanilla pastry cream. So cute and delicious you'll want to keep them all to yourself.
Print
Pin
Servings (Hover or Click to Change Yield):
14
Ingredients
Pastry Cream
1

cup

milk

any percentage

1/2

cup

heavy cream

1/2

cup

(

100

g) granulated sugar

2

tablespoons

cornstarch

1/4

teaspoon

salt

4

large egg yolks

1

teaspoon

vanilla extract
Pate A Choux
1/2

cup

water

1/4

cup

(

2

oz) unsalted butter

diced

1

teaspoon

sugar

1/4

teaspoon

salt

1/2

cup

(

60

g) all-purpose flour

2

to

3

drops red food coloring

2

large eggs
Egg Wash
1

large egg

1

tablespoon

water
Instructions
Pastry Cream
In a medium saucepan, heat milk and cream until just before simmering. Remove from heat and set aside.

In a medium bowl, whisk together sugar, cornstarch, salt, and egg yolks. SLOWLY drizzle in hot cream mixture, whisking constantly so you don't scramble your eggs.

Continue whisking and pouring until all of the liquid is incorporated. You can speed up the pouring as you go and the temperature of your eggs is brought up.

Transfer egg mixture back to your saucepan and cook over medium heat, whisking constantly. Continue to cook until mixture thickens and begins to bubble, about 3 to 6 minutes. It's ready when it is the consistency of a thick pudding. Whisk vigorously until smooth, remove from heat, and stir in vanilla.

Place your strainer over a medium bowl and strain pastry cream, using your whisk to push the mixture through.

Place a piece of plastic wrap directly over the pastry cream to prevent a skin from forming and place in the refrigerator to chill completely, at least an hour.
Pate a Choux
Preheat the oven to 375°F. Line your baking sheet with parchment paper or a silicone baking mat.

Have your flour measured out and ready to go. In a medium saucepan, combine water, butter, sugar, and salt. Bring to a boil over medium high heat. As soon as the butter is melted and the mixture reaches a boil, stir in the flour with a wooden spoon. Stir until flour is incorporated and the mixture pulls away from the sides and forms a thin film over the bottom of the pan.

Transfer dough to a large bowl and allow to cool for about 4 minutes, until no longer hot to the touch. Add

2

to

3

drops of red food coloring and your first egg. Use your wooden spoon to work the egg and coloring into the dough until completely mixed. It will seem slow going at first, but it will come together. Repeat with the second egg.

Transfer mixture to a pastry bag fitted with a 5/8-inch tip. Pipe

14

1 1/2-inch mounds at least 1 inch apart. Once finished, use a little water on your fingertip to pat down any tips that are sticking up from piping so you have smooth rounds (otherwise the tips sticking up will burn).

In a small bowl whisk together egg and water and brush gently over the pate a choux.

Bake for 25 minutes. Do not open the oven. At 25 minutes, check the puffs. They should be lightly browned. If not, cook for an additional 2 to 5 minutes. Remove from the oven and cool completely before filling.
Filling the Puffs
Use a chop stick or small, sharp knife to poke a small hole in the bottom of each cream puff. Transfer your cooled pastry cream to a piping bag fitted with a 1/8-inch round tip (if the cream has firmed up too much in the fridge, you can whisk it for about 30 seconds until it is smooth and the right consistency for piping.

Fill each of the cream puffs with a generous amount of pastry cream. Serve and enjoy!
Notes
Cream puffs are best on the first day, but can be stored covered in the refrigerator for up to 3 days.
Pate a choux adapted from Martha Stewart
Pastry Cream Adapted From TheKitchn
This post may contain affiliate links, which means I receive a small commission if you make a purchase using them. There is absolutely no additional cost to you.