This easy teriyaki chicken with homemade teriyaki sauce has to be one of the simplest, most delicious dinners ever.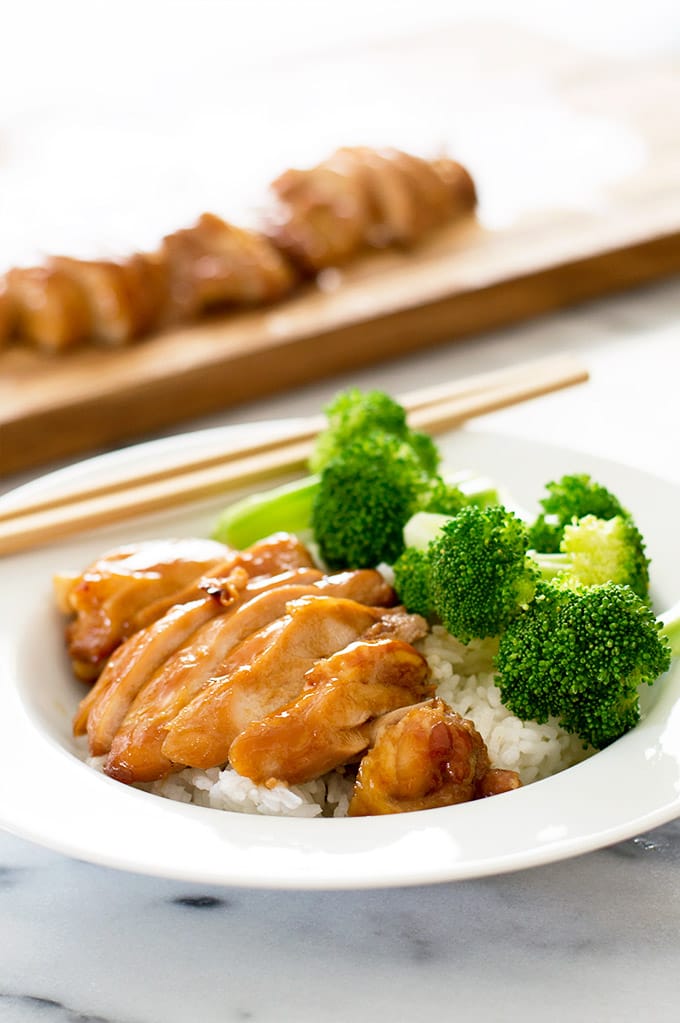 We're well into September, which means it's time for a new recipe theme for the month! Last month's theme was Slow Cooker recipes since it was way too hot in August to be running an oven. This month since it's (nearly) fall, school has started, and the days are getting shorter, I thought I'd go with a theme we could all use right about now, dead simple recipes.
I have a few of those on the site already, like my Quick Rosemary Pork Chops or the World's Easiest Chicken Taco Soup, but we can always use a few more.
These are the recipes I make when there is no bone left in my body that can even fathom picking up a knife when dinnertime comes around.
They are all easy, quick, and healthy. These are some of my most-made recipes, and I think you are going to love them. We'll start out with Easy Teriyaki Chicken because it's about as simple of a recipe as you can get.
Before we get to the good stuff, I want to say: I'm including a homemade teriyaki sauce recipe here. It's thick, quite sweet, and AMAZING. It makes enough for 2 to 3 meals and will keep for a few weeks in the fridge. The recipe calls for a couple of ingredients that you might not keep on hand if you don't cook Japanese food often, but I've included substitutions in the recipe notes.
This homemade teriyaki doesn't require any cutting or grating, just a little measuring, mixing, and simmering, but if that sounds like too much for you tonight, this cooking method works just as well with a store-bought sauce. (I'm kind of partial to the Panda Express Mandarin Sauce* myself.)
It's great when it is, but sauce doesn't always need to come from scratch. 😉
Moving on.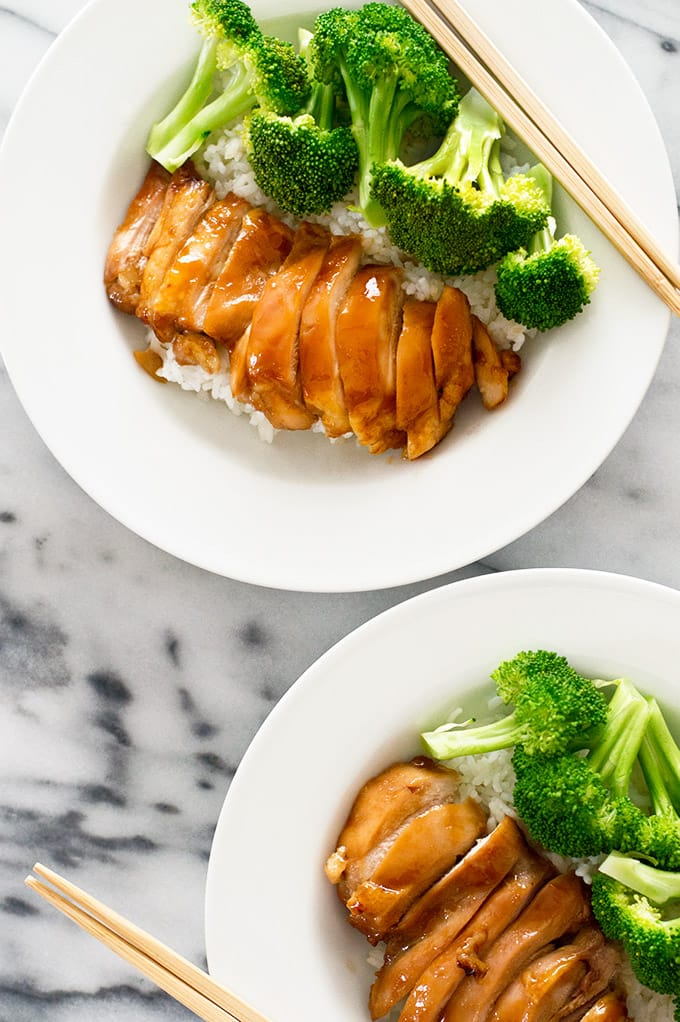 This is just about the best, easiest chicken recipe out there. Just pour a bit of teriyaki sauce over some boneless skinless chicken thighs in the morning or at least 30 minutes before cooking. Then plop those babies on a greased baking sheet and bake in a nice hot oven so they cook quick without drying out.
We'll baste them once about halfway through so you get a lovely baked-on glaze, and then, boom. You have teriyaki chicken that is honestly better than takeout, and you didn't have to lift a knife to get it. (Okay, you will have to pick up a knife to eat it.) The whole thing takes about 15 minutes from start to finish.
Serve this Easy Teriyaki Chicken with a side of steamed broccoli and some rice (Calrose is my favorite* for serving with Asian dishes), and enjoy the rest of your evening with a glass of wine and some Netflix.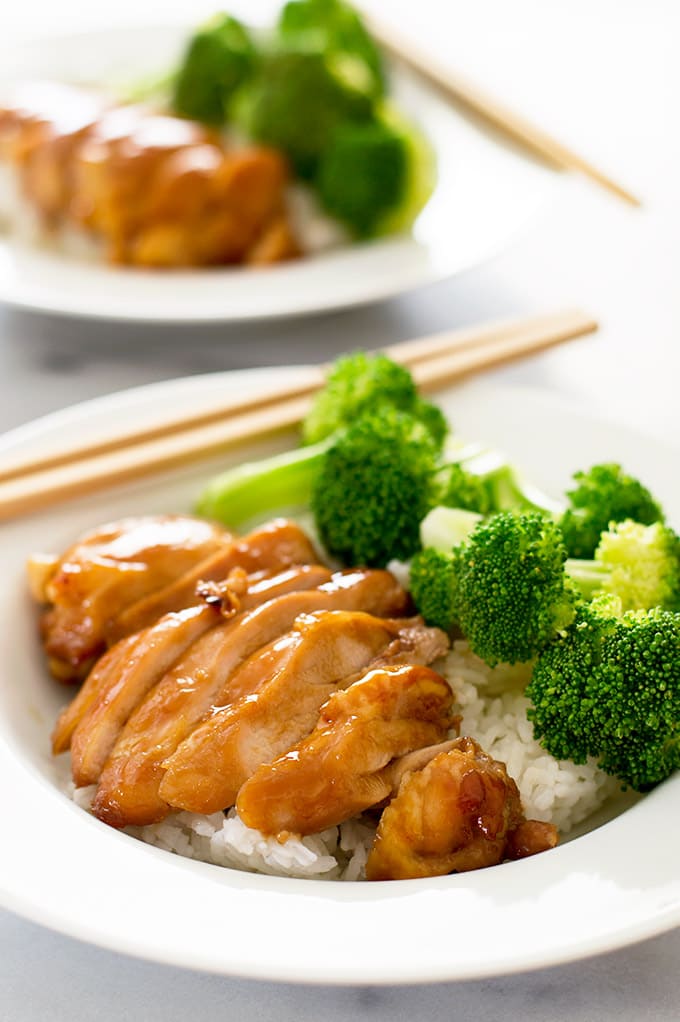 As written, this Easy Teriyaki Chicken recipe serves 2. See recipe notes for doubling instructions.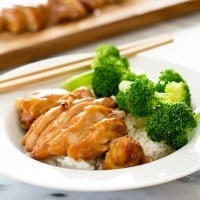 Easy Teriyaki Chicken With Homemade Teriyaki Sauce
This easy teriyaki chicken with homemade teriyaki sauce has to be one of the the simplest, most delicious dinners ever.
Print
Pin
Servings (Hover or Click to Change Yield):
2
Ingredients
Homemade Teriyaki Sauce
1/3

cup

soy sauce

1/4

cup

water

2

tablespoons

mirin*

1

tablespoon

rice wine vinegar*

1/4

cup

(

50

g) granulated sugar

3

tablespoons

(

37

g) brown sugar

1/2

teaspoon

garlic powder

1/2

teaspoon

ground ginger

1/2

tablespoon

cornstarch whisked with

1

tablespoon water
Teriyaki Chicken
2

large or

4

small boneless skinless chicken thighs
Instructions
Homemade Teriyaki Sauce
Combine soy sauce, water, mirin, rice wine vinegar, granulated sugar, brown sugar, garlic powder, ground ginger, and cornstarch and water mixture in a small sauce pan. Bring to a simmer over medium-high heat, stirring occasionally. Turn heat down to medium and simmer for 4 to 6 minutes, until sauce is thickened. (It will thicken further as it cools.)
Teriyaki Chicken
In a small bowl or plastic bag, combine chicken thighs and about 3 tablespoons of teriyaki sauce. Toss to coat. Marinate for at least 30 minutes, up to 12 hours.

Preheat your oven to 400°Line your baking sheet with foil for easy clean up and lightly grease. Remove thighs from the marinade and transfer to baking sheet. Bake for 8 minutes. Pour about 3 tablespoons of sauce into a small bowl and use to baste the chicken thighs. Discard remaining basting sauce.

Bake for an additional 3 to 5 minutes before using an instant-read thermometer in the thickest part of the meat. Once the meat reads 165°, pull it from the oven and allow it to rest for at least 5 minutes before slicing. **Thigh size varies wildly, so baking time will too. Don't be alarmed if your thighs take longer to cook.**

Brush with additional teriyaki sauce if desired. Serve over white rice with steamed broccoli and enjoy!
Notes
*You can substitute white wine or sherry for the mirin. (H/T The Seattle Times) and use 1 1/2 teaspoon white vinegar in place of the rice wine vinegar or omit it completely.
Doubling instructions: No cooking changes are necessary to double. 3 tablespoons of teriyaki sauce when marinating should be sufficient unless your thighs are quite large. Just use your best judgement. Leftover teriyaki sauce can be stored in an air-tight container in the refrigerator for up to 1 month.
Teriyaki Sauce Adapted From  Food Network
This post contains affiliate links, which means I receive a small commission if you make a purchase using them. There is absolutely no additional cost to you.