Quick pork chops made with rosemary and sherry that can be on the table in about 20 minutes. So easy and delicious you won't believe it.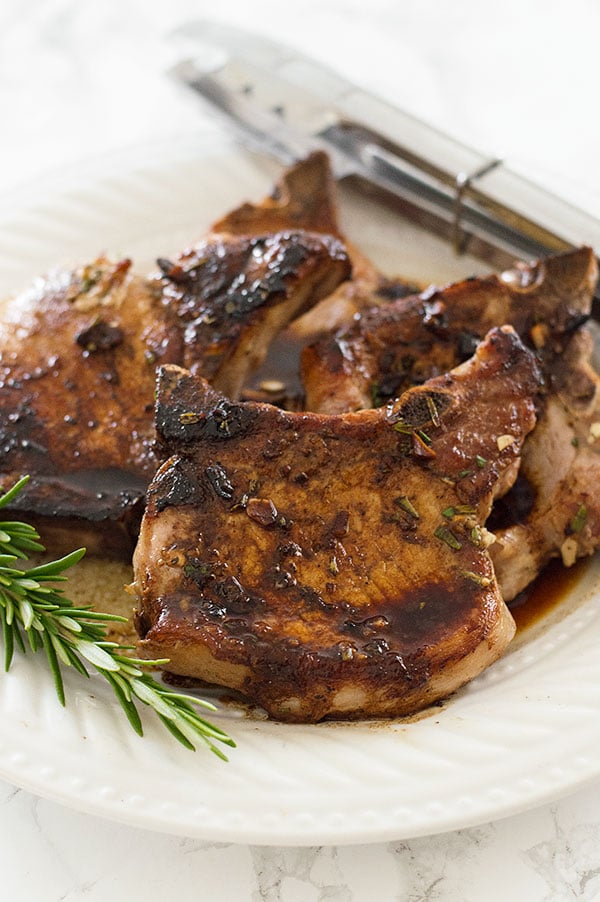 Happy Wednesday! How's your week going so far? Did the Monday holiday (for US readers) throw you off? I'm a huge creature of habit so disruptions to my schedule always leave me feeling adrift. Like, what is time even!? 😉
Oh well. That means we're just that much closer to the weekend.
And hey, speaking of time, how it flies! Baking Mischief is six months old today! Not to get sappy or anything, but I want to thank everyone who has followed along, commented, emailed, pinned, tried recipes, EVERYTHING. You guys are the best and this has been one of the most fun experiences of my life!
Okay, enough feelings for today. On to the recipe!
Are you ready for your new favorite way to cook pork chops?
This recipe is the epitome of a perfect weeknight meal, so quick and easy, no-fail, healthy, and still tastes like something you slaved over.
Sometimes simplicity is beautiful (and delicious). This is just a few pork chops, whatever kind you like best, seared in butter, and then simmered in a combination of sherry, rosemary, and garlic until cooked through. That's it.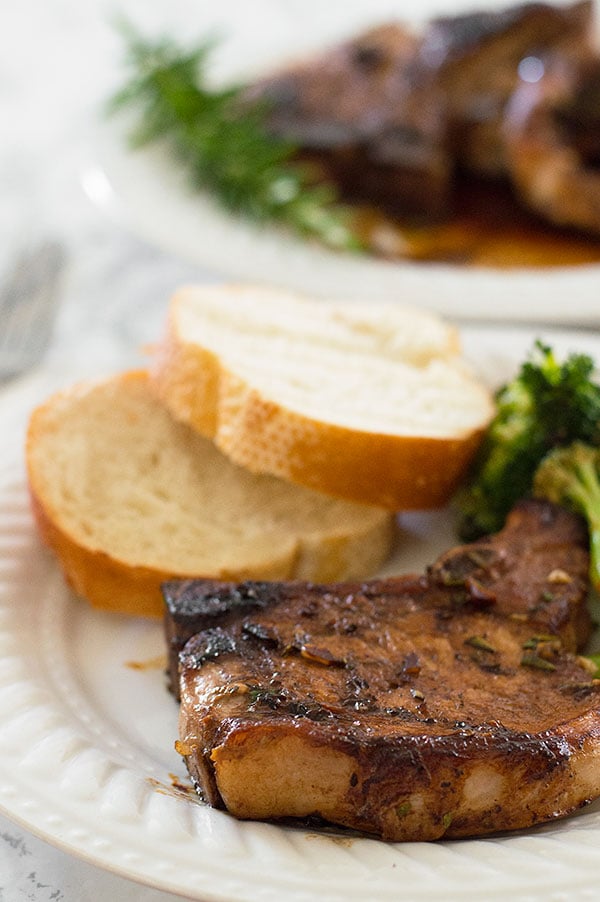 20 minutes from start to finish and you have a main dish that looks and tastes like it took three times that.
And, guess what. This dish even makes it's own side.
Steam or boil some broccoli/asparagus/green beans while your chops cook and then once you set the meat aside to rest, deglaze the pan with a bit more sherry and toss those veggies in there, let them soak up all that delicious rosemary and garlic sauce and boom, your healthy side dish is taken care of too.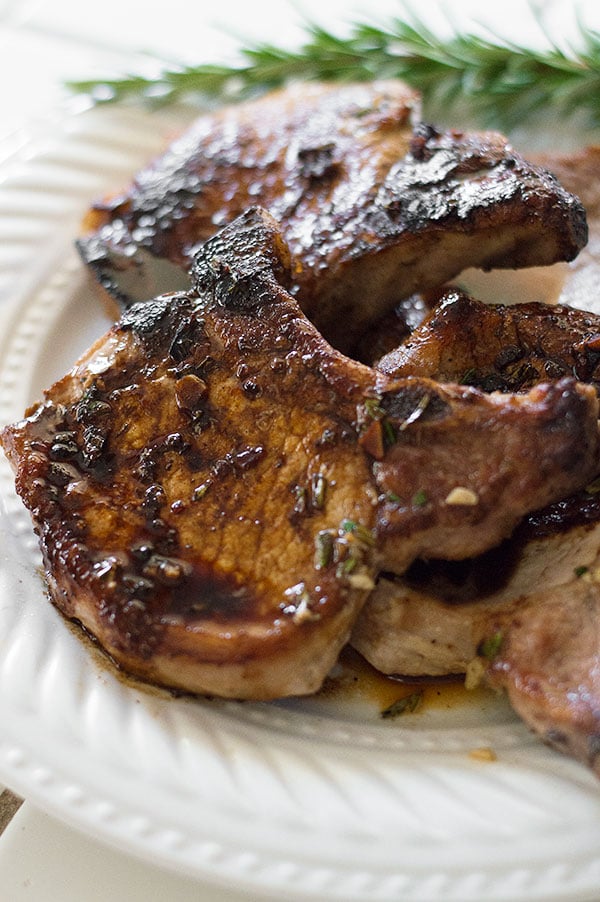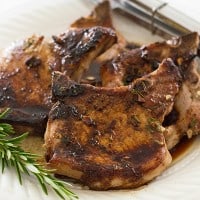 Quick Rosemary Pork Chops
Quick pork chops made with rosemary and sherry that can be on the table in about 20 minutes. So easy and delicious you won't believe it.
Print
Servings (Hover or Click to Change Yield):
4
Ingredients
4

small pork chops

1

tablespoon

butter

1/2

cup

sherry

plus more for deglazing

1 1/2

teaspoons

fresh rosemary

or 1/2 teaspoon dried, minced

2

garlic cloves

minced or crushed

1/4

to

1/2

teaspoon salt

1/4

teaspoon

pepper
Instructions
Heat a large skillet over medium-high heat. Once pan is very hot, melt butter. Sear pork chops, flipping once, about 1 to 2 minutes per side.

Turn heat down to medium and add sherry, rosemary, garlic, salt, and pepper.

Allow liquid to come to a simmer and cook, flipping once, until an instant-read thermometer inserted into the center of the pork chops reads at least 145°F (about 8-16 minutes depending on the thickness of the chops).

Move chops to a plate to rest for at least five minutes.

Deglaze pan by pouring a couple tablespoons of sherry over the hot surface and scraping off all of the blackened bits with a spatula. Simmer for 30 seconds or so until mixture is thickened and pour back over the chops or toss with steamed vegetables for a quick and easy side.

Serve and enjoy!
Notes
*If you have particularly thick pork chops and all of your sherry cooks off before they are cooked through, feel free to add a small splash of sherry to the pan so your garlic doesn't burn.
Nutritional Information (for 6-ounce bone-in chops)
Adapted From: AllRecipes.com
This post may contain affiliate links, which means I receive a small commission if you make a purchase using them. There is absolutely no additional cost to you.