Apple pie in sundae form! Tart Granny Smith apples cooked with brown sugar and cinnamon and dowsed in caramel sauce. Served over vanilla ice cream in a flaky homemade (easy!) buttermilk pie crust shell.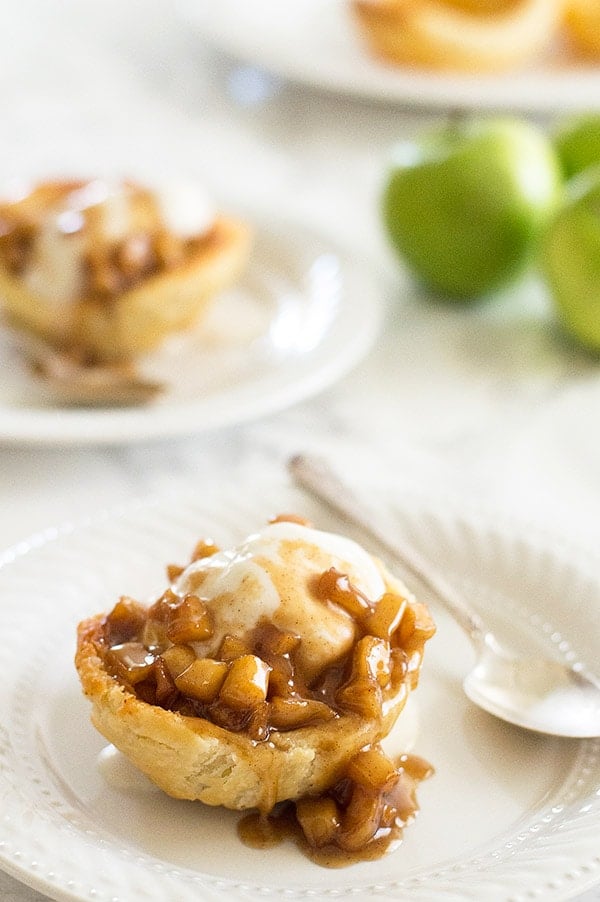 Weather check in time. How's the weather in your part of the world? Here in sunny SoCal, it's starting to get HOT. It's hot and it's the worst. We haven't had our first 100° day yet, but I'm pretty sure it's coming this weekend.
I know a lot of people love warm weather, but I am not one of them, and in my book there is only one good thing about summer: summer means ice cream weather.
And ice cream weather means ice cream sundaes! And oh what a sundae I have for you today, a Caramel Apple Pie Sundae!!
Do you like apple pie à la mode? You are going to love this.
It's vanilla ice cream served in a homemade pie crust cup and topped with an apple cinnamon and caramel sauce.
You assemble these with the crusts straight out of the oven, with sauce warm, and it's like taking a bite out of the best apple pie you've ever eaten, only perfect for summer.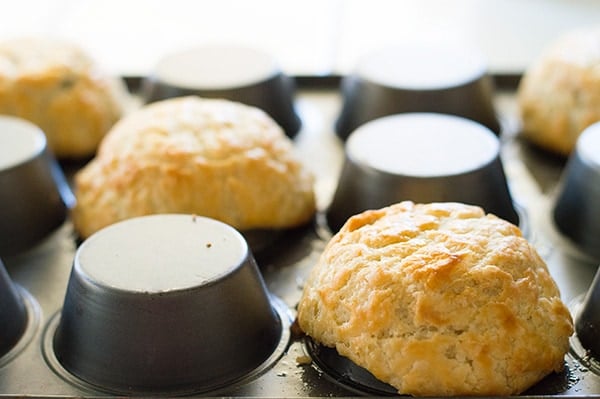 This dessert looks a little fiddly, but it's actually pretty simple. We are using my favorite buttermilk pie crust again, which you know I love because it is so great to work with and is made in the food processor, so it's suuuuper easy.
You form the cups by cooking them over the bottom of a cupcake pan. And don't worry, no delicate, crumbly cups here. They're surprisingly sturdy!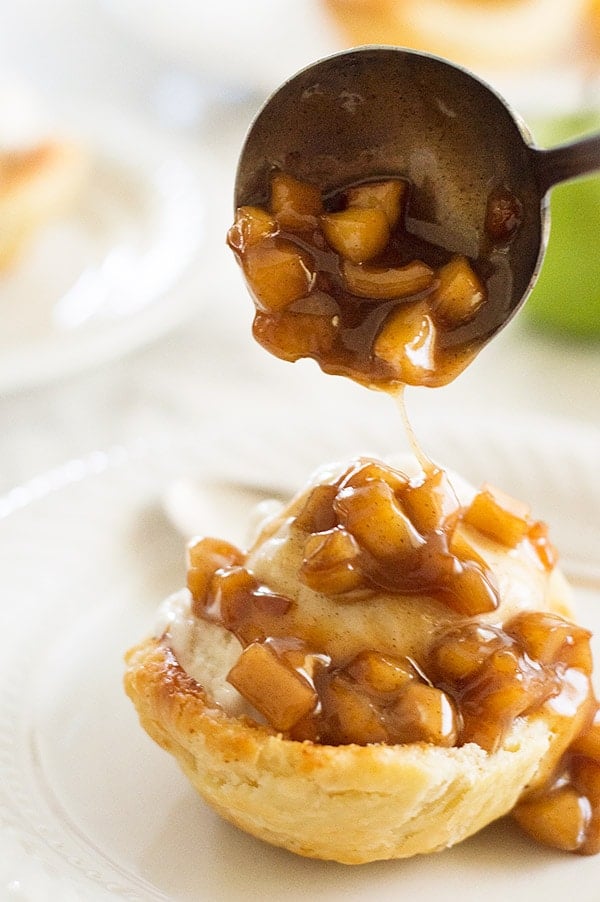 And you have plenty of time to make the apples (and optionally, the caramel sauce) while the cups bake. The worst part about this dessert is that if you make your own caramel sauce, you have to cook the apples and caramel separately, so there are two pots to wash. Booo, I know, but it's worth it. I promise!
By cooking them separately, the brown sugar and cinnamon with the apples don't melt into the caramel sauce, so when everything is mixed together, you get these amazing swirls of cinnamon brown sugar that is just to die for. Trust me. You want to wash that extra pot.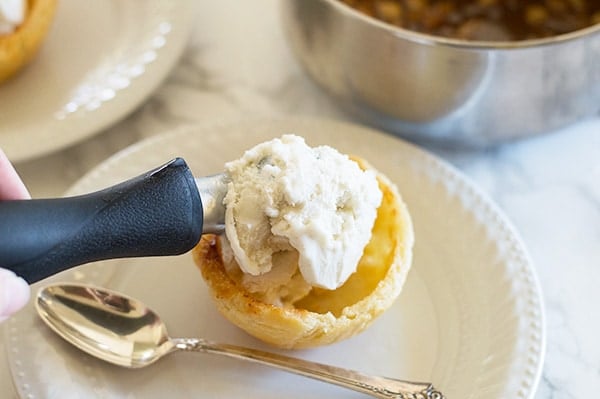 Set your pie crust cups on a cute plate, add a scoop of ice cream, and positively drown them in your caramel apple sauce. Then take a bite and ascend to a higher plane of deliciousness.
I know it's a little early to say, but this might just be my dessert of the summer.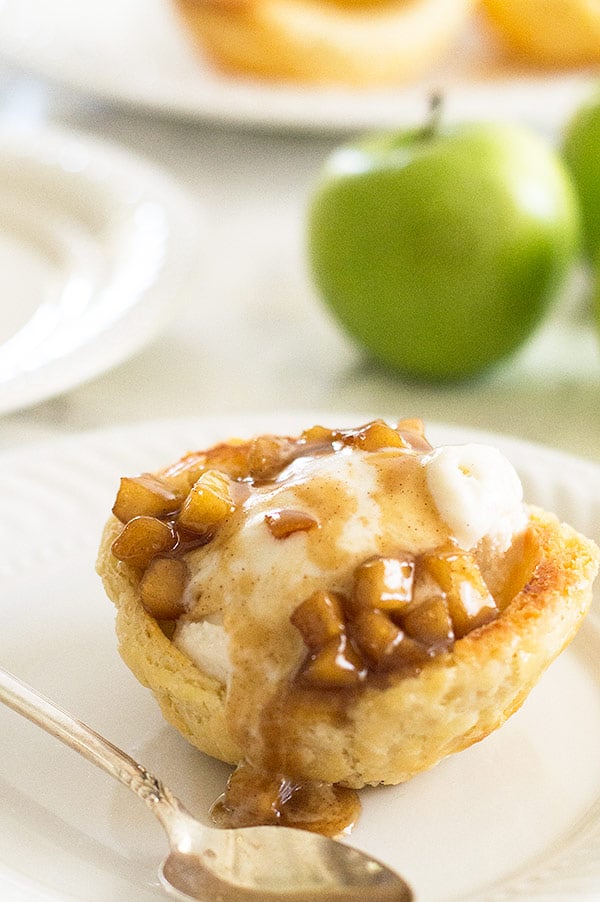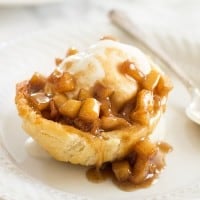 Caramel Apple Pie Sundae
Apple pie in sundae form! Tart Granny Smith apples cooked with brown sugar and cinnamon and dowsed in caramel sauce. Served over vanilla ice cream in a flaky homemade (easy!) buttermilk pie crust shell.
Print
Servings (Hover or Click to Change Yield):
5
Ingredients
Topping
1

large Granny Smith apple

diced

1

tablespoon

(

12

g) brown sugar

1

tablespoon

unsalted butter

1/4

teaspoon

cinnamon

1

cup

caramel sauce

homemade or store-bought

Vanilla ice cream
Instructions
Pie Crust Cups
Preheat oven to 400°F.

Allow chilled pie crust to sit at room temperature for 5 minutes to soften slightly.

On a well-floured surface, roll out pie crust to 3/8-inch thick. Cut 5 4-inch rounds using a biscuit cutter or large cup, balling and re-rolling the dough once if necessary*. If your dough is becoming warm and your rounds stick to your cutting board, use a metal spatula to carefully dislodge them.

Flip your muffin pan upside down and drape dough over alternating cups. Gently squeeze dough down so that it is loosely molded over the top of the cups (it doesn't have to be perfect, just vaguely cup-shaped).

Refrigerate for 15 minutes to firm up slightly. Brush with egg wash, being careful not to drip egg onto the pan as it can cause the cups to stick.

Bake for 15 to 18 minutes, until golden. Remove from oven and allow to cool for 10 minutes before gently removing cups. If they have stuck to the egg wash, carefully use a spatula to loosen them first.
Topping
While cups bake, in a small pot, over medium heat, combine apple pieces, brown sugar, butter, and cinnamon. Cook, stirring occasionally until apples reach your desired consistency, about 4 to 6 minutes. (If making your own caramel sauce, prepare it while apples soften.)

Remove from heat and stir in warm caramel sauce.
Assemble
Place pie cups on plates and fill with a scoop of vanilla ice cream each. Spoon caramel and apple sauce over the top and enjoy!
Notes
*If you need to re-roll your dough, make sure that there are no seams or folds in it as the layers can separate when baking and leave holes in your cups.
This post may contain affiliate links, which means I receive a small commission if you make a purchase using them. There is absolutely no additional cost to you.