These small-batch chocolate cookies stuffed full of crushed Oreos and Andes are a little crunchy, a little minty, and completely delicious.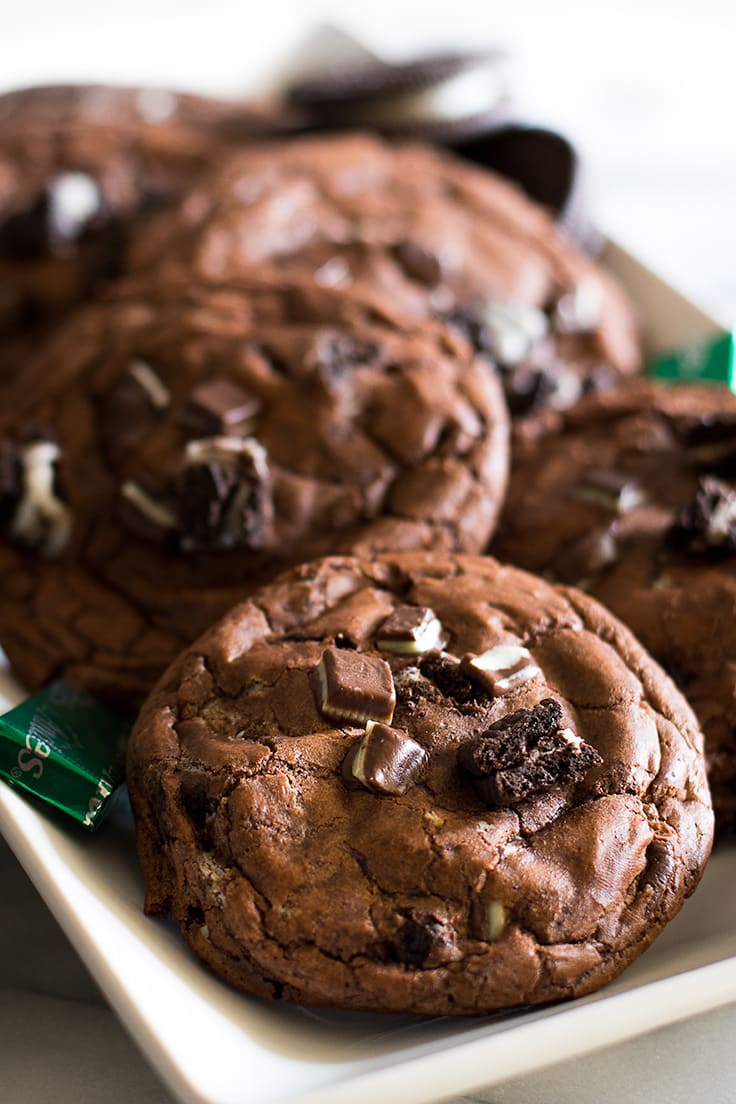 We made it to Friday! What are you doing for the long weekend? Do you have any fun Easter plans? I plan on enjoying the spring sunshine with some long, rambling walks, testing a few new recipes, and eating far too much Easter candy on Sunday morning.
Today's recipe is another decadent chocolate dessert (because after last Friday's Small-batch Chocolate Cupcakes, of course we needed even more chocolate), Small-batch Chocolate Cookies With Oreos and Andes.
These things first came about a few weeks ago when I was shooting the video for my Small-batch Buckeye Brownie Cookies and I had some leftover cookie dough, some Oreos, some Andes, and a dream, and the result was these magical little (giant) babies.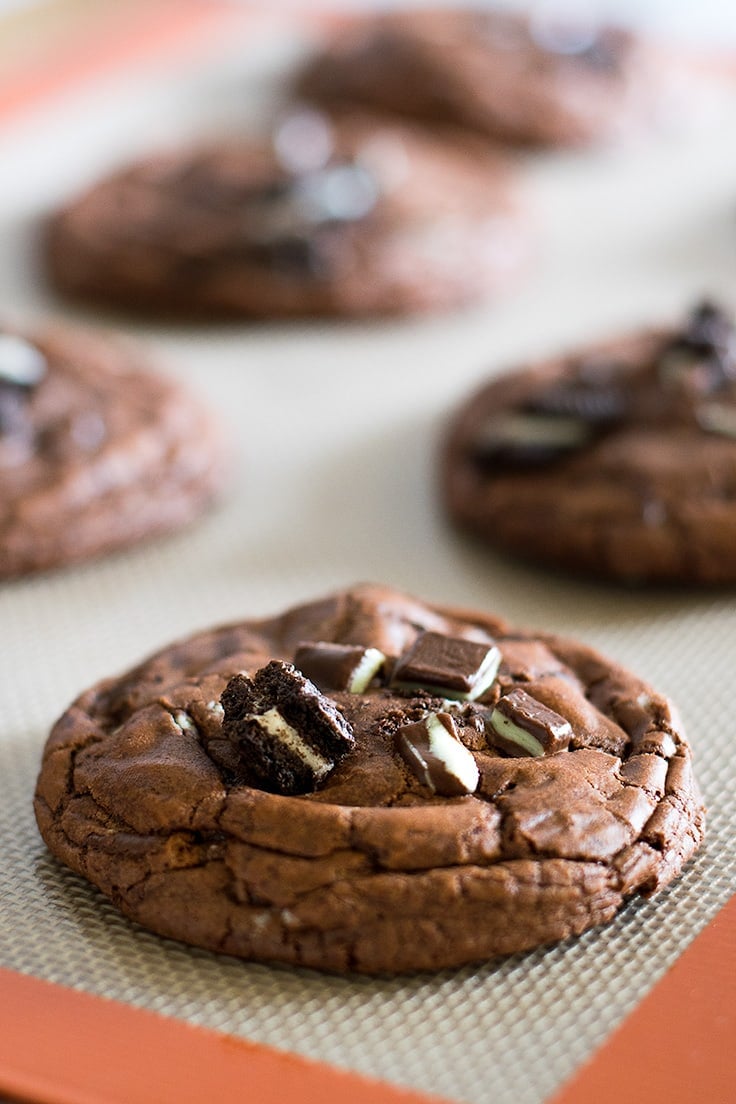 Guys, these cookies are sooooooooo good. The cookie base is my fav chocolate brownie cookie (originally seen in my Mini Hot Chocolate Cookies), which is super rich and fudgy since it's made with melted chocolate in the dough, and the Andes mints give them just the right level of minty flavor that's not too overwhelming. And I know it might sound weird to chop up an Oreo cookie and put it in another cookie, but trust me, it's the best and tastiest sort of weird.
This small-batch recipe makes a half dozen nice hefty cookies. One will definitely satisfy your chocolate craving. You can share the leftovers if you are feeling generous (not going to lie, I gave away most of the batch from these photos and I REGRET it) or hoard them (recommended) and keep them in the freezer. Like my Small-batch Chocolate Chip Cookies, they freeze really well and are great cold, which makes them a pretty perfect cookie choice considering summer is not too far off.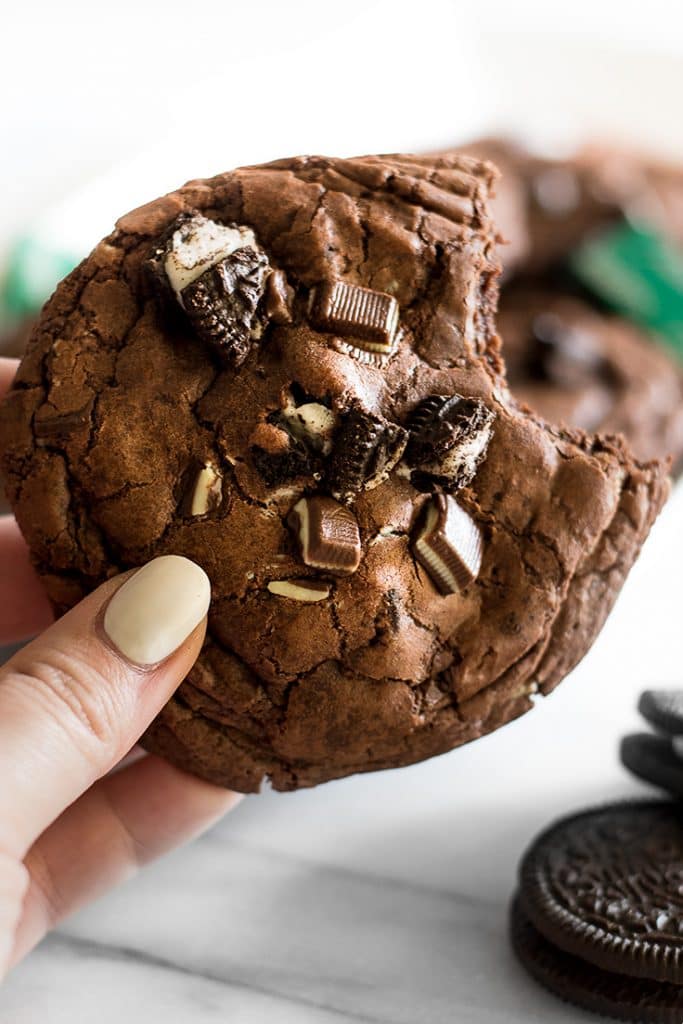 Small-batch Chocolate Cookies Recipe Notes
Because of the melted chocolate in the recipe, the cookie dough looks more like brownie batter before chilling and like fudge after. Don't worry, it's supposed to look like that. 😉
Please note the lower-than-usual baking temperature of 325°! If your oven is too hot the cookies will melt into puddles.
If you don't keep Oreos stocked, no need to buy a big package in the snack aisle (unless you want to!). Grab a six-pack or one of the little tubs of minis in the checkout lane.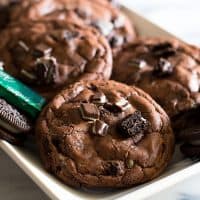 Small-batch Chocolate Cookies With Oreos and Andes
These small-batch chocolate cookies stuffed full of crushed Oreos and Andes are a little crunchy, a little minty, and completely delicious.
Print
Pin
Servings (Hover or Click to Change Yield):
6
Ingredients
3

tablespoons

(

1.5oz

) unsalted butter

2/3

cup

(

4oz

) semi-sweet chocolate chopped

chips are fine

1/3

cup

+ 1 heaping tablespoon (

85g

) brown sugar

1

large egg

3/4

teaspoon

vanilla extract

1/2

cup

+ 1 tablespoon (

70g

) all-purpose flour

1

tablespoon

+ 1 teaspoon (

10g

) cocoa powder

1/2

teaspoon

baking powder

1/8

teaspoon

salt

8

Andes mint candies*

chopped, plus optional more for topping

2

Oreo cookies

chopped, plus optional more for topping
Instructions
In a small, microwave-safe bowl, combine butter and chocolate. Microwave for 30 seconds and stir. If necessary, microwave for an additional 15 seconds, stir, and repeat until mixture is smooth. Set aside to cool slightly.

In a medium bowl, whisk together brown sugar, egg, and vanilla. Whisk in chocolate mixture until well-combined.

Add flour, cocoa powder, baking powder, and salt, and stir until just combined. Fold in mints and cookies.

Lay a sheet of cling wrap on the counter, and scrape dough out of the bowl, onto the cling wrap.* Wrap dough and press it out so you have a rough rectangle. Chill dough for 45 minutes, until firm.

Preheat oven to 325°F and line a baking sheet with parchment paper or silicone baking mat.

Unwrap dough and use a dough scraper or knife to cut into six even pieces. Roll the dough into balls and place them on the prepared baking sheet at least 2 inches apart. (For prettier cookies, press a couple extra pieces of Oreo into the top of each cookie before baking.)

Bake for 11 to 13 minutes, until the edges of the cookies are crinkled and centers look set.

Cool cookies on the baking sheet and enjoy! (If desired, place extra Andes pieces on the cookies right after they come out of the oven.)
Notes
*I used 8 regular-size Andes mint candies in this recipe. If you are using the larger ones that come in a bag, you'll want to measure out 1/4 cup of chopped mints. Same goes if you are using mini oreos.
*If you don't have cling wrap, you can chill the dough in the bowl and use an ice cream scoop or large spoon to scoop dough out.
Recipe Adapted From Stepable
This post may contain affiliate links, which means I receive a small commission if you make a purchase using them. There is absolutely no additional cost to you.