These Miniature Hot Chocolate cookies are rich, chocolatey, and adorable!
(November 2016 Update) This post has been updated with new, non-iPhone photos and edited to update some of the text and recipe notes.
If you miss the old photography, I saved one of the old photos beneath the recipe to remember the good times. 😉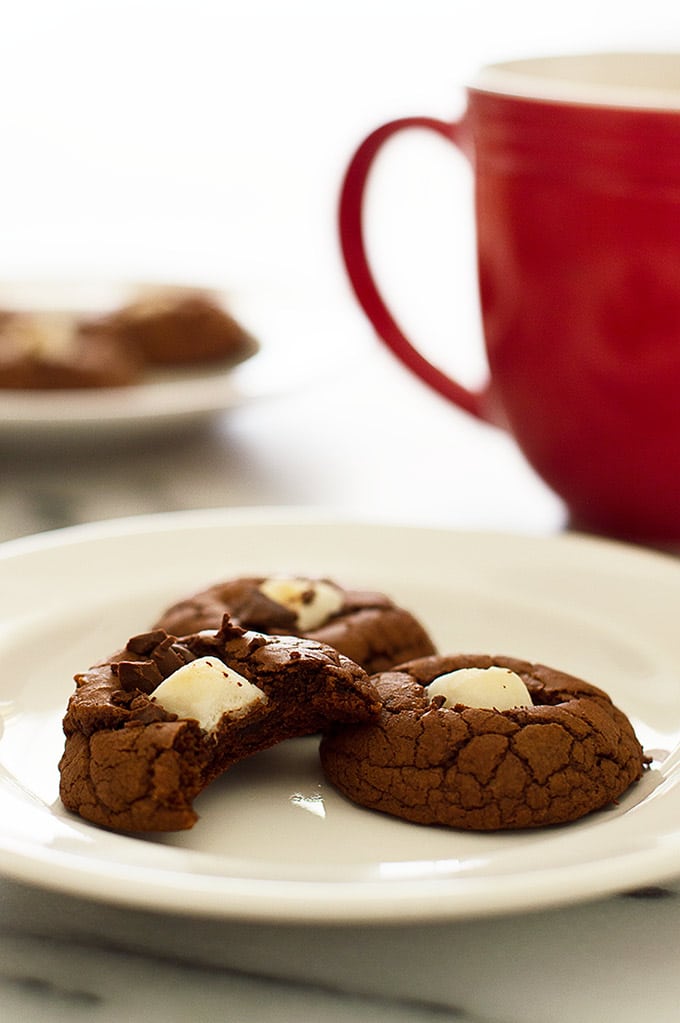 How is your Christmas prep going? Mine's going great, if by great, you mean I have bought a grand total of one present and don't yet have a tree.
Fortunately, my family is small and mostly local so the biggest part of holiday planning is coordinating Christmas dinner and deciding what holiday-themed movies to watch this year. I can't imagine how all of you with huge extended families who travel for the holidays handle it.
While I've been shirking my holiday prep duties, I have been busy in the kitchen. This week alone, I've made a batch of my Chai Sugar Cookies with Eggnog Glaze, Snickerdoodle Sandwich Cookies, and now these adorable little Hot Chocolate Cookies.
I'd been meaning to make these cookies since I first saw them last year, long before Baking Mischief was even a dream of an idea, but Christmas came and went and they got stashed away in my next-year file.
So as soon as it got chilly enough for a sweater, I pulled these babies out and gave them a spin. The (gorgeous) originals are huge and use jumbo marshmallows, something I just don't keep on hand. So I miniaturized them to make them the right size to use the mini marshmallows I had in the pantry, and they turned out so cute!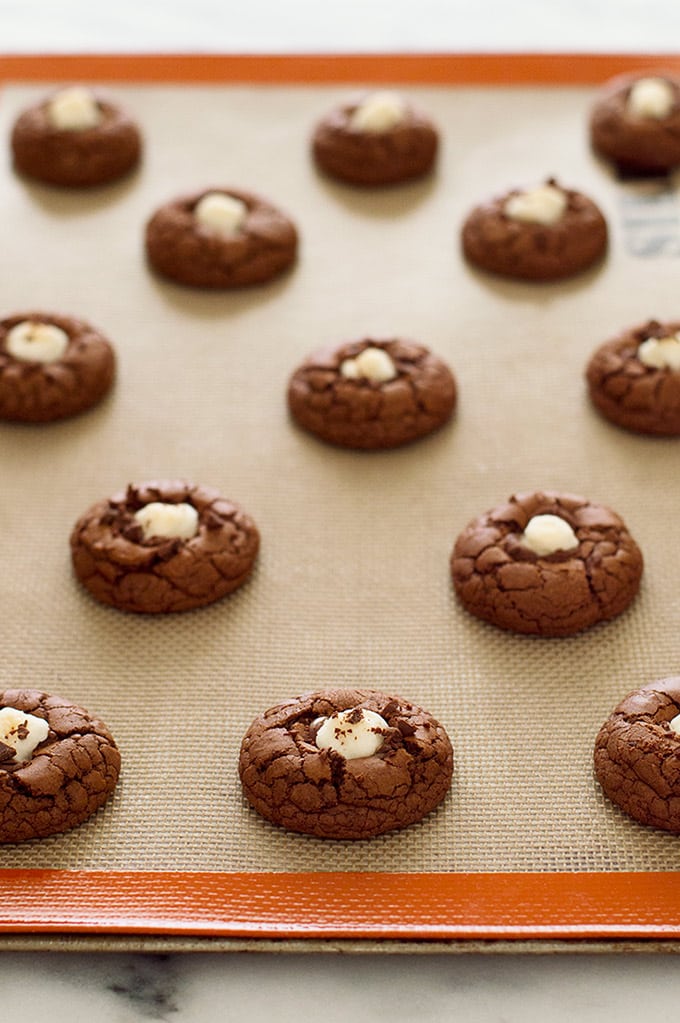 These things are perfect three-bite cookies, and man, are they RICH. I would never say stop at just one baby cookie, but you totally could.
Eaten warm, they are more like the most decadent, chocolatiest brownies you have ever tasted. Cooled, the deep chocolate flavor really pops and the little bite of hard chocolate in the center is perfection. I say eat warm with milk, cool with coffee, because they are definitely best paired with something to offset that sweetness!

More Cozy Recipes
Miniature Hot Chocolate Cookies Recipe Notes
This recipe makes 24 small cookies. If serving to people, I would recommend 3 per person.
I generally prefer to make my cookies in a stand mixer, but this is technically a small-batch cookie recipe with about 1/3 the amount of dough you would normally produce and requires no creaming of any ingredients. I've made it both ways and it's simpler just to make in a bowl with a whisk.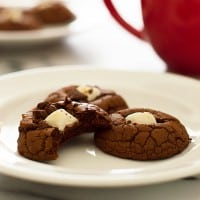 Miniature Hot Chocolate Cookies
These Miniature Hot Chocolate cookies are rich, chocolatey, and adorable!
Print
Servings (Hover or Click to Change Yield):
24
small cookies
Ingredients
3

tablespoons

(

1.5

oz) unsalted butter

1

cup

(

6

oz) semi-sweet chocolate chips

divided

1/3

cup

+

1

heaping tablespoon (

85

g) brown sugar

1

large egg

3/4

teaspoon

vanilla extract

1/2

cup

(

70

g) all-purpose flour

1

tablespoon

+

1

teaspoon (

10

g) cocoa powder

1/2

teaspoon

baking powder

1/8

teaspoon

salt

24

mini marshmallows

Finely chopped chocolate for topping

optional
Instructions
In a small bowl, melt butter and

2/3

cup of the chocolate chips together in the microwave. Heat for 30 seconds and stir. Then continue in 15-second bursts, stirring in between until smooth. Set aside to cool slightly for about five minutes.

Mix brown sugar, egg, and vanilla in a large bowl until just combined. Beat in the cooled chocolate mixture.

Mix in flour, cocoa powder, baking powder, and salt, until just combined.

Cover and chill for 45 minutes until the dough is firm enough to handle.

Preheat oven to 325 degrees Grease or cover two cookie sheets with parchment paper.

Scoop dough and roll into 1-inch balls. Place them on the baking trays 2-inches apart.

Bake for 7 minutes before removing the cookies from the oven. Place 2-3 chocolate chips in the center of each cookie and top with a mini marshmallow. Press the marshmallow firmly into the chocolate and place the tray back into the oven.

Bake cookies for an additional 4 minutes and remove pan from the oven. While the cookies are still hot, sprinkle with chopped chocolate, if so desired.
Nutritional Information
Adapted from Stepable
Original Post Photography, circa 2015 (iPhone 5)