This Small-batch Vanilla Cupcakes recipe makes six fabulous moist vanilla cupcakes topped with a quick and easy American buttercream frosting.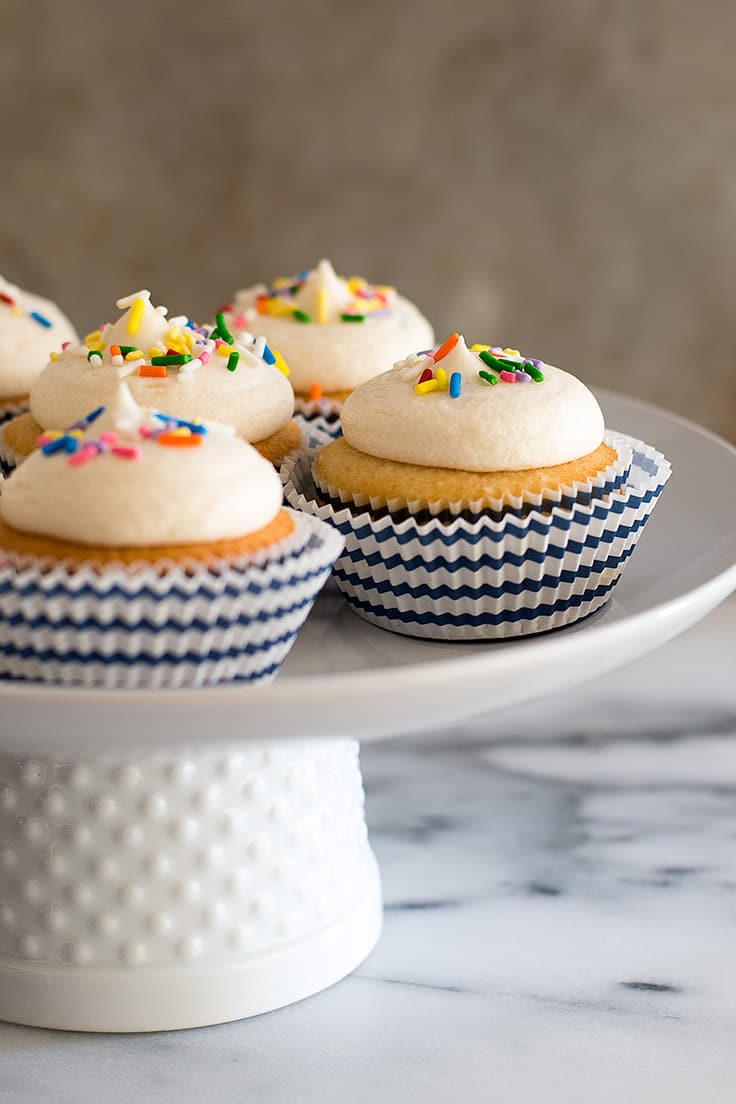 Happy Friday, friends. How has your week been? Not going to lie, mine has been STRESSFUL. Between all the garbage in the world right now and Baking Mischief breaking itself twice(!!) within 24 hours (Were you around for the site weirdness on Tuesday evening/Wednesday morning? It was not pretty.), "chill" has not been a word in my vocabulary this week.
But guess what, the week is almost over, it's sunny and 70 degrees here in Southern California, and we are all still here. That's something to be grateful for. I'm grateful for kind popstar quotes, silly unicorn drinks, and all the other small joys in my life, and when I remember that, the world does feel just a *little* less garbage.
Speaking of small joys, who could go for a cupcake right about now? (Guys, I'm so great at segues.)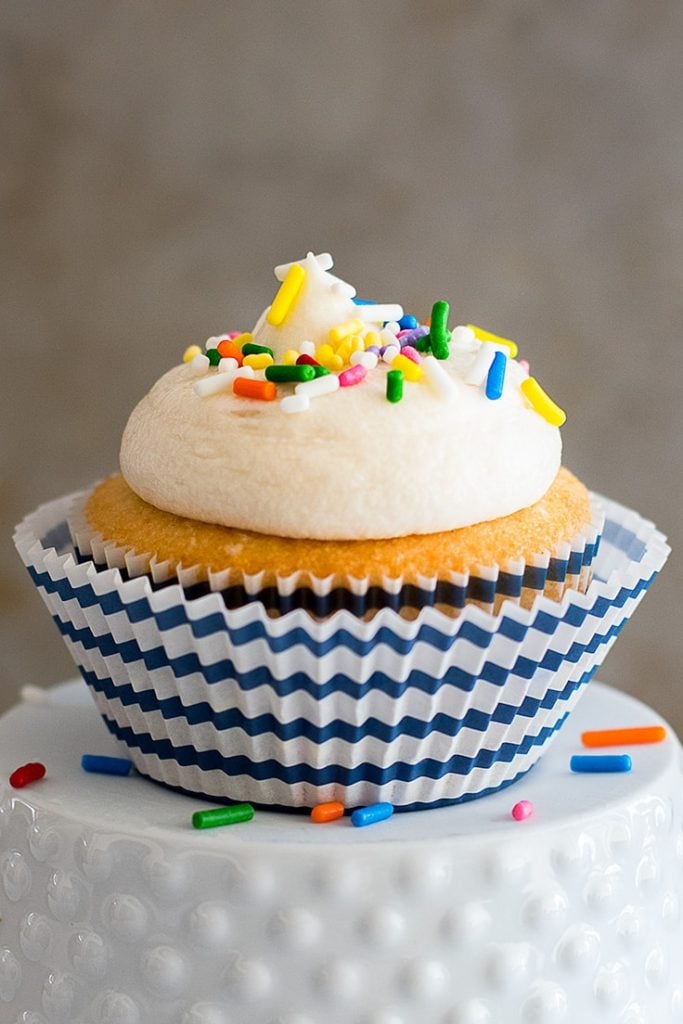 These Small-batch Vanilla Cupcakes have definitely been one of the small joys of my week. I shot the photos for this post a couple weeks ago–those who follow my Instagram stories might recognize them– but I actually made them again this morning because I felt like this week deserved cupcakes to celebrate its end. And since they are small batch, I can totally get away with that.
This small-batch cupcake recipe makes just six cute little vanilla cupcakes. I like the half dozen count because it's just enough to share if I have a couple of friends over but not so many that I feel like I have to find homes for all of them if I decide to do some cupcake baking on a whim some lazy weekend.
And these cupcakes are perfect for a lazy weekend because they are super simple to make. You just need one bowl, some baking staples, and a cupcake craving, and you are just a tiny bit of effort away from some seriously yummy little cupcakes.
These vanilla cupcakes are on the moist and heavier side (if you want something super light and airy, I recommend my Small-batch Angel Food Cupcakes). They are super soft with an incredibly tender crumb and get topped off with a classic easy American vanilla buttercream and of course, some sprinkles.
If you feel like mixing and matching, you can also use the chocolate buttercream from my Small-batch Chocolate Cupcakes–that's what I did this morning and it was FAB.
And I will totally admit that a cupcake is not going to cure all the world's ills, BUT, if you need a small joy in your life this weekend, I heartily recommend one of these.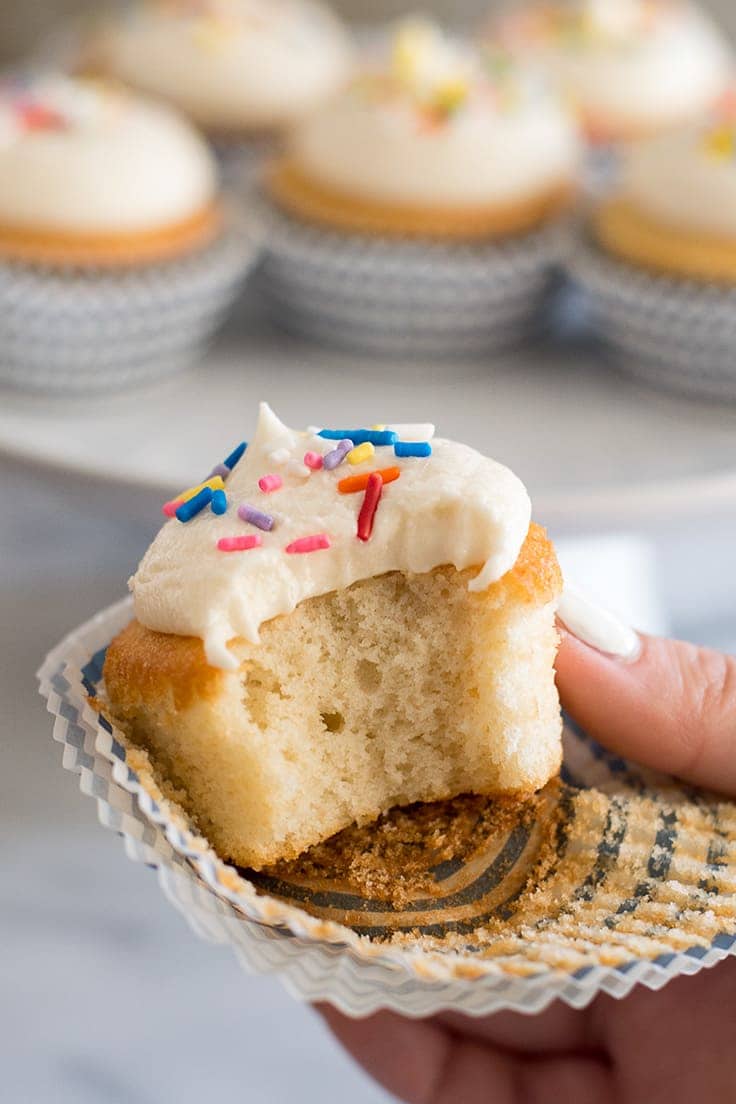 Small-batch Vanilla Cupcake Recipe Notes
Be sure to use properly softened butter where called for. Butter that is too cold could result in your cupcakes sinking and melty butter can result in flatter, possibly oily cupcakes.
For the best cupcakes, use a kitchen scale (my preferred choice) or the Spoon and Sweep Method, spoon flour into your measuring cup and sweep excess off with the flat of a knife, to measure your flour otherwise your cupcakes will be too dense!
If you plan on spreading your frosting with a knife rather than piping, cut the buttercream recipe in half.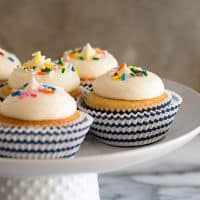 Small-batch Vanilla Cupcakes
This Small-batch Vanilla Cupcakes recipe makes six fabulous moist vanilla cupcakes topped with a quick and easy American buttercream frosting.

Print
Servings (Hover or Click to Change Yield):
6
cupcakes
Ingredients
Small-batch Vanilla Cupcakes
3

tablespoons

(

1.5oz

) unsalted butter

softened

1/4

cup

and

3

tablespoons (

87g

) granulated sugar

1

large egg white

1/2

teaspoon

vanilla extract

1/2

cup

(

60g

) all-purpose flour

measured using the spoon and sweep method and divided

1/2

teaspoon

baking powder

1/8

teaspoon

salt

1/4

cup

and

1

tablespoon milk

any percentage
Vanilla Buttercream
4

tablespoons

(

2oz

) unsalted butter

softened

1

cup

(

120g

) powdered sugar

sifted

1

teaspoon

to

1

tablespoon milk or cream

1/4

teaspoon

vanilla extract

Pinch of salt

Sprinkles

optional
Instructions
Small-batch Vanilla Cupcakes
Preheat your oven to 375°F and line your cupcake pan with 6 liners.

In a medium bowl combine butter and sugar and using a handheld electric mixer, cream together until light and fluffy, 1 to 2 minutes.

Add egg white and vanilla. Beat on medium until smooth.

Add

1/4

cup (

30g

) of the flour

,

baking powder

, and

salt

. And mix on low until incorporated.

Mix in

milk

on low. Add remaining

1/4

cup of flour

and mix on medium until well-mixed and smooth. Divide batter between prepared cupcake cups, filling just under 2/3 full. This should make exactly

6

cupcakes. Bake for 17 to 20 minutes, until a toothpick inserted into the center of the cupcakes comes out clean or with just a couple dry crumbs.

Transfer to a cooling rack when the cupcakes are cool enough to handle and cool completely before frosting.
Vanilla Buttercream
In a medium bowl, combine butter, powdered sugar, milk or cream, vanilla, and salt. Beat until frosting comes together, adding milk by the 1/2 teaspoon as necessary.

Transfer frosting to a piping bag and pipe over cupcakes or use a knife to spread frosting. Top with sprinkles if desired, and enjoy!
This post may contain affiliate links, which means I receive a small commission if you make a purchase using them. There is absolutely no additional cost to you.